The fashion ecommerce industry is an industry that has always proudly worn change like a model would wear Prada. Change is a key part of the fashion industry's identity, occurring at almost every seasonal fashion show year on year. However, the year ahead may bring about the industry's most drastic transformation yet. 
As consumers and fashion retailers navigate the aftermath of the COVID-19 pandemic, there are new looks for the industry to try on. Sustainable, yet affordable clothing is on the rise, and the reCommerce industry is booming with grounds to flourish further in the wake of global economic changes. The glossy fashion events that the industry has become synonymous with are going too, replaced instead by a growing market for seasonless items as consumers look to make the most out of each purchase.
With more change occurring than that of a fashion retailer's fitting rooms, we decided to get ahead and compile the 9 eCommerce fashion trends that are worth styling your eCommerce store around in 2021.
ReCommerce goes mainstream
What is reCommerce? ReCommerce, or reverse commerce, is the process of renting, reselling, or thrifting previously owned apparel through online or offline stores. Consumers are increasingly searching for economical, sustainable methods of buying or owning new clothes instead of buying brand new.
As the fashion world moves toward a more sustainable model and post-pandemic spending preferences force brands to be more accountable, resale is a fashion eCommerce trend experiencing a rebirth. Up from $7 billion in 2019 to an estimated $36 billion by 2024 with a forecasted 39% annual growth rate, the online and offline resale industry has a new lease of life in its quest to remain an affordable, sustainable way to keep up with fashion.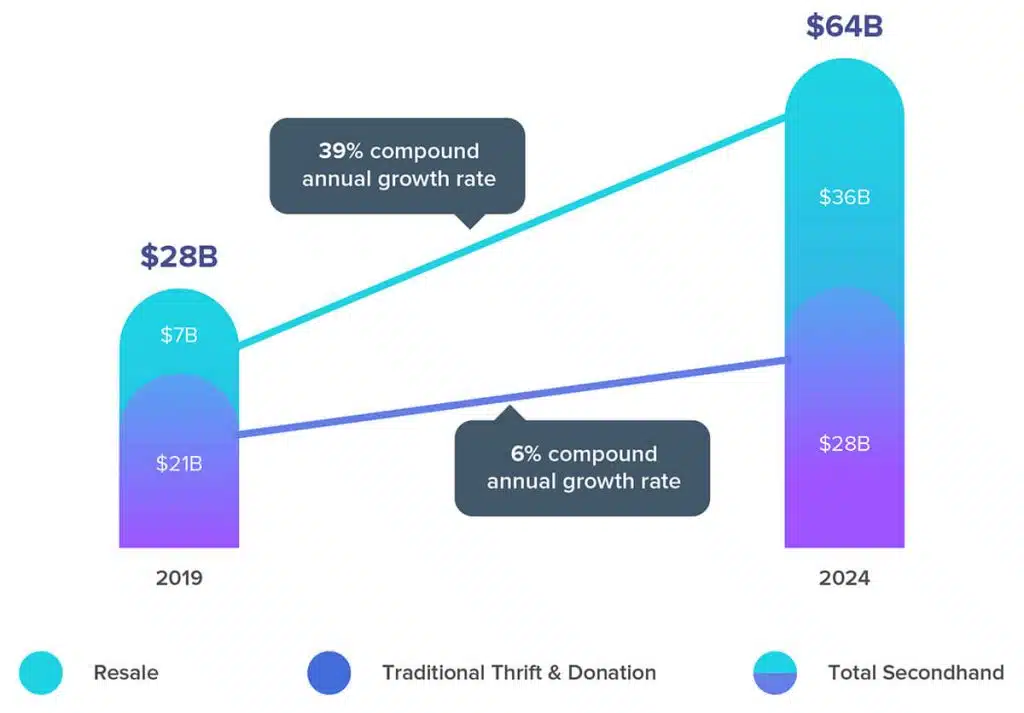 From 2008 to 2016, post-Great Recession, resale revenue in the United States increased by more than 50%. In conjunction with that increase, department store sales declined by 25% and history looks to be on track to repeat itself.
In 2019, resale was already growing 25% faster than the broad retail sector, and according to a report issued by First Research, around 20,000 used merchandise stores were generating $17.5 billion in annual sales across America.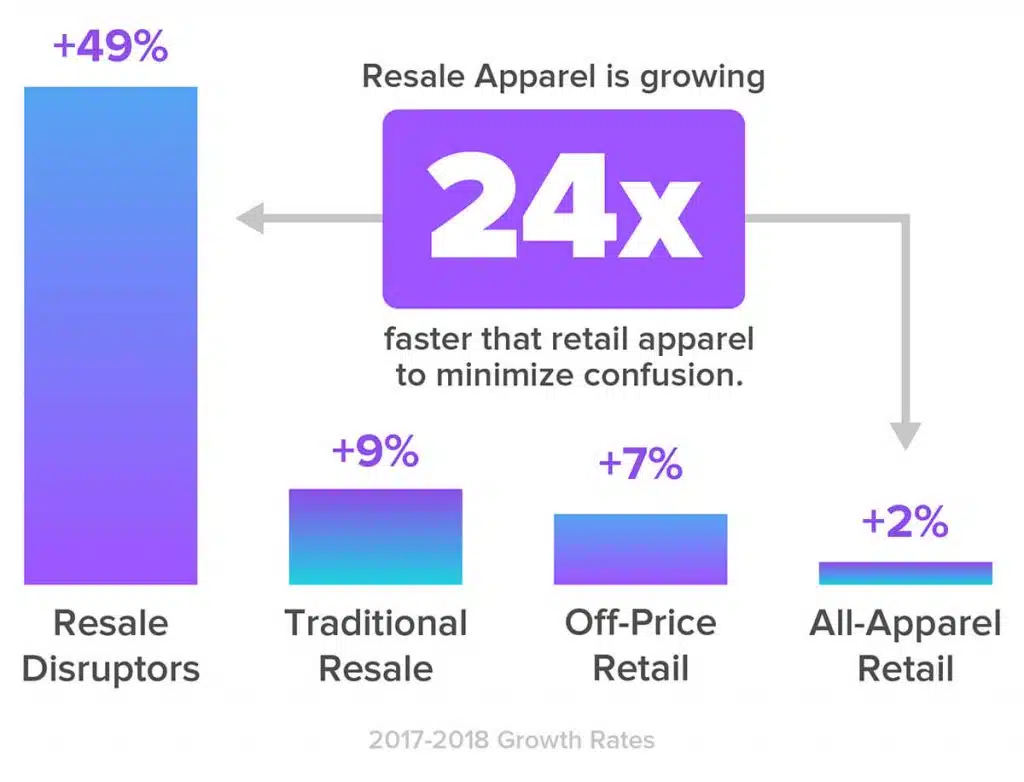 (Source: The Shelf)
Secondhand fashion eCommerce stores had also been estimated to grow 69% between 2019 and 2021 – long before shoppers started actively seeking more affordable options from home whilst quarantining.
In fact, the rise of the now-major players in the fashion reCommerce industry began all the way back in 2009, when retailers like ThredUp, Vestiaire Collective, and Tradesy launched their brands. Luxury reCommerce retailer The RealReal spied a growing market and launched two years later in 2011, as did the more accessible and social media-based DePop.
Now, ThredUp is the world's largest fashion eCommerce thrift store, welcoming an average of 7 million monthly visitors to its site. At the higher end of the scale, luxury resale eCommerce stores like The RealReal also experience around 6 million monthly visitors.
Today with 88% of people surveyed during the Coronavirus pandemic admitting they had adopted a new thrifting hobby, and 79% confirming plans to cut their apparel budget in the next 12 months, 69% is beginning to look like only the tip of the iceberg in hindsight when taken into consideration that the sole purpose of reselling for 2 in 3 people is to make money.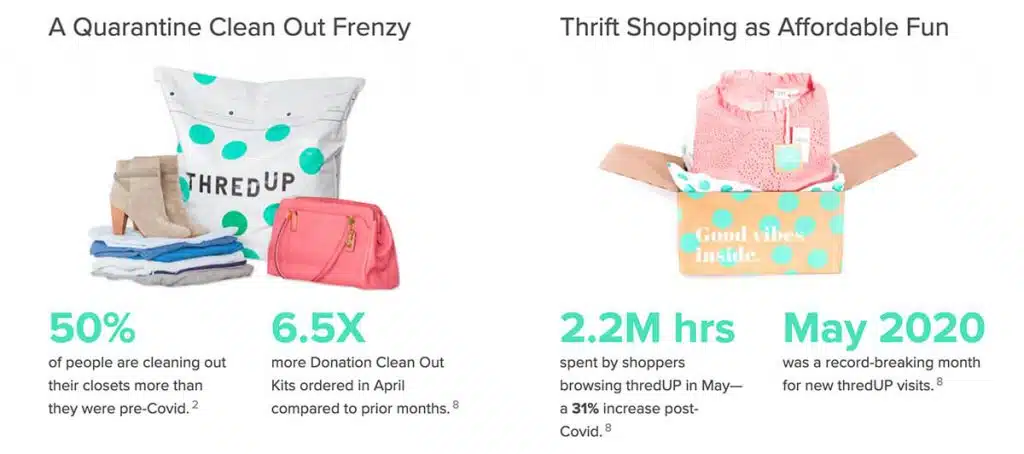 Big fashion houses have remained abreast of these developments too. In 2019 both Burberry and H&M launched reCommerce and rental models, whilst Patagonia had also recently announced plans to open a brick-and-mortar shop specializing in their reCommerce collections.
In the influencer sphere, the Kardashian-Jenner family launched a resale apparel site, Kardashian Kloset, whilst Chrissy Teigen publicly voiced her support for The RealReal, a popular resale site for designer labels, admitting that she both buys and sells her clothing from the site.
Looking to the increasingly popular and profitable future, across the next 12 months ThredUp highlights the three main subtrends of reCommerce fashion being:
Sustainability: As brands transparent with their carbon footprint and ethics continue to see rising sales numbers.
Quality: As luxury brands like Louis Vuitton and Gucci become offerings for investable and high-quality pieces.
Nostalgia: As Generation X brands such as Doc Martens and Nike begin to appeal to thrift-store hunters by integrating throwback style fashion into their new releases.
If you're a fashion ecommerce store owner with the capability to sell goods that can be returned or resold whilst retaining their quality, now's the time to start exploring whether you could adapt to this growing trend.
If you believe you could have this capability, consider whether your customers would purchase used items – and if so, which ones? Develop ideas around reimbursement policies, whether in cash or store credit for those who would donate their clothes to your store and finally, examine any cost of refurbishing and preparing items for resale, versus the profit your store would make reselling it.
As more conversations continue to be had around protecting the environment, and the global economy attempts to rebuild post-pandemic, the reCommerce and rental market is only going to flourish further.
2. Sustainable and ethical are the new black
The fashion industry has long been criticized for its detrimental effects on the environment and hailed as one of the most pollutive industries in the world. On average, it costs the environment 75lbs of CO2 to make a pair of jeans, whilst 700 gallons of water is estimated to go into the production of a new t-shirt. Perhaps worse, 208m lbs of waste was generated in 2019 just by the buying and then subsequent destroying or disposing of single-use outfits.
However, there are signs emerging that suggest the interest in sustainable and ethical fashion is now a steadily rising upward trend. Global Fashion Search Engine, Lyst, has seen searches including sustainability-related keywords increase 75% year on year, recording an average of 27,000 searches for sustainable fashion every month.
Most recently, Lyst attributed the increase in sustainable searches to brands either launching sustainability initiatives, paying closer attention to, and being more transparent of, the materials used in their collections, or investing in the aforementioned reCommerce.
This is reflected in search data on individualistic levels. Girlfriend Collective's leggings, made from recycled plastic bottles, were a popular search with shoppers whilst brands Nudie Jeans and Bassike clothing, both advocates of organic cotton – a search term up 52% – saw increases.
'Vegan leather' has been a yearly steady riser, with searches increasing 69% year-on-year and searches for 'upcycled fashion' have grown 42% across the last six months.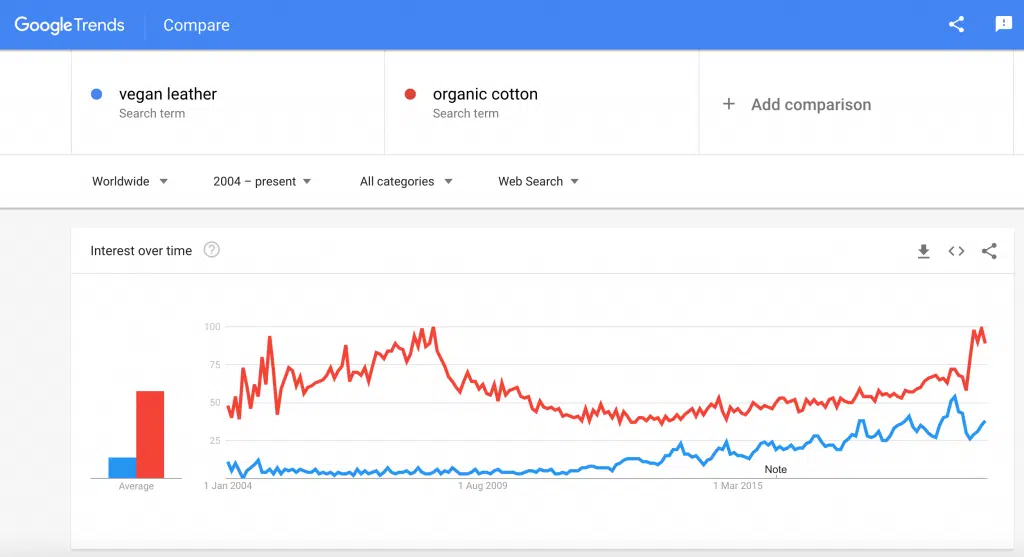 The increasing rise in sustainability and transparency comes as a result of consumers choosing to shop with brands whose values and ethics mirror their own, and those ethics don't just stretch to the natural environment – they include issues around human rights and the natural world.
As an example, British fashion eCommerce behemoth Boohoo has seen more than $1.3bn wiped from its retail share price after being embroiled in a human rights scandal whereby it was found to be paying workers in a Leicester factory well under the mandatory national wage, with no COVID-19 social distancing measures in place. Next, ASOS, Zalando, and Very all suspended their sales of Boohoo items, whilst consumer boycotts raged on social media channels.
On the other hand, online American apparel company Patagonia has been achieving steady year on year growth of 13% due to its transparency in things like its products made from renewable or recyclable fabrics (45%), or its number of workers earning a Fair Trade premium (26,000) which it openly publishes in its yearly reports.
But those themes of versatility and everyday comfort are ensuring it's not just the shoe market that athleisure is beginning to dominate. In their August report, data and analytics firm GlobalData predicted the global athleisure market will rise 9% in 2020, and outpace the total clothing and footwear market beyond 2023.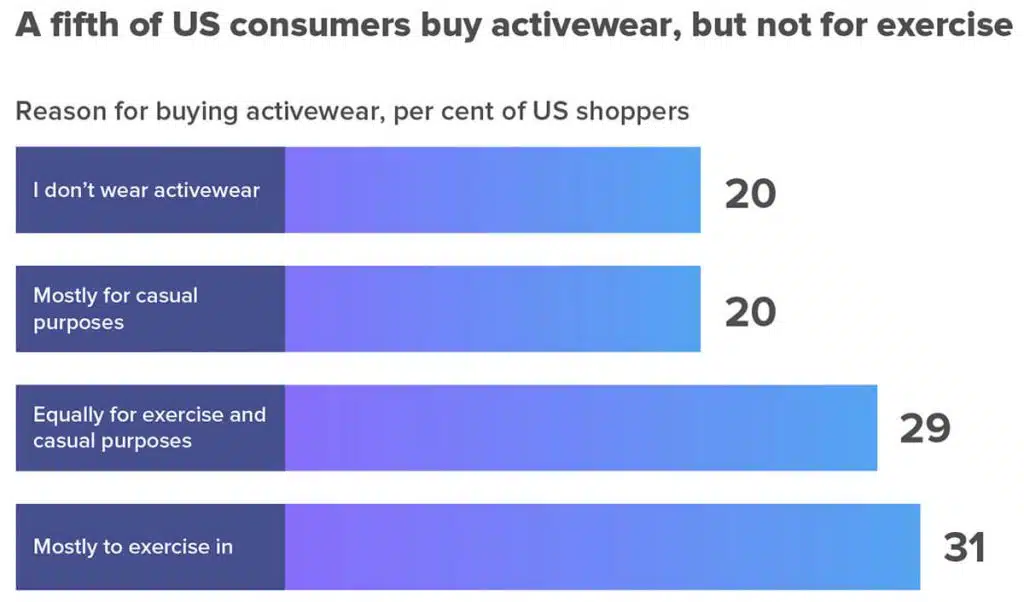 Athleisure has also been given a brand new twist: Luxury.
Influencer-led campaigns by celebrities like Beyoncé, Rihanna, and Rita Ora have all helped glamorize the use of activewear by displaying it as a key element of their 'behind the scenes' lifestyles, regularly being snapped looking comfortable in fitted tracksuits aboard private jets or expensive chauffeured vehicles.
As more and more companies adopt working from home policies, whether in rotation format or permanently, expect to not only see lines such as Lululemon's "Office, Travel, Commute" athleisure collections, or Athleta's "City Pants" range, but further expansions into the high-end side of athleisure in brands such as Under Armour, Fendi, and GymShark: An athleisure brand that grew solely through clever influencer usage and who just celebrated becoming a $1billion dollar company.
4. Artificial intelligence turns virtual assistant
With more shoppers choosing to purchase from retailers that align with their values, personalization and the act of relevancy are continuing growing trends throughout any eCommerce industry. To assist this new problem of how to put the customer at the heart of their marketing strategies, fashion eCommerce retailers are increasingly turning to one solution: AI, and most importantly, AI chatbots.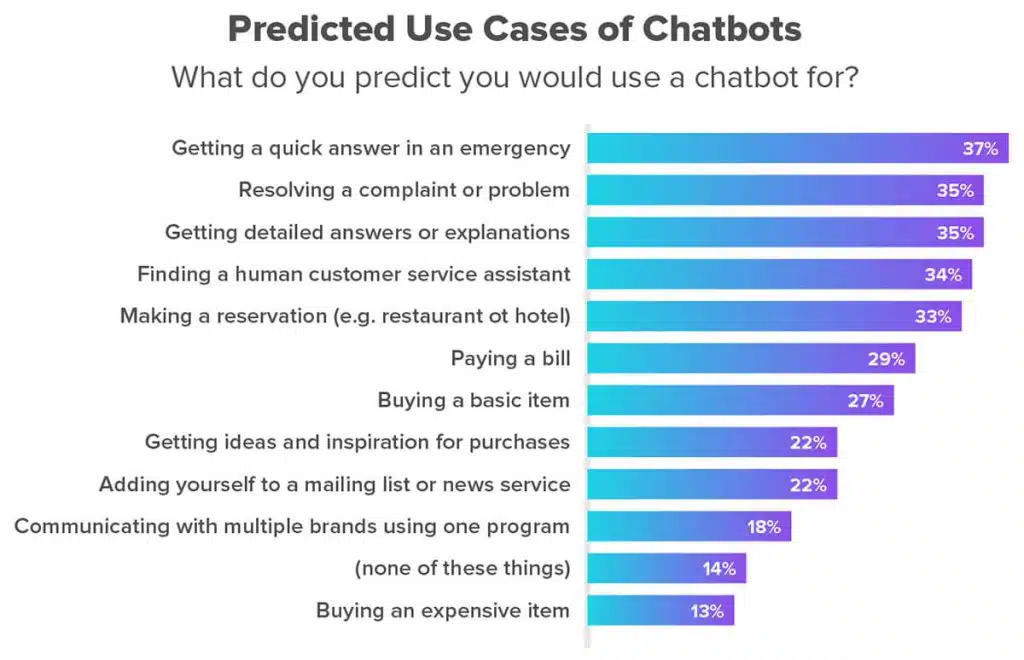 According to a survey conducted by Hubspot, 48% of consumers would rather connect with a company via live chat than any other means of contact, and 35% of consumers would be happy to see more companies using chatbots according to Ubisend.
Brands such as ASOS, Burberry, Levi's, and Tommy Hilfiger have all adopted retail chatbots in order to bridge the gap between the customer and the retailer in a more convenient and personalized way.
Tommy Hilfiger's chatbot engages you in a conversation, first introducing itself as a bot and then offering a variety of options: Shoppers can browse through the collections, proceed directly to the catalog of available items, or even get the bot to help in selecting an outfit. By asking questions, the bot filters the collections to suggest the items fitting your style – and all within Facebook Messenger.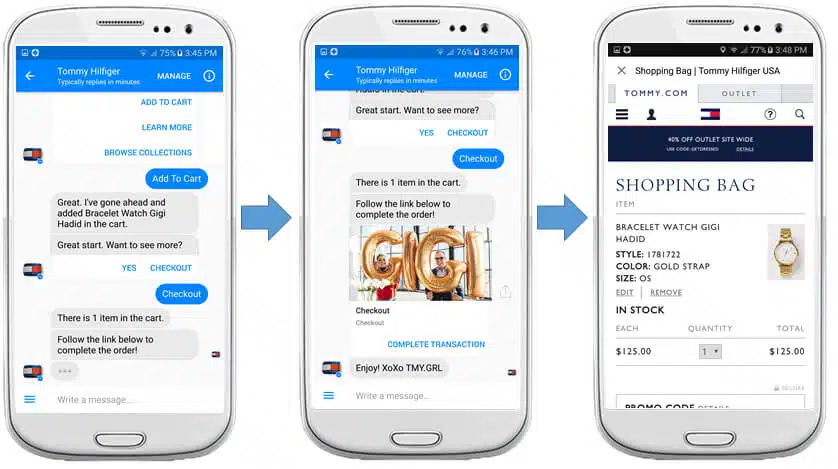 Meanwhile, Epytom is another popular chatbot that is not tied to any one brand. It serves as a personal styling service, encouraging users to shop their own closets rather than driving them to an external point of sale. The bot works first thing in the morning and styles a user using clothes they already own based on their preferences, as well as external elements like the weather outside and their itinerary for the day ahead.
Epytom surveyed its users and found a plethora of positive feedback. From those surveyed, 64% wore what was recommended to them more than twice a week, 20% wore what was recommended three to five times a week, and almost all reported that their mornings were easier and less stressful.
Encouragingly for the future of AI bots, 80% of users loved the bot format and were glad to regularly receive notifications from the app because of practical, applicable advice given.
With 80% of businesses expecting to be using chatbots by the end of this year, plus Facebook's AI Research unit, FAIR, developing Fashion++ – a system that "reads" images of outfits submitted by users and then makes recommended fashion adjustments like untucking a shirt, taking off an accessory or changing a tops color to make it more stylish, it looks encouraging for the belief that automation technologies will most improve customer experience.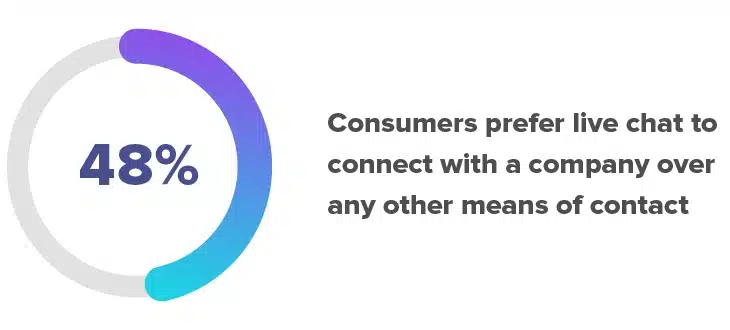 Whether it's just greeting visitors on a page, or creating recommendations through a conversational service, artificial intelligence has made itself indispensable through its effortless work nurturing and engaging potential consumers. Advancements in technology will continue to reverberate throughout the fashion eCommerce industry, but the ever-versatile artificial intelligence looks set to remain a must-have for fashion eCommerce retailers of all sizes.
5. Seasonless fashion introduces slow fashion
In diary entries shared by Gucci's creative director Alessandro Michele, he stated that pre-fall, spring-summer, fall-winter "were all 'stale and underfed words" and that the fashion house would no longer be participating in the traditional fashion calendar, but would instead move to a seasonless schedule meeting twice a year.
Gucci were not the only ones. Saint Laurent also chose to opt-out of a calendar schedule, whilst Vogue agreed they would also take control of their own schedule.
Vogue editor-in-chief Anna Wintour spoke on the subject to say that the impact of the Coronavirus pandemic was giving everyone the chance to "rethink what fashion stands for, what it means, what it should be." She said: "I think it is an opportunity for everyone to slow down, produce less. […] Maybe have less of an emphasis on things moving so quickly and emphasis always on what's new."
However, it is this emphasis that seems to have been trending upward long before the implications of the pandemic.
In 2019's core fashion events, items such as boots were promoted in Spring, while during the Winter shows, sleeveless and trench style coats took precedence over heavy wool outerwear. In Giambattista Valli's Fall collection, pastel pinks and floral colors adorned dresses, whereas traditionally those types of details would be reserved for Spring.
Reasons given for this upward turn in seasonless pieces included the business model many fashion brands began transitioning to – the 'See Now, Buy Now' model. These pieces readdress delivery schedules by allowing consumers the chance to buy straight from the runway, instead of waiting until the appropriate season and then purchasing.
Another reason was that of the effects of climate change, with 86% of fashion retailers reporting that changing, and often unpredictable seasonal weather patterns were having impacts on their lines, and their sales.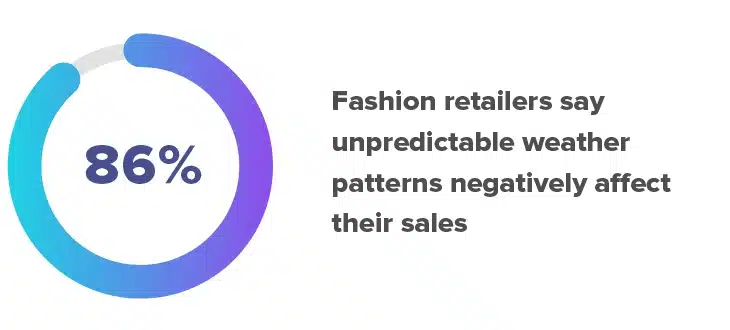 But there's now another new, emerging reason: Slow fashion. Fashionable wear that lasts longer than one season and can be recycled or reused through as many different seasons or styles as possible.
This shopping habit is supported by statistics such as how extending the life of clothing by an extra nine months could reduce carbon waste and water footprints by around 20–30% each, as well as 12.5% of global fashion companies making pledges to change their processes in favor of adopting more sustainable practices by 2020.
It's good news if you're an eCommerce business that has traditionally held seasonal wear. If your products have the versatility to cross-function through unpredictable and ever-changing seasons, it's time to identify and market those USPs.
6. Fitting rooms try on AR & VR experiences
As the digital world continues to grow and change, more and more fashion eCommerce retailers are attempting to retain existing customers, and attract new ones through the use of Augmented Reality (AR) and Virtual Reality (VR) experiences.
In a 2018 Gartner survey, 46% of retailers surveyed stated they were planning to deploy either AR or VR solutions to meet customer experience requirements.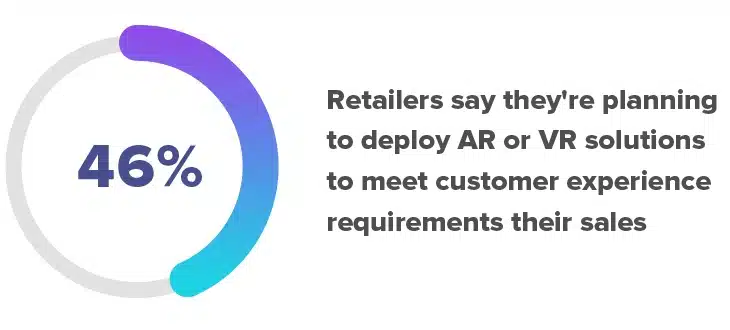 One avenue that fashion retailers are focusing on especially is the use of AR and VR dressing room experiences. These experiences allow visitors to see themselves in a brand's clothing, without necessarily needing to visit the store, in a persuasive attempt to buy.
A notable success story of VR experiences was Rhone Apparel, who partnered with Rakuten to implement a virtual try-on service, Rakuten Fits Me.
The service was just that: Made for consumers who were unsure of how a product would fit them. By tapping a button, they would undertake a series of quick questions, provide simple data points, and then be shown the most common body shapes for those unique inputs. Afterward, Fit Origin would generate a final recommendation for them.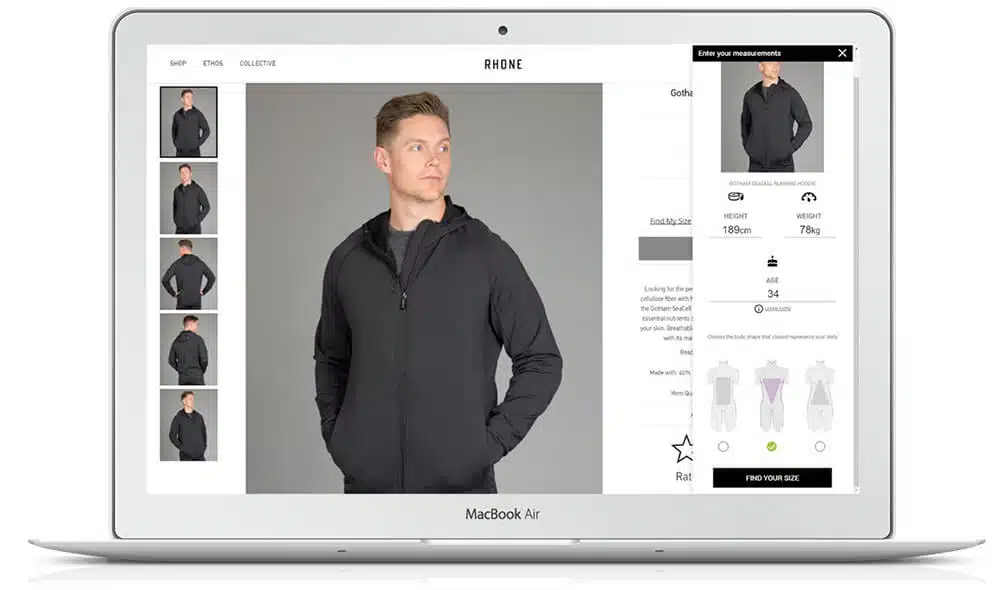 Within its first month of implementation, the conversion rate of Rakuten Fits Me users on Rhone's website was 9.8% versus non-users who converted at just 3.7%. Twelve months on, Rakuten Fits Me user conversion rates still triple and some months even quadruple non-user conversions.
On the other hand, AR – Augmented Reality – can work just as effectively. eCommerce Fashion giant Asos recently marked their first step into Augmented Reality experiences by launching their app, Virtual Catwalk. The feature was developed in partnership with London-based augmented reality firm, HoloMe, and allows customers to point their smartphone camera at any suitable flat surface, click the 'AR' button, and they will be able to view models as if they are walking in front of them.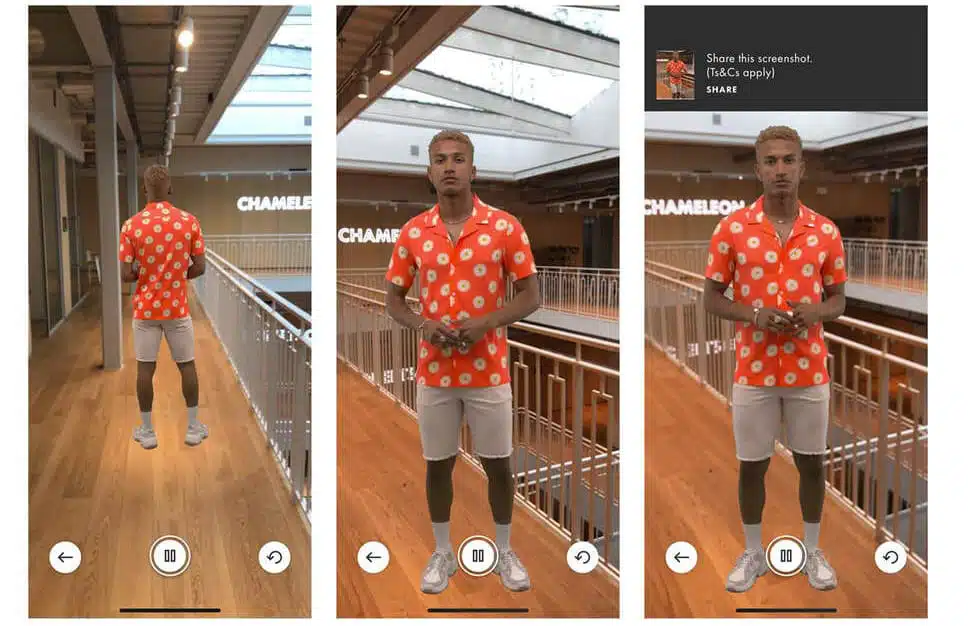 Likewise, Zara found a way to bridge the gap between online and offline by introducing their AR app. The brand attempted to lure customers into stores by having AR experiences activated on certain store windows, or on sensor points dotted around their stores.
All customers had to do was hold up their phone to one of these points, and then watch as models came to life on their screens wearing selected items from the Zara range, with an option to click through and buy.
There are notable other household names signing up for the technology of AR and VR too. Brands such as Burberry, whose app allows for digital redecoration of your surroundings with Burberry-inspired drawings by the artist Danny Sangra.
Balmain, whose app allows you to go behind the scenes and enjoy specialist augmented reality content including live streams of its runway show, and Puma who created AR sneakers covered in QR codes that allowed for a variety of AR experiences once scanned with a mobile phone camera.
California-based designer hat brand Tenth Street also offers an augmented reality option on their product pages.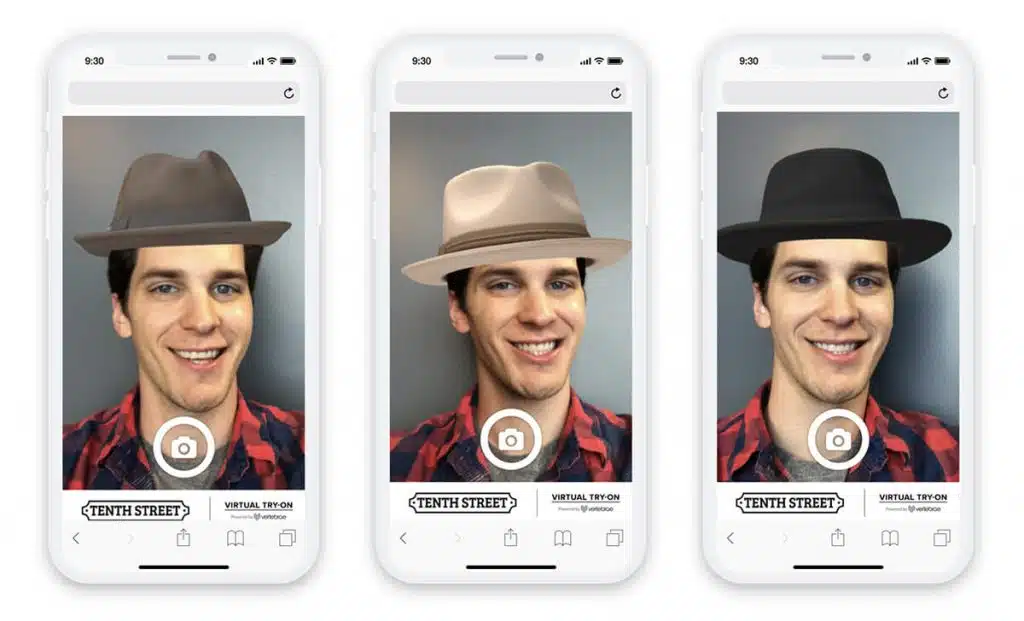 Visitors can choose items marked with "Virtual Try-On," click the "Try it on in AR" button, and see how their chosen hat looks. It was a big hit with costumes too with engagement levels increasing by 33% thanks to the augmented reality feature.
As brands look to reinvent their methods of acquisition and conversion, AR and VR will continue to develop into must-have abilities for all major fashion eCommerce powerhouses.
7. Omnichannel will keep stores omnipresent
In a survey conducted by eConsultancy, data revealed a 21% YoY increase in online orders in comparing March 2020 to March 2019. In a separate survey, 41% of respondents said that they were currently shopping online for things they would normally shop for in-store.
Whilst the coronavirus pandemic is responsible for these significant changes, it adds more fuel to a growing dilemma puzzling and pressurising most fashion ecommerce retailers. What to do about their brick and mortar stores?
With the accessibility and convenience of online shopping having left notable impacts on retail spaces in high streets around the world, now more than ever retailers are under pressure to unify retail experiences both inside and outside of their stores. Especially if they wish to maintain a profitable high street presence.
To help solve this problem, fashion retailers are instead turning to omnichannel strategies, such as direct-to-consumer. These marketing strategies allow fashion ecommerce retailers to offer seamless shopping experiences both online and offline, as they navigate the world of balancing brick and mortar stores with surging eCommerce sales.
Back in January 2018, Zara gave a glimpse of what an omnichannel future could look like by opening a click and collect concept store in London. The space had a dedicated area for collecting online purchases but also had staff on hand with mobile devices that offered sizes, stock, and, collection information for a limited selection of items available inside the store. Alongside this, there were options to avoid payment lines altogether by paying through either the Zara or Inditex group app, as well as self-service checkouts.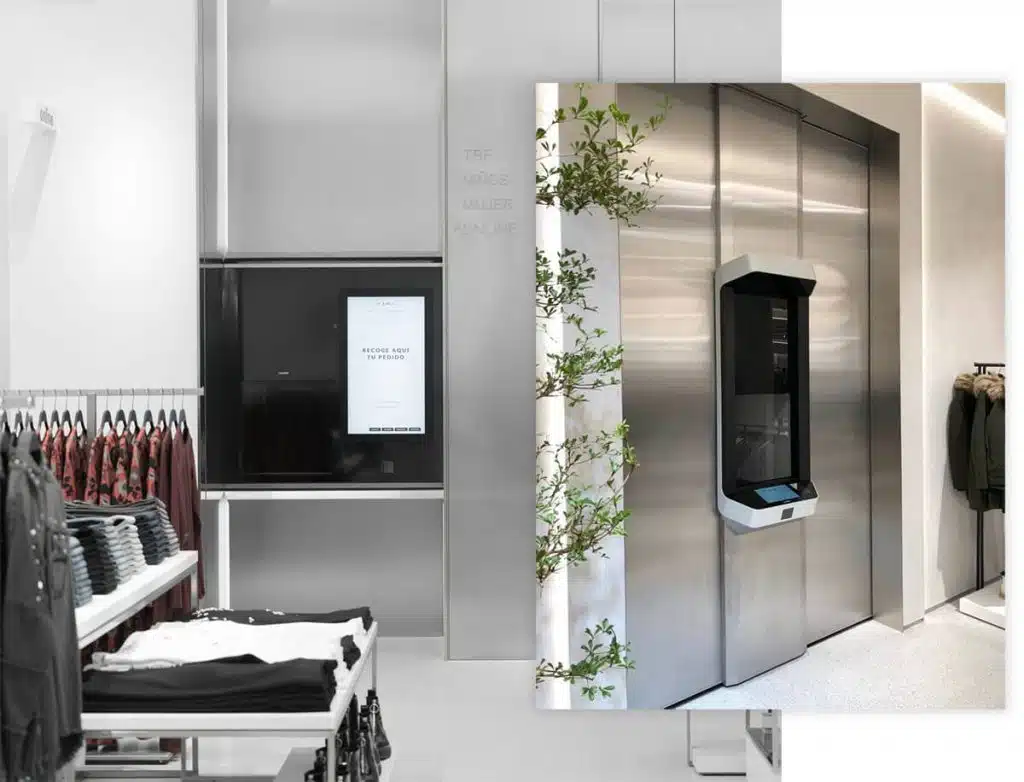 Most interestingly, a virtual styling tool was trialed in-store using information screens embedded into mirrors. Customers were able to scan barcodes of items using sci-fi-sounding radio frequency identification technology. Once the item was recognized, the internal system would load "multiple choices for coordinating and combining the piece with other garments and accessories."
Meanwhile, Nordstrom's DTC omnichannel strategy of "reserve online, try on in-store" was such a success that it is now available at 43 stores across the US, with 80% of shoppers who tried the service coming back to use it multiple times.
The service allows shoppers to select items through the Nordstrom app, notifies them when the products are available to be tried on in-store, and then sends a followup message upon their arrival which tells the customer where they can find a specialist reserved dressing room with their selected clothes.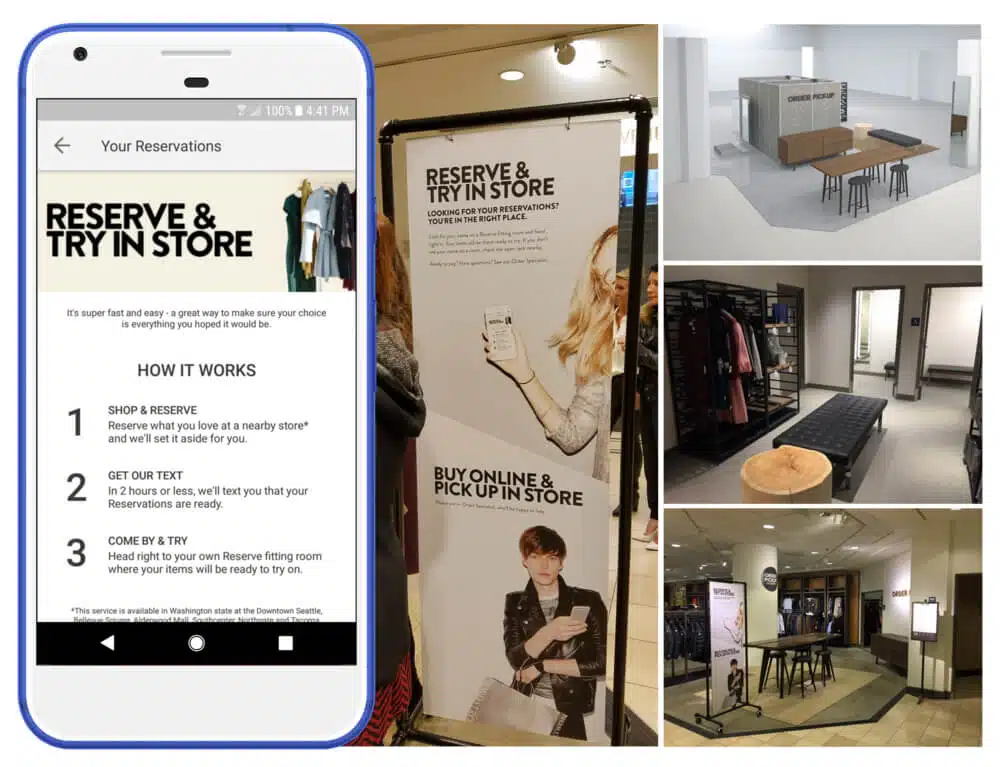 Recently, Nike is the latest big fashion brand to see success with their implementation of direct to consumer. Seeking to climb aboard the tech-driven drop strategy of selling exclusive, limited-edition items – popular among apparel makers like Supreme to generate excitement and demand – it purchased predictive analytics company Celect.
Celect's cloud-based platform issues data to help retailers optimize their inventories with local demand predictions. These predictions then aim to forecast how and when consumers will buy certain styles, bolstering Nike's DTC strategy of being able to personally supply consumers at a global scale.
According to the company's annual report, the digital portion of Nike's direct sales grew 35% during the period and outpaced all other marketing channels. Nike attributed its growth rate to its digital DTC sales and hailed them as a key driver of its sales for the foreseeable future.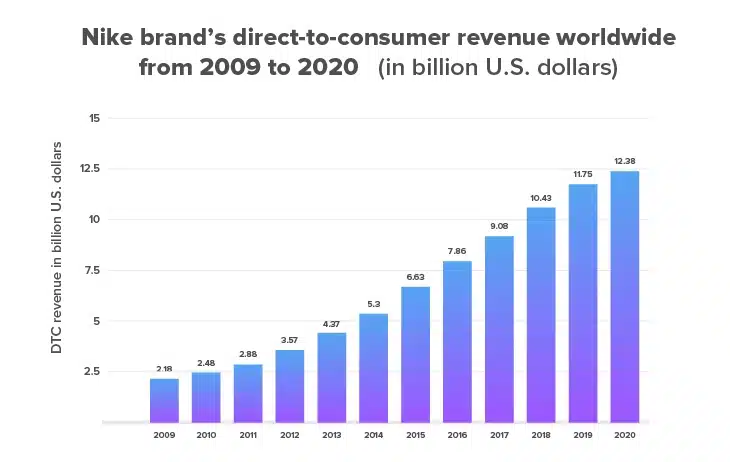 (Source: Statista)
While online eCommerce has had undeniable effects on physical high streets, omnichannel marketing supports the theory that retailers aren't necessarily closing their doors, they're evolving the methods in which they can reach and supply their customers.
For physical retailers, strengthening their digital presence ensures they can drive traffic both to their physical stores, like Zara, as well as make their catalog easily accessible to larger, online audiences, like Nordstrom.
For eCommerce retailers having a two-pronged approach to driving consumers between both an offline and online presence could not only be a way of unifying brand experiences whilst helping to keep a brick and mortar store profitable, but also fulfilling different consumer needs through segmenting the approach to supply, such as making certain products online only in a direct to consumer strategy.
8. Genderless fashion means there's a fit for everyone
In 2018, the Council of Fashion Designers of America, the organization that organizes the week's calendar, added a new category: Unisex/nonbinary. At the time the addition was regarded as a major feat for the LGBTQ community and was widely praised by society as a whole.
Since then, more progress has been made in the understanding of gender norms and within the inclusivity of non-binary gender identities, and this is now being reflected throughout the fashion industry. Lyst recently reported a 52% increase in searches for the terms 'genderless' and 'gender-neutral' fashion.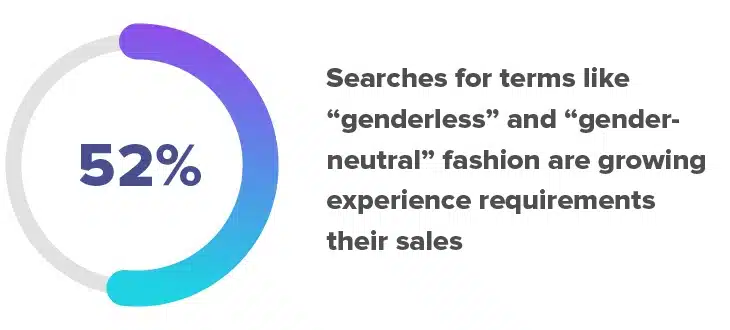 Across the past year, Inhabit launched its first genderless collection, Norma Kamali changed her brand to a unisex label, Umit Benan launched a unisex line, B+, whilst Equipment followed on by launching their gender-fluid collection in the Spring of this year.
With the latest data suggesting 56% of Generation Z consumers shop outside of their assigned gender categories, fashion houses H&M and Zara also introduced genderless collections, while Tommy Hilfiger's loungewear section features pieces that appear across both men's and women's individual sections.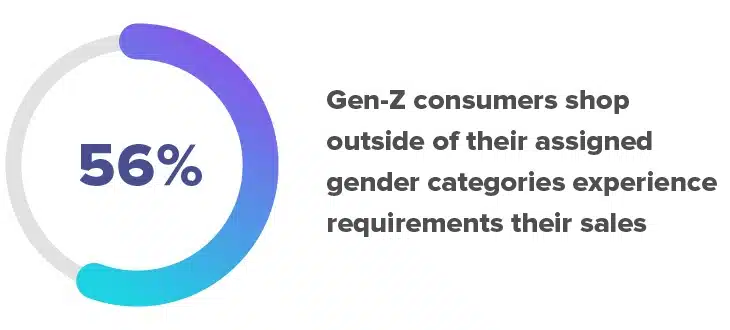 According to the Pew Research Center, 35% of Gen Z are familiar with gender-neutral pronouns, followed by Millennials at 25%. Gen X makes up an additional 16%, bringing the total number of people familiar with gender-neutral pronouns to 76%.
That large consumer market is a predominant reason behind the likes of Louis Vuitton and Gucci using male celebrities to promote traditionally female clothing, such as in 2016 with Jaden Smith and Harry Styles in 2019 and forms the basis for brands adopting the language, describing their gender-neutral collections as genderless. Genderless pieces also contain greater potential through their ability to connect and appeal to two market segments.
Doug Stephens, an author and futurist of the retail industry predicts going forward, genderless clothing will influence a significant part of fashion's future. "The way we dress from a gender standpoint is, to a larger extent, a reflection of how we regard gender roles," he says. "As gender roles are blurring, the traditional fashion identities of both men and women are blurring along with them."
Already reflected in brands such as Selfridges, Totokaelo, and Vans, genderless and unisex fashion are trends that will continue to evolve all the time conversations around them continue to develop. Additionally, as companies aim to diversify their workforce, including those from BAME and LBGTQ backgrounds, influences on the design and development of styles could see brand new, exciting changes that allow fashion to return to its roots as a statement of identity.
For eCommerce retailers, now is a great time as any to truly tap into your audience's wants, needs, and values. If you've been wanting to expand your ranges outside of traditional gender norms, there's no better time to support an inclusive movement just finding its voice.
9. Buy now, pay (for luxury) later
In February of this year, Style360, a New York fashion week event organized by publicity firm A-List communications forewent celebrity guests in favor of a technological one: Swedish banking firm, Klarna.
Klarna took to the spotlight to advertise its recent partnerships with eCommerce brands that allow consumers to pay for products through installment plans, instead of potentially off-putting upfront costs. One example in action was a $140 Jeffrey Campbell shoe, available for purchase for four monthly installments of $35.
As economic ramifications are still to be navigated for fashion eCommerce retailers and consumers alike, a new purchasing landscape seems to be offering a potential solution to the question of just how luxury fashion retailers, in particular, are going to make their pieces affordable to a new range of savvy buyers going forward.
Enter: Buy Now, Pay Later, a new form of purchasing that is being embedded into a range of different fashion eCommerce retailers, both big and small.
Services such as Klarna, Afterpay, Affirm, and Openpay allow a shopper to purchase and receive the product upfront while financing a payment across a number of months. All of which are showing tremendous growth.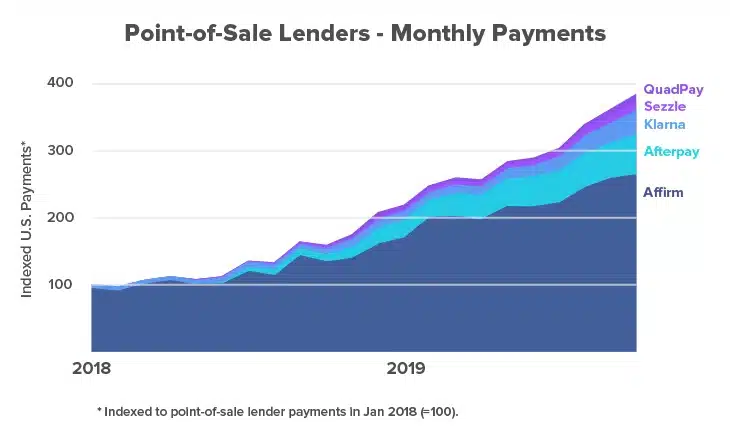 Fintech startups are increasingly hopeful that eCommerce fashion retailers will continue to view buy now, pay later services as a gateway to making high-value purchases more affordable, and accessible to wider markets.
Going forward, eCommerce giant Shopify also has high hopes that its merchants will implement payment methods with installments including micro-payment and split payment options – the capability for which it is installing across its platform.
With fintech companies and selling platforms like Shopify making the means to implement these payment options easily accessible, retailers should prepare for the future of high-value purchases no longer needing to be specifically targeted toward a variety of affluent audiences.
This potentially exciting development opens a wealth of opportunity for high-end eCommerce fashion retailers, who could experience the chance to reach new audiences and scale new heights in their business by attracting a new market of consumers.
Fashion eCommerce: What's next?
Fashion will meet and conquer new frontiers. With every change, fashion returns to its roots of accessibility and identity, engaging new audiences with technology like Klarna and adapting its values and ethics to cater for genderless and sustainable fashion.
For eCommerce fashion retailers, it's time to try on these easily transitional changes. Merchant platforms like Shopify have made it easy to implement accessible payment options, and direct-to-consumer popularity means your eCommerce store can already get ahead of the rush if optimized correctly.