Really knowing and understanding your consumers is the key to being able to sell more to them, and no more so than in the current economic climate, says David Swift, Founder and Chief Executive Officer, who also recommends that retailers and brands look deeper into what you know about your customers, to achieve even greater ecommerce success.
In all the current uncertainty in markets and politics, the fact is, despite a blip in the upward trajectory of online sales after lockdowns and consumers got back into store, online commerce growth remains extremely positive. As our UK Ecommerce Market Insights report shows, half (50%) of shoppers plan to increase online shopping over the next 5 years, and despite protestation to the contrary, by store owners, purchasing will continue to shift away from bricks and mortar stores.
And not just at home, but abroad as cross-border commerce also grows, to more than $5.55 trillion (Gartner) last year. While consumers have reined in their spending in the current cost of living crisis, the proportion of their spending made online has not fallen.
However, there is no room for complacency, especially when a closer look at the figures reveals some interesting differences in shopping behaviour across the main age demographics – differences that demand retailers and brands invest more into understanding their customers.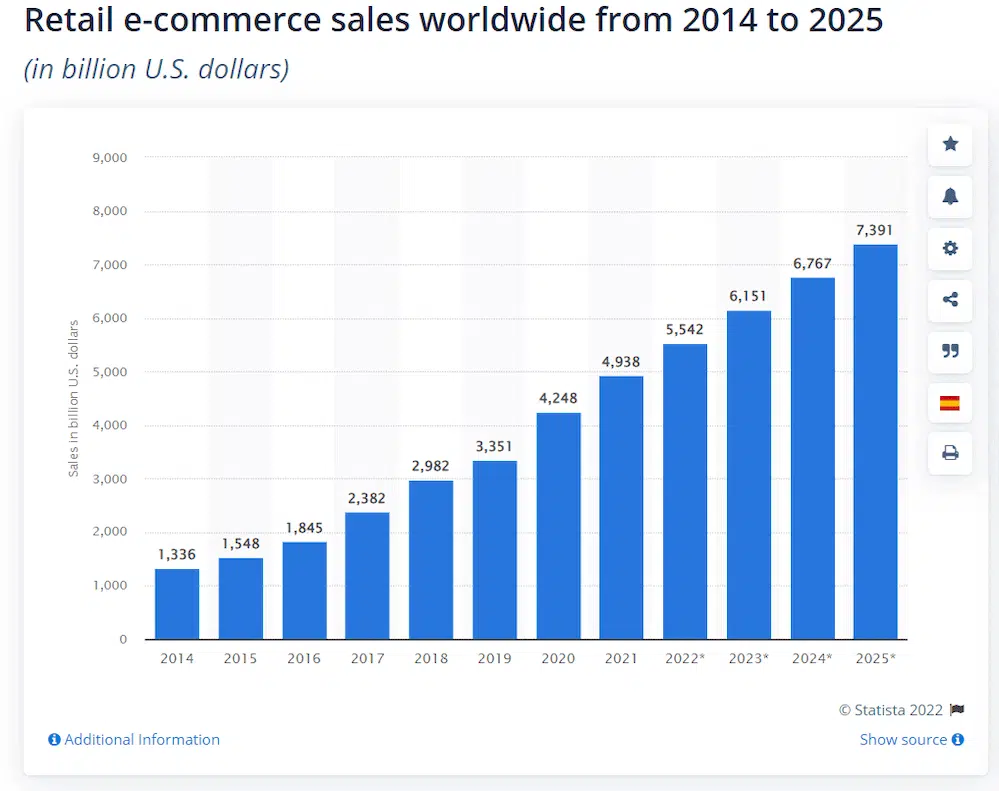 For instance, younger shoppers are more likely to buy internationally. As the research shows, looking at the percentage of respondents who shopped cross border in the last 12 months for clothing, Footwear, Cosmetics, Luxury Items, or Electronics, 61% were Gen Z, while only 20% were Boomers.
A closer look at the figures also reveals that while there is growth in online shopping as a whole, there are particular regions where growth is unusually high. Countries with the highest percentage of respondents reporting they shop internationally were UAE (75%), Switzerland (68%), China (64%), Spain (63%) and South Africa (52%). The most popular purchase categories were clothing, luxury, consumer electronics and cosmetics.
To make it easier to sell to these potential customers, we've identified three shopper cohorts – Brand Super Fans, Power Shoppers and Bargain shoppers. Understanding how to sell to them is the key to unlocking their spend.
Super Fans are motivated by scarcity and exclusivity, not price. When brands identify their super fans, they can target them with full-price, limited-time or limited-quantity product offerings. Many want to be the first one to have the latest thing, while some want to be the only one to have it.
Power Shoppers are motivated by the convenience of online shopping and often go directly to a brand or retail site to buy. This direct interaction gives brands and retailers the opportunity to capture first-party data as well as sales, and utilise that data to create more personalised experiences that improve loyalty.
Bargain Shoppers, while naturally price-sensitive, are no less valuable. Bargain shoppers will forego owning a newly released item to wait for a discount later. However, brands needn't employ a slash-and-burn strategy to reach these customers and move merchandise. Today's ecommerce solutions give brands the flexibility to take a customised approach to different market segments.
And retailers can cleverly navigate the differences between these shopper cohorts in order to optimise inventory as well as pricing. For instance, knowing that younger shoppers will wait for discounts is an excellent use of first party data to adapt operations by shopper type and territory.
Wherever these cohorts live and from wherever they shop, retailers and brands must build relevant shopping experiences across all cohorts and all channels. Relevant does not mean copying and pasting experiences from home markets onto new territories, but respecting differences and distinctions of each individual personality and support them with the right mix of products, payment methods, product mix, prices and fulfilment methods.
In order to achieve these capabilities, it is important that retailers and brands do not try to do everything themselves, but work with local business entities that have the resources and expertise to make transactions optimal for them and their customers.
Personalisation is not related to location. Instead it is about the inner actions and emotions of the individual consumer being addressed, and that requires the perpetual gathering of data on that individual to present products to them, not only carefully calculated that they want, desire, need, or even expectantly anticipate you offering to them next. Knowing each of your customers perfectly is essential.
Predictive personalisation, AI for ecommerce, is the epitome of how far technology has come so far. It helps increase your sales, reduces bounce rate, increase conversion rate, increases customer retention, obliterates RoR, increase AOV and CLV. If you want ecommerce success then why, oh why, isn't it on your site already?
As an ecommerce retailer, developing a better understanding of your customers is always going to give you a significant advantage over your peers. With the assistance of artificial intelligence and machine learning, you will be able to make better use of the customer data that you hold. They don't have it, and you do, so to not use it yet could be considered as strategic constipation!
Organising your data effectively, continuing to gather more, and ultimately using that data to your greatest advantage, will translate this into tangible results for your business. Once you start using artificial intelligence in your business, you will see a ravenous shift in positive results, in days.
SwiftERM is a Microsoft partner company. For a free 30-day trial of AI predictive personalisation software with zero risk and without obligation, visit us here.