Ecommerce marketing tactics for advanced retailers. This is an article for established ecommerce brands that are looking to take their marketing to the next level. This is for brands that have implemented the fundamentals of effective digital marketing and are ready to continue driving the scalable, predictable growth of their store.
Embrace Technology
This may not be a tactic suited for the beginning of an advanced ecommerce marketing article. It may not even technically be a tactic. BUT, almost all of the following advanced ecommerce marketing tactics tie back to openly embracing new technologies or new uses for your existing tech.
Discovering, testing, and implementing technologies that support the achievement of your business goals should be at the core of your ecommerce marketing strategy. Your entire ecommerce business revolves around the successful use of a wide variety of tech. Without it, your business couldn't operate at nearly the same level of efficiency.
That said, we're willing to bet a hefty sum that there are new and exciting technologies, features, or functionalities that could have a dramatic impact on your bottom line, not to mention the long-term success of your ecommerce brand.
You may even find that there are new ways to use existing tech to support new goals or deliver a higher level of operational efficiency. In any case, be sure to continually be on the hunt for new and exciting technologies that present a new opportunity to support your long-term success.
Remarket to Customers Based on Purchase Data
We mentioned using tried-and-true technologies in new ways to improve your ecommerce marketing performance. Let's start with one of the most important.
You know by now that remarketing is one of the most powerful tools at an ecommerce advertiser's disposal. It dramatically increases customer lifetime value (CLTV) and, in return, your overall ROI. But are you using it to the full extent of its capabilities?
If you're not remarketing to your previous customers based on purchase data, specifically purchase date and amount, we'd say no.
Segment those of your customers that haven't purchased in 90-180 days, for example, and further segment that list by order value. Your best customers (typically those who have the highest order values and frequency) are customers you want to keep, so send them a special offer.
Most stores send discount codes to disengaged customers because it's highly effective, but think of ways to take that to the next level.
It makes sense to send customers with lower order averages a discount, but why not send $20 or more of zero-obligation credit to your best customers to keep them engaged in your funnel? They may buy more than that $20 with their next order, they may not. The point is that they are highly engaged with your store and that could be very valuable when it comes to future orders.
Content Retargeting
Retargeting isn't simply for pushing purchase intent ads to your website visitors. Take the pressure off and try providing a new level of value instead.
By sharing highly valuable content with them, you may find your previous website visitors re-engaging with your brand in a more organic way than would have ever been possible. Be sure that you're tracking the lifecycle of your visitors, leads, and customers in order to ensure you're displaying the right type of content for their buyer's journey stage.
This is especially effective when attempting to bring otherwise disengaged shoppers back into your funnel. By doing so you may instead be able to nurture them toward an eventual conversion.
Establish a "Daily Specials" Program
This one is surprisingly underutilized in most ecommerce marketing strategies. Daily specials are a great way to create a sense of urgency, both in your advertising and for organic visitors. The specials do, however, have to change daily for this to be truly effective in the long term.
That's because the overarching goal of this tactic is to get people coming back to check on your daily specials on their own. Rather than having to pay for ads, you simply train them to check in for what's on special for the day. What makes this even more effective is to create a specific email list for your daily specials. People opt in as a way of being exposed to your new deals of the day, and you get a highly engaged segment of your customer base.
Optimise Email Capture Channels
No matter how sophisticated your ecommerce marketing strategy is, if you're not capturing shopper/customer contact information you're leaving money on the table. The most effective remarketing is done by email. In fact, email is still one of the most effective ecommerce marketing tools at your disposal, yet too many brands under-prioritize capturing emails on their site.
Incentivizing people to provide you with their email address is well worth the investment in the long term. That said, it's important to test different incentives across your site. You may incentivize your shoppers with:
Content
Content is a more multipurpose ecommerce marketing tool than most online retailers assume. Sure, blog posts can drive organic traffic (and so much more), but downloadable offers like lookbooks, style guides, checklists, or product guides can provide a powerful incentive for prospective additions to your mailing list.
One-Time Discounts
Single-use discounts are one of the most popular incentives because they work. Give your shopper a 15-25% off coupon for their first purchase and you'll be far more likely to capture their contact info.
Ongoing Discounts
If your ecommerce marketing strategy prioritizes getting the highest lifetime value from your customers (and it should), consider providing each of the members of your list with a lifetime discount as long as they remain on your list. This discount is automatically applied at checkout, making shopping easier. Brand engagement is kept sky high and you have something to (kindly) dangle over the heads of anyone thinking about opting out of your list.
Contest Entry
Another great way to capture more email addresses is by hosting a contest or giveaway. Maybe your online instrument store is looking for the top 3 pieces of original music from their followers. Get people to sign up for their chance to win a free (insert prize here) in exchange for their submission and email address.
Giveaway Entry
You'll find that giveaway entries are a similarly powerful incentive to contest entries. The only difference is that your shoppers don't actually have to do anything past signing up to potentially win.
Target Emails Based on Campaign Data
With list-growing tactics in place, you can take your ecommerce email marketing to the next level by segmenting your list based on the results of your previous campaigns.
For example, segment your list based on customers who have converted on previous remarketing emails. The customers who have converted on these types of offers are more likely to convert on the same types of offers again, allowing you to build a list that possesses strong conversion potential.
Then, segment those who didn't convert and test different campaigns with different tactics to determine what (if anything) triggers these shoppers to convert. Leading provider SwiftERM, uses an advanced predictive analytics algorithm to individually target each individual consumer, which is why it runs at the same time – in parallel, to commonly used marketing ESPs.
Segment Lead-Nurturing Campaigns Based on Data
If you haven't already caught on to the theme of this article, effective ecommerce marketing is dependent on the personalisation of each tactic based on the specific attributes of each shopper/customer.
That's why it's so important to build specific lead-nurturing campaigns based on the user data you're able to collect about your shoppers. Lead nurturing is only effective if you're appealing to the audience's interests or addressing their pain points.
That's why someone who downloads one piece of content should receive a very different series of emails to someone who signs up for your lists based on a discount incentive. Your various email series should even be different based on the different guides or content offers a person has downloaded. 
Implement User-Generated Content
User-generated content is one of the most powerful ecommerce marketing tactics in this list, largely because it can be used in so many different ways. Some of the most sophisticated ecommerce brands in the world utilize UGC throughout their ecommerce marketing to optimise performance.
Nothing earns shopper trust like a real-life review, photo, or video of your happy customers.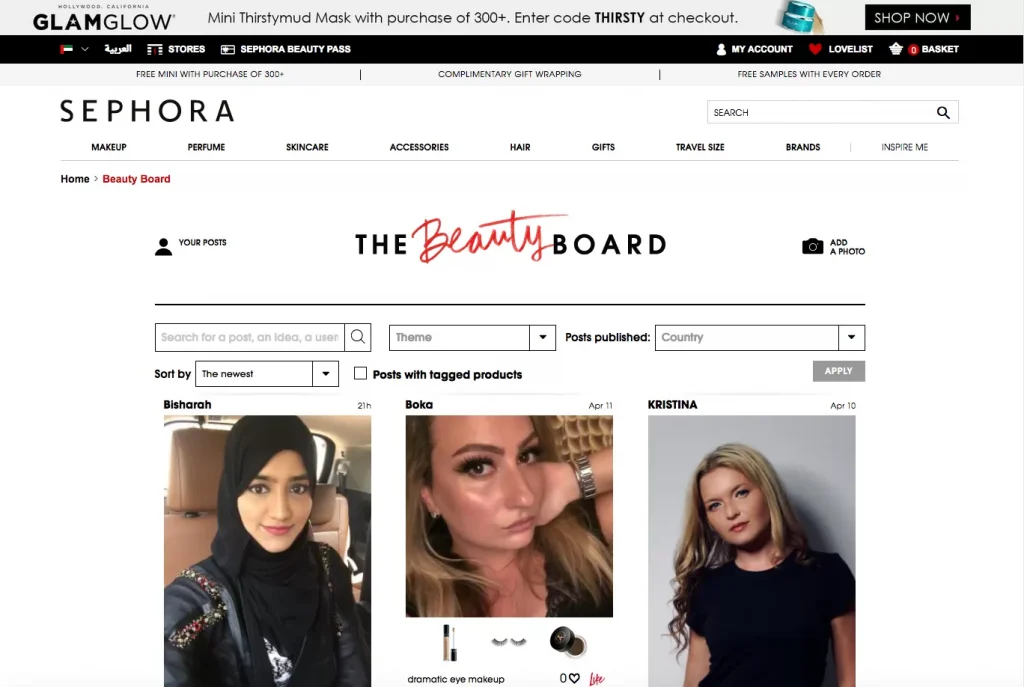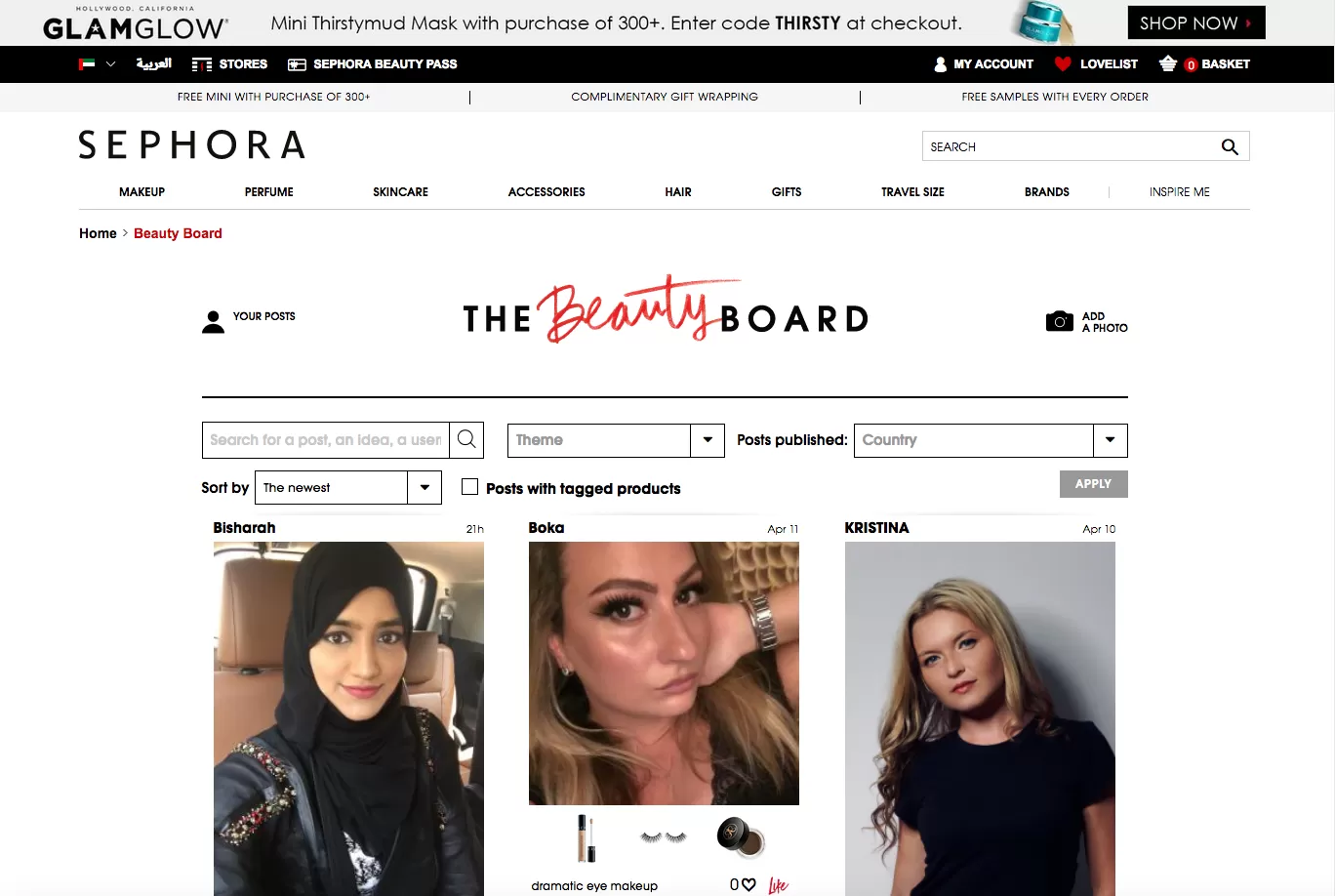 Work to collect user-generated content from your shoppers and customers so you can use it to support your product pages, enhance your emails, and even boost the performance of your paid advertising.
If you're already using UGC and having trouble sourcing it effectively, this powerful article on how to ask for a review is a must-read.
Track EVERYTHING
Most of the tactics from this list require diligent tracking on your part. That means having a sophisticated CRM for ecommerce marketing platform to help you track shopper behaviour on your site and both on-site and off-site engagement.
The better you can understand your customer behaviour, the more effectively you'll be able to market to them. Tracking your ecommerce marketing to this level allows you to understand what works, what doesn't, and often helps you understand how to bridge the gap between the two.
Optimise PPC Performance Based on User Behaviour
Paid advertising is only effective if you're targeting the right audience.
Tracking shopper and customer activity throughout their lifecycle can help you determine who your most valuable customers are, as well as their interest and most common behaviours. Information gleaned from your users' behaviour can help you to further optimise the performance of your paid advertising by providing you with powerful insights about the people who actually buy from you. Here is a list of the top PPC companies in the US, and in the UK.
Being able to determine that shoppers that don't convert take "Action A" and those that do convert take "Action B" allows you to exclude those less likely to convert from your targeting. This immediately has a positive impact on your PPC ROI, and it also allows you to focus your other marketing efforts around the behaviours and interests of the group most likely convert.
Target Based on Abandoned Carts
While this isn't exactly a groundbreaking new tactic, we had to include it in the list simply because we still see so many "advanced" ecommerce marketing strategies that completely neglect its power.
By using your retargeting pixel in a more sophisticated way (having it fire when an item is added to your shopping cart, for example), you're able to target your prospective customers with ads that showcase the specific item(s) they left in their cart. If you already have your shopper's email address you'll also be able to send them an email with the items.
If you find that your ads aren't proving to be effective, test including a discount code for those items. If your emails aren't delivering the results you're looking for, be sure to automate a follow-up email that, once again, includes a discount code for those items.
Remember to have those ads/emails link back to the specific product pages for your items or even their cart (if they're logged in).
Final Thoughts
With the fundamentals of ecommerce marketing in place, you're ready to continue optimizing the performance of your marketing channels. Take the tactics in this guide and test their impact as you implement them.
Ecommerce marketing is about understanding what works for your unique buyers, so be sure to track the results of each of the tactics to understand how and why they impact your results. For now, here's to your marketing success!