An effective list strategy is crucial to the overall performance of email marketing for small and medium-size businesses (SMBs).
However, what are the most significant barriers to the success of an email list strategy, and how are SMBs overcoming them?
Read on to discover how SMB marketers are approaching email list growth to build a quality email list that enables them to send the right message to the right person at the right time using personalisation and email automation.
Email marketing generates an average of $38 in ROI and marketers are 6x more likely to get someone to click through to their websites from an email than from a tweet.
However, email marketing only works if subscribers want to receive emails from your company.
A marketer's goal used to be building the largest email list possible, and many companies continue to boast about their "thousands" of subscribers. To stay competitive, marketers have tried a number of tactics to grow their lists, such as pop-ups, coaxing emails, lead gen assets, and running contests on social media that require an email address to sign up.
However, times are changing. Marketers are now focusing more on engagement metrics, such as open and click-through rates, rather than just growing a massive list of subscribers.
Email marketing continues to be a powerful channel for marketers. It results in positive brand awareness, continued touchpoints with prospective and loyal customers, and increased revenue. The ROI of email is undeniable:
82% of B2B and B2C companies use email marketing technology. (Medium)
You are 6x more likely to get a click-through from an email campaign than you are from a Tweet.
Checking and using work email is expected to increase by 25% (Really Good Emails)
These stats spell out huge opportunities for marketers, but some old tactics no longer work. Sending out large email "blasts" to huge subscriber lists is no longer resulting in high open rates. List decay is increasing. A large list doesn't translate to results. The average open rate from branded emails is a mere 20 – 40%, and the click-through rate is even less.
Why aren't age-old tactics getting results?
When digital marketing was in its infancy, it was relatively easy for brands to get results with social media, email, advertising, and content marketing. Their competition wasn't engaging in the same tactics, and they had a clear advantage.
Today's brands, however, understand the value of these channels. They're sending more emails and publishing more content. As brands compete for attention, the stakes have increased. In 1997, online ads got a 7% response rate. In 2011, they only got .1%, according to Marketing Zeus.
In 2014, inbound marketing influencer, Rand Fishkin, coined the term "content fatigue" in a blog post about how marketers could become their own worst enemy. Fishkin pointed out that brands are producing so much marketing content that it's harder than ever to get noticed.
"8,765 hours is all that any of us have in a year. And while the time spent on social media, or mobile gaming, or watching online videos, or consuming infographics, or reading blog posts may go up, it is inherently limited. Every new activity cannibalizes another." – Rand Fishkin
According to a report by Radicati, as of 2018, there were about 124.5 billion business emails sent out and received each day compared to 111.1 billion consumer emails sent and received each day. So many emails are getting sent that recipients are getting pickier about the lists they subscribe to and the companies they want to hear from regularly.
The importance of building a quality email list
In this competitive climate, marketers are looking for ways to get results, and they're increasingly focused on improving email list quality.
SMBs are aware of the value of list quality. Our survey revealed that 66% of SMBs want to increase list quality, viewing it as more important than increasing conversion rates and email list size.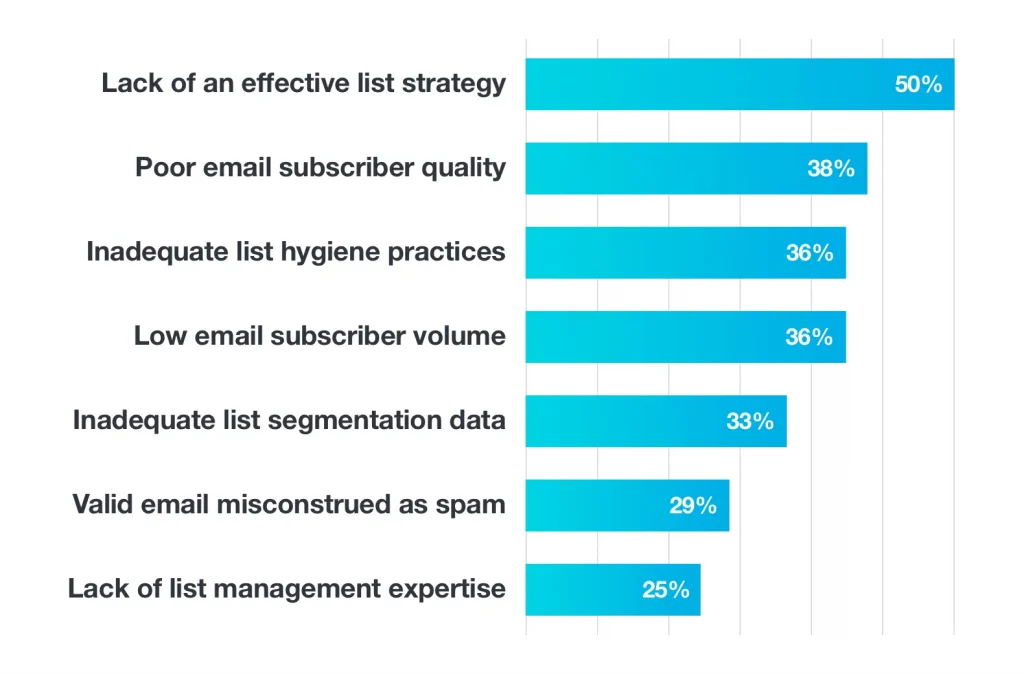 The rise of personalisation and automation
In the new era of email marketing, where delivering highly targeted and relevant information to subscribers is paramount, marketers are using personalisation and email automation to make this a reality.
Subscribers are more likely to open and engage with messaging that feels personal, which is why personalisation is rising. Instead of sending out the same email to every subscriber, marketers are now taking buying behaviour, gender, geography, and other factors into account to create personalised messages.However, marketers aren't creating these messages manually. They need to prepare for the future of personalisation at scale.

Email automation is on the rise as well, and marketers are setting up time and trigger-based emails to reach subscribers at the right time with relevant information. These automated emails are used to onboard new customers, welcome new subscribers, and lead prospects down a sales funnel.
How do I set up an email list?
Many marketers look at their current email list and wonder if it needs improvement. Here are some indicators that you have a healthy, high-quality email list:
Open and click-through rates are stable or increasing
You can segment your list and personalize messaging
Email campaigns can be tied directly to ROI
List decay is stable or decreasing
There may be room for improvement if your email list lacks any of these items.
What to do with an existing email list
Most marketers are working with an existing email list. The challenge is to improve the list, so that engagement rates increase. Here's what to do with an existing list:
Assess what you already have
Start by asking, "What do we want to send? What automation and personalisation do we want to implement?" then work backward based on those goals. To increase the quality of your list, you must assess where you are currently and make some goals about where you'd like to be. Once you've figured out the current state of your list, you can then build a strategy from the ground up.
Get rid of the fluff
You probably have subscribers on your list that haven't opened your emails for six months, one year, or even more. Whether their email address has become invalid, or they're simply not interested in your messaging, consider removing them from your email list.

Removing these subscribers will negatively affect your subscriber count, but it will positively impact your list quality, which is more important. If you get rid of these disengaged subscribers, you should see engagement rates rise. You can send a re-engagement campaign asking these subscribers if they'd like to remain on your list and, if you don't get a response, you can feel confident removing them.
Conquer send fear
Many marketers are afraid of screwing up, and they let "send fear" take over. It's important to try personalisation beyond just using first names in the body or subject line of the message and have the confidence to test personalisation for your brand. If you're skeptical, use A/B tests to figure out if personalisation resonates with your lists. Make sure all fields are mapped to the right things so that, when your campaign goes out, everything appears correctly.
How do I get more email signups that drive engagement?
Whether you're working with an existing email list or starting to build a brand new one, there are a few ways you can create a high-quality email list that drives engagement.
Improve signup forms
Subscribers get on your lists through a signup form, but are you collecting info that can help you improve engagement? Create a new signup form and ask for information that you can use later. For example, Topshop asks for birthday information, which can allow them to send relevant birthday offers, horoscopes, and age-related messaging. The brand also asks whether the subscriber is a student, which will allow them to send related campaigns.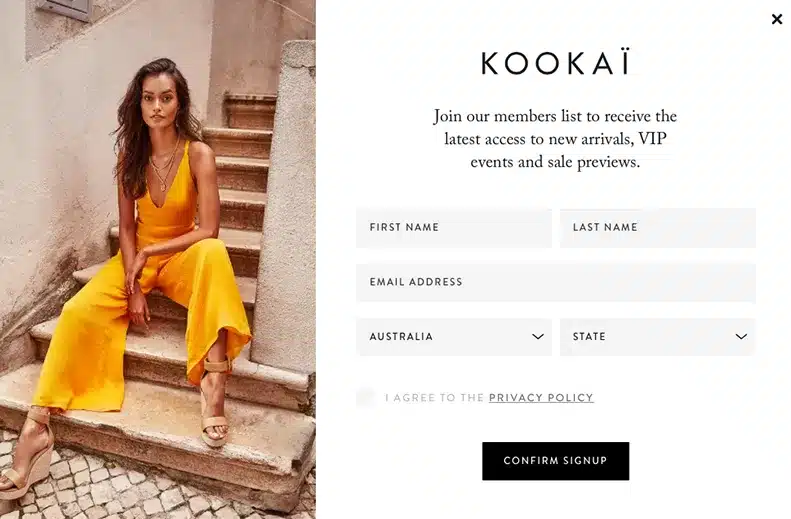 Leverage data you already have
You can't begin to personalize your campaigns if all you have is an email address, so work to figure out what data you already have. Do you have information on past purchase behaviour, length of time on your email list, customer status, or geography? All of these areas can be leveraged for personalisation, which will, in turn, improve list quality. Where does this information live? Is it in your CRM, e-commerce platform, or somewhere else? Integrations can help you combine your email list with outside information.
Use integrations and APIs
Integrations can help you marry data from your CRM with your email lists, and you don't need a developer to help you improve your lists. Automation and personalisation are now totally accessible for the DIY marketer. It also integrates with e-commerce platforms such as Magento, WooCommerce, Shopify, Eventbrite, and more.
Rely on dynamic content
Today's tools make it easy to send more individualized messages. You can use dynamic content to change certain parts of the email based on the information you have about your subscribers. For example, you can use dynamic content to show different images based on where your subscriber is located. You can select which lists or segments of lists should see a particular part of an email. Dynamic content allows you to create several versions of the email for different sets of customers based on what you know about them, all from within one campaign.
Once you have improved your email list, you'll be ready to take advantage of personalisation.
Wrap up
In this new era of email marketing, it's not enough to simply grow your list with hundreds of thousands of subscribers. You need to focus on the quality of your list. Any marketer can take steps to improve his or her email list.
Some steps include:
Maintaining list health
Using campaign automation
Personalizing your campaigns
With the tips and tactics presented throughout this guide, you can grow a quality list and use personalisation and email automation to increase the success of your email marketing campaigns.