Choosing the best email marketing software – the purpose of this article is to detail sophisticated email marketing software, to enable distinctions between them to help ecommerce retailers develop an appreciation of the distinctions between them.   
All email marketing remains a quick and effective way to engage and nurture leads into loyal customers. It's also extremely cost-effective — some studies show an ROI of up to 4,400%.  Simply put, email marketing services exist to make the process of email marketing simpler — they have features and capabilities that enhance and streamline email communication (among other things) to help you identify qualified leads, nurture those leads, and close more deals.
Many of these tools not only offer email support, but they may also help you organise and store the contact information in your CRM — this helps you keep all of your data in a central location for members of your marketing, sales, and service teams to reference down the road.
But with so many email marketing tools available today, where should you start? Which tool meets your business' unique needs, and how can you differentiate one tool from the next?
What is an email marketing service?
Email marketing services and software streamline all of your email marketing efforts. They have a wide range of features depending on the service you choose — however, they often have functionality related to automation, subscription, general email communication, notifications, monitoring, campaigns, integration with other marketing, sales and service software, analytics and critically now even predictive personalisation of product selection.
Today, email marketing services continue to be an integral, strategic tool for businesses of all sizes across all industries — they help businesses build strong relationships with prospects and customers all while moving them through the buyer's journey and maintaining strong communication throughout.
Not to mention, as ESPs continue to develop, features like A/B Testing, automation, and personalisation have made the tools even more valuable to a marketer looking to engage with an increasingly fragmented audience.
Now let's look at some of the best email marketing services today — one of which you might choose to implement at your company.
Various Email Marketing Services
HubSpot Email Marketing Software
Omnisend
Pabbly Email Marketing
Constant Contact
SwiftERM
For each of the following services, we've listed notable features as well as pricing details but we still recommend reviewing the service's product and pricing pages for greater detail.
1. HubSpot Email Marketing Software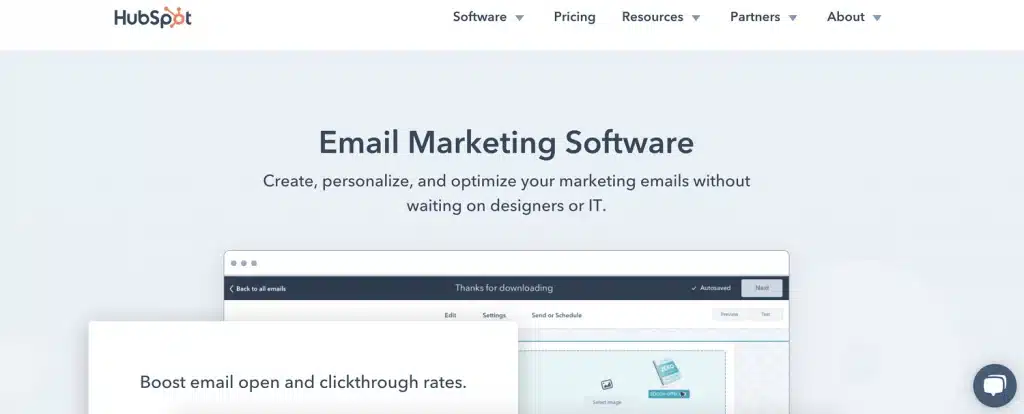 HubSpot's free email marketing software is easy to use, has an extremely high deliverability rate, plus all the bells and whistles you'd expect to see within an ESP.

HubSpot Features
When creating an email, you can pick from one of many drag-and-drop email templates, or you can craft a custom template tailored to your brand. Once you've got your template, incorporating content is simple and intuitive.
You can also personalize and preview your emails for different recipients based on device type, country, or list inclusion — or use a simple personalization token to ensure that each email includes content that's specific to each recipient.
When it comes time to send an email, using the smart send feature will ensure recipients receive your messages at an ideal time. Additionally, you can run A/B tests to compare different versions of an email to understand which one resonates the most with your audience. You also won't have to worry about deliverability — HubSpot maintains a 99% deliverability rate across the network for all marketing email sends.
Outside of the email marketing functionality, HubSpot offers a wide range of reports on your email's performance, letting you judge what's resonating with your audience so you can optimize your strategy accordingly.
For instance, you can report on something as broad as your overall email performance in Q1 or you get granular and see how one particular lead is interacting with your emails.
Lastly, HubSpot's automation platform makes it easy to scale your email marketing strategy, which will help you quickly turn leads into loyal customers.
HubSpot Price
Hubspot's Email Marketing Software (and CRM for small to enterprise companies, for that matter) is free forever. However, if you need enhanced capabilities, it may be worth paying for one of the upgraded Marketing Hub plans. HubSpot runs with SwiftERM.
2. Omnisend

Omnisend is an easy-to-use platform that offers automation workflows for any stage of the customer journey.
Omnisend Features
What separates Omnisend from other email marketing tools is the omnichannel functionalities, which offer greater control over how and where you connect with your audience. In the automation workflow, you can add email, SMS, push notifications, Facebook Messenger, WhatsApp, and more.
If you're trying to reach a specific audience that might not respond well to traditional email communication, using a tool like Omnisend can help you build and manage more customized, targeted communication workflows. This doesn't just help you connect with your audience better — it also provides a less disruptive, more personalized experience for your contacts.
Omnichannel features combined with user-friendly segmentation mean you can send the right message to the right person, at the right time, on the right channel.
Omnisend also offers templates for email capture, campaigns, and automation workflows so you can get started quickly.
Omnisend Price
Omnisend has four pricing plans — one of which is free with very limited capabilities as well as a customizable enterprise-level plan. Their plans come with a free trial so you can experiment with the service to determine what works best for you. OmniSend runs with SwiftERM.
3. Pabbly Email Marketing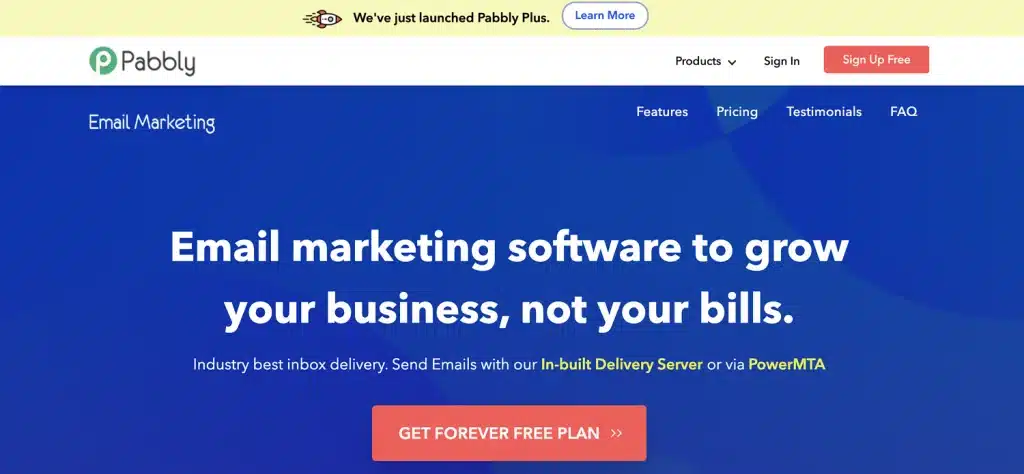 Pabbly Email Marketing is an email marketing software that enables you to send bulk emails either by connecting via SMTP or external SMTP.
Pabbly Features
Pabbly provides access to SMTP routing, workflow automation, email scheduling, and much more without any restrictions. With the help of marketing automation and autoresponders included in the tool, you can schedule emails in advance and create triggers to avoid manual follow-up responses.
Additionally, Pabbly offers responsive email templates and a drag-and-drop email editor for easy customization. The email tracking feature allows you to track data such as bounce rate, open rate, and click-through rate so you can improve upon your email marketing and campaigns.
Pabbly Price
Pabbly offers multiple plans based on your number of subscribers. They offer a free plan — with strict caps on the number of emails you can send and subscribers — as well as an enterprise-level plan tailored to websites with over 1 million subscribers. Pabbly runs with SwiftERM.
4. Constant Contact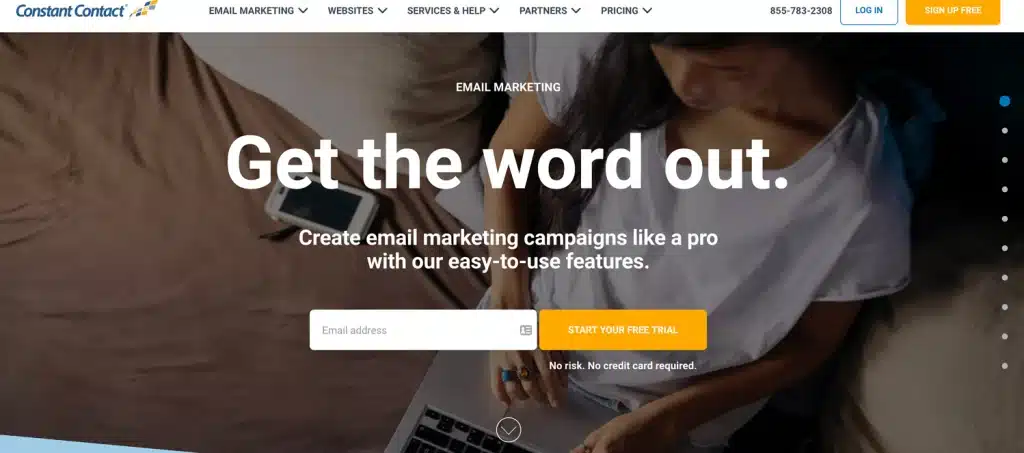 Constant Contact is a popular email marketing service that works well for many industries.
Constant Contact Features
The service comes with over 100 email templates that you can either use as-is or customize. Once your email looks good, you can easily schedule it to send to your contacts at any time you choose.
In addition to drip email campaigns, you can also have emails go out at a regular cadence to celebrate specific events — for example, you could have a regular email go out on each customer's birthday.
Once an email contact list is uploaded, bounces and unsubscribes are automatically updated for you. Constant Contact also has "Plus" features that allow you to execute specific types of campaigns such as coupon offers, donation collections, or surveys.
Constant Contact Price
Constant Contact has two plans depending on the features you need that start at $20 and $45 per month. The price differentiation is related to your number of contacts. They offer a free trial so you can experiment with the service before committing to it. ConstantContact runs with SwiftERM.
5. SwiftERM
SwiftERM is predictive personalisation software (PPS) which runs in harmony with any of the email software providers above. Its purpose is however distinctly unique, as it solely concentrates on identifying the exact products each individual consumer is most likely to buy at any given moment, rather than be employed in a greater marketing strategy.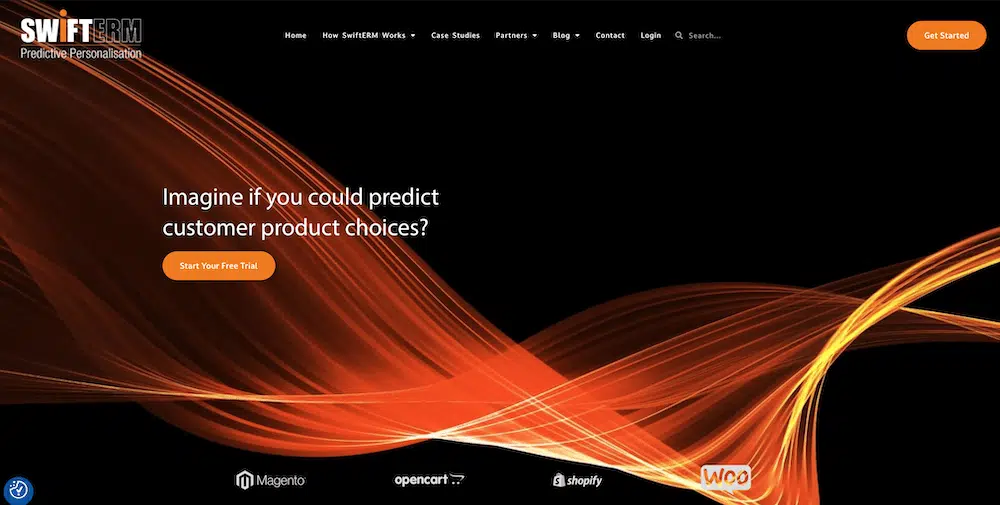 SwiftERM Features
SwiftERM predictive what each consumer is most likely to buy next. Such huge volumes of data necessitate zero human input with the obvious benefit, it eliminating that biggest overhead. SwiftERM complements any and all the above software.

Product selection is unique to the individual consumer, and no segmentation is allowed whatsoever as this would inhibit personalisation. It remains fiercely consumer-centric, to each consumer's unique likes and demands. This pushes the AOV, CLV through the roof – 20x greater than email alone, and decimates the rate of returns usually experienced as consumers receive what they want far more accurately.

SwiftERM applies a sophisticated predictive analytics algorithm which selects the exact products for each consumer as an individual.
SwiftERM Price
SwiftERM price is tier based, with small increments as the volume increases. These begin at just £100 per month for up to 19,999 people. Remember not to compare volume sending as a like for like needs an appreciation that each individual SwiftERM email is unique to the consumer receiving it.

the products selected have been most accurately identified as that consumer's next most likely purchase. A free month's trial ensures viability is established prior to commitment, and no notice is required to leave. It remains free to the user until such time as it makes a minimum of 4x the potential monthly cost. Some clients achieve an ROI as high as 6047% – see case studies.
Choose Your Email Marketing Software Wisely
Most email marketing tools offer the essentials needed to craft a basic email newsletter, but there are fewer options if you want a range of top-notch features such as complete customisation, available support, and data analysis.
Not to mention, as a marketer, you might want to consider combining your email marketing service with a CRM to give you even greater functionality that can impact your email marketing as well as other marketing sales, and service efforts.
But ultimately, the best email marketing tool for you depends is dictated by that which delivers the highest returns both most quickly and thereafter perpetually, and PPS software wins that hands down. Whichever solution you choose we know clients that are not suited but for a little advice need to switch. But we are delighted that all those with the right choice appreciate the need to run SwiftERM alongside their choice to capture addition revenue from this most unique of opportunities.