Beginners guide to ecommerce marketing essentials. There are many components that a business needs to consider when even thinking about a marketing strategy to help them increase recognition and boost sales, so it is appreciated this is even more daunting when first setting out. From a marketing perspective there are 5 key elements that you must consider: Website Design, Social Media, Paid Social Ads, PPC and Email Marketing.
Website design
Website design is very personal to you. Don't try and "be different" for the sake of it or "re-invent the wheel", by your name, products and how you come across will be within the scope of your potential audience to be obvious. You would not believe how much money and talent has been employed achieving these perfect solutions to the problem of how to make the most return, from their investment, from the people you target.

To disregard that before you start is commercial suicide. Build your own storyboard for sure, a great place to start is to take all the things you like best from all the sites that look most closely like the site you'd be proud to run, and build that
If you're unaware of it most of the world's best website are initially built on a "platform". We published an article helping you choose from the best 10 available in our opinion. It is important you choose a developer that specialises in the platform you select. We recommend you appreciate those can can offer opportunity for you to employ plugins – called software as a service (SaaS), which can be added for your additional benefit.
Finding out you could have doubled your turnover later, will be a bitter pill to swallow, as it often means redesigning your site from scratch, and incurring the cost that goes with it again.
Money will be tight when you're just starting-out, after all you've probably not made a bean yet. but having appreciated your efforts are only going to reflect how much you put in, the first priority is to choose a developer wisely from those that "say' they can help you, and those that do.

Developers come in all shapes, abilities and sizes, and you do get what you pay for in the main. Ask for referrals for developers, the best would expect this. Find a site you like and then find out who designed it. If they're readily available we'd suggest asking why.

Expect the better companies to have a queue waiting, from 3 – 6 months, dependent on how quickly their recruitment abilities are, in the current employment scramble for top talent. Commercial practice dictates a deposit, often but not always stage-payments, but always with a balance only ever paid on completion, after snagging is resolved. 
You get what you pay for. There are plenty of companies out there that offer "starter sites" for you. If you spend 99p because the lady on the advert on TV looked great and sounded like she knew what she was doing, consider the cost of the production of that one advert.

Let alone the cost of the airtime to reach you – we are talking literally millions. With all the intricate details required expect to spend £6000 at the very least on the design/build stage, from which it goes upwards at a rate of knots. Kicking a whole in £20,000 we'd say would give you an even chance of success, although this involves a lot of targeting objectives too.

It will be no use "wishing" you'd spent more after you are one of the 66% of businesses that fail in the first year. Don't shoot us, we're only the messenger and this is not a challenge to find something cheaper.
Consider the target audiences of the below two sites. Appreciate the distinction between the target audience each address, and the tricks they use to both appeal and most importantly call-to-action for their respective customers. Don't forget, it is not just a big computer at home you are building for, we are in the era of the mobile-phone and tablet too.

But your own URL is not the only site you have. Certain products demand cross-channel strategies. Expect your website to be matched by how you look on social-media sites like Instagram, TikTok, Etsy and all those sites which are necessary to multiply your audience early on.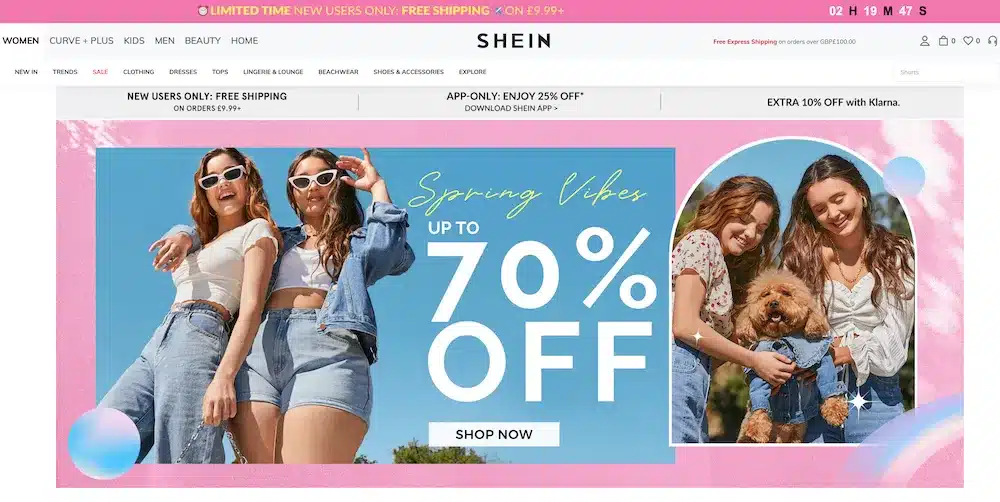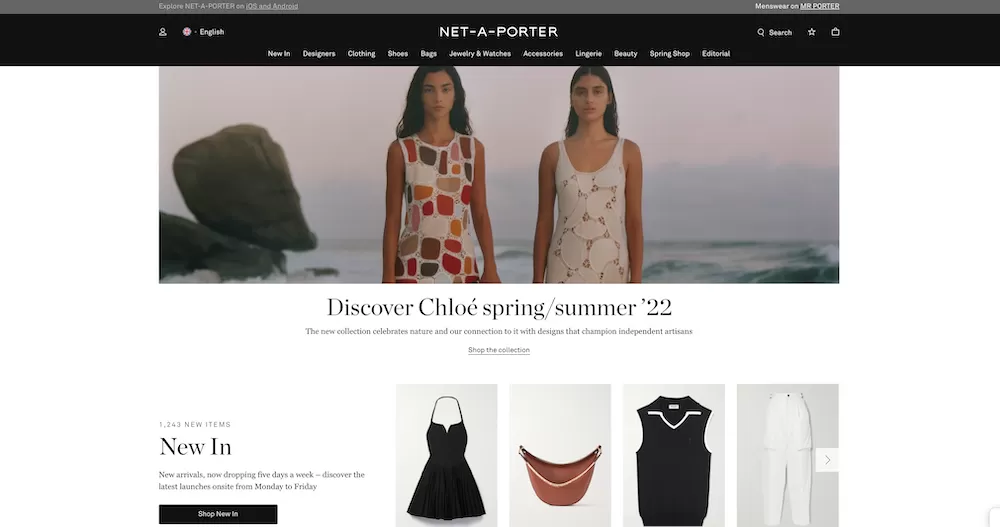 Social media
Within ecommerce social media is a key element to ensure new and returning customers, over the years instagram has proved to be the most successful platform for e-commerce businesses to show off what they provide and sell. All e-commerce sites are different, though. So understanding who your audiences are will allow you to make the correct decisions when choosing what social media platform to promote on.
Have a look at our Selling on social media blog to give you an in depth run down on how to create successful social media content.
Social ads
Recent years we have seen some lucrative results with advertising over social media. The amount of data which the social media platforms now hold on everyone has become more and more powerful over the years – Meaning all of our online behaviours have been tracked to the point ads are shown with almost perfect accuracy.

Although, Apple have began to try and put a stop to this by giving users the option to opt out of being tracked. Since these changes have happened there have been a decrease in both the performance of ads and also tracking.
Social media ads are important for any e-commerce business no matter how big or how small. This is purely because there are millions of users active on social media at any one time, and there will always be a section of those which will have some interest in your products or services. Here are review articles about the best exponents for help in the UK and US.
PPC
From experience Pay Per Click (PPC) is always a primary income stream for many ecommerce retailers, in some cases it is almost 30% of the total revenue of the site. Bearing this in mind it is a vital component that you need to perfect in order to attain the best results.
If you are unaware of what PPC is, it is a service provided by the likes of Google and Microsoft. You will select search terms relevant to your website in order to show at the top of the listing, as well as this the platforms also supply display and shopping ads. All of which you will have seen when searching the web. You might appreciate our guide to PPC strategies.
Understanding your audience is a key place to begin when running PPC ads, this will allow you to select the relevant phrases and audiences to ensure the highest conversion rate for all of your campaigns. Knowing your audience will also allow for you to be able to select the correct campaign type, different audiences will react differently when shown ads online.
Email Marketing
An often overlooked component to an ecommerce brand is email marketing, it is always surprising to us how many companies have a big database but are not utilising it to its full potential.
Email marketing is without doubt the leading exponent of "go to" marketing there is. Many sites suggest as much as 70% of their revenue is derived exclusively from it. There are a plethora of Email Service Providers (ESP) to consider. Not always the most obvious is right to choose, just because you've heard of them. Without exception the leading proponent in delivering email profits has been identified over recent years as predictive personalisation solutions (PPS), it boosts revenue.
Predictive personalisation software (PPS) installed on your platform, runs either initially instead of an ESP or alongside it, but only after you have the time and money to employ staff for promotional and marketing content emails. It is 100% automatic, meaning once installed you never need to touch it. No holidays to worry about, or sick leave or indeed errors or omissions in your offering, as it does everything for you including choosing products. For those with a database under 20k, the starting cost is as little as £100 per month, offering an ROI in excess of 1500%. Case-studies are available to review.
It watches what each of your consumers and site visitors clicks on, for how long and how often they come back, and what they buy etc. It uses this data to calculate what that individual consumer is most likely to buy next, and emails it to them alone. Picture all the products they love, populated in an email specifically for them. It arrives with no competition to look at and exactly what has already be identified as what they like. It is GDPR compliant, so you are reassured your customer's data is always safe.
Reliable corroboration sources like research companies Statista and McKinsey have verified it delivers 20x the amount of revenue an ESP can, making this an essential must have for beginners. We recommend SwiftERM (a Microsoft Partner company), and take a free 30-day trial, to establish the viability on your site for yourself.