The beauty market is conquering ecommerce. Over the last few years, the beauty and personal care market has experienced a tremendous growth. What once used to be an industry only limited to physical stores, is now taking over e-commerce, with its websites, subscription boxes, social platforms, on-demand services, and everything that comes with it.
Why did that happen? After all, this whole time  people have been perfectly happy buying beauty products offline, as it gave them the opportunity to touch, smell and trial — and even take away few samples to try them out at home.

For this very reason, it was believed that beauty — just like luxury fashion — would never be sold online. And yet, the online beauty and care industry in Europe is predicted to grow by more than 8% every year until 2029, says a research report by A. T. Kearney, pointing out that online channels grow 4x faster than stationary, brick and mortar beauty stores.
Again — why did that happen?
There are a few reasons. First, it's a rapid technological advancement that has been continuously WOW'ing the whole world for the last few years now. Think of L'Oréal for a moment: in 2014, the mega brand launched a beauty app called Makeup Genius, which transforms the front-facing camera of an iPhone or iPad into virtual mirror where users can virtually try before they buy.

Then the adoption of new technologies such as augmented reality, very quickly. Many other findings are featured in our beauty article. The app uses advanced facial mapping technology to overlay products like lipstick and eyeliner onto the user's face. Thus, technology comes in great when it comes to closing the gap between beauty and e-commerce.
Secondly, it's professional makeup artists — like Lisa Eldridge, for instance — that are successfully conquering the world of social media. Eldridge, who has about 3 million followers on social media, her own mobile app and a website with solid traffic, is the Number One professional makeup advisor, giving free tutorials on how to achieve that fresh and flawless look after a sleepless night, or become a David Bowie lookalike with the use of blush and eyeshadow.
Thirdly, it's the rising power of beauty bloggers and vloggers and brand ambassadors. According to Fashionbi, this bunch is literally ruling the beauty world right now — and have more power than the makeup artists themselves. Consider the famous Zoella as an example: when this YouTube-based beauty influencer with over 11 million followers recommends a Topshop blusher, the brand sees a 40% clickthrough rate to their site. That's more than any advertising could ever buy. See brand ambassadors the ultimate guide.
And finally, the reason why beauty is moving towards e-commerce is a simple fact that modern consumers are striving to have digital experiences. For digital natives, who can now get almost the same "real-life" experience online as they do in stores (i.e. personal recommendations, product trials, etc), it's easier — let alone less time-consuming — to make a journey from online content to an online shop.

According to A.T.Kearney, more and more people like to read peer product reviews or look for makeover ideas online, so there's a clear reason why they choose to stay within the online borders when making beauty purchases. It's simply more convenient.
But it's not like people started to buy cosmetics online just because they suddenly could. It's the brands themselves that recognised the online potential and the necessity to appeal to the digital natives. After all, e-commerce is one of the biggest industries out there right now, growing in double digits every year. So the need for brands to adapt to a new landscape is vital to succeed.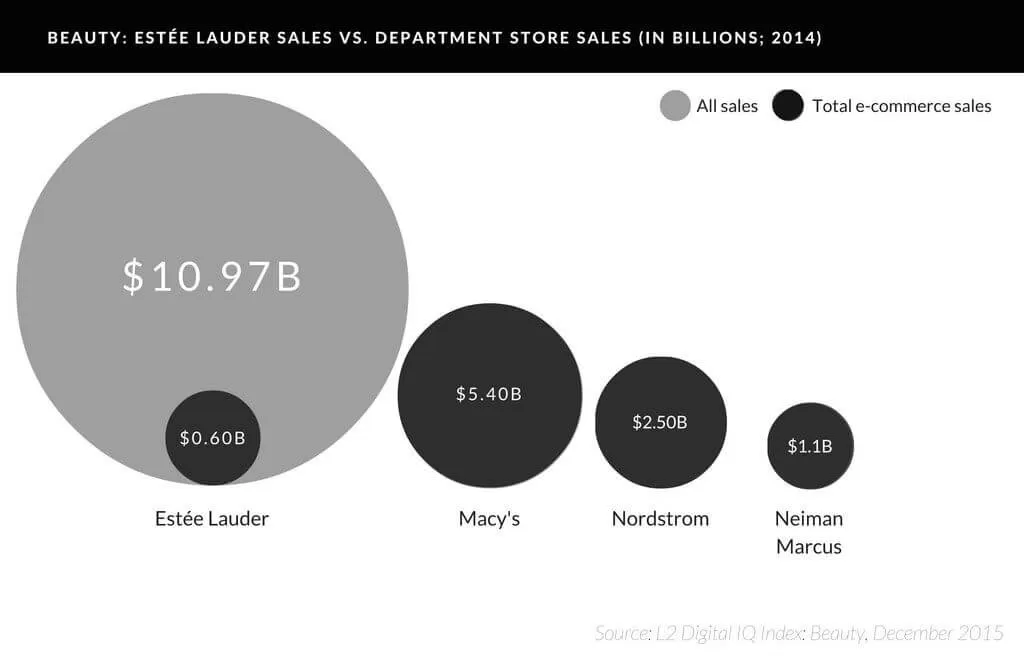 Estée Lauder Companies Reports Outstanding Fiscal 2021
Beauty market in e-commerce: the disruption in the online journey
In 2015, the beauty industry in the US accounted for 32$ billion, or 8% of all sales in e-commerce by 2027 it is forecast to reach $463.56 billion. Despite inroads of brand sites, the vast majority of online shoppers (or 70%) choose to purchase beauty goods through retailers.

L'Oréal, for example, reports 1/4 of their online sales coming directly from the brand itself, while 3/4 come from retailer sites like Amazon. To put this in perspective, here's another example, this time from Estée Lauder: According to L2 Digital IQ Index Beauty Report, in 2014, Estée Lauder earned $600 million on web sales, which at first glance seems like a lot.

But in comparison to its department-store partners, such as Macy's and Nordstrom, which sold $5.4 and $2.5 billion beauty merchandise respectively, those $600 million look a bit pale.
This means that brand sites have indeed become the journey for purchase — but not the ultimate destination.
Re-think methodology and shift priorities
To succeed in e-commerce, beauty brands need to develop a different digital strategy that will go from boosting their traffic to conquering mobile to becoming social media pros. It's important to set priorities and focus on the core of e-commerce: that is, the brand's website. There are constantly thousands of tweaks to be done to improve the user experience, optimize the checkouts, seamlessly integrate content, etc.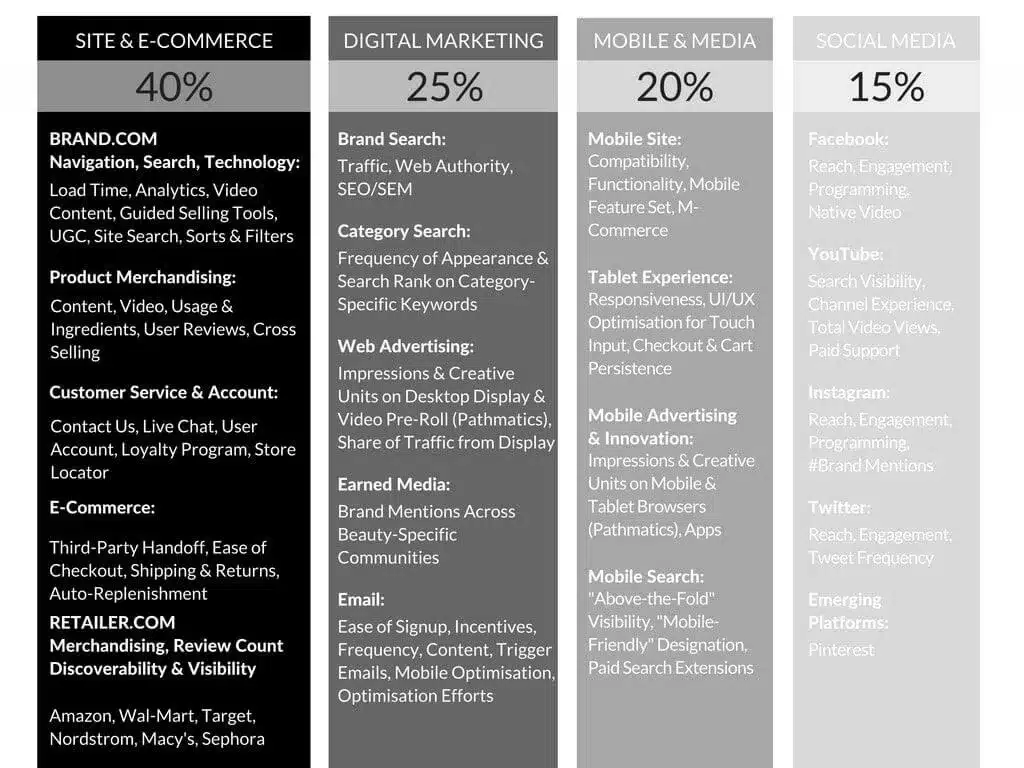 More than a transaction
While the rift between retailers and brand sites continues to widen, beauty and personal care has become the next big thing in e-commerce. Meeting the unique needs of today's consumers, easily gratified through digital means and interactive, personalised solutions, beauty has a strong potential to overpower the fashion segment, which is currently the biggest in e-commerce.
Consumers are becoming more and more comfortable with buying beauty products online — even those products that typically require more experimentation. And while online retailers still might struggle to integrate the "touch-and-feel" element into the online realm, this challenge seems to be significantly reduced by technology and the influence of social media.

So what used to be a barrier is now a matter of persuasion and comes down to the skill of creating an authentic digital experience for beauty shoppers. E-commerce is more than "just" a transaction — it's more than "just" selling a product or somebody buying it online. E-commerce opens up a whole new realm of the beauty experience by providing lots and lots of content for the modern customer before making the final step to click and purchase — from video tutorials to peer reviews.
Previously on the blog, we talked how the luxury fashion industry was living in the stubborn belief that its high-priced goods could never be sold online, as it was believed that luxury shoppers wouldn't want to give up the tactile shopping experience. That thinking has undergone dramatic changes over the years, with luxury fashion establishing itself as one of the strongest-performing sectors in e-commerce. So if beauty is to follow luxury fashion, expect to see some serious hockey stick growth in the next couple of years.