Dynamic personalised email content. Email marketers take pride being associated with one of the successful marketing channels with 81% customer retention. This is great news since it costs five times more to acquire a new customer than retain an existing one. Yet retaining a customer requires a lot of work; part of which includes providing personalised content without being too intrusive. Additionally, subscribers want more than 'Hey ' when it comes to personalised email content.
It is an age of hyper-personalisation. Email personalisation involves customising the email content based on the customer persona, online behaviour, purchase history, and many other touch points. It focuses on treating your subscribers as individuals with unique personalities instead of names on an emailing list. To achieve this, less appreciate email marketers still segment their lists based on common preferences, but it is not the only way to introduce email personalisation, and as has long since been established, by the likes of McKinsey and Statista, that segmentation is not personalisation.
Email personalisation using dynamic content is growing in popularity as the replacement to every other form of email marketing. this is because it achieves as much as twenty times the ROI previously experienced.
What is dynamic email content?
Dynamic email content is unique in that it is based on the content updated, at the moment of the email is opened. Various factors are applicable, including, previous purchase history, products that have been viewed, the number of times those views happened, when they happened, how those views reflect on previous purchases, patterns or sequences that established previous purchase based on those views etc. these and many others can be secured using the KPI's available to you. The most important KPIs being:
Conversion Rate
Conversion Rate Per Traffic Channel
Customer Lifetime Value (CLV/CLTV)
Customer Retention Rate
Annual Repurchase Rate
Average Order Value (AOV)
Net Profit
Cart Abandonment Rate
Add to Cart Rate
Orders Per Active Customers
Gross Merchandise Volume (GMV)
Return on Investment (ROI)
Influencer ROI
Return on Ad Spend (ROAS)
Return on Marketing Investment
Cost Per Acquisition (CPA)
Customer Acquisition Cost (CAC)
Average Profit Per Customer
Revenue Per Site Visitor
Time on Site
Bounce Rate
Organic Search Rankings
Customer Satisfaction
VentureBeat conducted a study about the data points most widely used for email personalisation and concluded that most email marketers include demographics and previous email engagements for email copy personalisation: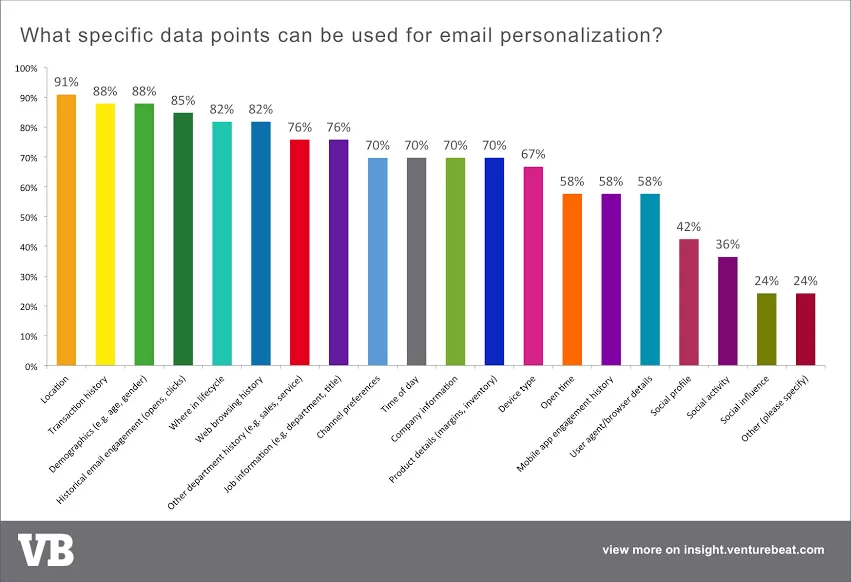 So, the inclusion of dynamic content in your marketing emails enables you to send targeted messages and 74% of marketers agree that targeted personalisation significantly increases customer engagement multifold.
Why use dynamic content. The core advantage of dynamic content over sending segmented emails is:
You bypass the trouble of updating your email list based on the content
You create personal content to the individual instead of a group, with the many fold increase thereby sustained
You don't risk alienating your consumer with erroneous selections, interrupting their critical journey with you at salient times.
By having dynamic content in your email copy, your subscribers get individual personalised content exclusively for them email, based on the products they are most likely to buy next with copy and images, for product offered taken from your site.
A great way to save time
Systems such as SwiftERM are 100% automatic, requiring absolutely no human involvement at any stage, to select, populate and send dynamic emails to each and ever consumer on your database, thereby saving an inordinate overhead for staff otherwise necessary for email marketing. Do you know how much your staff really cost? The most important is the turnover and ROI achieved. If you're not including this you are losing revenue at this very moment, why?
If consumers only see products they actually want to buy, then their appreciation of you grows exponentially, as their loyalty expressed as their purchasing appreciation, develops throughout their lifetime. SwiftERM runs either as a stand-alone for smaller SMEs and start-ups, but enterprise client's may prefer to use it to run in conjunction with a traditional ESP, as it doesn't cater for promotional or triggered scenarios.
Increased conversions
You build brand trust by providing a relevant solution to your subscriber's problem at the right place and time. This brand trust goes a long way in helping create loyal customers who then become your brand advocates/evangelist.