According to the latest market intelligence research report by InsightAce Analytic, the global Artificial Intelligence (A.I.) in Beauty and Cosmetics market size is expected to reach US$ 13.34 Billion in 2030, record a promising CAGR of 19.7% from 2021 to 2030.
The beauty and cosmetic sector have witnessed a massive upsurge in Artificial Intelligence (A.I.) in recent years. Due to advancements in A.I. technologies and the fact that beauty is characterised as a personalised and engaging market that generates a large amount of data, A.I. appears to be a solution to deal with this complex environment, prompting beauty companies to make data-driven decisions on their strategies to remain competitive.
The beauty market has changed dramatically over the last decade, owing to the introduction of new technology and a shift in customer shopping behaviour. The beauty sector has been incorporating digital transformation into its business models to give consumers individualised skin regimens and beauty products tailored to their specific needs.
The Artificial Intelligence (A.I.) In Beauty and Cosmetics Market, growth can be attributed to the Integration of advanced technology like A.I. in the beauty and cosmetic field, providing new ways of engaging with the consumer, bringing efficiency and customised solutions to the beauty client such as virtual try-on and personalised product selection offerings. Increased demand for beauty products and technological advancements is expected to positively impact market growth.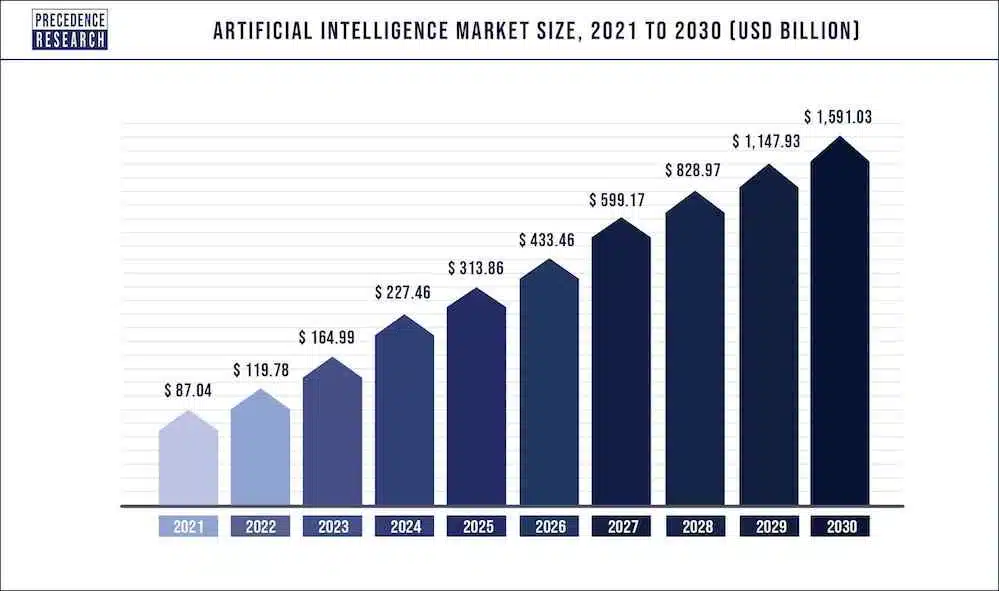 Artificial Intelligence in Beauty: Competitive Analysis:
There has been an influx of Beauty Tech implementations on the global market with the rapid expansion of the beauty and cosmetic industry. Key companies are constantly testing and launching new features with key strategic partners with innovative services, covering the market's demands. Their focus on serving their clients' needs, both brands and end-consumers, and the constant technological development are the key factors in boosting market growth.
Companies like L'Oréal, and PROVEN, among others, have already recognized such potential and are applying A.I. in different ways. For instance, L'Oréal is implementing A.I. strategies on their business. Followed L'Oréal, by PROVEN has the largest skincare database and, with the input from the consumer, matches their data, creating unique and customised products using A.I. mechanisms.
The prominent players in the Artificial Intelligence (A.I.) in Beauty and Cosmetics industry include:
Beiersdorf (NIVEA SKiN GUiDE), L'Oréal's (Modiface, Hair Coach), Olay (Skin Care App), CRIXlabs (DBA Quantified Skin), Shiseido (Optune System), Procter & Gamble (Opte Wand), My Beauty Matches, Yours Skincare, EpigenCare Inc., mySkin, Haut.AI, Luna Fofo, Revieve, ANOKAI. CA., Pure & Mine, Youth Laboratories, Spruce Beauty,  Nioxin, New Kinpo Group, Perfect Corp, Symrise (Philyra), Sephora USA, Inc. (Virtual Artist), Function of Beauty LLC, Estée Lauder, Coty Inc. (Rimmel), Givaudan, Beautystack and Polyfins Technology Inc, SwiftERM A.I. and other prominent players.
Key Industry Developments from Leading Players:
Artificial Intelligence in Beauty and Cosmetics Market Regional Analysis:
North America is expected to dominate the growth of A.I. in the beauty and cosmetic market due to the expansion of the beauty and cosmetic industry and prominent e-commerce companies like Amazon and Sephora. Asia Pacific region is expected to experience the fastest growth in the global A.I. in beauty and cosmetic market due to rapidly increasing consumer spending and expansion of the e-commerce sector across the region. In emerging countries like China, India, and Japan, the beauty e-commerce space is adapting to multiple models to enhance the e-commerce shopping experience for consumers.
What technology offers an immediate personalisation solution?
Technology helps enable customer personalisation. Predictive personalisation solutions (PPS) like SwiftERM have thrown out the cookie-cutter approach to consumer issues with algorithm-powered individual consumer product selection solutions that beauty shoppers love. Delivering unique selections chosen exclusively for each individual consumer, based on their own previous purchases, impressions and navigation deliver a phenomenal 1500% average ROI. That relates to an approximate £15,000pm additional t/o for a £500 monthly spend.
Luxury house Yves Saint Laurent rethought how they offer a personalised tech-enabled approach with an at-home lipstick tech tool that helps the customer get a custom shade from whatever sparks their fancy. Autonomous artificial intelligence is not limited to robots or the sci-fi genre—it is a beauty industry tool too.
Consumers have endless choices so it's important that brands and retailers stay relevant and speak to the consumer directly. There's major opportunity in using deep learning to glean insights into the consumer psyche; after all, we have entire teams devoted to analysis. As a society, we've have seen the power of authenticity and support for what was formerly known as "niche" or a mere section of the beauty aisle.
Corporations cannot cave into social media pressures for a quick soundbite; diversity and inclusion is not a goal, it is a practice. Brands and retailers need to ensure each shopper is treated like an individual, not just a number.  
SwiftERM is a Microsoft partner company