A comprehensive guide to ecommerce loyalty programs. Ecommerce has been steadily growing for the past decade, there's no doubt about it. And then the Coronavirus pandemic caused a hyper-jump in ecommerce adoption. Whether you run an essential business that faces higher demand or a non-essential business that is restructuring, there's one thing for certain: ecommerce loyalty programs are now more important than ever.
The reason is simple: people still need to replenish their stock. However, they now have more time to spend on the Internet searching for products. And relying solely on discounts won't be enough to stand up to massive competitors like Amazon.
This means you need to offer not only good prices and great products, but also a convenient buying process and tons of engagement points that keep customers coming back. Companies that fail to meet expectations in our new reality will struggle to keep customers interested.
What Is an ecommerce Loyalty Program?
An ecommerce loyalty program is a customer retention tool geared towards keeping and engaging your existing customers, so they will buy in higher quantities, shop more often, or interact with your brand more frequently. The best programs are easy-to-understand, show a clear path to higher tiers and rewards, and offer a fun experience!
The world of ecommerce sales is generally characterised by high purchase frequency and equally high churn rates. Many companies believe that customer loyalty no longer exists, and use deep discounts in an effort to differentiate themselves. However, this constant price war has conditioned customers to hunt for the best markdowns, which has made brand loyalty even harder to achieve.
A next-gen ecommerce loyalty program can create a devoted community around your brand, by helping you stand out in the following ways:
A redefined buying process, to make online shopping feel seamless
Incentivised customer profiling, to generate richer data and boosts other marketing activities, such as personalisation
Experiential rewards and VIP benefits, to increase overall customer lifetime value
Special interest clubs, to build communities and emphasise exclusivity
Viral social media contests, to encourage word of mouth and build trust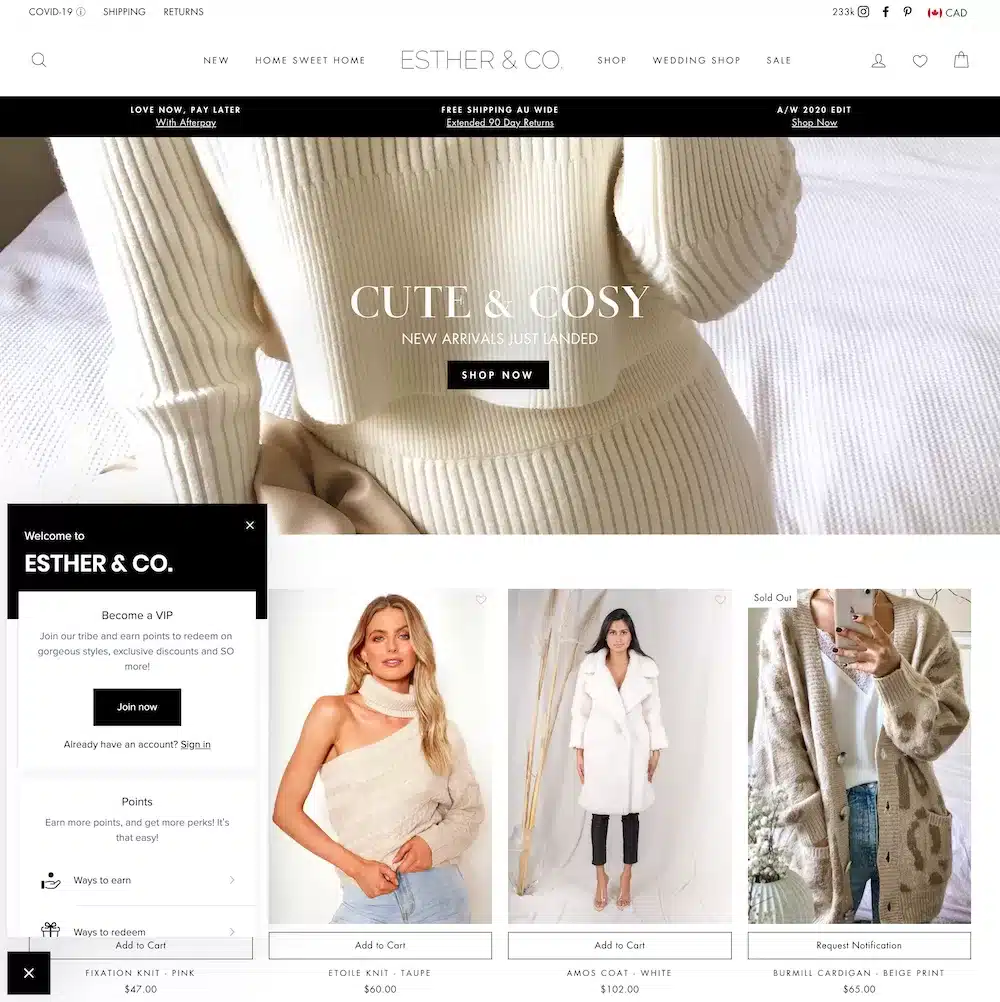 Best Loyalty Program Features for ecommerce companies
With these key challenges in mind, here's a list of some of the best online loyalty programs to inspire you.
1. Loyalty Program Types That Fit Your Business
Point-based loyalty programs
One of the oldest loyalty program mechanics, earn & burn is all about earning points, then spending them. In a more up-to-date approach, customers can earn points for a variety of interactions, not only purchase transactions, for example sharing product pages on social media, completing their profile, or subscribing to a newsletter. Point systems are easy to manage and quick to implement, perfect for companies who want to launch quickly.
Tiered loyalty programs
Tiered programs are a fan-favorite among online shoppers because the system allows them to progress through the program, earning better benefits as they spend more money or earn more points. Higher tiers are associated with more exclusive brand experiences and VIP rewards, rewards which many people will work to achieve.

Because tiers represent a status within the brand, customers are more inclined to make additional purchases to avoid losing their status. Lastly, climbing the ranks requires a serious investment, meaning members are less likely to give up their benefits only to start from square one in another brand's loyalty program.
Perk programs
Perk programs completely abandon points, giving all members benefits, unconditionally. Perks are a great approach if you have a unique service or are just looking to increase goodwill among your customers. For these reasons, this program type is ideal for brands aiming to make the shopping experience more enjoyable or generate brand awareness.
Hybrid programs
In most cases, eCommerce companies chose a hybrid-type loyalty program, mixing and matching elements from the above program types to maximize efficiency and drive specific KPIs. This includes the addition of loyalty logic, such as gamification (e.g. badges and challenges), as well as loyalty communities.
Subscription-based loyalty programs
Generally, the biggest appeal of loyalty programs online is that they're free to use. Customers view this as getting coupons and gifts for free, even if acquiring these benefits requires them to make a purchase or complete a specific action.

However, if you have a well-established brand and offer truly desirable services—think Amazon Prime—you can make the program subscription-based. Some people might pass on the membership, but those who opt in will be much more likely to engage more with the service and make the most out of their subscription.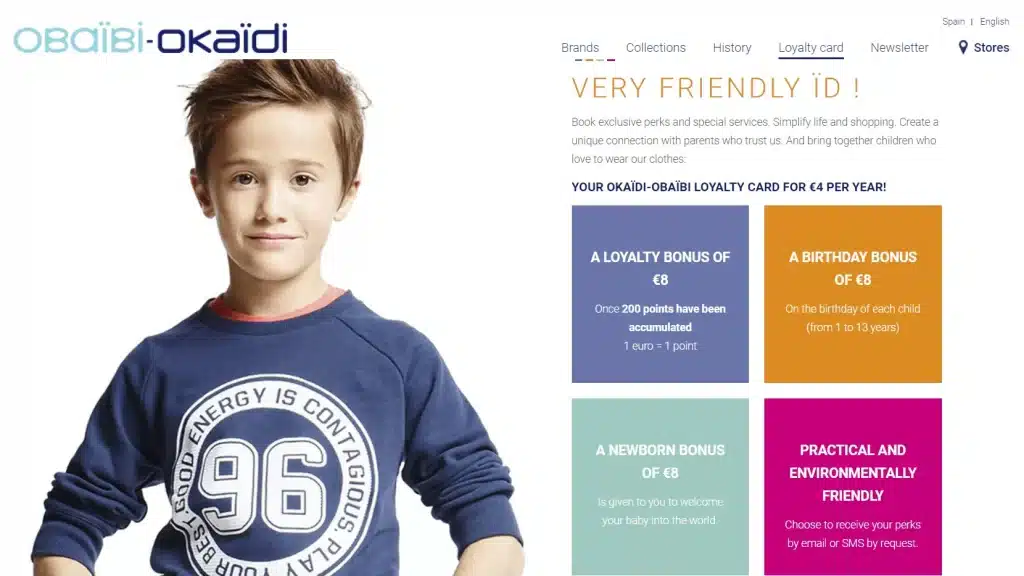 2. Loyalty Program Approaches to Stay Relevant
Engage customers outside of the buying cycle
Only rewarding customers when a purchase takes place limits your opportunities to deliver an emotional high. Unless customers are buying constantly, being a loyalty program member is rather uneventful. And, if customers don't have a reason to log in to their profile, they will forget their credentials, or even forget about the entire program and switch to a competitor.

That's why next-gen loyalty programs for eCommerce should give members a reason to come back day after day by incentivizing frequent logins, friend referrals, user reviews, photo uploads, surveys, competition, or other engaging activities.
Omnichannel
At the moment, online shopping is the dominant trend. But the post-pandemic times brick-and-mortars and physical stores need as much help as possible to recover. If you have a retail presence, bridging the gap between offline and online shopping with a loyalty program can enable you to increase footfall in various ways.
Membership page
No loyalty program for eCommerce is complete without a loyalty HUB. This is a custom web page that's seamlessly integrated into your website. The loyalty HUB acts as a gateway. Here customers can learn about the rules of the program, browse and redeem rewards, review their progress, unlock new badges, complete challenges, and more.
Multicurrency, multilingual
If you're selling on the global market and have an audience in various countries, it's imperative to display the spend-to-point ratio in local currency. This helps the audience better understand the value they get by making a purchase. It also increases trust and participation if the loyalty HUB is available in multiple languages.
3. Advanced Loyalty Logic for Next-Level Engagement
Gamification
Badges, online challenges, sweepstakes, prize wheels, voting: gamification come in all shapes and sizes. No matter which feature you use, the goal is the same—to make the loyalty program more engaging and fun. Gamification is a valuable program element to incentivize repeated behavior. For instance, offering a badge for members who log in at least twice a week encourages members to make a habit of checking back on a regular basis.
Offer management
If you want to avoid giving discounts in your loyalty program, opt for double or triple-point campaigns. These limited-time offers can follow the theme of the current holiday, promote your latest collection, or just get people interested in products you have in stock. Offer management is a tool that helps marketers create and organize this type of campaign more effectively.
Instagram contests
In order to build a relationship with customers, you need to be present on their favorite channels. In terms of an online loyalty program, this means hosting a social media contest. For instance, set up a contest hashtag contest on Twitter, or a photo contest on Instagram, asking people to submit funny content, or photos of themselves enjoying your product. The winner should receive a prize, such as a loyalty point bonus or branded gift.
Customer profiling
eCommerce lives and dies on being relevant to customers. In order to make email communication and product recommendation personalised, you need more customer data. Fun surveys and questionnaires are a great solution to this problem, but without a loyalty program to incentivise survey completion, customers won't bother filling them out.
Incentivised reviews
Gathering user-generated content, such as customer reviews increases product engagement and lends authenticity to your brand. If you plan to offer rewards to customers to write a review, keep in mind that only those who have actually made a purchase should be allowed to submit a review. Also, consider limiting the number of reviews that are eligible for a reward in any given time span.
VIP clubs
Special interest groups, or VIP clubs, are niche communities within the loyalty program. They can be invitation-only groups, or customers can buy their way in using their points. In exchange, insiders enjoy additional benefits, like early access to the hottest product releases or members-only content. VIP clubs serve to motivate customers and entice them with exclusive offers and content.
Example: IKEA Family from IKEA
Unlike other retailers, IKEA doesn't use points. Instead they rely on members-only perks, benefits, and special content.
There are surprise & delight offers that are sent out as emails
Members have access to free workshops and events
Free Oops-assurance (If something breaks during transport or while assembling IKEA furniture)
Members also receive free tea and filtered coffee at their stores