Zara does not advertise conventionally. You will not see a single television commercial, an ad in the press, a billboard or banners on the internet. Not an advertisement for Zara. And yet it is the most successful Spanish brand, with its owner Amancio Ortega as the richest person in Europe and the third richest person in the world.
This statement shocks in a world like that of fashion, in which there are battles to compete for the best advertising spaces of each medium. Brands strive to show us their spectacular prime time perfume advertisements, hire the largest advertising banners in each city and fashion magazines allocate pages and pages to brand ads. How is it possible that in this world Zara does not advertise? What marketing and advertising strategy does the Spanish multinational follow to be one of the most successful fashion companies in the world?
Just in Time Production
Everyone knows that Zara "copies" the models of the big brands and that is not entirely true. More correct words would be that it "copies the trends" of the big brands and places them on the market in record time. And that's thanks to his Just in Time production.
One of the keys is that everything that could be spent on advertising and hiring media is used to create marketing techniques that work very well. One of the great competitive advantages of Zara is based on logistics and commercial techniques.

This system of Japanese origin allows to increase the productivity reducing the cost of management and losses of storage of stocks, since the system is based on producing real orders. And while other brands of the textile market take between 3 and 6 months to get a new collection in store, Zara needs a scant 15 days to launch the new trends to the market, thus creating dependency on the part of its expectant clients that in a short time get new clothes to the store.
Surely this dependence sounds like some other marketing and advertising strategy of a brand with an apple as a logo. And it is that another one of the destinations of the investments of Zara is the destined one to stores.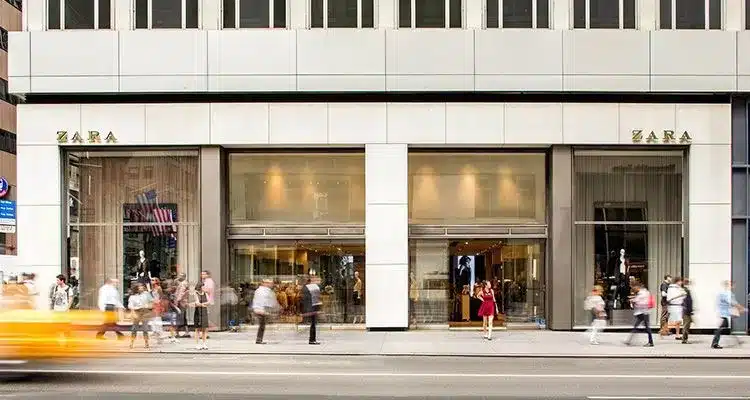 Like Apple, Zara does not hesitate a second to pay the highest rents to be in the neuralgic and iconic centers of each big city and be next to big brands like Louis Vuitton, Armani or Gucci, creating a halo of elitism in their stores although their clothes oscillate between 2 and 50 € on average.
The investment in stores in Zara has placed stores on 5th Avenue in New York, a 6-storey building in downtown Tokyo, several stores on Oxford Street in London and the most luxurious buildings in Dubai. Emblematic, old or strategic places in each city so that they draw attention either for their architecture or for being in a busy area.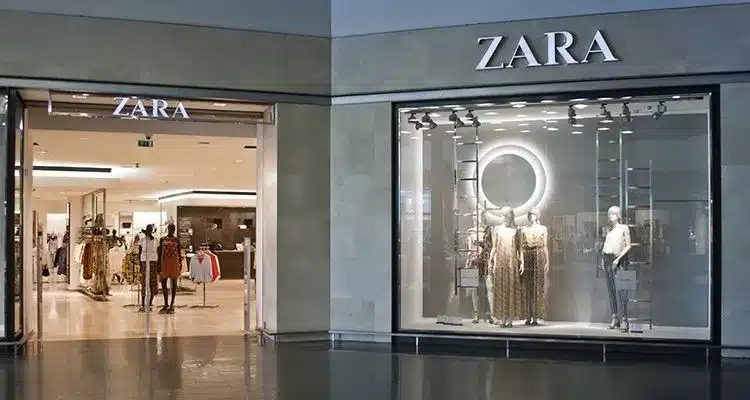 Zara's marketing and advertising strategy is based on a marketing concept that has been lost in the wake of the rise of new technologies and online stores.
One of the most effective ways to get customers is to pass in front of your store, enter and then buy. The first step is already done – stores in the best places in the city – and now you have to get them to enter the premises.
The windows have a fundamental role in the presentation of the collections. Zara devotes special care to the design of its windows that creates in its headquarters in A Coruña, a bunker where practically no one enters and where they have the "phantom showcases", a whole section with streets and multiple windows where experts in window dressing test, modify and they make multiple variations together with other experts in other fields such as neuromarketing to find the final showcase that after exporting to all the stores in the world.
Zara modifies its shop windows every fortnight and two additional showcases are composed during the sale periods in summer and winter. That means more than 150,000 shop windows mounted per year.
And the fact is that the use of mirror neurons plays a fundamental role when it comes to creating the brand's shop windows. To this we add a rapid creation and placement of new trend garments in the store, the location of these in strategic locations of large cities and economic prices, the mirror neurons of the consumer take you to enter almost unconsciously inside the store.
The eCommerce strategy Zara used to scale
As Amancio Ortega once said: "The customer has always driven the business model…"
This is the secret to Zara's eCommerce success. It takes more than having a great product selection with trending styles to be an eCommerce success. Shopping has evolved over the years and everyone shops online.
This has inspired an expansion strategy for Zara eCommerce. The result? Expanding the brand's eCommerce arm to operate in over 41 countries. In 2018, Zara eCommerce announced it would offer its customers same-day delivery in cities where it has established both stores and eCommerce.
Zara's eCommerce platform and its use of technology to enhance shoppers' experience is the key to the brand's competitive advantage. Here are some of the highlights of how the brand has successfully risen to the top of the online fashion world.
Automated Tactics and integrated stock management
At the root of the marketing strategy for Zara eCommerce is the combination of omnichannel marketing with a sophisticated integrated stock management system. Zara's eCommerce strategy uses an automated marketing platform for sending relevant and timely emails notification to shoppers regarding everything from order status updates to back in stock notifications, and so on. Throughout the entire customer journey, the brand keeps its messaging on-target and personal, catering to the shopping needs and web behavior.
Impressive Zara stats you didn't know
You already know that Zara is all about breaking new frontiers in fashion. However, the brand is also a pioneer in setting new standards and records. Yep, it's true. Here's a list of stats to inspire every marketer.
There are 6,000+ stores under parent company Inditex, including Zara, Massimo Dutti, Oysho, Zara Home, Kiddy's Class, Tempe, Stradivarius, Pull and Bear, and Bershka — with over 92,000 employees
Almost 80% of Inditex's investments are for opening or refurbishing stores
20% of Inditex's investments go towards building its technology capabilities
Zara has 21 day policy for releasing new fashion designs to market
Spain still accounts for the majority of the business Zara does with business with 313 stores.
China is the second largest consumer market with 193 Zara stores
In 2017, Zara's eCommerce revenue increased by 41% for the fiscal year
Zara is ranked No. 390 in the Internet Retailer 2017 Top 500
While its parent company, Inditex SA, is ranked No. 500 in the Internet Retailer 2018 Top 1000
In 2018 Zara also opened its first pop-up store in London — designed for collecting online orders
By 2020 Zara and other Inditex brands will be available online everywhere in the world — to become one of the first global clothing brands
ECommerce accounts for 10% of Inditex's sales in 2018, and increase of 40+% year-on-year
An interesting Zara eCommerce case study shows the retail giant has grown its brand with little to no advertising, going out of its way to invest in prime real estate and opening flagship stores in popular and prime locations — making them neighbors to luxury brands such as Prada and Chanel.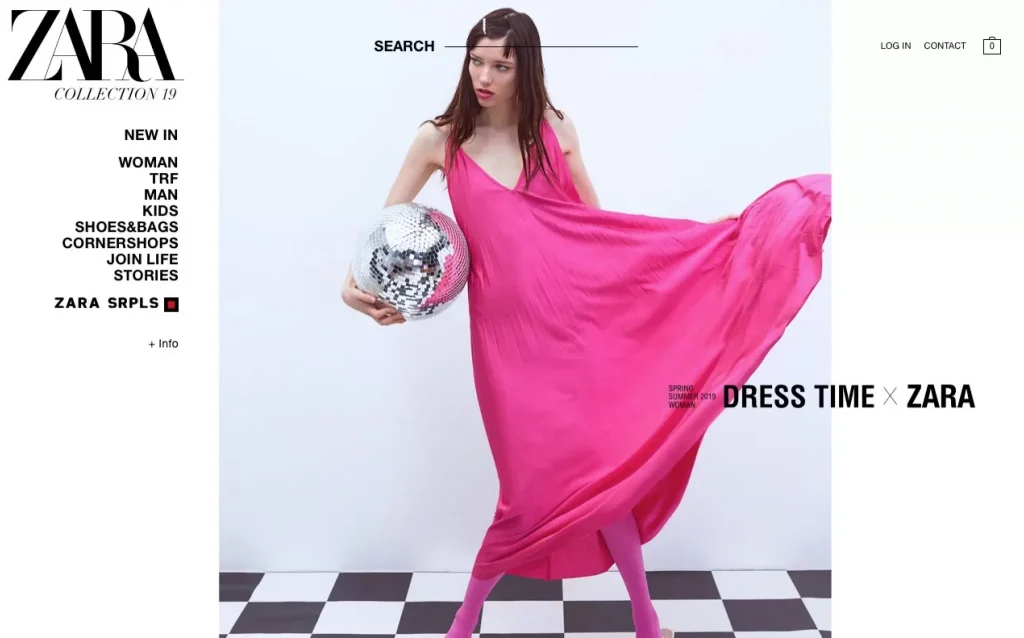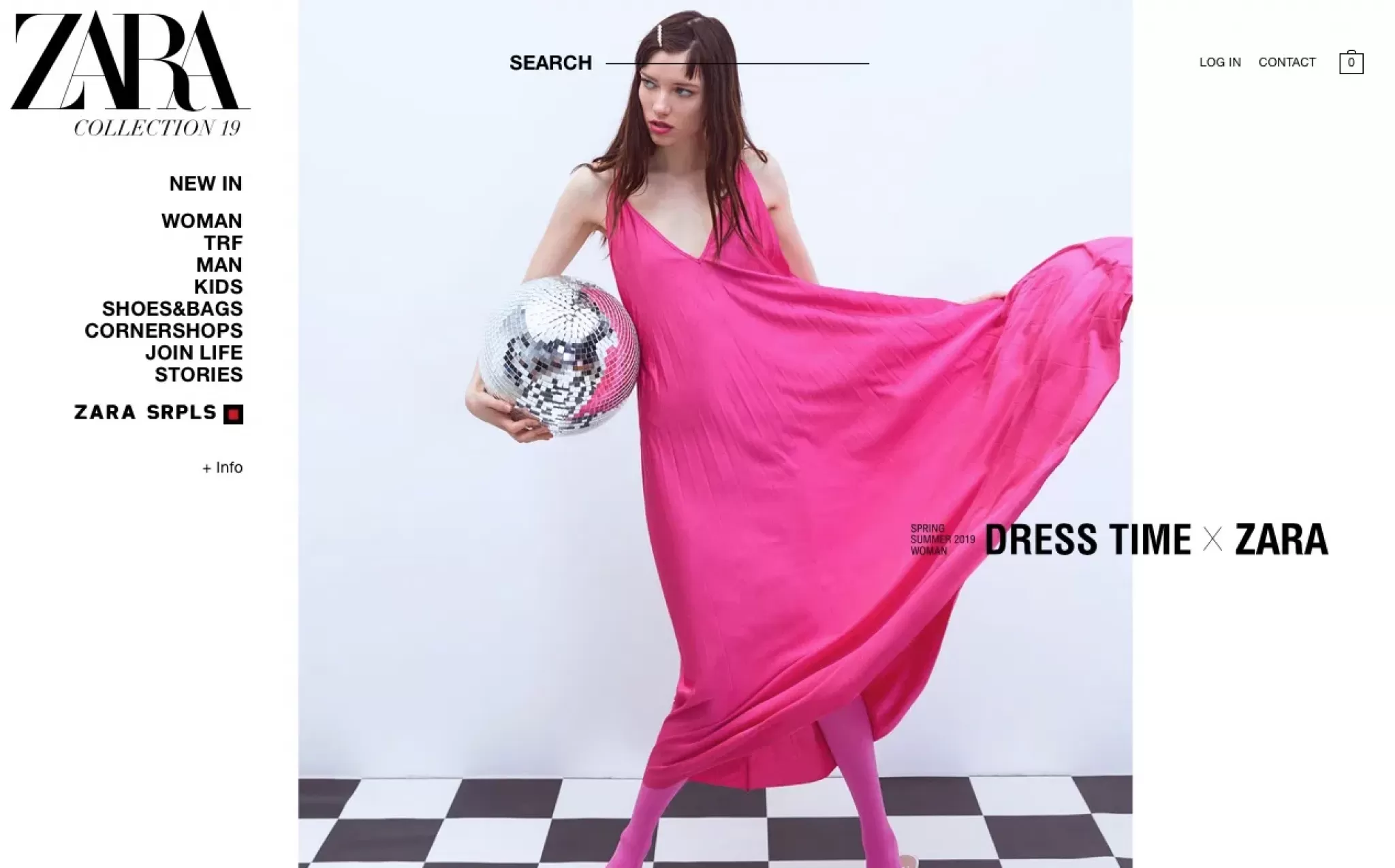 What you can take away:
Zara's rise to the top of the fashion industry and their dominating eCommerce presence is an inspiration.
We encourage all eCommerce marketers to learn from Zara's example. By combining an active, and not reactive marketing strategy with the latest big data technologies, the Zara brand had successfully created a marketing model where they can anticipate their consumers demand and react fast. Ortega's passion for business, customer service and creativity is the stuff that makes legends. It proves that every marketer has the potential to grow their brands to new heights if they put their mind to it.