The complete guide to ecommerce marketing. This world of ecommerce marketing often seems like an intimidating one, with marketing types ranging anywhere from social media outreach to influencer engagement, and email marketing to regular advertising. However, marketing online doesn't have to be a chore. Not only can you find the tools to help you along the way, but there are plenty of tips to take advantage of in order to improve your ecommerce marketing and engage customers in new ways.
It all starts with understanding the basics of ecommerce marketing. What is it exactly? What are the various types to consider? Should you dive into all forms of marketing at once or only take on one area?
These are all excellent questions. We're here to answer all those questions and explain the ins and outs of ecommerce marketing. That way, you'll have a firm grasp on the opportunities available to your business, giving you a clearer view of which forms of ecommerce marketing are worth pursuing.
Keep reading to get a crash course in ecommerce marketing, from the basic definition of the practice to a collection of tips to improve your marketing, regardless of the size of your operation.
What is Ecommerce Marketing?
Ecommerce marketing involves the techniques and tools implemented by a company to find new customers and guide them through the purchasing process, while also fostering old customers. Ecommerce marketing works by sending store visitors through the customer lifecycle, obtaining those customers through the top of the ecommerce sales funnel, and eventually converting them into paying customers.
In short, ecommerce marketing helps your conversion rate, turning curious ecommerce site guests into those who pay for your products.
In general, marketing done for online stores remains online. This includes social media marketing, email marketing, and a large number of other options to reach out to new and old customers. However, prudent ecommerce store owners also know that marketing is bigger than the internet.
That's why the entirety of ecommerce marketing includes things like word-of-mouth and in-person marketing. It's also not out of the question to consider physical marketing tactics like TV commercials and billboards.
A successful ecommerce marketing strategy relies on a company's ability to remain flexible and work with the right tools. There's no telling what new technologies will come out in the future, so it's important to not get too settled into one marketing solution for the lifetime of your business.
Overall, ecommerce marketing should be considered in your costs. There's no way to find new customers without ecommerce marketing, so every shirt or electronic sold must also have a per-unit line in your accounting figures showing you how much it cost to acquire that customer through ecommerce marketing.
As with all ecommerce topics, there's no one answer. An online company like Dollar Shave Club found marketing success with funny television and YouTube ads. Other online stores like MVMT Watches have podcast advertisements.
Therefore, you need to figure out the absolute best course of action for your brand. Does that mean you should make a hard push with social media influencers? Is there potential for your product to be marketed at craft shows?
In this article, we'll help you uncover the ideal marketing channels for your business. As you read on, mark down the ecommerce marketing types that seem appealing for your business. After that, you can begin testing them one-by-one to see which are the ideal solutions.
The Different Types of Ecommerce Marketing
Keep in mind that there are probably more than nine ecommerce marketing types. These are the primary forms of marketing, especially when it comes to selling products online. We also do our best to consolidate different marketing niches into over-encompassing categories, giving you a solid view into each specific category.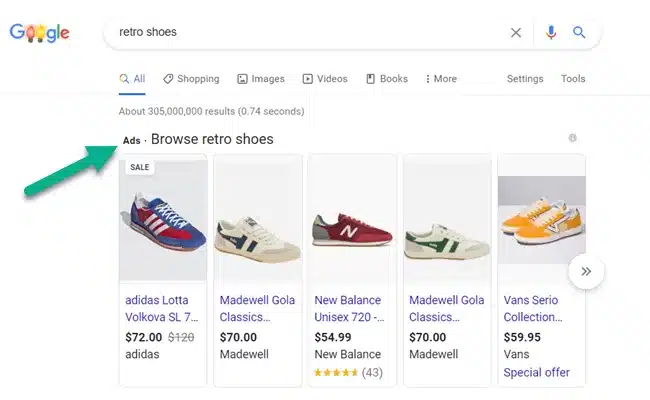 People often confuse advertising with marketing, and vice versa. However, marketing is actually an umbrella category, and advertising falls underneath that category.
Therefore, advertising is in fact a form of marketing, and it's extremely important to the success of an online store.
Advertising is a unique form of marketing because it entails how you directly promote your products, and it almost always involves the company paying a fee to list those advertisements in a relevant area.
Luckily, today's online world offers incredible targeting tools for your advertising. For instance, you can advertise on places like Google and Facebook by targeting users who have already searched for similar products. You can also target based on things like demographics, age, sex, and online location.
In general, paid advertising is available in the following areas:
Social media websites like Instagram, Facebook, and Pinterest.
Search engines such as Google and Bing and DuckDuckGo.
Other websites, whether that's by reaching out to those websites or by utilizing an ad network.
Print documents like magazines and billboards.
Visual media such as movie theater previews or TV ads.
Tools to Help With Advertising
Ecommerce Marketing Type 2: Email Marketing
Email marketing remains one of the most effective methods of marketing for both physical in-person stores and those that run exclusively online.
Sending emails to customers has many advantages. First of all, people open their emails on a regular basis. Not to mention, they tend to expect things like promotions and messages from companies, as opposed to more personal messaging on places like social media or texting.
Email marketing often serves as the first order of marketing business for online stores. The reason for this is because you can start building a subscriber list whenever you want, and many ecommerce platforms offer various ways to use email marketing.
Email messaging comes in many forms in the ecommerce world:
Receipts.
Newsletters.
Abandoned cart messages.
Promotional offers.
Customer loyalty emails.
Product recommendations.
Account registration messaging.
Re-engagement or defunct customer emails.
Upsells and cross-sells.
Products of imminent consumer interest
And that's only a taste of what can be done with your email marketing campaigns. What's great is that ecommerce platforms like Shopify and Opencart and WooCommerce already have email marketing integrations. Also, popular email marketing tools like Sendinblue and Omnisend provide built-in ecommerce automation features to guide your users through the customer lifecycle.
The importance of personalisation, or more accurately predictive personalisation
Personalisation is now a big deal for marketers and for good reason. A study shown by O2 showed that adding personalisation to their eCommerce experience increased sales by 7.8% over a short period of time and that online retailers monitoring their personalisation efforts have seen increases in sales by an average of 19% across the board.
Predictive personalisation software (where an algorithm watches all the buying habits and impressions made for each consumer individually) , using predictive analytics technologies like SwiftERM, identify consumer's future behaviour, then rank every SKU by greatest likelihood of "that individual consumer" will purchase from all the SKUs you have listed, in order of greatest likely buying propensity.
In other words, the ones they love best. CLV soars and RoR is all but eliminated. It out performs segmenting manyfold. But the art to it isn't choosing one over the other, the seasoned marketer runs them both in tandem, to achieve maximum effect. the effect a 26x higher overall return, yes huge!
Tools to Help With Email Marketing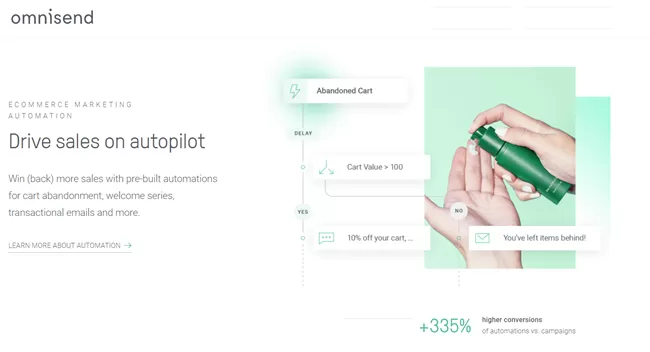 Ecommerce Marketing Type 3: Social Media Marketing
If email marketing is the old mainstay of retail and digital marketing, social media is the wild west. Over the years, social platforms have come and gone, while popular networks evolve on a regular basis. That makes for an exciting but tricky landscape for online store owners.
However, social media generally allows companies to reach customers in a more casual setting. It also presents rare opportunities for those customers to interact with the brands through the comment and tagging features.
The most popular social networks are Facebook, Instagram, and Twitter, yet many other options are available.
The interesting part about social media marketing is that some business types thrive on one network but have trouble with others. For instance, clothing brands usually find success on Instagram, while crafting or design stores go to Pinterest (although Instagram is also worthwhile for them).
Social marketing involves general posts that reach out to followers while also attempting a more organic discovery process for new customers. For instance, you may share a blog post on Facebook and see customers share that post with other people who don't currently follow you on Facebook.
Social Ads
Another way to market on social media is through advertisements. From Facebook to Pinterest, and Instagram to Twitter, the major social networks all have advertising opportunities.
Although we touched on some of the main advertising networks on social media, here's a list of the top contenders:
Organic Content on Social Media
Another way to market on social media is through the use of organic social content. Essentially, organic content is a fancy way of saying that you're using the social network the way it was intended to be used.
In short, social posts include things like pictures, GIFs, videos, links, or even text-based thoughts.
A solid social content strategy is key to building your followership and giving your current customers a way to reach out to you in a less formal manner.
Selling on Social Media
Social commerce evolves all the time, and the way in which it's configured depends entirely on the social network.
Some social platforms let you build a little ecommerce shop for processing your payments through their system. This is advantageous because your customers don't have to leave their favorite social network. Yet, it's also a disadvantage for your brand since they never come to your website.
Other platforms like Pinterest and Instagram allow for some variation of product tagging. Essentially, you're able to post a picture of your new product and include a tag and link to the actual product page. This redirects them to your ecommerce website so the customer can purchase the product.
Social networks have a tendency to occasionally modify rules and capabilities for social selling (Facebook seems to do this all the time). So it can be frustrating for merchants, but potentially profitable if you locate the right system and configure a desirable social commerce section.
Tools to Help With Social Media Marketing
Social scheduling tools – These are great for managing your organic social content. Tools include options like Buffer and Hootsuite.
The social ad networks – The links are included above. Many other social networks have their own advertising systems as well.
Rapid social design tools – Not every online business owner is a graphic designer. Therefore, we recommend tools like Canva and Adobe Spark to find templates and quickly design beautiful social posts to fit your brand.
Ecommerce Marketing Type 4: Search Engine Optimisation
Marketing through search engines requires nothing more than a published website that's accessible to those search engines to crawl your website.
An indexed website could find itself on the front page of Google or Bing for certain keywords, yet it all depends on how competitive that keyword is and what people are searching for.
Therefore, having an indexed site is usually the bare minimum when it comes to search engine optimisation (SEO).
Additional search engine marketing tactics include paid advertising (covered previously,) search engine shopping platforms (also covered earlier in this article,) and organic search improvement.
Organic SEO may sound like you sit back and let the internet work for you. And that's certainly an option, but the opportunities for improved search engine rankings lie in your own hands.
Follow these steps to boost your search engine rankings, and in turn, bring in more potential customers:
Register your website domain and sitemap with the major search engines.
Sign up for webmaster tools when available. These modules, offered by search engines like Google and Bing, provide reports to check the success of your search engine tactics along with tips to improve.
Optimize your website for faster speeds and a better user experience. This usually entails optimizing larger images, making sure your website is mobile-ready, and many other areas of site cleanup.
Optimize product pages, and all website pages for that matter, with keywords that are not only relevant to your business but used for searching on a regular basis.
Create written and visual content that elevates the user experience and adds value to your brand. Blog posts, videos, and infographics provide opportunities for high-quality customer resources while also allowing you to optimize them for target keywords.
Optimize your checkout process. How easy is it for someone to drop a product into the online shopping cart and get checked out? Everything from the number of steps required to the speediness of the site comes into play.
Tools to Help With Search Engine Optimisation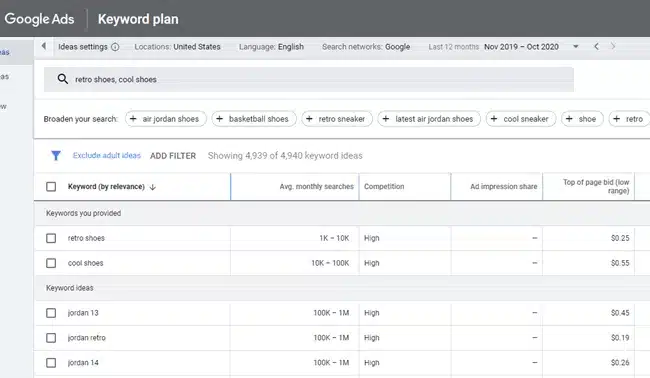 Ecommerce Marketing Type 5: Content Creation and Optimisation
Content creation ties in nicely with search engine optimisation seeing as how the content you create tells search engines that you're offering additional content to customers. Not to mention, blogging, video creation, and the many other forms of content creation supplement the products you sell online.
Customers love seeing behind-the-scenes photos of your brand, and they definitely appreciate tutorials or product guides to advance their understanding of the item they just bought.
For an online store, content falls into the following categories:
The content on your product pages.
Informational content on every other page of your website, including an FAQ and the homepage.
Your blog.
External content marketing like guest posting, video creation on YouTube, and even what's posted on social media.
Content marketing efforts often work by indirectly promoting your products and offering relevant assistance for your products or the industry in which your items are sold.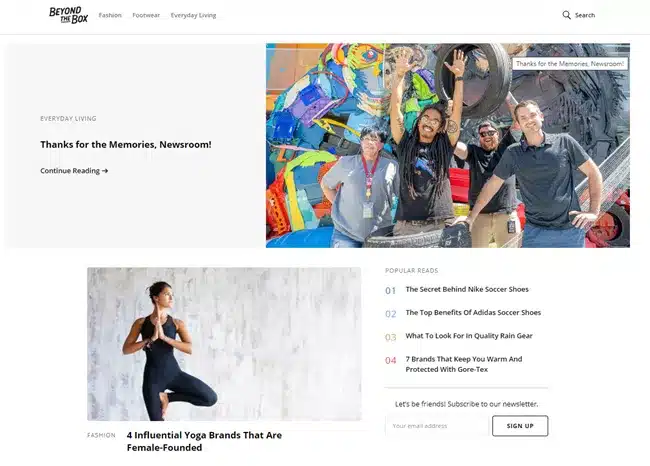 Examples of Content to Get You Started
Infographics explaining the benefits of your product or the state of your industry.
Podcasts to talk about lifestyle choices that align with your products.
Behind-the-scenes photos or promotional imagery that can go on social media and your blog.
Blog post tutorials, how-to articles, and product roundups.
Videos that highlight products or show them in action.
Case studies to prove the effectiveness of what you're selling.
eBooks or online magazines with long-form content that advises customers on in-depth strategies for relevant lifestyle changes or how to work with a product.
Ecommerce Marketing Type 6: Influencer Relationships
An influencer is someone who has a significant following in a specific niche. Celebrities are the more legitimate influencers but nowadays many people on social media are calling themselves influencers.
The idea behind this type of marketing is simple: Contact someone who has a large, relevant following. See if they'd like to promote your product in some natural way, maybe through a blog or social media post. Then you pay the influencer.
Keep in mind that you should do your homework since many people have thousands of followers on Instagram but they're not active followers. You also want someone who would actually use your product in the first place. The partnership should make sense.
Tools to Help With Influencer Marketing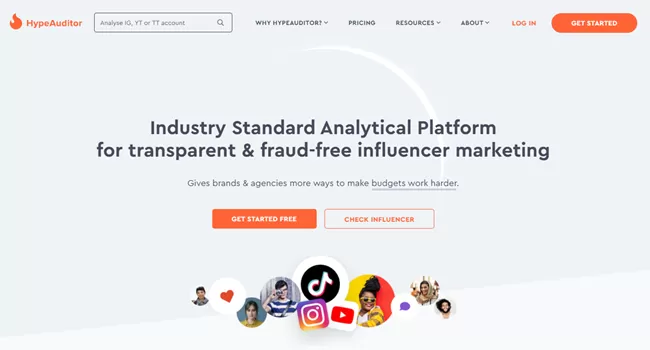 Influencer marketing is tough because there are plenty of non-influencers who claim they have quality followings. However, you can start your search on websites like HypeAuditor or Upfluence.
Ecommerce Marketing Type 7: Affiliate Marketing
Affiliate marketing may very well be the lifeblood of the entire content creation industry. Bloggers use it, as do many recommendation platforms online.
The idea behind affiliate marketing is rather simple. A brand creates an affiliate marketing program. Bloggers/marketers sign up and promote the brand. Every purchase through a unique affiliate link sends a "finders fee" to the blogger/marketer.
For an online store, an affiliate marketing program has far more reach and potential than any influencer setup.
It's essentially free marketing until a purchase is actually made. You set the payout structure and provide a tool for the marketers to create their own accounts and affiliate links. Those marketers recommend your products in things like newsletters, blog posts, and social media outlets.
Tools to Help With Affiliate Marketing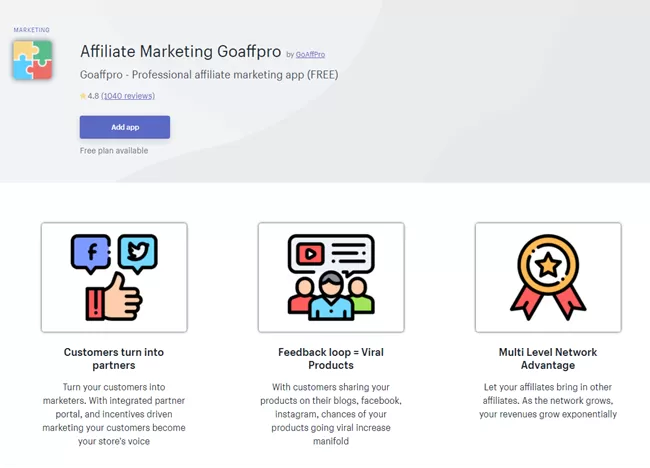 GoAffPro – An excellent affiliate management app for Shopify. Other platforms like Bigcommerce and Volusion provide affiliate manager add-ons as well.
Affiliate Program for WooCommerce – A plugin for WooCommerce with role-based affiliate settings and all sorts of sharing tools.
ReferralCandy – Based more on a referral model, ReferralCandy is suitable if you'd like to give out affiliate commissions or rewards to regular customers when they recommend your company to friends and family.
Ecommerce Marketing Type 8: Shopping Experience Marketing
We call this the "shopping experience" marketing category because much of the promotional content gets presented while a user is on your website and already browsing the catalog.
The point of your on-site marketing isn't to bombard users with repetitive popups that draw attention away from what they're currently looking at. In fact, the entire notion of interrupting customers is a balancing act.
The key is to remain out of the way but occasionally offer more value to the customer if they want or need it.
An example of this type of marketing is a chatbox, both run by humans and bots. Many of these chat boxes answer questions about sizing and other product details. You can also recommend other products that may fit their needs.
Popups are also essential parts of on-site marketing. However, a popup should only show up once while a customer is on your site, and it must provide something of great value, like a 25% off coupon to sign up for your email list.
Other on-site, or shopping experience marketing tactics include:
Links to your customer support resources.
Guides and sizing documents.
Recommendations for other products.
Wishlist modules.
Case studies.
Testimonials.
Customer reviews.
Tools to Help With On-site Marketing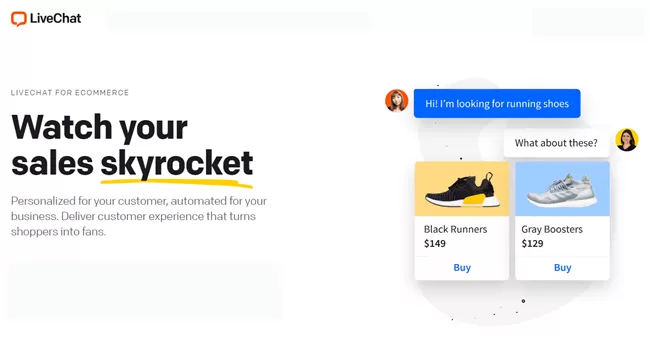 Ecommerce Marketing Type 9: Local Outreach
Word-of-mouth marketing is one area of local outreach, but it also involves your brand getting out into the real world to partner with other brands, visit industry events, and sell your products at markets.
As for online marketing, local outreach requires site optimisation with keywords that relate to your location.
This doesn't apply to all online stores, but it's an easier way to tap into a market if you focus on specific locations.
The goal is to optimize for that local area and create specific landing pages for those regions.
Top Ecommerce Marketing Tips and Strategies
Now that you have the knowledge and tools to get started with ecommerce marketing, feel free to continue reading for tips on how to improve your marketing efforts and develop a solid strategy.
Use Smart Experiments
Experimenting comes into play for many aspects of ecommerce marketing. If you're using an online tool, chances are it has some sort of testing module to see if your marketing plan is actually on the right path.
An example of this is A/B testing for email newsletters and automated worflows.
A graphic designer gets trained to know what formats and colors sell, but unfortunately, their gut feeling isn't good enough to compete in the world of ecommerce. You're better off forgetting about gut feelings and chnce by making several email marketing templates and testing to see which ones perform the best.
Other testing tools include keyword research apps, visual website heatmaps, and even customer surveys.
Gain Feedback From Your Customers
A quality customer survey goes a long way to get an idea of what your customers like and don't like about your products.
Going a bit further, you can gain more objective feedback from customers by implementing areas for them to speak their minds, whether that's through review modules, forums, or social media.
Be sure to keep a regular eye on online review sites to accumulate data and understand what's making customers happy or disgruntled.
Utilize Targeting and Consumer Research Before Spending Money on Marketing
Similar to A/B testing, there's no reason to spend money on advertising if you're targeting consumers and making your designs based on instinct or preference.
Building an ad campaign on Facebook or Google can get expensive. Therefore, you should utilize their tools for seeing which types of designs actually work for businesses like your own.
In addition, take advantage of the target marketing tools so that your ads are only showing up to people who potentially want to buy from you.
Get Creative – Don't Just Keep Sending Out Promotions
Some companies fall flat in the personality department when all they send out are coupons and promotions.
It may seem like all your customers want are discounts, but human connection can serve a greater purpose.
Take Zappos, for instance. Early on, Zappos became known for sending out handwritten thank you cards in some boxes. They also rewarded random customers with overnight shipping. Furthermore, the Zappos website was filled with behind-the-scenes content showing the outside world how quirky and relatable the employees were.
Customers appreciate that they're buying from real people, not some faceless company. Show them that with your creativity.
Upsell Products On a Regular Basis
An upsell often seems like a salesperson attempting to get a person to buy more stuff. Luckily, the internet makes upselling more discrete.
There are so many messages that go out to customers, from receipts to thank yous to email newsletters. All of these can include recommendations and upsells. You can show upsells in your checkout area as well. The great part is that the suggestions aren't popping up in the customer's face and distracting them from whatever it was they were doing before.
Think About User-generated Content as a Viable Marketing Option
User-generated content is cheap and effective. Think about ways to get your customers involved on social media or other outlets. Ask for videos using your product or run a contest asking for users to suggest ideas for your next big marketing campaign.
Make it Almost Impossible to Not See Your Customer Support Resources
There's an unsettling trend in ecommerce to hide away customer resources like they're something to be embarrassed about.
The footer area has become the default spot to dump a list of links leading to things like forums, blogs, and knowledgebases.
That's strange because your customer support is one of the best complimentary marketing tools you have.
Those resources don't have to be the first thing your customers see, but it's not a bad idea to include them in your primary menu.
Make Sure Your Entire Site Looks Good on Mobile Devices
People shop on mobile devices, that's no secret.
Complete rigorous testing to ensure that your website theme or design looks and functions properly on tablets and smartphones.
Our Conclusion on Ecommerce Marketing
If all of this ecommerce marketing talk makes you feel overwhelmed, don't fret.
Start with one suggestion or marketing practice and see how well your company can excel at it.
The best method is to set smaller, attainable, concrete goals so success is more likely. That way, your marketing efforts gain momentum and you'll have an easier time transitioning to a new marketing tactic.
If you have any questions about ecommerce marketing in general, let us know in the comments!