The autoparts aftermarket. The worldwide Automotive Aftermarket Parts Industry is forecast to achieve $723 billion in sales this year. The US alone accounts for $296 billion. The industry includes both OE and aftermarket parts, equipment, service, and collision repair, to name just a few.
At no time in history has there been such a diverse and technologically advanced line-up of cars, trucks, and commercial vehicles. Most manufacturers are doing their best to reduce carbon footprints.
New materials, advanced technologies, and e-commerce have captured the buying eye of every vehicle owner: each consumer wants better gas mileage, louder sounds, and shinier wheels.
Exciting trends for the Aftermarket Parts Industry are coming into focus.
Ecommerce has Changed the Automotive Aftermarket Landscape.
The digital influence has transformed the way a consumer makes a purchase. Prospective aftermarket customers read everything possible, including reviews and videos. Year after year, consumers are besieged with online advertising, both on desktops and now their smartphones.
Wheel and tire websites and aftermarket touchup paint websites are two of the fastest-growing segments in the industry. Wheel-Size.com is tailored to the shopper searching for the perfect fit of wheels or tires for their automobile.
The site allows searching by tires, wheels, or vehicle type. Once the consumer has drilled down to specifics, the site routes them to a preferred retailer. Chipex.com Touch Up Paint has helped lead the industry in the aftermarket paint category by providing a new way to touchup your automobile.
Service and information-loaded websites are building customer-friendly environments throughout the industry.
Embracing Mobile Technology
The Aftermarket Industry is catching up to the rest of the world by using smartphone and e-commerce technologies. Automakers are using mobile technology to make driving and owning a vehicle easier. Most automakers provide owners manuals and other essential information on their smartphones for easy retrieval.
94% of consumers head to a manufacturer's website to get product information and specific details on the warranty. 84% want to check and see if the part fits their vehicle, and 57% of consumers want detailed installation instructions.
CARiD.com has taken the integration of online e-commerce and aftermarket parts shopping to standard. The site maintains a comprehensive selection of both OEM and aftermarket for a wide assortment of brands.
In 2021 aftermarket e-commerce is expected to eclipse $12 billion in annual sales and over $19 billion by 2022. The online digital influence is projected to be 160 billion by 2022.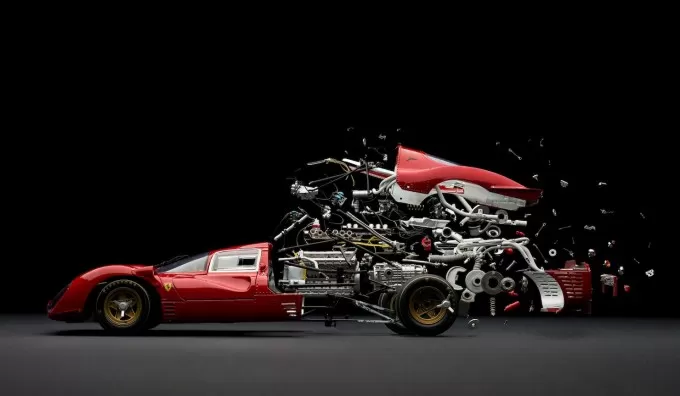 Balance of Power
Customer landscapes are evolving for the aftermarket industry. The balance of power is changing. Consumers are not heading to automaker's websites to make a purchase, to find additional data.
Consolidation of online and brick and mortar is now the name of the game.
Technology has leveled the aftermarket playing field. Major players once considered untouchable are finding themselves in a fierce battle for market share. 1) Niche markets: Only a few established online merchants are prospering under the new market paradigm.
Customers are scouting for precisely what they need. 2) Location is not everything: Businesses no longer require a physical address; technology has eliminated the need. 3) Home solutions: Global supply chains exist for everyone who wants to set up a shop out of their garage.
No other market segment will advance more from blockchain technology than aftermarket auto parts. Why? One of the fastest-growing areas of the world desperately needing auto parts is third-world countries. Blockchain will revolutionize the security of money transfers.
Digital Transformation
The Aftermarket industry is the most data-driven globally, so it's not surprising that it is embracing digital transformation. Smart vehicles collect information on every facet of your experience, from detailed driver data to routes, traffic patterns, and the type of oil used in your car.
In reality, little has changed in the overall scheme of internal combustion engines and powertrains. Aftermarket parts suppliers have shifted tactics in recent times, however. Modern power control modules, PCM executes over 2000 procedures per second. For example, a GM PCM contains over 500 thousand lines of code and delivers 60 million calibration values per year.
Assisted-driving technology systems are expected to save consumers upwards of one trillion dollars in the next few decades and over 900,000 lives.
Personalised Product Selection
Personalised product selection solutions are playing their part, using personalised product selection software (PPS), like SwiftERM, identify consumer's future behaviour ranking every SKU by greatest likelihood of that individual consumer to purchase from all the SKUs listed, in order of greatest buying propensity.
It presents them to that individual at exactly the right moment, thereby maximising that individual's customer lifetime value CLV potential. (i.e. Likelihood to Purchase, Discount Affinity, Likelihood to Churn etc).
In the not too distant future, autonomous vehicles will become technological marvels. Vehicles capable of guiding themselves offer a future of unmatched safety and driver comfort. Aftermarket players are working frantically to make the future happen now.
Visionaries such as Elon Musk predict autonomous vehicles will become commonplace, much in the same way elevators once were. In the beginning, elevators operated with the assist of a human inside the carriage. A few added electronics, and we have the comfort of modern elevators.