Successful jewellery ecommerce – the definitive guide. If you're thinking about establishing or expanding your own jewellery business online, the timing has never been better. The New York Times reported that fine jewellery sales were up during the pandemic due to people wanting to treat themselves. Current forecasts suggest that the worldwide jewellery market will grow to $291.7B by 2025. As of 2021, 79% of jewellery sales in the United States came from non-luxury items.
These economic forecasts paint the picture for an expansive global market, with room for newcomers and established industry giants alike. The beauty of jewellery is in its diversity, and platforms such as eBay and Etsy make it possible for even the smallest of businesses to find a loyal customer base online.
Jewellery is one of the most popular items people purchase online. From necklaces and earrings to bracelets and watches, the jewellery market is worth several billions of dollars in the US.
In fact, the latest online jewellery sales statistics show that there's been constant sales growth from 2011 to 2019. In 2019, the online jewellery market generated nearly $8.4 billion, its best year of the decade.
During this period, the online jewellery market size grew at an average of 8.64 percent annually. The biggest year-over-year increase was registered in 2012 when online jewellery sales surged 18.78 percent.
Experts say the growth the industry experienced towards the latter part of the previous decade is due to the increased demand for jewellery. This is spurred by consumers' growing disposable income, which permitted them to not only spend but also spend more on expensive discretionary goods such as jewellery.
In fact, reports say that the online jewellery market has been growing faster than the overall economy over the past five years.
Why you should be enjoying successful jewellery ecommerce
As a merchant, you have the ability to reach customers anywhere in the world, regardless of where you're located. Regardless of whether you are an independent jewellery designer on Etsy or part of a team at a larger brand, you have an equal footing for a discoverable store.
Keep in mind that there were demographic trends in motion even before the COVID-19 pandemic that made the case for selling jewellery online. One important trend to watch is the rise of the Gen Z shopping population.
Shortly before the pandemic began, Gen Z had already accounted for 40% of global shoppers, meaning that they are on the path to becoming the dominant spending force. These individuals have been creating a shift in the way that people of all generations make purchase decisions.
As the first generation of digital natives, this group relies on social media and online retail experiences to discover new products — a trend that has increased during the pandemic, according to the National Retail Federation (NRF). Research from the NRF has also found that 87% of parents rely on recommendation from their children when deciding what to buy.
These trends point to a historic shift in the way that people shop for new jewellery, which is a timeless cultural staple to our human society. The key to getting started is to find the right niche and to build a brand that stands out.
Market Analysis: Trending Jewellery Brand Niches
When you sell jewellery online, there's an opportunity to reach people with your brand all over the world. This expansive market means that there's an opportunity for all retailers — from Tiffany and Cartier to the local costume jewellery store — to attract and engaged a loyal customer base.
The flip side of this growth potential is that there's also a lot of competition. No matter the type of jewellery, making your brand discoverable can be a challenge, especially since attention spans are tough to capture. Shoppers have a seemingly infinite number of options to navigate their purchase decisions.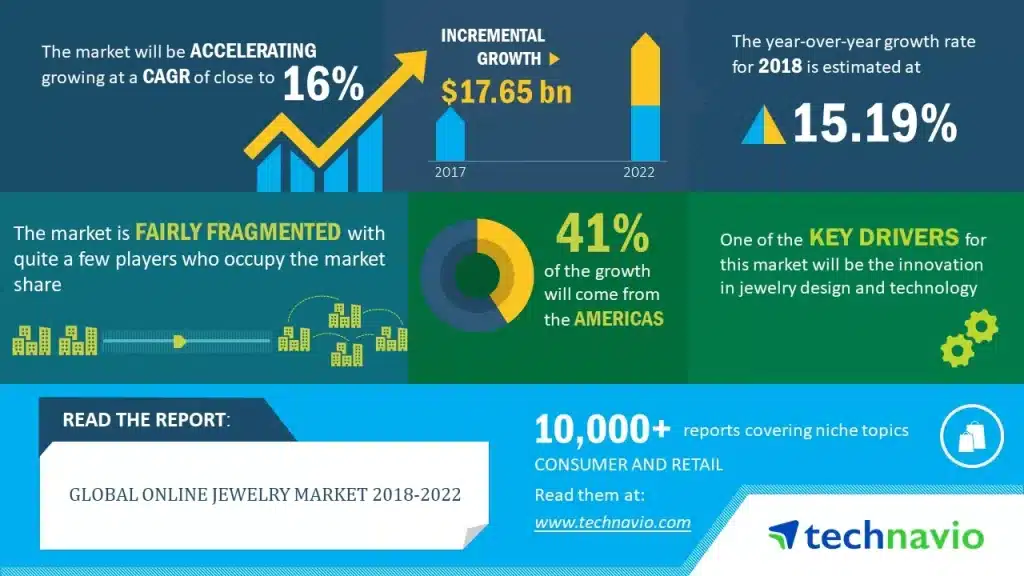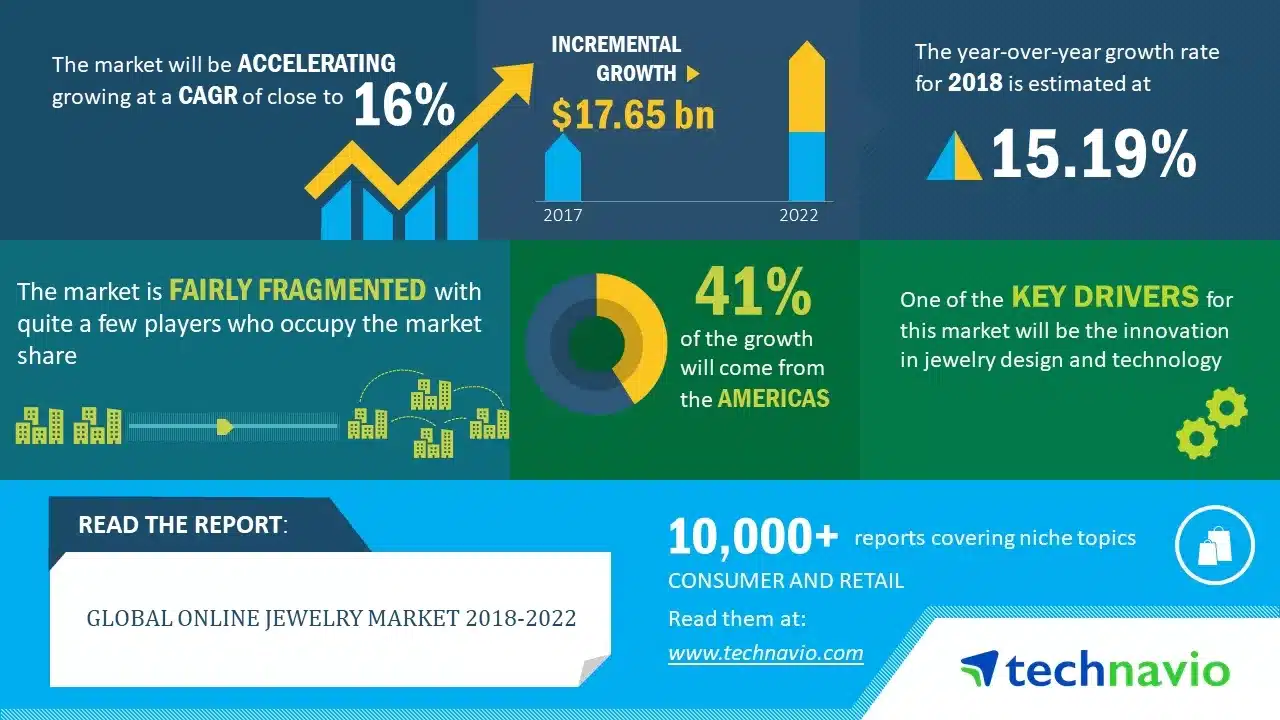 Build a High-Impact Marketing Strategy
You can think of your ecommerce store as the home base for your jewellery brand. It's a destination for audiences to visit. As with places to visit in the physical world, you need to help shoppers find their way to what you have to offer. That process involves creating an online presence that spans multiple platforms.
In marketing language, the expression of your brand through its online presence is called an "omnichannel marketing strategy." Beyond sending people to your online storefront, your online presence can help you collect personalization data to build a more on-target, relevant and enjoyable brand experience. We offer the following guide to omnichannel marketing strategies, and detail why omnichannel retail is essential.
Here is a template to guide you through the process of building a meaningful online presence:
Build a social media presence.
An Instagram presence for your jewellery store is a must. Other platforms to consider include Facebook, Twitter, TikTok and YouTube.
You don't need to be present on all social media platforms. Rather, pick several — build up each one, one at a time.
One example to consider is Icing on the Ring's Instagram feed, which includes helpful product photography. Audiences can easily discover and learn more about the items that Icing on the Ring sells.
The brand uses a mix of static images and dynamic videos to create an engaging experience.
Create loyalty incentives.
Jewellery is often a high consideration purchase, meaning that people give careful thought to what they are buying. Especially if your brand is a fine jewellery retailer, it may take several months of browsing before a shopper is ready to make a purchase.
Given that jewellery is a high-consideration purchase, shoppers may feel inclined to compare prices and items across different brands. A rewards or loyalty program creates an incentive for people to make their purchases with your company.
Launch a newsletter and use the biggest ROI marketing tool – email.
Sometimes, people aren't ready to engage with your brand in a way that drives a transactional outcome. In these moments, an email newsletter is a valuable marketing channel for keeping shoppers interested in your jewellery brand and products.
A successful newsletter will be entertaining to read beyond being a sales pitch for your products. For this reason, it is important to communicate a clear value proposition for subscribing. Whether you're a small company with insufficient resources ro initiate an email campaign, or a conglomerate fighting for market share, one program essential for today's ecommerce, which is predictive personalisation software (PPS).

PPS identifies imminent product purchases (from whosoever) that but for dangling-a-carrot, should be yours for the taking. It has a 20x greater ROI than standard email marketing alone. It achieves this by using a predictive personalisation algorithm, which ranks all your SKUs in order of what each individual consumer is most likely to buy next, based on the buying history and subsequent impressions. The leading exponent of this is SwiftERM, and you can take advantage of a tree trial of this ti establish viability.
The personalisation SaaS (no to be confused with segmenting whatsoever) watches what each individual consumer buys and sees on your website. using every available UTM is rake all your BUs in order of highest potential buying propensity for that consumer. Then, when appropriate, it mails that individual their own unique selection achieving phenomenal returns. the small guy loves it, as he doesn't need to do a thing to gate returns as high at 2500%, and the big boys like it as it supplements that office full of email staff, with an amazing additional revenue stream, not otherwise available, complementing their own activity. 
Create a content marketing and search engine optimisation (SEO) strategy.
Content marketing is the practice of creating branded education in the form of articles, videos and images. It is an effective strategy in today's media-driven world where people are researching items before making purchases. Coupled with content marketing is search engine optimisation (SEO), which is the practice of making content visible on Google based on keywords.
To succeed with SEO, your marketing team will need to identify keywords that are relevant to your brand and develop content, accordingly.
It's important to prioritize content marketing as a measurable strategy. For instance, you can track whether a shopper has engaged with content before making a purchase.
Build paid media advertising campaigns to build awareness and drive sales.
With an established brand presence, your jewellery brand will be well-positioned to find success using paid media advertising. The idea is to participate in the digital advertising ecosystem to build awareness around your brand — and to re-engage audiences through the consideration process.
Social media companies such as Facebook (which owns Instagram), Google (which owns YouTube) and Twitter provide options to purchase spots for advertising. You can also reach out to publications and blocks to see if there are spots available for direct advertising.
Keep in mind that there are many different advertising products available for different types of businesses. As a jewellery brand, to guarantee the biggest impact from your paid media investment, it will be important to make sure that you choose advertising solutions that support your revenue goals.
Work with influencers to build brand awareness and trust.
An influencer is someone with a social media presence, who has the ability to persuade how people shop. Influencers have a high degree of authority as trustworthy sources of information.
"Be it moody photos, cheeky video reviews, meandering blogs, or blurry soon-to-disappear Stories, the value of the content in question is derived from the perceived authority—and, most importantly, authenticity—of its creator," explains Paris Marineau for Wired.
Influencers are receptive to working with brands to promote their product. But keep in mind that campaigns need to do more than just sell — strong partnerships between influencers and brands are built on the alignment of values.
SwiftERM recently published a guide to building a marketing strategy, which you can check out, and another on brand ambassadors.
Collaborate with resellers and distribution partners.
This technique isn't the right fit for every brand. But if you manufacture your own products, you may find success working with partner retailers to sell your products on your store's behalf.
An example to model is Lisi Lerch, whose products appear both on the brand's website and on retail platforms such as QVC.
This type of distribution relationship is a valuable way for Lisi Lerch to increase brand awareness. QVC is a platform where shoppers can discover Lisi Lerch as a designer. This discovery process creates a funnel of shoppers to the Lisi Lerch ecommerce website. The brand name also becomes more recognisable.
Distribution and reseller relationships are powerful pathways to build brand awareness. It's important to choose partners carefully; however, and make sure that your company has enough wiggle room to take a healthy profit margin on sales.
It's also a good idea to loop in a lawyer who can advise on issues related to usage rights for product imagery and brand communications. Terms and conditions will be an important part of your strategic plan.
Incorporate reviews into your marketing
Testimonials and product reviews are important components of your jewellery marketing engine. As humans, we are naturally inclined to trust our peers for insights. SwiftERM is the only facility in the world which incorporates Trustpilot product review scores automatically into each individual's own personal selection emails, which is offered permanently for free to users of this facility.
In one study, researchers found that given two similar products, people are more likely to purchase the one with more reviews — even when the less-reviewed option was of higher quality.
For a high consideration purchase like jewellery, reviews can empower shoppers with a sense of confidence. Reviews are one of the most informative pathways to help ensure that we will be happy with what we're buying.
Reviews can be a part of your marketing in a few different ways:
Featured on your website.
Part of a social media hashtag campaign.
Included in ad copy.
Incorporated into a buyer's guide.
Highlighted in an email marketing campaign.
The most impactful reviews include meaningful stories that are relatable and enjoyable to relieve. The role of the brand is to help facilitate peer-to-peer discussion.
The Final Word
The online jewellery industry is booming, with plenty of space for newcomers and established companies, alike. You can think of your ecommerce store as a central hub for your brand, to magnetize audiences and build trust with shoppers.
Selling online requires a balancing act between technology, marketing strategy and human operations. You can think of a digital storefront as a virtual space where you're bringing people together — just as you would in the real world.
The right technology and processes will help ensure that people enjoy their experience with your brand and remain engaged for the long-term.