Promotional ideas for Black Friday: We're always analysing our users' campaigns to see what makes some more successful than others so we can share what we learn. Some of what we see is really obvious — embedded campaigns get more traffic than those published only to Facebook, and offering a relevant prize gives any contest more momentum. But other times, we notice subtle things our users are doing to make their efforts more successful.
For example, in early October we surveyed 9,000 and learned that 54 per cent of them already had a Black Friday / Cyber Monday promotion strategy ready to go. Of that group, 93 per cent are using, or plan to use, three to five tactics to execute their promotion strategy. The tactics include hosting contests/giveaways, email marketing, advertising, and offering discounts/coupons.
In other words, brands promoting Black Friday / Cyber Monday deals, recognize the power of "omnichannel" marketing. And that's smart! Employing a variety of tactics allows you to cover many bases. The customer who ignores your catchy subject line in their email inbox might not be able to resist clicking on your clever ad in their Facebook feed.
Another interesting statistic we found? Eighty-six per cent of the marketers with a Black Friday / Cyber Monday promotion plan in place are running a contest or giveaway. Although interesting, it's not surprising that contests and giveaways are among the most popular marketing efforts from the five listed above.
Promotional Ideas for Black Friday
Here are five reasons you'd be smart to include contests and giveaways in your Black Friday / Cyber Monday promotion strategy:
1. Contests and giveaways allow you to gather data
Data is essential to understanding how to market to your audiences. And running a contest or giveaway can get you lots of useful information. An obvious example of this would be the data you collect in your entry form (e.g., name, email address, etc.) but there are so many other things you can learn about your customers based on the type of contest or giveaway you run. For example, check out the "Pick Your Prize" giveaways links from Shortstack, and those below. Participants can choose from a few different prizes letting you know what products they're interested in, and also which of your products might be the most popular.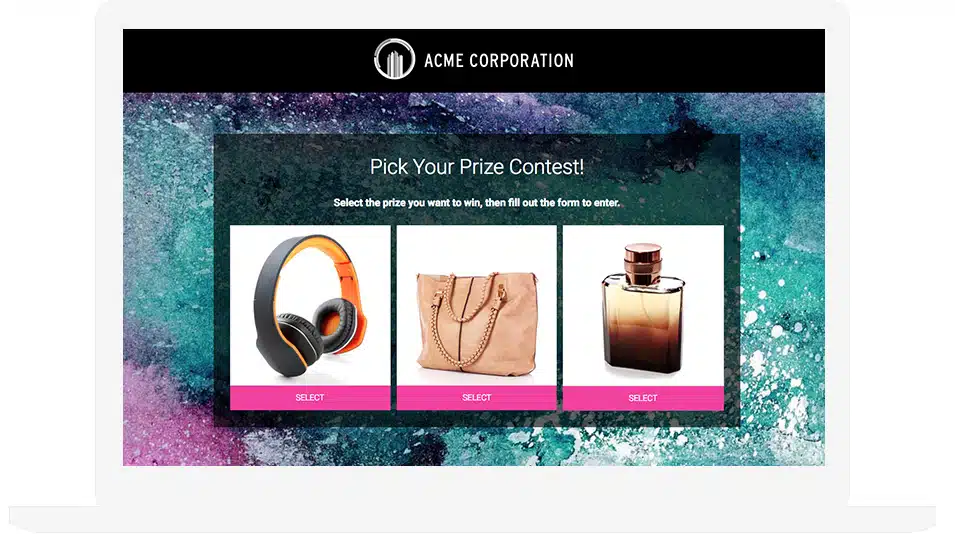 2. Contests and giveaways get you more attention
If an ad is equivalent to your basic commuter sedan, a giveaway is like a turbo Porsche. Say you're in the market to buy a new power drill. Would you rather click on an ad boasting "15% off power tools," or an ad linking you to a giveaway in which you can win a whole set of power tools and get a coupon for 15 per cent off to shop with even if you don't win? Contests serve the same function as ads, with added layers of excitement, engagement, and follow up.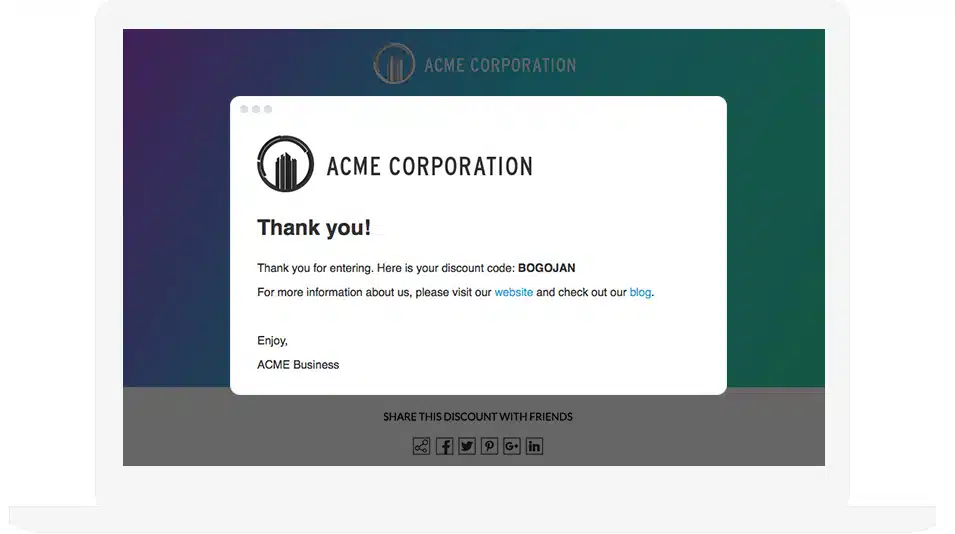 3. Contests and giveaways are a jumping-off point to all other marketing platforms
In a comprehensive promotion strategy, you can use a contest or giveaway as a hub, driving traffic to or from landing pages, ads, emails, etc.
Here are a couple of examples of how contests and giveaways can help you create a unique flow of traffic to suit your specific purposes
To get more sales in your online store. Someone clicks on an ad, the ad directs them to a contest or giveaway, the entry to said giveaway triggers an email autoresponder with a discount code or coupon. The email autoresponder can also link to an online store where they can use the discount code.
To get more followers on Instagram. Someone opens an email, the email links to a contest or giveaway – once it's entered, a message appears saying, "We'll be announcing the winner on Instagram – follow us to see if you get the prize!"
4. Contests and giveaways get you more sales all year long
If the holidays are your business's time to shine, a contest or giveaway run during this time of year can get you the most engagement. Use the data you collect to keep the momentum up all year long with a tactic such as running retargeting ads.
Did you run a "Pick Your Prize" giveaway like the one shown in the example above? If you found half of your audience chose a specific prize, you could run an ad featuring that particular product and target it to those people. Did you collect a bunch of email addresses with your contest or giveaway? Those emails are targeted leads you can use to market future promotions too. Read how Star Fine Foods increased its web traffic by 288 per cent after their holiday campaign had ended.
5. Black Friday / Cyber Monday promotions are a great dry run
If you find you get more sales throughout the holiday shopping season than on Black Friday / Cyber Monday alone, running a promotion during the Black Friday weekend is a great way to tweak tactics, copy, audience targets, etc. and then hone your efforts for the rest of the month.
SwiftERM offer a 30-day FREE trial of our comprehensive predictive analytics marketing SaaS that runs in tandem with existing email marketing software to secure additional revenues from existing consumers 100% automatically. See examples of existing user stats here.