89% of businesses are investing in personalisation as a critical strategy for their current and future success. However, personalisation goes far beyond adding a first name field into the subject line of an email…
In order to stay relevant in today's hypercompetitive marketplace, brands need to remain customer-centric and drive their attention to personalised experiences for website visitors. After all, customers now hold the power and personalisation is the first priority for modern consumers.
But none of what we're saying is that new or revolutionary. Personalisation has been a trend for over a decade now, and it has evolved greatly from templatised marketing communications to dynamic, predictive, and even proactive experiences.
Today, a plethora of personalisation software tools, including AI and machine learning algorithms, allow us to achieve 1:1 personalisation like never before. In order to take full advantage of personalisation technology, we must first understand what it is and how it benefits both brands and consumers.
What is personalisation technology?
Before we take a deep dive into personalisation technology, let's start with the basics: What is personalisation? In eCommerce, personalisation is the process of creating individualised shopping experiences and interactions. These can range from dynamic website content to unique promotional offers to tailored product recommendations, etc.
As such, personalisation technology encompasses the variety of software tools that collect, store, and manage customer data in order to orchestrate individualised experiences.
Depending on the size of your business and your place on the personalisation maturity curve, your personalisation technology stack can consist of a single or a set of personalisation tools. If you have the budget to afford something like Adobe's Experience Cloud, you might not have to worry about much else.
However, even established businesses often choose to go with several providers that are experts in their chosen niche: Product recommendation engine; Dynamic pricing software; Intelligent site search. Based on a recent ITSMA survey, this is the typical personalisation marketer's toolbox: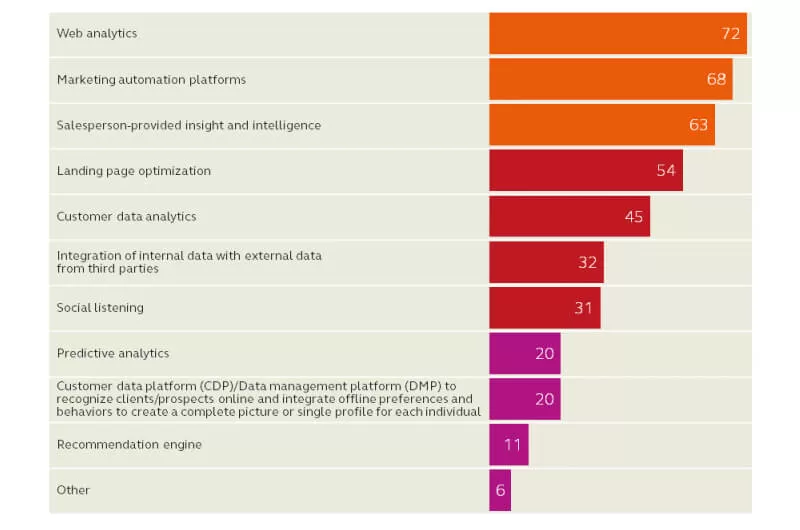 It's important to note that the orchestration part should be done by a personalisation engine that is able to ingest all that third-party data and 'spit out' relevant communications in real-time.
Higher conversion rates
While many elements impact your conversion rates, the experience you offer to your customers is a vital one. By getting the right message to the right person at the right time, your sales can skyrocket. According to a Monetate report, the more personalised pages a customer sees, the higher the conversion rates. On average, once companies implement personalisation, they see a 20% increase in sales.
Reduced cart abandonment
A staggering 80% of users abandon their carts. Reducing this by even a few percentage points will result in a significant revenue jump. By analysing every aspect of the customer journey, companies can incorporate real-time dynamic pop-ups, browser retargeting, email remarketing, and other strategies. The result is reduced cart abandonment rates, increased customer retention, and a great customer experience.
Increased average order value (AOV)
A Salesforce's report states that 69% of buyers expect Amazon-like buying experiences: Things like personalised product recommendations, cross-sells, and upsells. Personalisation technology leverages what you already know about your customers in real-time and offers them relevant information that improves the customer journey and supports your business goals.
Improved customer loyalty
Loyal customers are the holy grail of long-term, sustainable business success. Adobe's report states that US eCommerce stores make 40% in sales from 8% of loyal users. Providing a tailor-made, outstanding experience to your customers makes them feel valued as individuals. Build brand loyalty and stand out in the noisy digital world by implementing data-driven personalisation strategies.
How to choose personalisation technology
Personalisation maturity curve
Choosing a personalisation technology ultimately depends on the sophistication level one is seeking. We've already referenced the personalisation maturity curve, so let's explore it in a bit more detail to understand how it informs our software buying decisions.
The personalisation maturity curve signifies the different phases, tactics, and expected returns of a personalisation strategy. As you can see, on the most basic level we have personalisation based on field insertion. In other words, your typical "F_NAME" scenario.
As you advance up the maturity curve, you encounter more complex personalisation strategies: Things like personalised product recommendations, dynamic content, social proof, and more will sit at rules-based personalisation or higher. These strategies tend to have the most significant impact on revenue and customer retention and thus require more sophisticated personalisation solutions.
Take a look at the image below and try to identify which stage your eCommerce personalisation strategy is currently at. Most businesses sit at the first three stages, i.e. Mass-marketing; Field insertion; or Rules-based segmentation. The personalisation maturity curve is also handy in predicting the effectiveness of your personalisation campaigns as you move up the ladder. I mean, who doesn't want a 20-50% lift in conversions?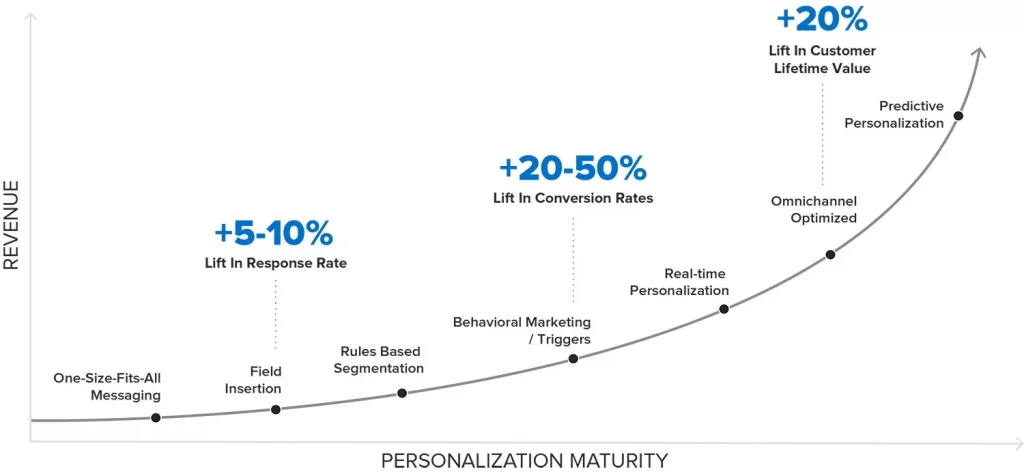 SwiftERM is personalised product selection software for email  marketing. It only every sends consumers products personally selected for each consumer based on their own unique personal buying history and impressions. Clicks and purchases made from a perpetual pattern created of that individual, and their interaction with your website.

So by sending them details of only those products they are most likely to buy, based on their actions, has a fundamentally positive effect on that individual – they appreciate you knowing them as individuals, and consequently stay loyal, spend more, return less the list goes on… There is zero segmentation involved, and you can readily see from the graph, SwiftERM comes toward the top of the highest revenue rates available.
That the system is totally automatic – it has to be to cope with the volume of data it has to process is an added bonus. It is always "on the money" as consumers avoid irrelevant email content.