Brands with more digital touch points are more likely to be selected by consumers
Touchpoints are essential to understanding your customer's journey (if you're ready, here's a complete guide to customer journey mapping). 66% of companies now compete primarily on customer experience. And it makes sense given 86% of buyers will pay more for a great experience.
Great customer experiences require a lot of attention to detail at every stage of interaction with the customer. So in this guide, we will not only go through the basics and why touchpoints are so important, we'll also walk you through how you can do a customer feedback analysis that breaks into a touchpoint analysis. Whether you're a newbie or an industry expert looking to brush up on the finer points, this guide is for anyone looking to understand touchpoints in detail.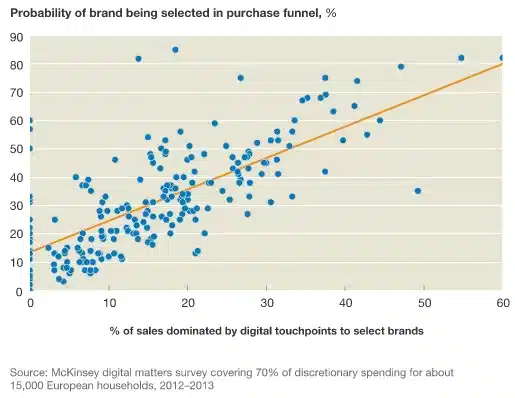 This Europe-centric data saw a strong correlation between the likelihood that customers will choose a brand to buy from being improved depending on the number of digital touchpoints they have.
McKinsey found that European companies with more digital capabilities across channels are able to convert sales at a rate 2.5 times greater than those with fewer touchpoints. These brands are also seeing more positive word-of-mouth online due to their larger multichannel footprint.
The appeal of certain touchpoints among consumers varies according to demographic and where they are in the journey
As a brand, you have influence over each interaction a customer has with your business. Consider every possible situation that could bring your customer into contact with your brand and design that scenario to deliver a positive experience. This is the time to use touchpoint mapping.
Touchpoint mapping is the act of outlining each interaction a customer might have with your brand. This process looks at each step of the buyer's journey and identifies the places where customers come in contact with or experience your brand.
Touchpoint mapping is important because it allows your brand to visualize and improve every experience a customer has with your business.
Before Purchase
Website
Reviews / Testimonials
Directory Listings
On-hold Messaging
Auto-Attendants and IVRs
Advertisements and Promotions
Store Locations
In-store Advertising
Word of Mouth
In-store Events
Content Marketing
During Purchase
Website (Ecommerce Section)
Showroom Design
Staff/Employee Engagement
Checkout Kiosks / Point of Sale Systems
Checkout Lines
After Purchase
Order Fulfillment
Thank You Cards
Customer / User Portals
Billing / Invoices
Packaging
Rebates
Follow Up Emails
Online Help Center
Education / Follow-up Resources
Customer Service Phone Lines
Questionnaires / Surveys
When consumers are researching products with their favourite retailer, websites are far more preferable than browsing in-store or flicking through a catalog – and mobile apps are still some way off in terms of importance at this stage.
Yet consumers of a certain age, gender and income all see fluctuations with their touchpoint preferences. These can often be very subtle differences, but a quite stark variation between the preference of genders is noticeable when it comes to – for example – the importance of catalogs to women in the research phase being significantly greater than for men.
The importance of interaction points can also depend on the types of products being bought
Deloitte's recent report Navigating The New Digital Divide also looks at the importance of certain touchpoints for multichannel consumers.
The report highlights that certain products may have a higher number of 'critical touchpoints' compared to others.
Multi-channels, multi-consumers, multi-products
The case for offering consumers touchpoints across multiple channels is increasingly being made, with analysts such as McKinsey offering a clear cut reason to give consumers more chance to interact – both to boost sales and generate positive sentiment around your brand.
Of course, it also pays be in-the-know with regards to the specific needs of certain consumers. With different demographics and buyers of certain products being more inclined to use particular channels at various phases in the purchase journey.
Comprehensive and well-managed data is key to understanding increasingly complex customer journeys which are personal to the consumer involved and the type of product they are buying. But sellers and analysts are fast getting an increasingly lucid view of the overall picture even as the marketplace continues to evolve.