With interest in CRO at an all-time high, it's crucial for digital marketers to get a wider perspective on the increased importance of conversion rate optimisation as the key that can unlock revenue and business growth potential.

Conversion rate optimisation (CRO) went mainstream about 5 years ago. At least that's what we like to think. Conversion rate optimisation has definitely enjoyed increasing interest, as depicted in the Google Trends graph below: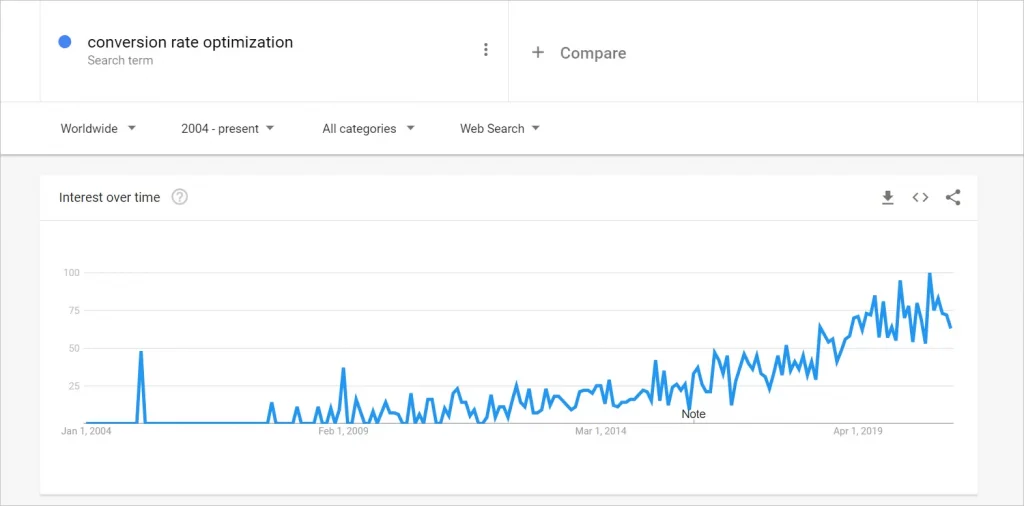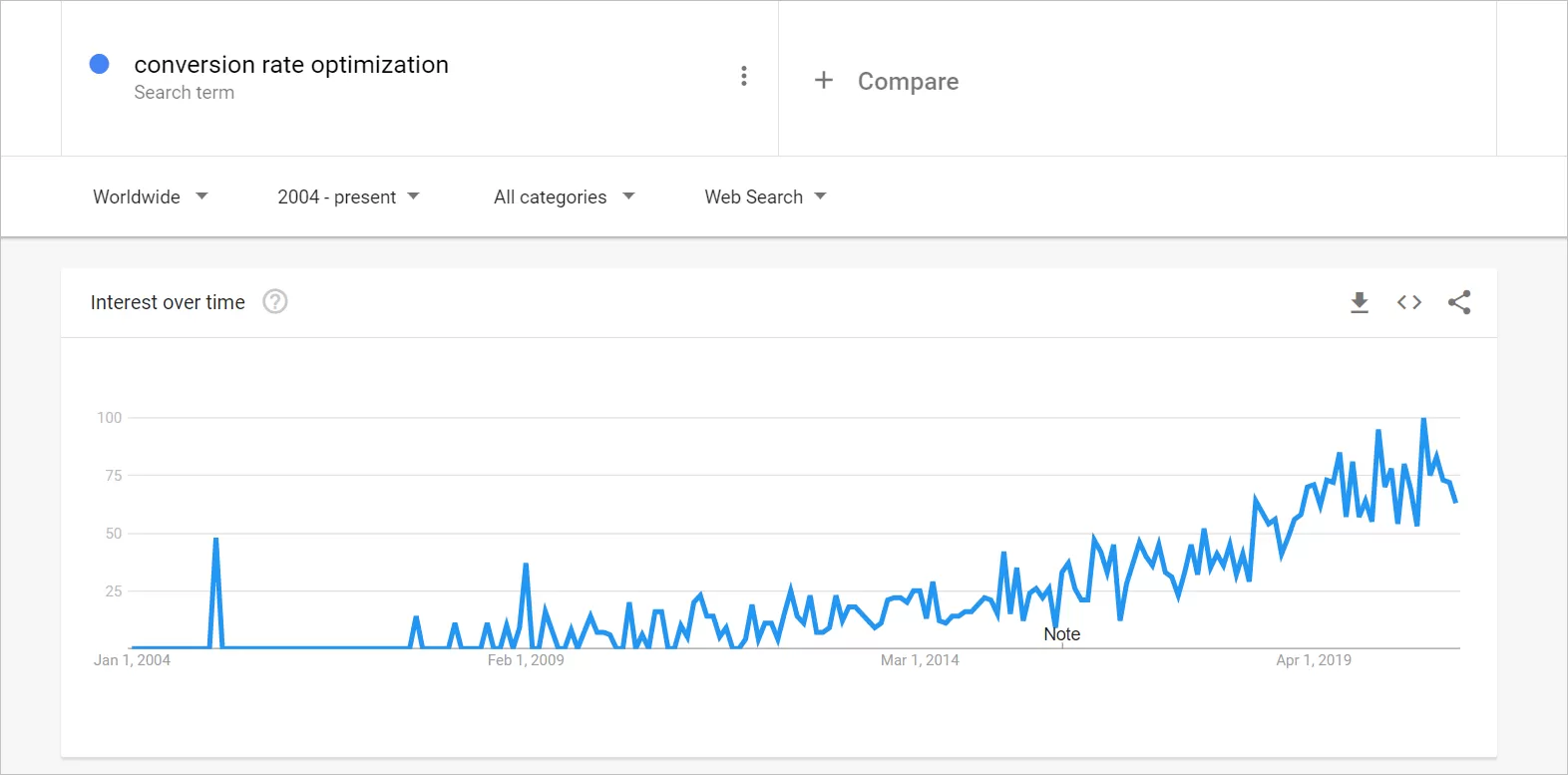 However, most organisations have barely moved from the awareness and interest stages to actually taking decisive action. In the majority of companies, conversion rate optimisation efforts are largely focused on tactics. There's little attention paid to developing and implementing a conversion strategy for the long haul.
The Current State of Conversion Rate Optimisation
More companies are interested in conversion rate optimisation today than 5 years ago.
Sadly, this popularity has not necessarily resulted in CRO getting utmost priority. In fact, last year's report on the Annual State of Conversion Optimisation by CXL and Convert shows that …
… conversion optimisers continue to experience friction from higher-ups.
… companies may hire someone for testing but often have unrealistic expectations about what they should gain from tests.
It seems higher-ups often expect immediate ROI in the form of winning tests and immediate conversion lifts. Ironically, digital marketers and conversion optimisers are expected to deliver value but enjoy little support when it comes to resources for tools or skill upgrades.
CRO Still Not a Priority?
This situation points to the highly uneven development across companies and industries when it comes to conversion optimisation practice. Here, the CRO elites – which include some of the world's biggest brands (e.g. Amazon and Google) – are already in the advanced optimisation stage in the CRO maturity model. The vast majority of e-commerce and business-to-business (B2B) websites, on the other hand, are either left in the unoptimised stage or have only recently begun basic optimisation.
The findings from Decibel and Econsultancy's report on The State of Digital Experience and Conversion in 2020 affirm this gap:
Out of 300+ company respondents, only two-fifths had adopted a strategic approach based on a deep understanding of their customers' paths to purchase.
Most companies continue to apply a purely reactive approach to solving their digital experience problems, focusing on short-term, tactical optimisation.
By now, the few advanced companies have optimisation deeply embedded into their culture. They've had quite a head start. They've moved on to integrating conversion rate optimisation strategies and tactics into different parts of their business. They're optimising not just their websites but the entire customer experience. Their CRO strategy extends to product lifecycle development.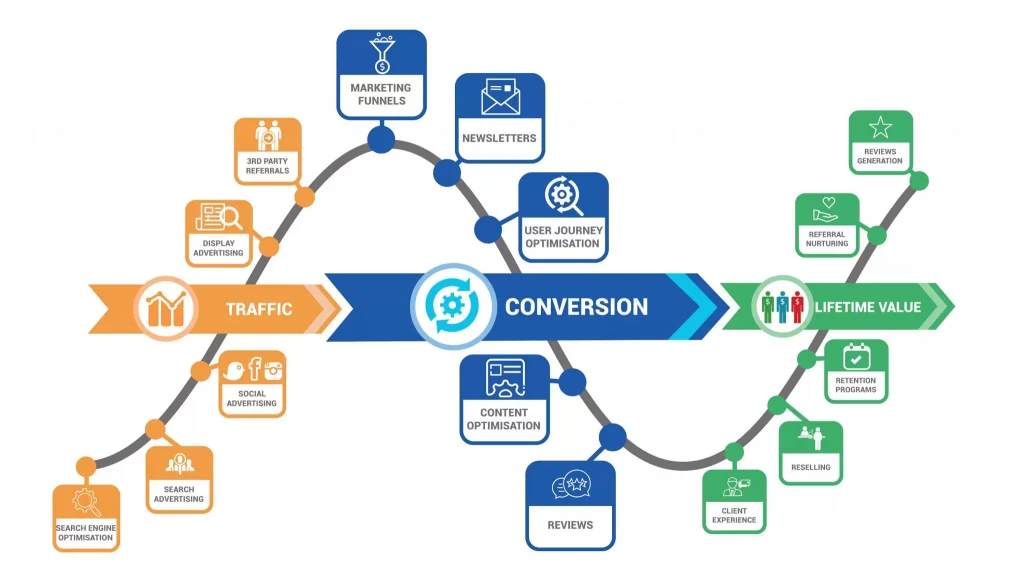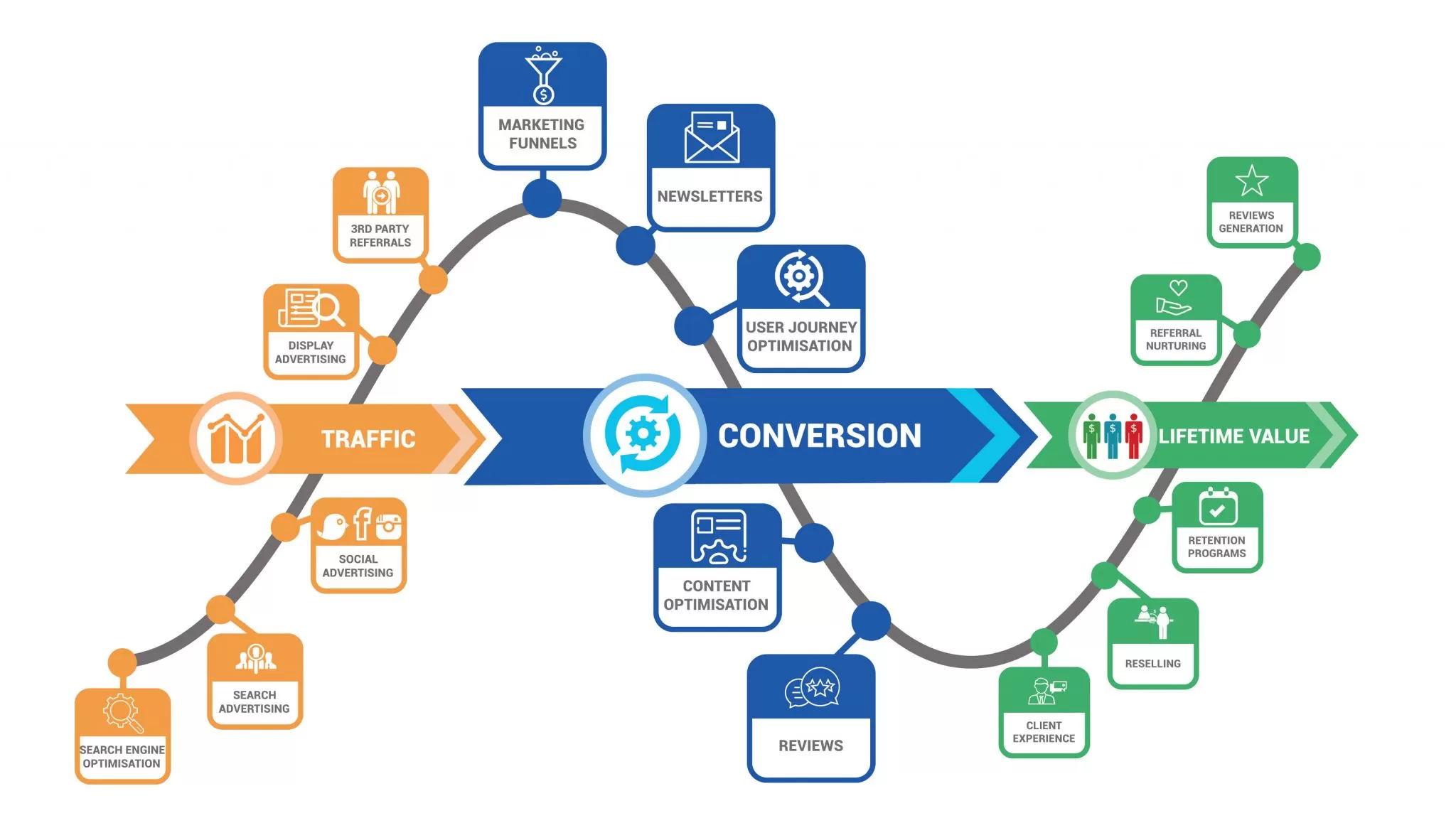 Additionally, video is an extremely effective tool to use on landing pages and throughout your website. Create a video that communicates information about your product, service, or overall brand. Make sure it's captioned for users watching with their sound off and for those hard of hearing.
Furthermore, display your brand's personality. Show your sense of humor. Be authentic. Talk about your values. Let users get to know you, and they'll reward you for it.
Meanwhile, don't forget to guide users to take an action. Whether you're asking them to subscribe to an email list, request a quote, or make a purchase, clearly state what you want the user to do.
If you've communicated your value in an entertaining and engaging way, visitors will be more likely to follow through on your call to action and convert.
Be Transparent
Finally, as users move through the actual conversion process, transparency is critical.
Take pricing, for example. If a user is hit with a bunch of unexpected fees during checkout, they may abandon the transaction. To avoid this, be upfront about your cost, and explain variables that may affect the final price. Let users know what they can expect during checkout and why.
Even if your conversions don't involve a purchase, transparency is still key. Be clear about what you're asking users to do and what they will get out of it.
And once a user has converted, be transparent about next steps. If they've requested a quote, give them an estimated response time. If they've made an appointment, let them know when to expect a confirmation email. If they've subscribed to your newsletter, tell them how often they can expect to hear from you.
Transparency not only helps encourage people to go through with converting but also helps build customer loyalty. A smooth conversion process and positive user experience increases the likelihood that they'll engage with your business again.
Integrating All of the Above
Each of the tactics above play a role in developing strong conversion rates. A comprehensive and competitive CRO strategy should address all of these factors, integrating them into an approach that mirrors the expanding and complex scope of conversion rate optimisation.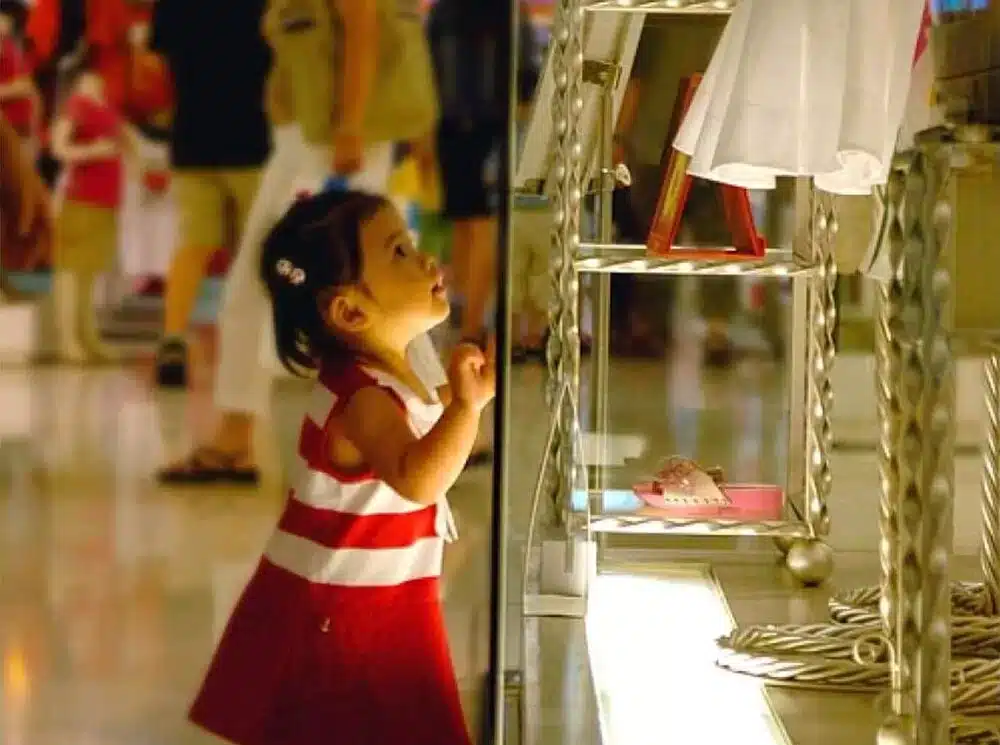 What Lies Ahead for Conversion Rate Optimisation
Digital marketing and conversion rate optimisation have always operated in a fast-paced, dynamic landscape. However, COVID-19 and the technological and regulatory developments have brought unprecedented changes in the competitive landscape and ultimately drives the following:
Strategic Conversion Rate Optimisation
Businesses will need to shift to a longer-term perspective in their digital marketing and conversion rate optimisation efforts in order to gain a sustainable competitive advantage. This means optimizing the entire business as opposed to tactical responses to issues that arise. Tactical optimisation is useful but it can only do so much.
It's necessary for companies to start investing in more strategic aspects such as improving processes and building a truly data-driven culture to increase their digital marketing efficiency and effectiveness. Companies also need to focus on marketing automation and customer journey improvements to cope with increasingly higher user expectations.
AI-powered CRO
Artificial intelligence is only getting better at contextual awareness. There's little doubt that it will transform conversion rate optimisation as we know it. It will allow us to achieve a better understanding of online users and increase our ability to predict digital behavior.
The combination of AI and automation will vastly enhance our capabilities at delivering accurate, relevant content and targeted messages to online users at a scale. To achieve this, businesses must be able to incorporate AI and machine learning when planning their conversion rate optimisation strategy.
Secure, Humanised Experiences
User experience (UX) is one of the pillars of conversion rate optimisation. The crux of CRO is to improve website user experience so online visitors are comfortable enough to move along their journey with you.
The growing demand for privacy and security among online users is but a reminder that online privacy and security are important psychological needs that must be addressed. Digital marketers and conversion optimisers must strike a balance between their data needs and online visitors' data privacy rights. This not only means actively seeking consent from online users or disclosing how data is used, but actually investing in improving data management and governance to prevent security breaches and secure sensitive customer data.
Conversion Rate Optimisation today: Future-Proof Your Strategy
With everyone moving to digital, having an optimised online experience can spell the difference between success and failure for your business.
Companies in the advanced CRO levels are already tinkering with AI, personalisation, and other sophisticated optimisation tools. If you're still in the unoptimised stage or are only now dipping your toes into CRO, it's time to step up your game. A reactive, tactical approach to optimisation is bound to get you only short-term wins. You have to start thinking about conversion rate optimisation strategically if you want to take your business to another level.
The future isn't set in stone, but your business's future is entirely in your hands.