Gartner underline relevant content. The rapid creation and retrieval of relevant content and knowledge on both your communications and website are critical to improving the overall customer experience. Application leaders should follow these seven best practices to drive improvement in content and knowledge delivery for their customers.
Successful nurturing of customer relationships requires insightful, relevant and timely communications across multiple channels (such as face-to-face, phone, web, email, social media and SMS) and over a host of traditional and new devices.
Organisations often have very complex content/information architecture and service-case workflows. This makes it difficult for your customers to find relevant information quickly. The rapid creation and retrieval of relevant content and knowledge are key attributes of leading enterprises.

In this research, we'll share seven best practices for application leaders. A common challenge that organisations face is they often need a combination of all the tools and best practices to achieve the goal, instead of only using one or two.
Knowledge management traditionally has not shown up on any user surveys as either a business or a technology priority. However, as recently reported in "Survey Analysis: Customer Experience Maturity and Investment Priorities" a significantly bigger proportion of survey respondents indicating higher CX maturity expects to increase investment in knowledge management tools for CX improvement projects, compared with those at lower maturity levels.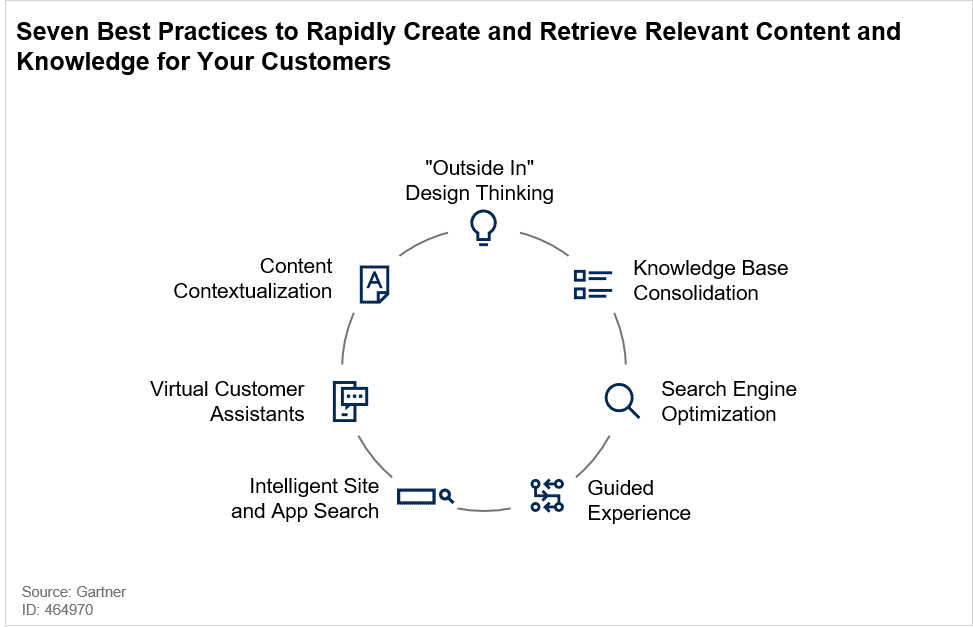 Implement Outside-In Design Thinking by Leveraging Techniques to Understand the Goals of Both Internal and External Users
Design thinking is an established methodology for product design, but is relatively new to IT-provisioned solutions. It uses an outside-in approach, requiring the designer to walk a mile in the user's shoes, and goes further than traditional user-centered design, requiring true empathy with the user. This level of understanding can only be created by observation, and data-driven design is a core tenet of design thinking.
When designing customer-facing applications or web portals, organisations often design the functionalities and information architecture based on the understanding of content and knowledge structure from the organisation's point of view, without the customers' goals in mind.
Traditional IT solutions typically solve a problem that is narrow in scope to ensure an effective solution. Design thinking doesn't focus on solving a problem — it focuses on achieving a goal. This subtle shift opens up the opportunity space and allows designers to derive more creative solutions that provide more value or ease of use for the end customer, and that are not constrained by the bounds of traditional problem solving.
Emotions are part of the customer experience, and designers must be able to empathize with the user's situation and enumerate the users' emotional states (frustration, disillusionment, anxiety, etc.). This is done by a process of:
Observing — Viewing people and their behaviors in context. Identifying patterns of behavior and potential meaning, which are often different things.
Engaging — Interviewing, but in an open, unstructured way. Looking for how people understand and explain what they do, and the stories they tell.
Watching and listening — Asking someone to go through their tasks, carefully watching what they do and asking them for explanations. Ask about the task, its context and how they understand it
The understanding and analysis of the user may be enhanced with the use of empathy maps. Three pragmatic approaches to empathy include workshops, interviews and design sessions.
Design thinking also requires a collaborative, open and iterative approach. Agile design methodologies employ such a model, but design thinking adds an unrestricted brainstorming activity, where many ideas are tossed around. No ideas are bad ideas, and people are encouraged to think creatively. Depending on the culture of the organisation, this may not be easy to implement and may require a great deal of change management
Through its use of empathy, brainstorming, iteration and collaboration, design thinking can improve the user experience — and therefore the customer experience — of technology. Application leaders should follow the example set by product teams to improve overall customer experience by use of design thinking.
Increase Information Consistency and Ease-of-Access by Consolidating Customer-Facing and Agent-Facing Knowledge Bases
A customer service representative spends, on average, 20% of his or her time understanding questions, searching for correct information and responding to the customer. While employees struggle to target answers to questions, customers face the same challenge.
Many customer service organisations tackle this challenge by deploying or upgrading customer-facing and agent-facing knowledge bases. Improved delivery of contextual knowledge to an employee or customer reduces a provider's time to answer by 20% to 80%, raising competency and satisfaction.
However, it is not unusual that organisations deploy multiple knowledge bases and create islands of knowledge. These may be for:
A particular group of employees.
Different engagement channels (for example, one for interactive voice response [IVR], one for mobile in-app support and one for virtual customer assistant).
Customers' direct access (for example, for web self-service).
Industry partners (for example, for repair and maintenance partners or field service contractors).
For some, there is also a treasure trove of knowledge captured in customer service call recordings and collaboration instances between members of discrete teams such as field service technicians, and in customer postings on social media sites.

The market overall is only in the early stages of capturing and indexing these kinds of unstructured "shadow" or tribal sources for knowledge management purposes, and incentivising its contribution. Curating this input will be critical to integrating it into a company's broader knowledge ecosystem.
In large companies, there can be dozens of disparate systems where knowledge is created, stored and retrieved. The proliferation of disparate applications leads to silos of corporate knowledge and an often frustrating user experience for customer service employees.
Application leaders should look at this disparate landscape of knowledge bases and evaluate a path for rationalising the number of knowledge systems by consolidating around key providers where specialty functionality isn't truly required.

We estimate that enterprises that undertake enterprisewide knowledge consolidation projects can lower knowledge management application maintenance costs by 15% to 40%. It will improve the speed of knowledge being authored and released to multiple channels, shorten the time of the training of machine learning or the natural language processing engine, and increase the accuracy rate of the content.
Lowering the cost will depend on having a backbone knowledge management infrastructure in place that is scalable, shareable but compartmentalised by role/user type, and globally searchable across many channels, such as machines, mobile devices, kiosks, websites, communities and social media. For many, the goal of consolidating to a single knowledge management system may be both financially and politically unrealistic.

In these environments, the more practical approach will be to leverage system federation to establish a single, "logical" content hub where all relevant content is available over the appropriate API(s) among a rationalised number of systems. Reducing this number to only a few common systems will also support a customer-centric and employee-centric approach to the knowledge management discipline to deliver consistent, contextual knowledge to employees and customers at any channel.
It is also important to know how often employees just ask their colleagues, rather than searching knowledge bases. Collaboration and the tools to enable it are both critical. For example, using a tool like Slack, employees can query a CRM system to get information into a persistent group chat channel so the team can have a dialogue around it.
Select Knowledge Management Solutions to Better Expose Corporate and Community-Generated Knowledge to Internet Search Tools
Many customer service organisations invest in customer web self-service to expose the knowledge to customers who visit their corporate site, and to customer communities as a vehicle for peer-to-peer support. However, they don't initially consider how customers will land on these sites, and they underestimate the impact of common customer behavior of "Googling it" when looking for answers.
If this is not addressed properly, when customers query a solution on a search engine, other sources of information are rated as the first results. This leads to frustration, higher customer effort, and loss of selling and engagement opportunities.
This challenge can be overcome by selecting knowledge solutions, customer and partner community solutions with search engine optimisation (SEO) capabilities.

In addition, an active community environment will help. Active communities generate a large depth and breadth of variety and scale of knowledge. Search engines pick up on exact phrasing, which customers contribute to the community when they ask a question on a particular forum.

Search engines also identify the most frequently visited sites. This means that as organisations drive more customers to the community through search engines or through their own marketing, sales and customer service teams, the likelihood of the customers being exposed as a reliable source of knowledge increases.
For some, it will be important to curate these knowledge sources to ensure that sensitive or competitive information isn't inadvertently exposed. This can be managed by making a select few items harder to find or only findable if the customer has the specific error code or password.
Enhance Site and App Search by Leveraging Semantic Analytics and Natural Language Processing Capabilities
Digital commerce, web self-service, content presentation sites and mobile apps depend on the drill-down capability of search to make information quickly retrievable from vast repositories. Navigation trees are inherently less efficient for locating information.

However, site search is treated by many marketing and customer service heads, as well as their IT counterparts, as a commodity. End-user experience is seldom optimal, and the ability of customers or employees to locate relevant information quickly is sometimes a challenge.
Search technologies are highly varied, and organisations have many choices when seeking to improve their ability to retrieve the most relevant responses to customer requests. Many knowledge management products are delivered with search technologies bundled, and some search vendors have developed knowledge base products as part of their specialization strategies.

Natural language processing continues to show promise, as do semantic analytics that examine documents with linguistic intelligence, statistical analysis and other means of comprehension. The ability to find documents will become more challenging as the documents rely increasingly on video or imagery. Video search is particularly problematic because conventionally occurring metadata is sparse and visual lexicons are still undefined. However, using speech analytics on the audio portion of video recordings presents an initial entry point for analysing, classifying and tagging this knowledge source.
It is important for application leaders to develop maps of what must be searched, and the search goals of customers and employees, as part of the preparation phase of the search projects.
Use Conversational AI to Allow for New Types of Conversational Engagement When Customers Search for Information
A virtual customer assistant (VCA) is a business application that often is deployed on the web to simulate a conversation to deliver information. Advanced versions take action on behalf of the customer to perform transactions.
VCAs become very useful when deployed on a complex customer support site, which normally requires customers to navigate through an information and knowledge jungle to locate the information they are looking for.
Application leaders and their teams spend lots of effort to improve the user experiences of customer-facing websites. Still, if the information and knowledge structure is very complex, designing the website better can help, but the problem doesn't go away completely.
A virtual customer assistant (VCA) provides customers with possibilities of "shortcuts," a way that customers can directly locate the right information without many mouse clicks and layers of navigation.
Another strong use case is when customers need to look for information while using a mobile app, or in a consumer messaging app. The smaller screen of a smartphone, limited functionalities allowed on a mobile app and the conversational nature of a messaging app make deploying a VCA a good option to create conversational engagement with customers.
Engagement with a VCA is possible via the web, SMS, consumer messaging apps, mobile apps, peer-to-peer communities, kiosks and other web-based or mobile interfaces, and the engagement is text-based. In addition, a VCA can support speech and text-based engagement in situations where voice processing is enabled. The VCA relies on knowledge repositories and natural language processing technologies.
Smart speakers open new opportunities for organisations to provide information to customers in their home environment, via voice-based conversational AI technologies.
Application leaders should consider use of a conversational AI such as VCA, chatbot and smart speakers to spare customers the effort of navigating complex site structures and reduce customer reliance on expensive phone or face-to-face support channels.

A great VCA offers more than just information. It enriches the customer experience, assists the customer throughout the online interaction and, in some cases, processes transactions through automation and integration with back-end systems.
Contextualise Experiences With Targeted, Relevant Content Across All Channels of Interaction
Personalisation is now a strategic imperative. It has evolved from a "nice to have" to a "need to have." Personalisation can be achieved with the help of dedicated, "stand-alone" engines or as part of your overall digital experience platform (see "Defining the Digital Experience Platform").

Personalised, relevant and contextual information can save lots of time for customers. Customers also expect organisations to know them and communications to be tailored to their specific context.
Contextualisation of experiences is possible through accessing a multitude of insights. You will then be able to increase engagement with target audiences with the help of the resultant holistic understanding these collective insights provide. In essence, there are four primary areas of insight: environment, identity, community and intent.

Overall, such sources can be broken down into historic information about the customer, and information that pertains to the real-time, current interaction (e.g., device, apps, browser sessions, social sharing, and locations) to form the basis of the present context. It is critical to do both — to unify what is known about customers across usually separate (offline and digital) channels to gain a greater understanding of them and deliver engaging experiences based on that understanding.
Organisations should shift the communications initiative from a tactical, "push" perspective to a strategic focus on the customer's perspective. Emphasize relevant customer communications with high continuity across all channels and all phases of the customer's lifetime journey.

Move content from single-channel to multichannel distribution, from multichannel to cross-channel communication, and optimize customer communications for digital channels. As an application leader you should:
Take a "ready, fire, aim" approach to launching your efforts to contextualize by collecting data and insights from your digital channels, even if you don't yet know how to use them.
Use design thinking and begin with the organisational outcomes you want to achieve. Then identify the insights you need to collect to achieve them. Then start delivering successively improving experiences based on those insights.
Build your reservoir of insights incrementally over time. Begin with the data you already have. Start small and simple, and build complexity as required. You will, for example, be more adept in mastering multivariate testing when you have experimented with less complex attempts using A/B testing.
Un-intrusive and natural-feeling product recommendations, serving similarities within product pages and personalised bespoke merchandising are key to retaining, gaining and upselling to the new age consumer. The fastest growing software, having the greatest effect on the fashion industry is predictive personalisation (PPS).

But if you say the word "personalisation" to your email service provider (ESP) then within a few sentences you will see the word segmentation. This is because they don't have the technology to compete, and would wish to gaslight you.
But there are solutions, purely using predictive personalisation analytics such as SwiftERM, a Microsoft Partner company, which delivers permanently unique and personal product selections for each individual consumer, based on that individual's buying history and impressions, and exclude what anyone else does. It is one thing to personalise a web page for their viewing pleasure, but too late if the consumer has already been approached and more critically bought the product, that it was known they were in the market for, elsewhere because someone else go to them first.
One of the lesser appreciate benefits of PPS software is that it is 100% automatic, offering a previously unheard of degree of margin, as it eliminates all the overheads associated with this requirement for this element of the marketing spectrum. The huge margin enjoyed in the fashion industry is no longer diluted but a myriad of mouths to feed. It commonly works both as a complement or replacement to promotional and marketing software.
Evidence
Results presented as part of Gartner's "Survey Analysis: Customer Experience Maturity and Investment Priorities, 2019" research are based on a Gartner study conducted to understand priorities, investment plans and situations faced in customer experience initiatives. This primary research was conducted online from 12 March through 2 April 2019 among 244 respondents in North America, Western Europe and APAC.
Companies were screened for having a minimum of $50 million worldwide in annual revenue for FY18 and a minimum of 250 employees worldwide. The sample represents organisations in the U.S. (n = 53), Canada (n = 11), the U.K. (n = 62), India (n = 29) Singapore (n = 26) and Australia/New Zealand (n = 63).
To qualify, respondents had to be leading the setting of strategic objectives and priorities for at least one CX-related project activity (85%) or on a team responsible for meeting the strategic objectives and priorities (15%). They must also be knowledgeable about business priorities and/or business benefits for at least one customer experience project in the past year.
Quotas were applied for countries, industries, role, involvement in CX and annual revenue.
The Gartner study was developed collaboratively by Gartner Analysts and the Primary Research Team.
Disclaimer: Results do not represent "global" findings or the market as a whole but reflect sentiment of the respondents and companies surveyed