Ecommerce sales have been rising an average of 16% annually since 2010. Although the steep increase in ecommerce's share of total retail has levelled off, digital sales will continue to redefine retail.
The impact of ecommerce has varied among product category and type. Understanding the differences in digital adoption can help retailers and investors refine their growth strategies and investments in their business.
Ecommerce Sales by Product Category
Analysing the distribution of online sales by product category is a necessary first step in understanding the retail logistics network.
Of the estimated $5 trillion in online retail sales in 2022, the two largest contributors to the total were clothing and consumer electronics. The categories which are expected to grow the fastest through 2024 are furniture (+22%) and food and drink (+30%).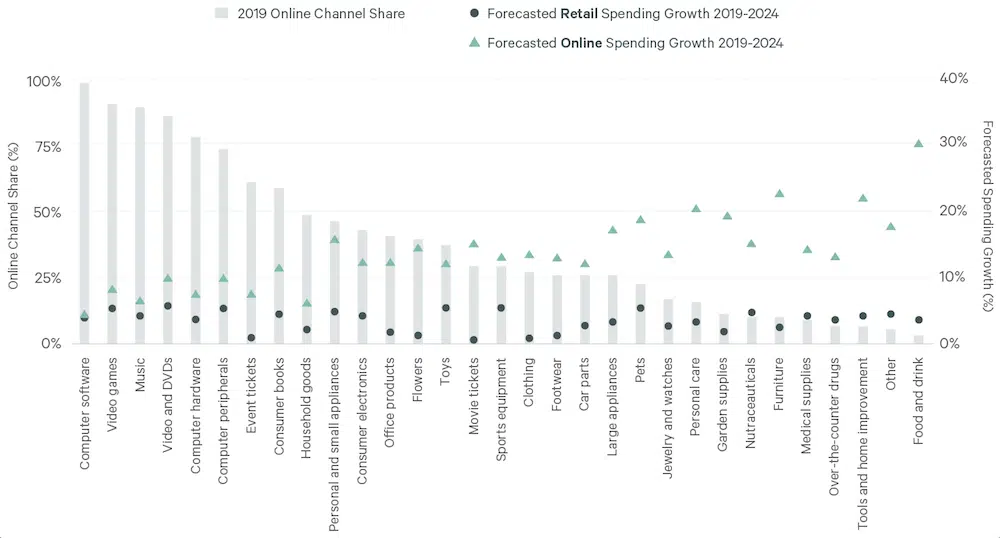 Ecommerce Share by Product Category
A second approach to understanding ecommerce variance is to analyse what share of ecommerce sales each product category owns of their total retail sales across all channels. Retailers use these methods to streamline their supply chains.
Last year, the categories with the highest penetration were media-related, such as video games, books and movies. Electronics and small appliances also showing significant ranking. The categories which remain the most fixed within brick-and-mortar channels are food and drink, over-the-counter drugs, tools/home improvement, furniture and jewelery and watches.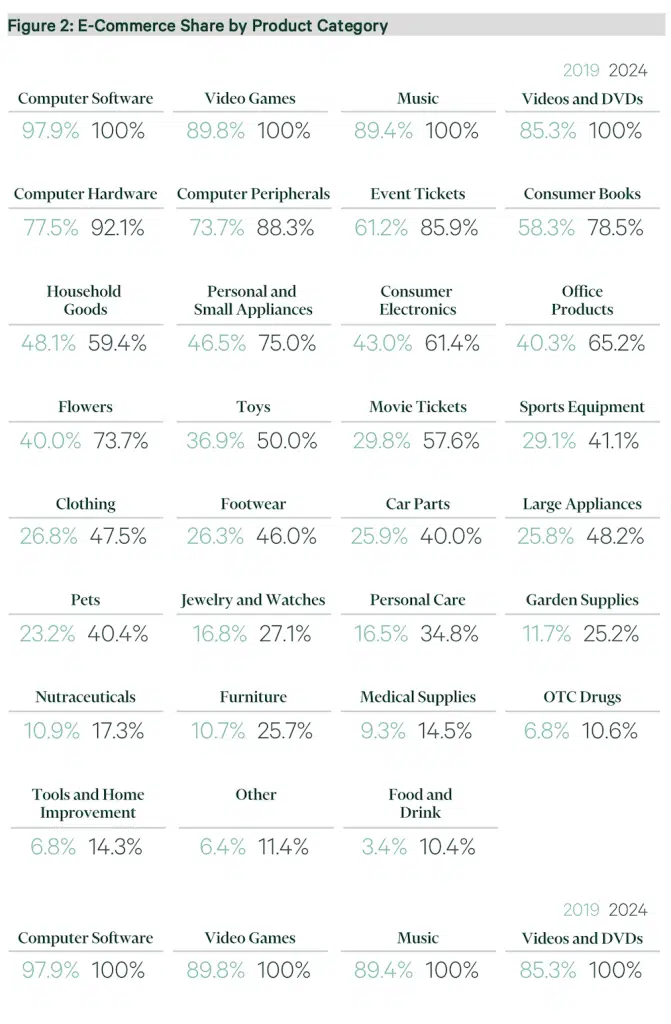 As ecommerce communication personalisation gains significantly more traction, how can any enterprise take its key capabilities to drive benefits across the whole business?
To understand this, we first need to look at how personalisation has reshaped the marketing model. In the past, the success of any marketing campaign was often predicated on the number of leads generated. Technology has evolved, however, and behavioural analytics, journey visualisation and voice of the customer technologies are now coming together to enable organisations to understand and map an individual's customer journey before intervening in a timely way when a prospect faces a challenge or opportunity.
The approach helps marketing define where it focuses its investment: on the generation of marketing assets or campaigns, for example, thereby helping the business to increase the velocity of pipeline conversion.
A recent survey by Evergage and Researchscape International – surveying 326 marketing professionals across industries and countries – revealed that marketers see the value of personalisation. 99% of marketing professionals surveyed said that personalisation helps advance customer relationships, with 78% claiming it has a "strong" or "extremely strong" impact. And 92% stated that their customers and prospects expect a personalised experience (up from 85% in the previous year).
Yet, the advantages of personalisation extend far beyond marketing itself to take in a wide range of other departments across the business including sales, customer service and product development. Conscious of these far-reaching benefits, more and more marketing departments are focused on educating the wider enterprise about what can be achieved: from higher sales conversion rates to enhanced customer engagement.
To know ore about integrating predictive personalisation into your marketing check out these articles.