Beauty brands master customer acquisition. The cosmetics and beauty industry is one of the fastest-growing markets in the world. It's projected to surpass $128.7 billion in revenue by 2030. According to McKinsey, the pandemic led to a widespread closure of brick and mortar beauty stores, which used to be the preferred method of shopping for beauty products. Online sales on the other hand, have more than doubled.
And direct-to-consumer brands are leading the way in the ecommerce arena. The emergence of these brands has been largely fuelled by the rise of social media. Digitally-naive beauty brands are disrupting the market with their strong branding, authentic storytelling, and customer-oriented digital marketing strategies.
As consumers increasingly embrace the convenience of online shopping, the DTC beauty industry is becoming more competitive, making it harder to stand out. However, some brands continue to excel at customer acquisition and retention, so much so that they are seen as benchmarks within the beauty and cosmetics space.
Here are seven examples of DTC beauty brands who are redefining the digital marketing playbook across skincare and makeup. We'll take a deep-dive into what they're doing that stands them apart, how they are doing it, and how you can replicate their tactics across your own digital marketing.
1. Fenty Beauty
"Beauty for all" is at the heart of the Fenty Beauty makeup line created by global music superstar Rihanna in collaboration with LVMH. More than a celebrity brand, Fenty is disrupting the beauty industry and making a social statement by putting inclusivity at the forefront of their messaging.
When it launched its 40-shade foundation range, Fenty Beauty became an instant success, amassing over $100 million in sales in its first week. The secret of their success? They were catering to everyone – covering especially a large demographic of women and men of colour that were previously overlooked.
Today, the company is worth $17 billion, has expanded to include a range of beauty products, and still focuses on being a fun, gender-neutral and cruelty-free brand that promotes diversity and authenticity.
Why they're winning
The Fenty Beauty brand is an example of successful marketing because it capitalised on Rihanna's celebrity status and made a line of inclusive products that revolutionized the market. In an industry where representation was lacking, Fenty Beauty truly embraced their "Beauty for all" slogan.
Show, don't tell
For a brand that is known for its inclusivity, Fenty Beauty don't actually uses the word inclusive in their messaging. According to Sandy Saputo, the Marketing Director of Fenty Beauty, they employ a "show, don't tell"approach.
They show inclusivity in the products they offer, the models they use, and the influencers they decide to collaborate with. Their campaigns and social media presence put the spotlight on groups of people that were previously neglected from the conversation, such as people of colour and minorities. Fenty is redefining the mainstream idea of beauty by showing that beauty is a diverse concept.
Make use of reviews and testimonials to show how people experience your products. It's best to have reviews from a range of demographics that represent your target audience. Fenty does this well by collaborating with beauty influencers who use and review their products on YouTube and Instagram. Bonus: this strategy also exposes you to the audience of the people you collaborate with.

Representation matters. Fenty Beauty has made a real effort to show potential buyers that they "see them". By including people of diverse backgrounds in their campaigns and across social channels they show how their products are for everyone.

Show, don't tell: Replicate their successBeauty and cosmetics marketing can be incredibly visual, and you can choose from a range of mediums and channels to show your brand's benefits and values. Here are a few things to keep in mind when employing this approach:

Make use of reviews and testimonials to show how people experience your products. It's best to have reviews from a range of demographics that represent your target audience. Fenty does this well by collaborating with beauty influencers who use and review their products on YouTube and Instagram. Bonus: this strategy also exposes you to the audience of the people you collaborate with.Representation matters. Fenty Beauty has made a real effort to show potential buyers that they "see them". By including people of diverse backgrounds in their campaigns and across social channels they show how their products are for everyone.


Shade matching consultationMany people struggle with finding the right foundation shade. Especially when buying online – it might feel a bit like a gamble for a customer to invest in a foundation without trying it out and seeing how it matches their skin tone.Fenty Beauty understands its customers, so they take the uncertainty out of the way by offering a free personal consultation with a beauty advisor.

This personalisation technique makes the customer feel special, invested, and empowered to make an informed decision. Shade matching consultation: Replicate their successThe free shade matching consultation is a personalisation strategy that in a way lets users try the product before buying it. Just like a free trial, offering a personalised service like Fenty's shade matching consultation will have your potential customers already invested in buying from you.This step also removes the uncertainty of buying online, empowering people to make a well-informed decision.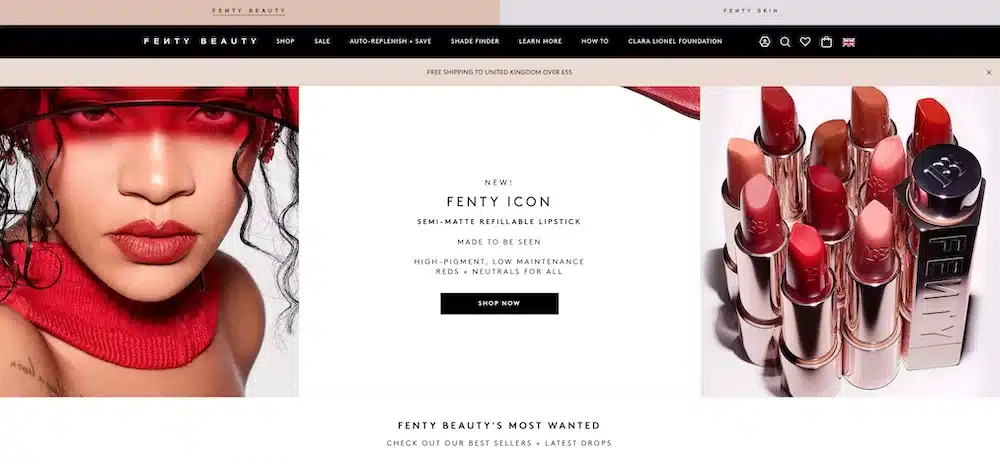 2. ColourPop
ColourPop Cosmetics was launched by the same incubator as KKW Beauty and Kylie Cosmetics, however there is no celebrity figure behind its huge success. The company began in 2014, when co-founders, Laura and John Nelson noticed a gap in the makeup market for high quality, yet affordable products.

With its wide range of popping colours, cruelty-free, vegan, and affordable cosmetics, ColourPop started out as an indie ecommerce company. They relied heavily on social media to build their brand – and they've succeeded. Let's see how ColourPop managed to win at customer acquisition via social media.
Why they're winning
As a digital native brand, ColourPop knows how to dominate social media. Their target audience are digital-first consumers, beauty enthusiasts who spend time on Instagram and YouTube and rely on their favourite beauty gurus for recommendations. With over 10M Instagram followers, it's plain to see that ColourPop knows exactly how to reach and appeal to this consumer group.
Influencer collaborations
ColourPop is one of the earliest adopters of influencer marketing. Rather than simply pay influencers to advertise their products, ColourPop is known for creating products in collaboration with YouTube and social media celebrities. Using a "fast beauty" approach, ColourPop releases several brand collaborations a year.
ColourPop encourages influencers to directly become involved within the product creation process, making them feel more invested in it. This approach also gives ColourPop direct access to the loyal fanbase of each collaborator. In a recent link-up, YouTube influencer Raw Beauty Kristiexposed ColourPop to her 1.22M subscribers, who trust her makeup recommendations when embarking on purchase decisions around what to try next.
Influencer collaborations: Replicate their success
Here's some tips on how you can replicate their success:
Know who you are targeting. It sounds basic, but this is the cornerstone of every beauty marketing strategy. Knowing what type of content your audience consumes and which people they follow will allow you to select influencers that can put you right in front of them. Finding the right channel and collaborator is key to your influencer strategy.
Aim to invest in meaningful relationships with key opinion leaders. Being involved in the product creation process will get your collaborators to feel invested in the product and have an emotional connection with it. In turn, their passion will shine through in their social media posts and promotional campaigns.
Promotional giveaways
ColourPop often hosts giveaway contests to increase its follower count or email list and engage with its audience – all the while promoting their products. The brand announces giveaways on their website, social channels, and also enhances exposure via paid Facebook ads.
Promotional giveaways: Replicate their success
A few things to keep in mind for hosting a successful giveaway:
Set a clear objective: are you aiming to increase your followers, engage your audience, promote new products, or grow your email list? The objective will dictate your sweepstake's rules.
Define the contest's entry method based on your objective. For example, if you want to increase your follower count, ask people to follow your page and tag a few friends to be considered. If you wish to promote new products, ask people to sign up and get notified for the launch.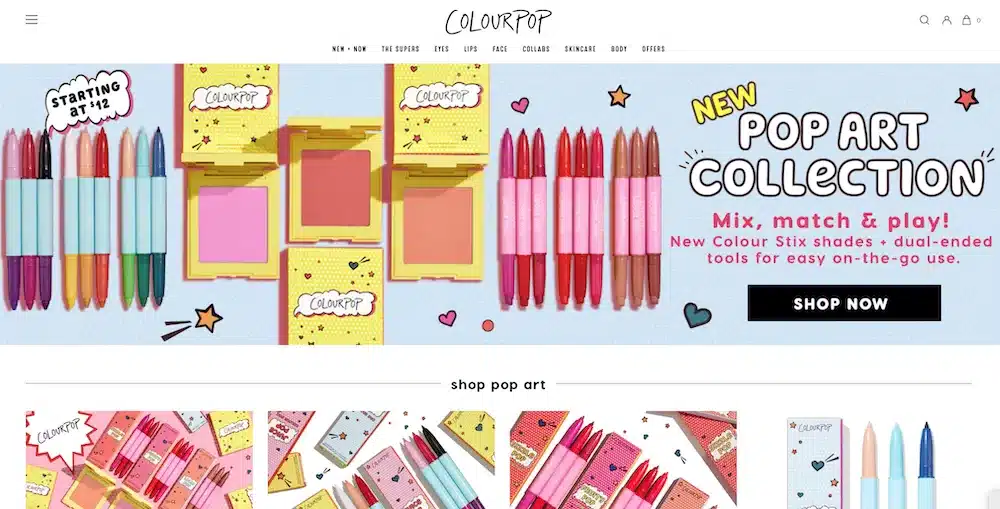 3. Augustinus Bader
The German luxury skincare brand – Augustinus Bader has only been in the market since 2018, however it has turned into a $70m beauty empire. And it all started with a man who knew nothing of the beauty world.
Prof. Augustinus Bader is a biomedicine doctor and one of the world's leading experts in stem cell biology and regenerative medicine. His 30 years of research led to the creation of a breakthrough skin regenerative gel formula. This discovery is what inspired the creation of the premium science-led skincare brand, which has earned high praise from celebrities like Victoria Beckham, Naomi Campbell, and more.
Why they're winning
Augustinus Bader has a crystal-clear brand positioning: they are a science-based skincare brand that is focused on delivering long-term skin health. Their proven scientific approach is what appeals most to its target audience, women in their late 30's to early 50's.
Embracing the language of science
We live in a time where consumers are more informed than ever, and they care. Today's consumers care about the ingredients in their products and they care about understanding the science behind the products that they use.
Augustinus Bader has fully embraced the language of science to educate and empower their customers by emphasizing the research behind their product claims.
Embracing the language of science: Replicate their success
There is a lot of research and development that goes behind the creation of a beauty product. And the science in it matters. There are a few tips you can apply when it comes to embracing the language of science in your DTC beauty brand digital marketing strategy.
Share informational posts with your audience. An educated audience will be able to understand the science-backed benefits of your product, and as a consequence, you will empower them to make a well-informed decision when purchasing your products.
Remember not to get too technical. While we encourage you to share the scientific aspects of your products, do so in an easy-to-understand way. Don't confuse your audience with in-depth, overly-technical explanations. Instead, find a balance between scientific and lay language.
Loyalty subscription program
Ecommerce subscription programs work well for forging strong customer relationships – they turn buyers into loyal customers who become reliable sources of recurring sales. Taking this to another level, Augustinus Bader launched a loyalty subscription program that sends automatic replenishing orders to its customers, rewarding them with discounts and membership points for their loyalty.
Loyalty subscription program: Replicate their success
There are few better ways to build customer loyalty than by implementing rewarding subscription programs. According to market estimates, by 2023 almost 75% of DTC brands will be offering a subscription service. To successfully implement these programs, you may want to keep in mind:
For trusted brands, consumers prefer the convenience of subscription programs. So, make the process and subscription plans as simple as possible.
Offer unique and diverse benefits. Augustinus Bader offers a welcome gift when enrolling onto their subscription program via loyalty points that can be redeemed off future purchases. However, you can also provide a wider range of reward options like experiential rewards and free samples.
4. MAELOVE
MAELOVE is a vegan-centred skincare brand. Similar to Augustinus Bader, MAELOVE has positioned itself as a science-backed product – at the other end of the price scale. MAELOVE aims to deliver a premium product without the premium markups.
Why they're winning
This skincare startup is built on a culture of customer-obsession. According to Jackie Kim, the founder and CEO of MAELOVE the brand used artificial intelligence to analyse more than three million online product reviews to better understand and deliver on customer needs. They're also 100% transparent with their ingredient lists.
Authority figures
MAELOVE makes great use of Cialdini's authority principle of persuasion in their marketing strategy. The authority principle is a persuasion technique that employs the power and trust of an authority, usually an expert, to convince individuals to believe in something.
The research-based startup shares videos of authority figures, like doctors and medical aestheticians reviewing and recommending MAELOVE products to their patients. Their knowledge and expertise in the field make them a credible and convincing source of information.
Authority figures: Replicate their success
It's easier for consumers to trust an authority figure than it is to trust the claims of a brand. You can incorporate this persuasion technique within you digital marketing by:
Collaborating with authoritative individuals that are qualified, credible, and experts in their fields. Their influence will help you build trust with your customers.
Keep in mind that authority status is not absolute. While a doctor may be seen as an authority figure in scientific or dermatologic topics, a social media influencer also holds authority in his or her own area of expertise.
100-day money back guarantee
The money back guarantee is another powerful marketing persuasion tool. While a free returns policy has become a standard practice in ecommerce, MAELOVE puts this statement to the forefront of their website and social channels.
The 100-day money back guarantee policy acts as a promise to your customers – they can trust you with their money.
100-day money back guarantee: Replicate their success
A money back guarantee policy removes the trust barriers of online shopping, particularly for new or higher-priced brands.
Offering an extended refund policy could be used as leverage to differentiate the brand from its competitors. People will also pay for peace of mind when purchasing from you.
This tactic is especially beneficial for young brands who have yet to establish credibility.
These types of policies may get misused, so you should include some guidelines to mitigate risk of abuse. For example, you may ask for a return reason, put a limit on the number of returns, or offer store credit instead of full refunds.
5. Drunk Elephant
Drunk Elephant, a colourful skincare beauty brand, came to be when its founder Tiffany Masterson was struggling to find a solution for her sensitive skin. Her search led her to identifying the Suspicious 6 – now a trademarked elimination philosophy – consisting of a list of six ingredients they believe are at the root of most skin issues. Drunk Elephant is committed to not use problematic ingredients, using instead only biocompatible ones.
Why they're winning
A brand with an authentic story: a consumer looking for the best product for herself and ends up creating and now selling that product. Drunk Elephant is a true customer-focused company with a strong personality – serious skincare but a friendly, fun brand.
Word of mouth marketing
Drunk Elephant is known for choosing not to use influencers or paid endorsements for advertising their products. Instead, their customers are their biggest advocates. Drunk Elephants focuses on sharing real customer photos and reviews across their social channels.
Word of mouth marketing: Replicate their success
Word of mouth is a highly effective form of social proof.
Invite your customers to post content using your products, or to share their experience with your brand. You can then share their stories across both organic and paid social posts. Creating a unique brand hashtag may help with amplification.
Actively ask for customer reviews. The data shows that 91% of customers trust online reviews as much as personal recommendations. And 68% of consumers have been willing to leave a review after being asked. Sometimes you simply need to ask.
Open line of communication
As a customer-centric company, Drunk Elephant maintains an open line of communication with their customers. They reply to their comments, listen, and apply feedback to help improve products. This creates a sense of community and establishes a close relationship between the brand and its followers.
Open line of communication: Replicate their success
With so many available channels of communication, it may be difficult for skincare and makeup brands to maintain a personal connection with their followers. However, they can learn and evolve customer relationships if they do.
Use social media as a communication channel. It's good to have a team that replies to customer comments and messages. This form of communication paints the brand as approachable and friendly.
Pay attention to feedback, especially negative feedback – that's where you'll find the most room for growth. And it's important to let your customers know that you're listening and taking their feedback into consideration.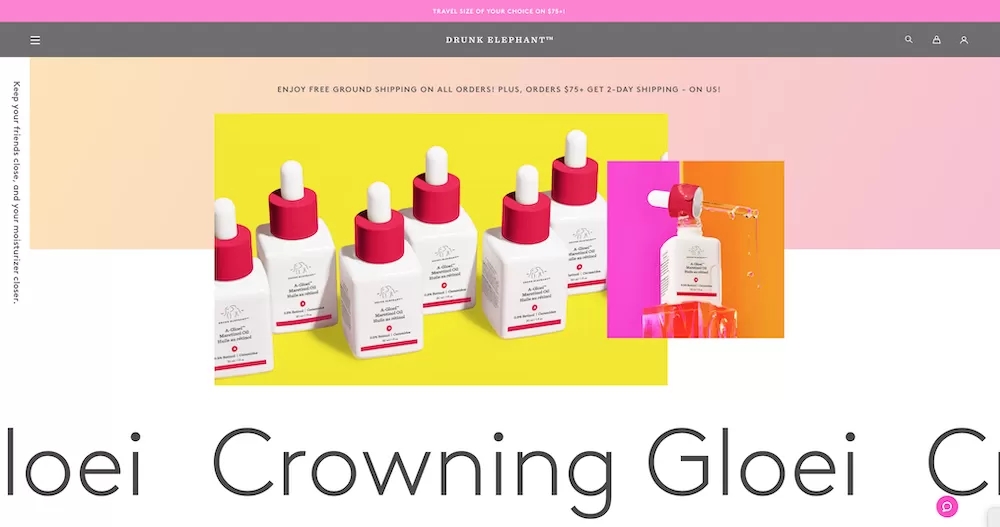 6. The Ordinary
The Ordinary, a Canadian skincare brand under the umbrella company DECEIM, shook the whole beauty industry when it launched in 2016. However, in contrast to other brands that put a lot of effort into differentiating themselves, The Ordinary says that it is, well, quite an ordinary company.
But they've reached an extraordinary level of success, establishing a base of loyal customers by selling quality products with drugstore prices.
What makes The Ordinary such an extraordinary brand?
Why they're winning
The brand's tagline is "Clinical formulations with integrity". The Ordinary was able to disrupt the market by staying away from hyped up beauty trends and deceitful marketing copy. They concentrate on keeping product costs low, so they don't spend money on product and package design, nor marketing. Some would argue that this in itself is a marketing strategy.
Marketing to the educated customer
The Ordinary embrace the concept of marketing to the educated customer. Instead of hyping up beauty claims to sell their products, they rely on full transparency. The product name itself is the name of the active ingredients it contains, like their top-selling Niacinamide 10% + Zinc 1%.

Not everyone understands what those ingredients are, but customers nowadays do a lot of research before buying a skincare product. In the digital era, customers can Google ingredients, read product reviews, watch YouTube videos and turn to their preferred beauty influencers for information. The Ordinary also offers comprehensive guides on their website to help you find your best skincare regime as well as lengthy information captioning their social media posts.
Marketing to the educated customer: Replicate their success
This marketing tactic centres on sharing knowledge and building trust with your audience.
Educate your customers to better understand the ingredients in the products they use. You can make this process easier for them by offering guides and credible content.
Be transparent with your audience. The active ingredients used in The Ordinary's products are on their own quite cheap. However, they become expensive when luxury companies add the premium tag to them. That's why The Ordinary is transparent with its products and can justify their incredibly low price.
Free viral influencer content
In March 2020, a TikTok video of a teenage influencer reviewing and praising The Ordinary AHA 30% + BHA 2% Peeling Solution went viral. The Ordinary sold hundreds of thousands of it within a few days, managing to go out of stock for months in the UK. In October 2020, Hyram, a YouTube skincare influencer with over 4.5M subscribers, shared a review of The Ordinary, that now has almost 2M views.
Free viral content: Replicate their success
The Ordinary was able – and lucky – to leverage the publicity that comes from free viral content created voluntarily by beauty influencers. Their brand positioning coupled with affordable pricing caught influencer attention at both ends of the scale.
A few tips that may help your brand catch the attention of high profile influencers, with the aim of going viral:
Be an authentic brand, a nonconformist, market disruptor. The Ordinary's founder, Brandon Truaxe, was very active on social media. More than a skincare product, for him The Ordinary was a stand against the overpriced and overhyped beauty industry. So, his whole clinical, transparent approach and cheaply priced products caused a lot of hype in the market – especially amongst beauty influencers, who jumped at the opportunity to share their thoughts on it.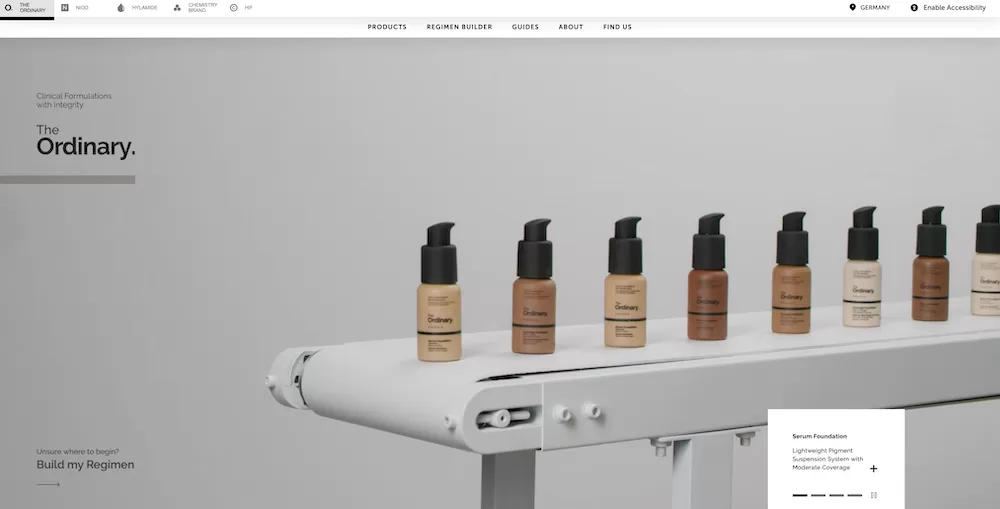 7. Huda Beauty
Huda Beauty, the makeup beauty brand founded by makeup artist and beauty blogger Huda Kattan, has a total of 49.2M followers on Instagram – as of August 2021 – making it the most followed beauty brand.
Why they're winning
When Huda launched her brand in 2013, she already had built an audience as an Instagram influencer and beauty blogger. From the outset, she had made a name for herself sharing powerful content with her audience, content which they loved and trusted. One thing that sets her apart is that Huda is the brand.
Focus on video content
Huda Beauty's Instagram is like heaven for beauty enthusiasts. Filled with useful and impactful content in the shape of tutorials, makeup tips, product reviews, beauty trends, to amusing behind the scenes footage of her and her young daughter experimenting with makeup. The common theme here is video content – and lots of it.
Besides the fact that video works great in the highly visual beauty and cosmetics industry, Huda's followers also get a glimpse of her fun and human side. That's how she has built a huge group of loyal fans that trust her. But at the same time, Huda is not shy about promoting her products or posting – prolifically.
She usually shares at least three Instagram feed posts a day and a number of stories. While Instagram is the main brand channel, Huda Beauty is active on other social channels too, and the use of video tutorials also extends to Facebook Ads.
Focus on video content: Replicate their success
According to video marketing software Wyzowl, 84% of consumers said that they've been convinced to make a purchase after watching a brand's video. So, what are you waiting for?
Content is king. Know your audience and create content that they find helpful and enjoy watching.
Follow a consistent posting schedule. Huda posts three times a day. Make sure you show up.
Creating a lot of video content is time consuming. That's why you should adopt a content repurposing strategy, where possible. Otherwise, the emergence of new social media channels and video formats like stories, TikTok, IGTV videos, and Reels can make it hard to keep up with content creation.
This one may be tricky, but don't be afraid to post more personal stuff. It adds character to the brand.
Leveraging micro-influencers
Micro-influencers are influencers that have between 1k-100k followers. In comparison to macro influencers, they may not have as large of a following but they do have more of a personal connection with their followers, which can lead to higher engagement. When a product recommendation comes from a micro-influencer, it can seem like it's come from a trusted friend.
Huda's Instagram page dedicates a large space to other influencers, helping them promote their work while being exposed to their highly engaged audience.
Like in this case where she is promoting makeup artist Dario dos Santos, who has a modest following of around 7k Instagram users.
Leveraging micro-influencers: Replicate their success
Here are a few tips on working with micro-influencers:
Authenticity is key. Just as when you work with macro influencers who may have follower counts running into the millions, make sure you find micro-influencers that align with your market and values.
There are a number of ways you can leverage micro-influencers: you can invite them to try your products and offer your platform for promoting them, or you can offer other forms of compensations like a affiliate fees or discounts.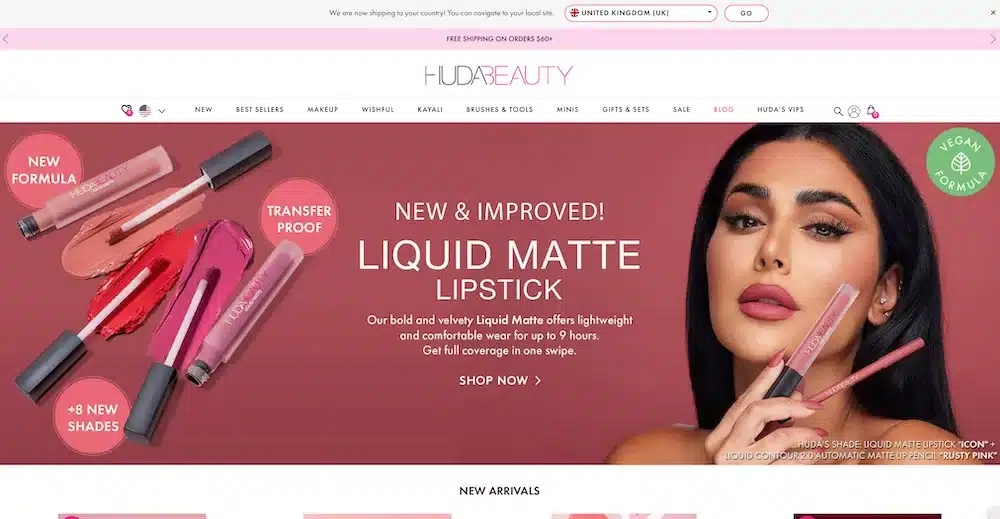 Summary
There are a few common things these brands get right when it comes to mastering customer acquisition:
Consumers turn to online beauty gurus for insight around which products to use and brand reviews. And they trust their recommendations more than the brand's messaging. Beauty influencers can drive valuable awareness that has a direct impact on sales.
An educated consumer makes educated decisions. Nowadays, beauty is part of self-care, so consumers care: they care about the brands they're buying from, their values, and their ingredients. With the means of research at their fingertips, the buyer's journey has shifted to include the information acquiring phase. Which also takes us to the next point.
Social proof matters. Whether in the form of social media influencer reviews or customer testimonials, people rely on the experience of others when purchasing online.
Another thing that all successful DTC beauty brands have in common is that they know their customers and market. These brands have a deep understanding of their audience needs, and that's how they know how to reach them. Moreover, by understanding the industry and their competitors, these brands have managed to distinguish themselves in a very competitive market.
This may seem like a daunting task, but it doesn't have to be. To help you get on top of your personalisation marketing , SwiftERM offers a free trial, 30 days to establish the viability of ensure that , in addition to whatever promotional marketing you are doing, that each consumer enjoys receiving products selections personal to them. This 100% automatic system, increases backed size, annihilates churn, and kills goods being returned, and developers perpetual loyalty.