Predictive personalisation software (PPS) has been around for a few years now, but has begun to gain traction as it's value is appreciated. PPS enables you to know more about who your customers are and most importantly what they want and when?

They do this online, as everyday they take the time to tell you all about themselves. Until PPS came along, this information, so obvious yet overlooked and unappreciated, was ignored. Now it is the highest delivering ROI in ecommerce.
Having experienced the possibility, consumers now want a unique experience as part of their customer journey all the time. They expect personalised content and offers, and which is self-perpetuating as it provides organisations with more customer data.
Then as the number of customers scale, a massive question arises: How are you going to execute your strategy to maintain this level of service quality to these customers? The answers luckily is that PPS is autonomous. If a human-beings are involved likewise all their human-traits are introduced.

Errors, omissions, holidays, down-time, all frailties we take for granted in ourselves, but which are perceived as aggravations if as and when they are identified as effects of how someone else treats you. How much ado your staff really cost you, you have to deduct that from your marketing for all other aspects, apart from PPS.
Predictive personalisation software the moving feast
Lets us look at you the person, you the consumer and you the retailer. You don't stand still, the world evolves around you. Your tastes and life demands are dictated by a random set of influencers upon which each one of us perceives in a different light.
"Sell me that pen", DiCaprio's speech from the Wolf of Wall Street exemplifies supply and demand, PPS takes advantages when the algorithm identifies, by the consumers actions, when that particular consumer's demand has been newly identified.
It perpetually builds. No two people are alike, and yet you can Google a hundreds of companies still trying to sell you segmentation, the perpetuation of a myth that lumping people together because of one common factor (everyone who bought a brand in the last 18 months) etc.
Predictive personalisation software captures the relationship between past behaviour and future expectations at a point in time. The difficulty becomes frequently changing customer behaviour dependent upon a variety of things, including the season, market, or product changes on your website, new stock etc.
It requires a solution that focusses on delivering the consumer's reaction in the format you want it. Why waste time wanting them to come back to your site, when you actually want them to just buy from you? Given, of course, that they will be direct to the site to complete that purchase anyway.
This stands PPS head and shoulders above its peers. It takes all your SKU's and ranks them, differently for each consumer, based on that individual's data from their buying history and impressions. It ranks them in order of what that individual is most likely to buy next; populates a stylesheet and emails it at the perfect moment to that individual.
Email has a massively high conversion rate in marketing anyway, averaging 3500% ROI. But what if that figure was smashed wide-open, if every product to every recipient was unique and personal to them? How much off an eye-opener can you get? All the big research companies affirm that you achieve 20x the ROI from all other forms of marketing combined.
It might not always be bang-on, especially if they are an infrequent visitor to your site and has an alternate preferred supplier. But given time and opportunity it will win hearts and minds as you keep offering exacted the perfect choice time after time.
The best models learn by continuously tracking who is targeted with what offers. They proactively track responses to these offers and then create a feedback loop to keep informing and improving the model.

This process keeps insights fresh and relevant. Having this dynamic learning process, combined with a robust back-end architecture of model management and performance tracking, and exceptionally complex.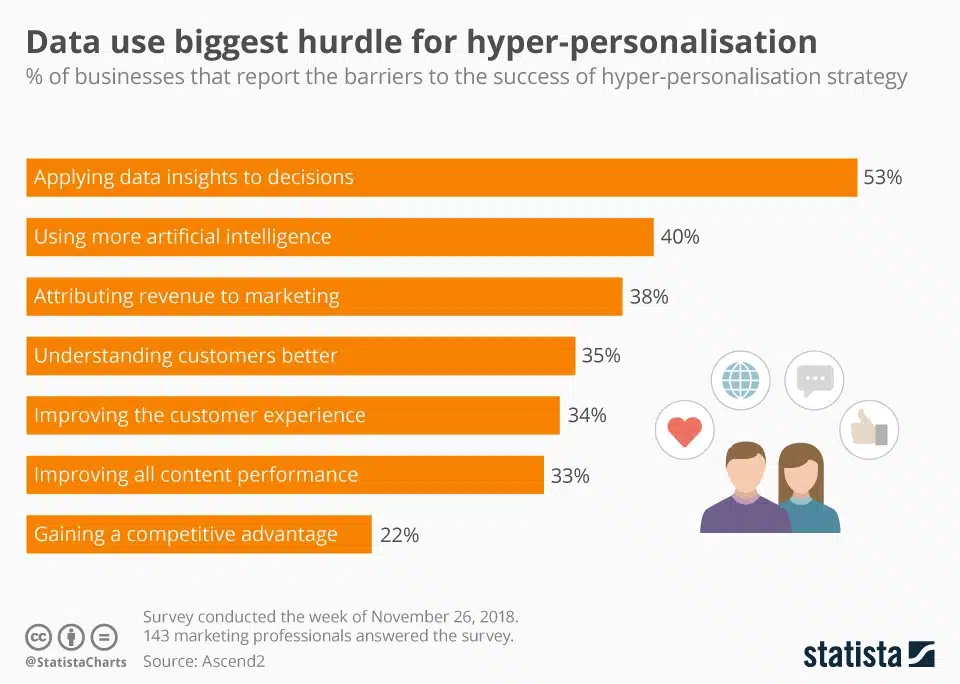 Algorithms aren't just for social media
A marketer has a good understanding of what impacts customer behaviour, which offers increase engagement, and what types of customers should receive those offers generally. But PPS hyper-refines thresholds to generate not just micro-segments within an audience but a solution way too granular for a person to create.

What are the exact pinpoints on a certain behaviour that you know to be the tipping point for each person? A marketer can come up with an approach that generally works well, but predictive personalisation software takes it to the next level. If you look at a behaviour—say the propensity to buy a product or respond to an offer—PPS automatically determines the exact breaking point at which you want to start treating customers uniquely, sometimes even down to the cent.
Embrace the future – it's personalisation
Success requires a forward-thinking analytics strategy with both predictive and analytic expertise, combined with back-end architecture experience. Without all three of those areas, capitalising on customer behaviour will be a difficult process.
Leveraging the right software with tried and tested capabilities across these areas will elevate your brand's ability to deliver the personalised experiences consumers are craving.

SwiftERM is a Microsoft Partner Solution. We offer PPS on a free trial here.