Most businesses consider choosing a platform as their business foundation. That's absolutely right! Now, building an eCommerce website is not difficult, but if you start with a wrong eCommerce platform, it's going to harm your business soon. But lets be under no illusion, these guys fight tooth and nail for your business, justifiably so, so there is much to consider.
In this article, we're going to summarize some elements of an optimal platform and highlight the best eCommerce platforms.
What is a platform?
A platform is a business model that creates value by facilitating exchanges between independent groups, which usually brings together customers and producers. Platforms create communities and markets that allow users to interact and transact through network effects. The shift to digital and advanced technology in commerce has changed the way we do business, create both resources and opportunities for business doers.
Those who want to seize this opportunity can't ignore the application of digital and technology in selling products. Given that, online stores are sustainably replacing brick and mortar stores.
Brands strive to succeed with their first online stores, but the results don't come in expectation. One of the worst mistakes they made is to partner up with the wrong eCommerce platform.
Fundamentally, an eCommerce platform is the backbone of an online retailer. An eCommerce platform is a software in which businesses launch, host, and manage their online stores. The platform provides features that allow merchants to build a branded online storefront to locate and sell their products and services.
An online business, like all other businesses, needs additional software to manage backend functions such as accounting, order management, inventory management, and customer service.
It's possible to piece together many different software solutions to create a complete platform, but the process is quite complicated and causes your website frequent maintenance and inefficient functions.
Fortunately, a new breed of business software can solve this problem by integrating all essential commerce and business functionalities into a single platform.
When it comes to the eCommerce platform, there is a critical term you need to understand, "platform design." The platform design isn't just about considering technical factors. It's about understanding and creating features for the whole business operation.
It creates value for both users and stores as well as build a network around them. Remember that an eCommerce platform is a business model, not just a piece of technology.
A platform has four core functions:
Audience building
Matchmaking
Providing core tools and services
Setting rules and standards
8 Key features of an eCommerce platform
Though different platforms offer different features. So many platforms out there with countless features and functions available can get you overwhelming.
Among the sheer number of choices, always remember that an average eCommerce platform provides you with the unification of core business processes to achieve complete visibility across your company and ultimately satisfy the most discerning customers.
It's sometimes hard to say that which eCommerce platforms will offer the function you want, or it will still be cost-effective as your store is scalable.
To choose a winning eCommerce platform, you can rely on the following features:
Run on a single, unified platform: an eCommerce platform should provide natively unified eCommerce, accounting, POS, inventory, and order management, marketing, customer service, financial, merchandising on a cloud-based platform.
Offer a complete customer view: a good eCommerce platform should deliver consistent experiences, targeted marketing, and excellent customer service. All customer interactions and transactions should be in a single view across all the touchpoints and channels.
Intelligent order management: create the most convenient way for customers to purchase, fulfill, and return the products. Centralize the order management to maximize profitability. It's optimal to have a single view of the inventory across all channels and units in the supply chain of your company.
Provide superior customer experiences: choose a platform that creates responsive, friendly, personalized and rewarding mobile, web, and in-store experiences for customers if you want to make your store stand out and live up to customers' expectations.
Support bottomless expansion: fully support multiple business models, brands, channels, locations, currencies, and languages all on the same platforms.
port multiple business models, brands, channels, locations, currencies, and languages all on the same platforms.
Site security: if you're a new store owner, terms like "PCI compliance" or "SSL certificates" might give you a head-spinning. But you will be familiar with them soon. Choose a platform that offers an SSL certificate and PCI compliance to assure the security of your store and customer data it contains.
Many platforms offer additional security packages. You can consider these packs depending on your demands, your store's future needs, and your budget.
Easy to create content: you should look for platforms that allow you to easily create content on new or existing pages, also new pages, and contact forms. It should be a snap to create and publish content on your store. If your store doesn't have strong supporting content, it will suffer much in Google searches.
You can think about a platform with a reputation for having a reliable content management system (CMS).
Highly dedicated support and document: your platform provider should provide help whenever you need it. Companies often offer support via many channels such as email, live chat, ticket support, or direct phone calls. Choose which one is the best for you, then you can reach out to your platform provider if you have any problems related to the platform.
Also, take a look at their available document, tutorial, such as user guide, FAQs, how-to blog posts, knowledge base posts. You might find solutions before contacting the providers.
Why are eCommerce platforms important to brands?
Imagine a house without a solid foundation; it's terrible like an online store without a good platform. An eCommerce platform doesn't just support, but it enables the growth of an online store.
Put simply, eCommerce platforms are crucial to the business success of any online retail enterprise.
Back in the 20th century, people mostly came in brick and mortar locations to facilitate exchanges. Now, after many years, thanks to connected technology and the Internet revolution, platforms are created to facilitate the exchanges of value from decentralized networks of individuals.
Accordingly, the platform has grown exponentially, and the ability to enable value exchanges has reached an unprecedented level. Regardless of being hosted on-premise or in the cloud, eCommerce platforms guarantee the scalability and security protection of your data, offer a wide range of operational benefits and business tools, including:
A product management suite
Merchandising
Search capabilities
Pricing
Promotions
Personalise sales and services to your prefers  
Using eCommerce platforms, you can customize your product information to fit your online business needs best. It's beneficial for both store owners and customers.
10 best eCommerce platforms in 2021
Shopify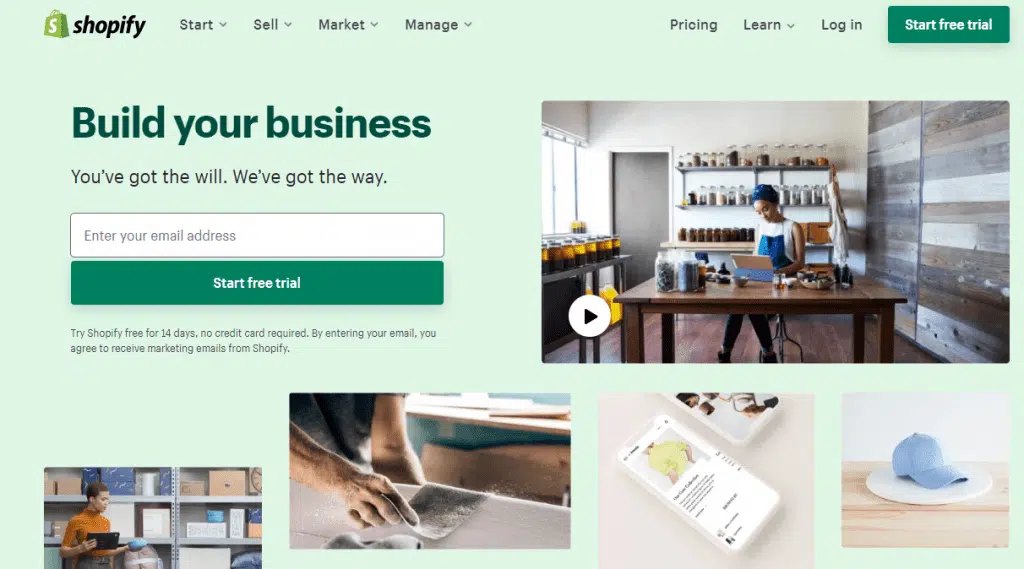 Shopify is one of the most popular eCommerce platforms in the world. It is a web application that helps you to create an online store quickly and easily with many available templates. You can customize those templates to best fit your online retailer needs or design your own store's look.
The company claimed: "You don't need to have any technical or design experience to create a beautiful online store easily."
Shopify supports a comprehensive range of credit cards, so you don't have to worry about the payment conflict issue in your store. Also, you can make sure the data of your customer and store is safe as the Shopify has level 1 PCI compliance and 256-bit SSL encryption for security.
Providing a full CMS, Shopify gives you the power to manage the functionality and the layout of your online store. Another outstanding benefit of Shopify is that it allows users to manage their store on Shopify mobile apps. The platform is fully responsive so that users can easily track, manage, and modify their store anywhere regardless of access from mobile or desktop.
It's a convenient and optimal way for business doers who usually have to work on-the-go. That's one of the reasons why Shopify is the best platform at selling.  
Check Shopify Features & Price Plan here!
Magento Commerce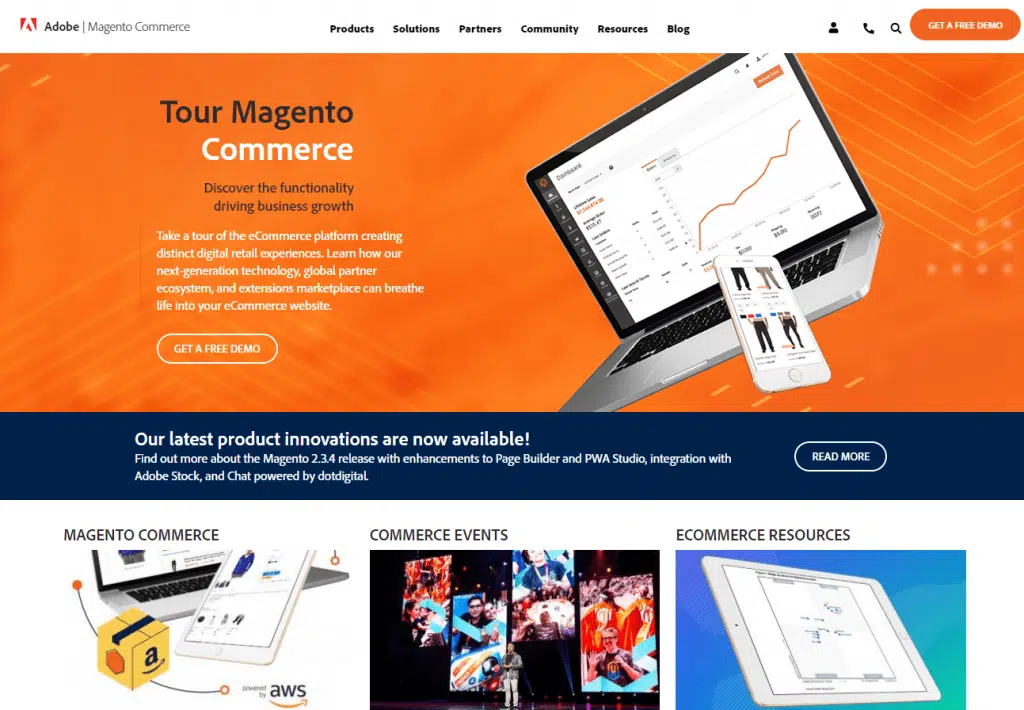 Magento is one of the most used eCommerce platforms in the world. Although it is also well-known for being incredibly complicated, this platform has significant benefits that make it deserving to be at the first position on this list. Besides, the launching of Magento 2 has taken the platform to a higher level, accelerating many providers to create more effective solutions for B2B eCommerce firms.
Some outstanding benefits of using Magento eCommerce:
Versatile content management: The backend and content management interface comply with the rule "what you see is what you get" allow store owners to build and customize features on their online stores on the fly.
Mobile-friendly configuration: Magento user interface and shopping carts design are responsive to smartphones, tablets, and other mobile devices.
Advanced search engine optimization: With SEO efficiency, it gives online stores have more opportunity to rank highly on search engines such as Google, Bing, and more.
Sturdy and spacious: The platform allows a site with up to 500,000 products, and handling 80,000 orders per hour.
Flexible third-party integrations: Magento enables your online stores to integrate with third modules or apps such as MailChimp, Google Shopping, and more efficiently.
Customizable security permissions: Magento supports you to customize multiple levels of security permissions, control internal access, and ensure your site's safety.
Save time and money: Magento is open-source and several custom extensions that can share between multiple Magento users. Through one instance of Magento, you can manage numerous eCommerce stores with various languages and various currencies.
The basic version of Magento is free, but the enterprise version can cost about $20,000 annually. If your brand is new to the eCommerce landscape and isn't all that tech-savvy, it's quite risky to choose Magento. As long as you have enough capacity to run your business with this platform, grow your business along with it.  

SwiftERM is available for all versions of this platform.,  we are Magento Technical partners.
3DCart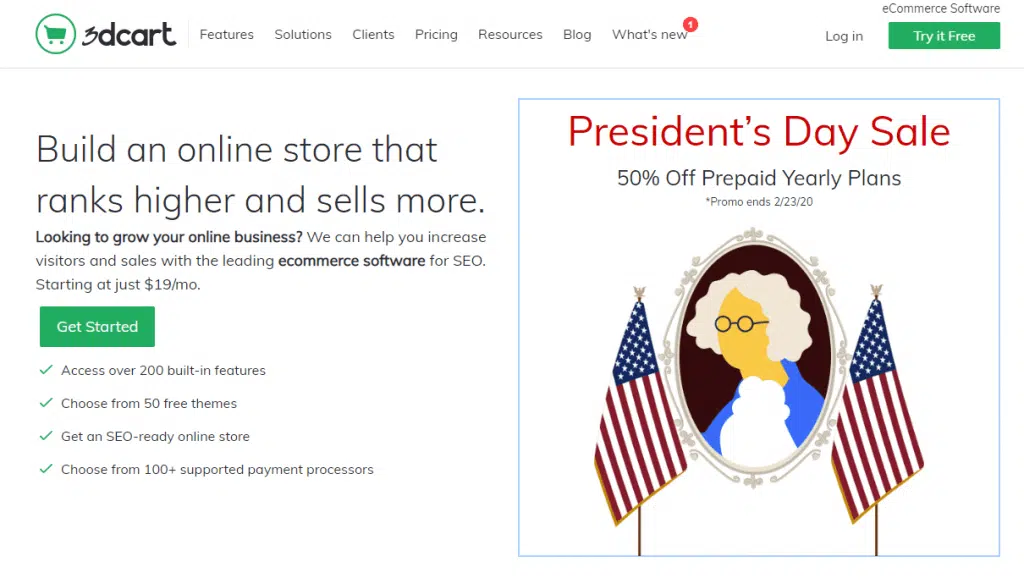 3DCart is a powerful and secure eCommerce software that has served over 22,000 online businesses in 20 years of service. The company dedicates to help online merchants build online stores that rank higher and sell more.
3Dcart has over 200 built-in features, 50 free themes, offers SEO options and supports over 100 payment processors.
The platform provides intuitive features, mobile-ready themes, latest SEO standards, and marketing eCommerce tools to make your store convert higher and increase conversion rate.
With 3DCart, you can build an online store that contains all the following features:
All-inclusive: 3DCart gives you everything you need for creating an optimized eCommerce store with customizable features including design, shopping carts, and more. Regardless of selling physical or digital products, you don't have to add more eCommerce tools or services as hosting and domain names are available.
Customer-friendly: The platform supports you to create a website with the best customer experience. It allows you to use high-quality product images, and let your customers perform essential actions on your website.
Synchronized: 3DCart is flexible for selling on social media, multivendor marketplaces, and other channels.
Secure: 3DCart is completely secured with sitewide HTTPS, PCI Certification, two-factor authentication, and anti-fraud tools. Your customers' data will be safe on your site, which stimulates customers' trust and sales.
Scalable: The platform supports all size businesses and handles unlimited traffics and sales with built-in or integrated CRM software.
Reliable: With 99,94% uptime, 3DCart is confident to keep your website away from downtime and low-speed. You can look forward to flawless and seamless user experience. SwiftERM is not yet available for this platform.
More features come in this optimal eCommerce solution. Plus, 3DCart offers 24/7 expert eCommerce support.
BigCommerce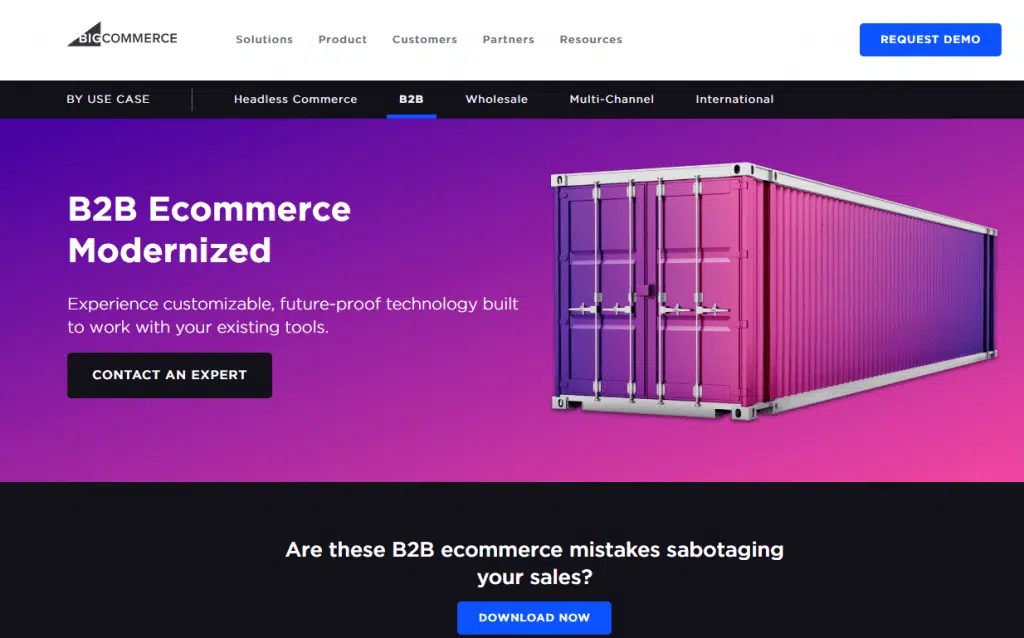 BigCommerce is famous for the world's leading cloud eCommerce platform. The platform is also known for its low total cost of ownership and highly flexible APIs.
BigCommerce provides you with a comprehensive set of eCommerce tools with a variety of features and options. It enables your store to integrate out-of-the-box with most of the required solutions in the eCommerce ecosystem.
Businesses covering both B2B and B2C customers can use this platform as it makes it easier to create different price lists or catalogs to different customer groups.
Due to the complexity of built-in features, the initial learning curve of BigCommerce is higher than some other software-as-a-service platforms. However, it is still possible for a new brand to learn about this platform and make use of it quickly thanks to the well-thought-out and in-depth guiding documents and support team of BigCommerce. SwiftERM is not yet available for this platform.
Check BigCommerce Features & Price Plan here!
WooCommerce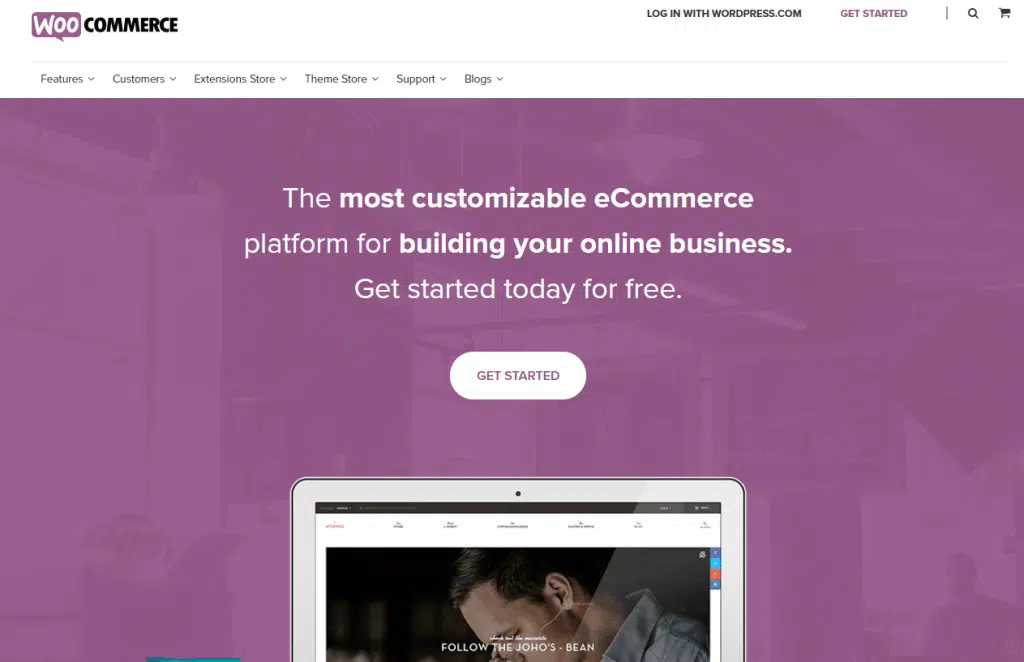 WooCommerce is a free WordPress plugin that enables merchants to turn their WordPress sites into online stores freely and also offer additional paid features and integrating options to streamline the functionality of the shopping cart.
This open-source platform is an ideal solution for small brands with WordPress development resources as it will be easy to customize. Through its secure payment processor, WooCommerce ensures PCI compliance and secures communications between your customers and your server.
However, WooCommerce can slow down because it can't handle too much weight of themes, plugins, or products you add to your store. So if you want to scale up your business, it's better to choose another platform.
In case of using this platform, be careful with everything you install that can impact your store performance.
Choose the right hosting environment that determines the amount of traffic your store can handle. SwiftERM is available for all versions of this platform.
Salesforce Commerce Cloud
Salesforce is well-known for its CRM solutions. The company claims to help you strengthen the relationship with customers and grow with the world's first CRM available with Einstein AI.
Formally known as Demandware, Salesforce Commerce Cloud is a cloud-based eCommerce platform tailored to both B2C and B2B merchants. It's a part of the Salesforce product suite. Therefore, it integrates many other CRM and marketing services, which helps you grow your business and build a good customer relationship all at a time.
Besides, Salesforce Commerce Cloud offers other features such as order management, commerce personalization with AI, globalization solutions for international businesses, and more solutions categorize by business type, needs, industry, and role.
Despite being able to handle high volumes of traffics and sales, Salesforce is not suitable for small brands or starters in selling online as its high price and complex technological requirements. SwiftERM is not yet available for this platform.
Squarespace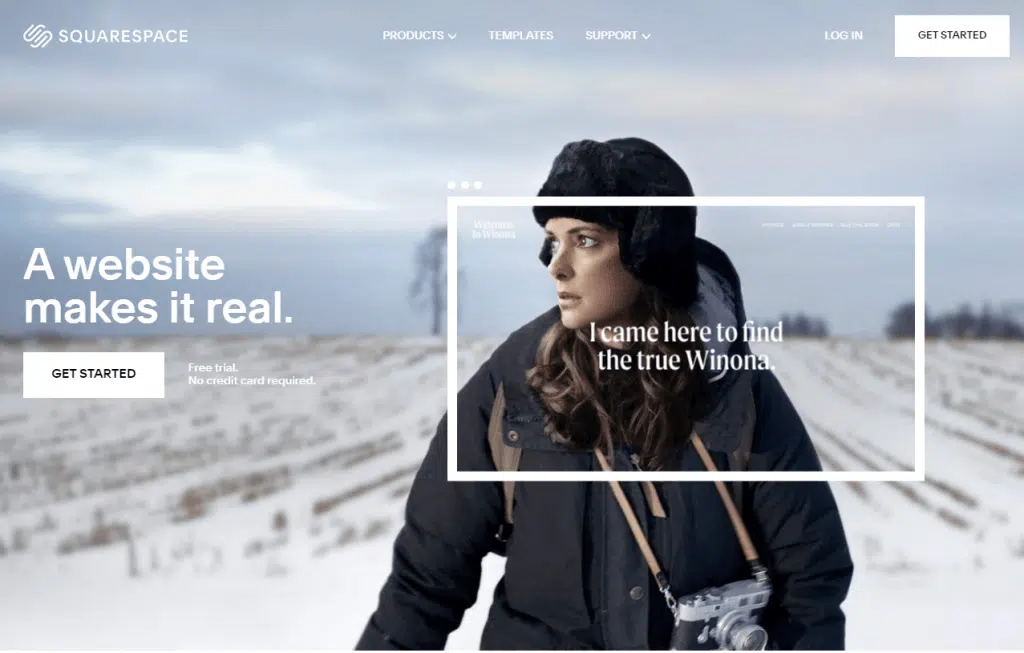 Squarespace is an easy-to-use and friendly platform that empowers users without any coding background to create beautiful websites. Whether you're a beginner or established brand, this all-in-one platform gives you everything you need to run and grow your business website.
They offer numerous features and tools for building an eCommerce website and provide hosting in all available packages.
Squarespace is famous for its award-winning designs, which makes it become the leader in the website design for world-class designers. You can use seamless templates and intuitive drag-and-drop tools to design your websites to your personal style. SwiftERM is not yet available for this platform.
Yo!Kart

Yo!Kart is a powerful standalone multi-vendor ecommerce platform. Yo!Kart is the best fit for business owners who are looking to start online marketplaces similar to Amazon, Etsy, or eBay. The platform has been used by 1000+ businesses that include startups, enterprises, & some Fortune 500 companies.
Yo!Kart is a fully customizable ecommerce platform that allows business owners to scale the business as per the requirements. It offers the right set of features and functionalities to launch future-proof multi-vendor ecommerce stores.
Yo!Kart's latest release V9.3.0 comes with extended ecommerce features such as split payments, pick up at store, Geolocation, & pre-integrated APIs for taxes & shipping management. To enable a business owner succeed in the competitive ecommerce landscape, Yo!Kart provides mobile apps and progressive web apps.
Unlike Shopify or BigCommerce, it is a self-hosted multi-vendor platform that comes with a lifetime license and zero recurring fees. Yo!Kart team provides free installation and 1-year free technical support on all packages. SwiftERM is not yet available for this platform.
Volusion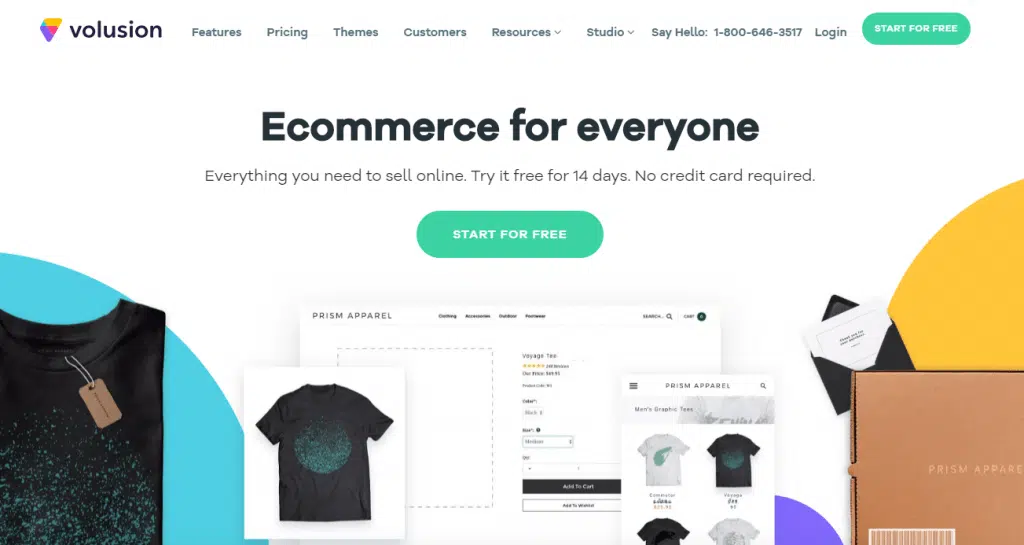 Volution has been in the industry for almost two decades and is an all-in-one eCommerce solution that helps you easily create, manage, and expand your online store. The platform empowers users to build online stores with many handy features and intuitive functionality.
You can create your online store on your way with expertly-designed themes, a variety of navigation styles, custom domains, rich content editor, and more. All the functions will help you create a website with a stellar shopping experience for customers.
After completing your website design, this platform makes it easier for you to start selling. It offers eye-catching product pages, a comprehensive order system, a flexible payment process, high security, and more.
Also, Volusion offers features that are crucial to scale up your business. With powerful SEO tools, you can easily track and manage all your metadata to keep your pages, products, and categories SEO-friendly.
Social integrations are good to get your website's exposure and gain more leads. In addition, reporting features give you insights about everything happened on your store from abandoned carts, live carts to product and category views. SwiftERM is not yet available for this platform.
Prestashop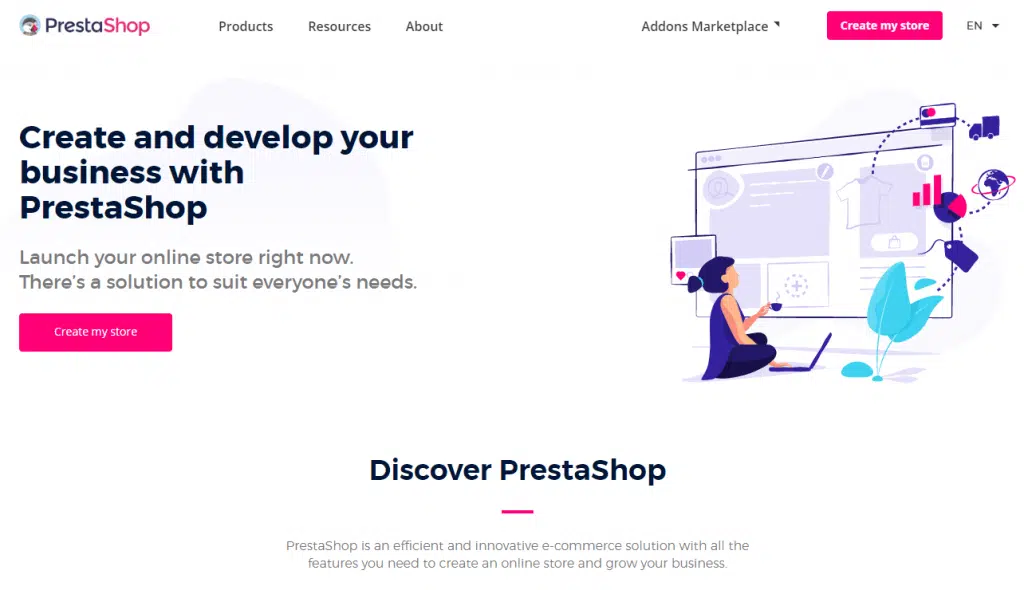 Prestashop is another efficient, innovative, and open-source eCommerce solution providing all features you need to build an online store and skyrocket your business. Prestashop has opened the doors of the eCommerce for over 300,000 merchants around the world
The platform is freely accessible and downloadable. You will just have to pay for costs related to the hosting, SSL certificate, and something else similar.
You can build your website with Prestashop's professional-looking and fleek themes. It doesn't limit your creativeness and ideas in designing your own website. You can customise those themes to personalise your online on your own style and liking.
Besides, there is a wide range of addons and modules contributing to boost the overall performance of your online store. You can manage your products, orders, customer relationship, and get the report on real-time statistics.
It's also easy to create content on your websites such as blogs and share your content on social networks to attract more visitors. The platform breaks any borders for your website by allowing you to present your store in several languages and currencies. You can expand your product selling to any kind of customer and country.
Notably, you can integrate dropshipping with your Prestashop store easily with a few steps to scale up your business without wasting time on inventory management. SwiftERM is not yet available for this platform.
Wix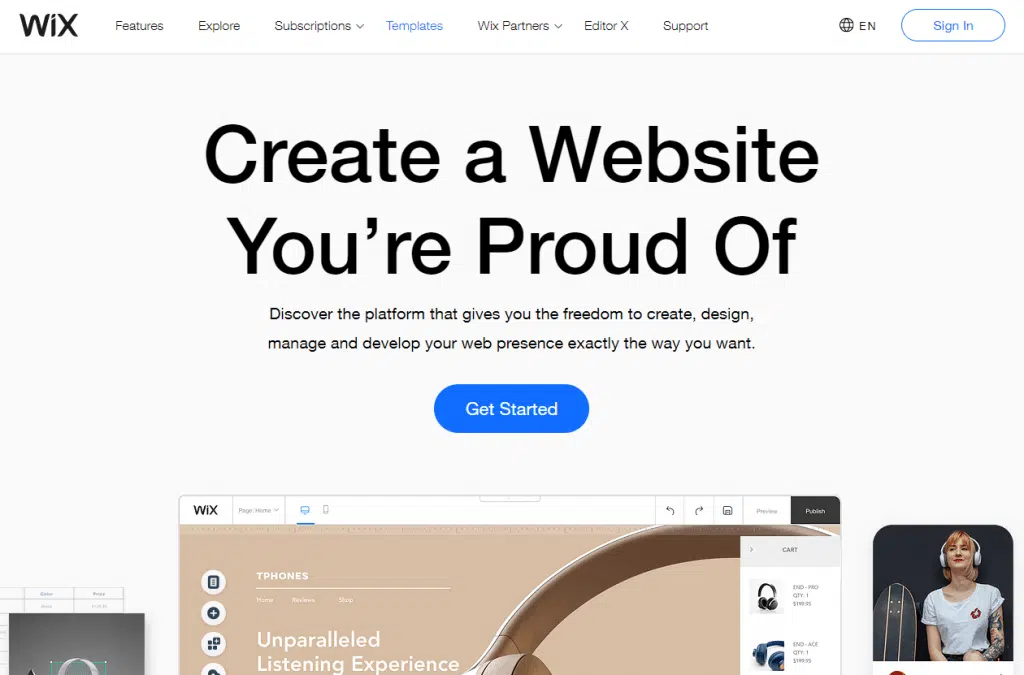 Wix is one of the most easy-to-use eCommerce platforms providing simple alternatives to build a full-on website with serverless computing and hassle-free coding. It's the best fit for brand new online stores with affordable pricing, 72 free themes, and a super simple setup.
The platform gives you the freedom to create a website your way. You can select a template and customize anything you want to appear in your store. As your store grows, you can always add new features to improve your store performance.
Wix offers a mobile-optimized version of your store, which mutually benefits both you and your customers. You can switch to Mobile Editor to personalize the mobile interface.
In case, you want to improve your SEO performance, get a personalized SEO plan by answering a few questions about your website, your location, and keywords.
By using Wix, you can effortlessly capture leads, build customer relationships, and accept payments right from your website. However, due to its simplicity the lack of important tools for selling, the platform is not viable for fast-growing or large-scale online businesses. SwiftERM is not yet available for this platform.
Quick eSelling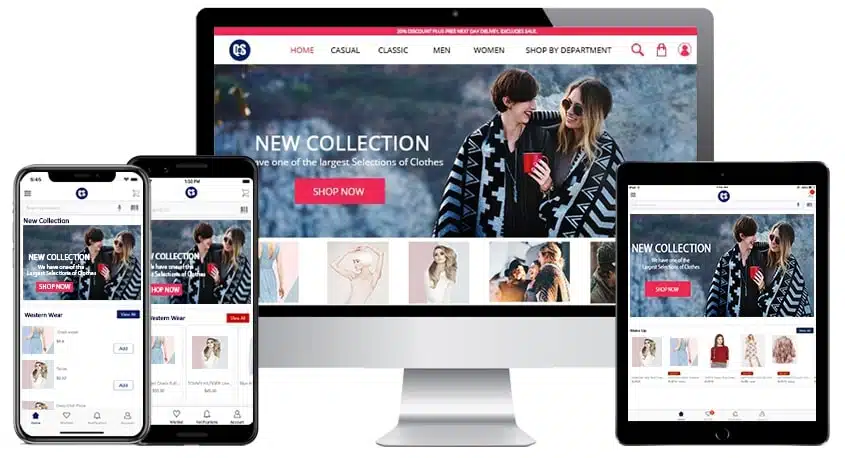 Quick eSelling is a SaaS ecommerce platform that enables global business owners to start an online store for free. The platform is used by 25,000+ B2B & B2C merchants successfully all across the globe. Using Quick eSelling Ecommerce software, you can build, launch, and manage your ecommerce store to harness the online & sales channel without any coding experience.
It is a fully managed & hosted ecommerce platform that comes with a powerful CRM to manage orders, inventory, and customers from a single CRM. Also, the platform is integrated with popular payment gateways and third-party APIs such as PayPal, PayU, QuickBooks, SAP, etc. Also, Quick eSelling supports all kinds of customization in-case you want to change the look and feel of your ecommerce store.
There is a 1000 products cap in the free plan, however, if you want to add more products to your online store, you can opt for its paid plans. SwiftERM is not yet available for this platform.
Conclusion
Different eCommerce platforms offer different features and prices. Whichever route you rely on when building your website, always think about below factors carefully:
The platform you choose must ensure your website is constantly updated and managed
Choose a good web hosting
Intuitive and seamless payment processors and shopping cart
Good for customer service and user experience
Ensure security for your site and customers' data
You should implement the first setting-up of your website diligently, especially looking for your website's foundation.
We hope this article will help you choose the best eCommerce platform for your business.