The January Sale email marketing guide. This is a busy time of year for email marketers. The Black Friday/ Cyber Monday rush has been and gone, and Christmas is history marketing wise, so Q4 is the last opportunity to start preparing your email campaigns for the January sales.
Nowadays, the term 'January sales' is actually a misnomer as most companies start discounting products on Boxing Day if not earlier. Although, in recent years, it's been dented by Black Friday, Boxing Day is still one of the biggest shopping days of the year, with shoppers spending over £3billion in the UK on 26th December last year. So, the earlier that you prepare your email campaigns the better. Here are a few tips to help you make the most of you Boxing Day/ January sales emails:
OFFER A JANUARY SALES PREVIEW
With the majority of retailers offering significant reductions after Christmas, you need to work hard to entice customers to your business. People may be more inclined to shop with you if they have some idea of what products are going to be reduced in your sale. They can then plan their purchases in advance.
You can offer your email subscribers the chance to preview your sale. This will give them a chance to see the products that you're offering, and they may even be able to place their orders before the Boxing Day rush. By offering them something that not every customer has access to, it will help your subscribers feel more valued.
L'Occitane did this last year: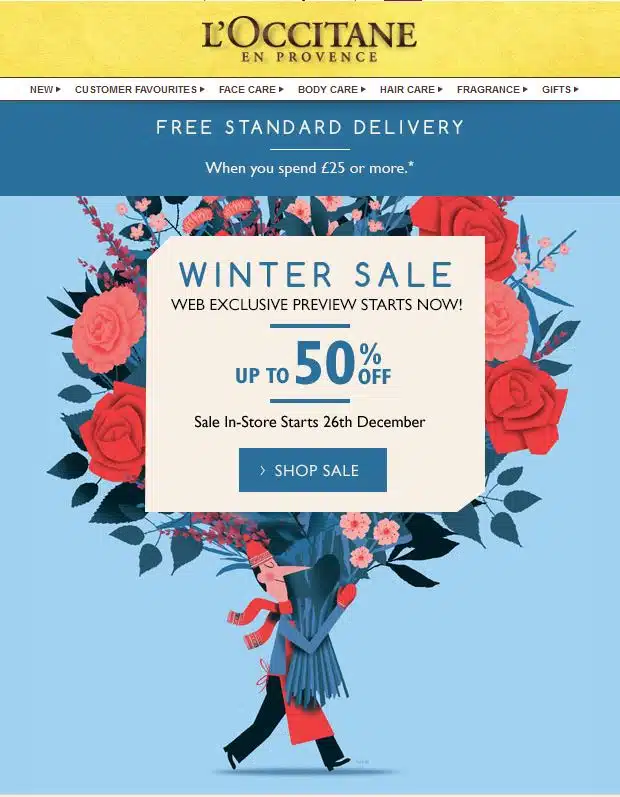 L'Occitane Subject L'Occitane Preview
In the email, L'Occitane haven't include any details about products in their sale. Their customers have to click through to find out what items have been reduced.
If you have a physical store, you could send email invitations to a sale preview at your shop. When your customers are through the doors, they're one step closer to making a purchase. Phase Eight did this last year: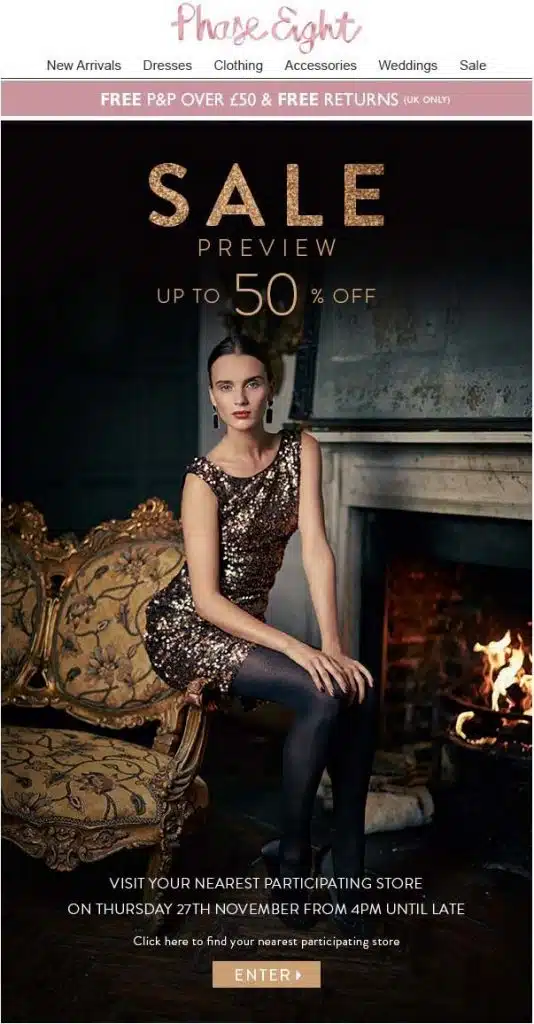 LET YOUR CUSTOMERS TREAT THEMSELVES
Over Christmas, much of the focus is on buying things to treat your nearest and dearest with. While this is one of the joys of Christmas, the new year can be seen as a time for your customers to be able to treat themselves. Use this as the focus of your emails, offering products that your customers can use to pamper themselves with.
Mexican restaurant Chiquito took a slightly different angle. They offered 25% off food so their customers could have a break from all the Christmas cooking:
.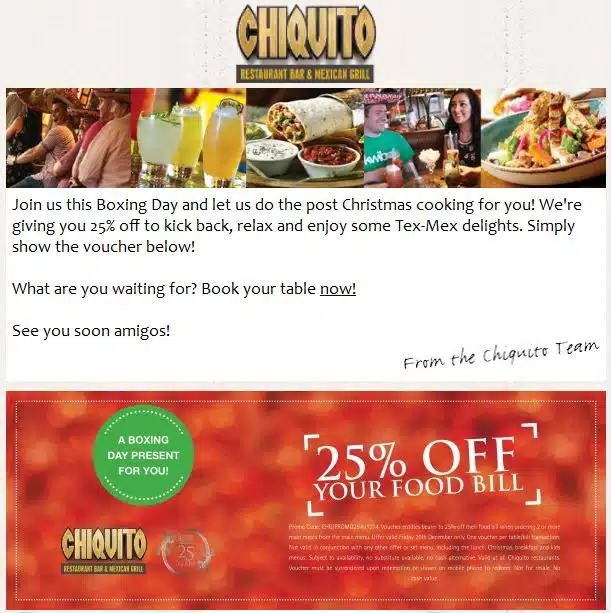 HAVE A TIME LIMIT
Equally as important as letting your customers know when your sale is starting is letting your customers know when your sale is ending. Send out an email towards the end of your January sales telling your customers when the final date is. This could encourage them to make a purchase before they miss out on the reductions.
Tateossian used this simple but effective email to show their customers how long they had left to bag sale bargains: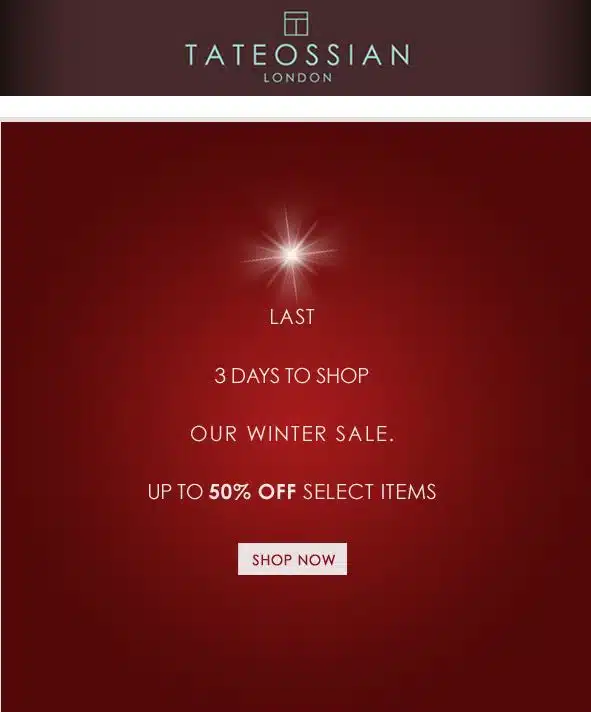 Tateossian Timemoment purchases is a flash January sales. These sales usually offer considerable discounts, but only over a very short period of time. This sense of urgency often encourages customers to take the plunge and make a purchase. Email is the prefect medium to let your customers know when your flash sale is taking place.
There's a lot of competition among retailers during the January sales period. While the success of yours isn't entirely dependent on your email marketing efforts, a good campaign can ingrain your company in your customers' minds, and put you one step ahead of your competitors.
SwiftERM works perpetually, identifying by impressions and buying history, to identify exactly what each individual consumer will buy next. So the products offered to them have the greatest buying propensity for that individual. This articles is for the benefit of our customers, for reference in conjunction with ESP marketing email software campaigns, which runs in tandem to SwiftERM.