Ecommerce Return Rates Profitability – returns can be a disease — aggressively attacking profit margins, gutting conversion rates, and ultimately threatening your business.
In the U.S. alone, Statista estimates return deliveries will cost $550 billion by 2020, 75.2% more than four years prior. Worse, that number doesn't include restocking expenses nor inventory losses. Nailing down exact numbers on return rates is notoriously difficult, but compiled data from separate sources paints a bleak portrait, especially for online retailers: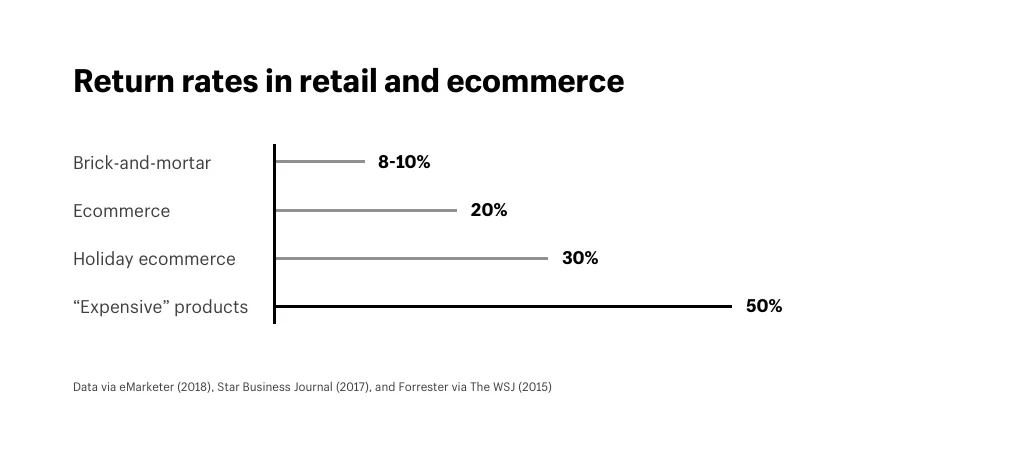 Data via eMarketer (2018), Star Business Journal (2017), and Forrester via The WSJ (2015)
The real cost driver is this: many customers buy with an explicit plan to immediately return some or all of their items.Data from Narvar (2018) and Return Magic Survey (2017)
In response, businesses are adding workers, increasing warehouse space, and establishing separate departments to handle reverse logistics. Returns are the new normal and central to customer experience. But they don't have to be a plague. In fact, how you deal with returns — before and after purchase — can differentiate your brand, create a competitive advantage, and even make you more profitable.
How Returns Impact Online Sales
To make a buck, you've got to bare it all. We're talking about transparently illustrating your return policy just as you would a featured product or service. Why? Because free returns or exchanges are the number two reason that makes consumers "more likely to shop online."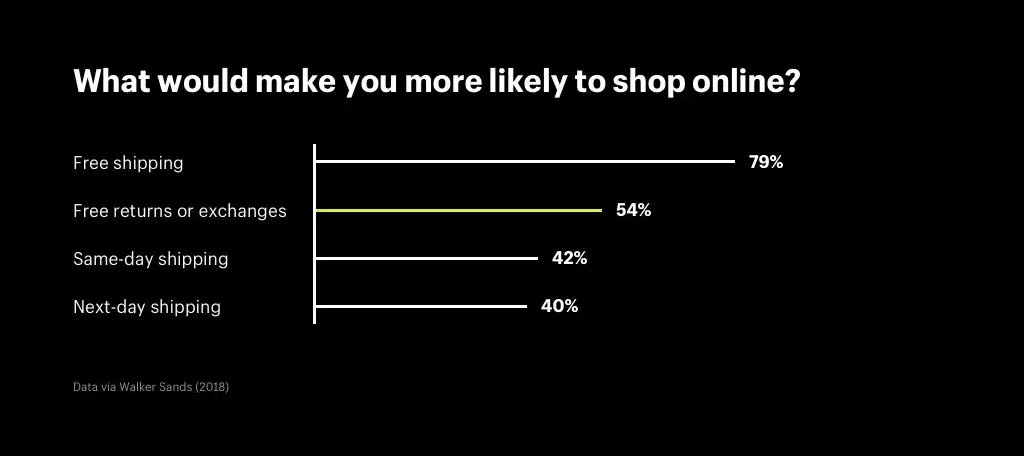 Data via Walker Sands (2018)
In addition:
Unfortunately, these data points leave online businesses feeling stuck: customers want free and easy return policies but returns are costly.
Returns as a Profit Driver?
An ultra-generous policy — operated and managed well — can drive growth. The most prolific example is Zappos, an Amazon company. Zappos was one of the first to offer a 365-day, free two-way shipping and return policy that practically invited customers to order its shoes, try them on at home, and send them back if they weren't completely happy.
Zappos' executives are fond of saying that customer service is the new marketing and that its lenient return policy is actually a profit center. "Our best customers," Zappos' VP of services and operations, Craig Adkins, told Fast Company, "have the highest return rates, but they are also the ones that spend the most money with us and are our most profitable customers." According to the company, customers who purchase its most expensive footwear ultimately return ~50% of everything they buy.
Certainly, Zappos' return policy differentiates the company and is a tangible manifestation of its happiness ethos. But, should Zappos be held up as a model of returns? Throughout its first decade, Zappos struggled with profitability — a fact Tony Hsieh is quite honest about in Delivering Happiness. In the two years prior to Amazon's acquisition, the company did achieve profitability: 2.9% (2007) and 4% (2008) in earnings before interest, taxes, depreciation, and amortization (EBIDTA). By that measurement, its sale to Amazon was ~18x EBITDA. However, when compared to gross sales, Zappos' was acquired for a mere 1x.
Regardless of Zappos' fitness as a model, few DTC brands can afford such an all-encompassing policy. But that doesn't mean they aren't putting "Free Returns" front and center. Approaches vary through site-wide header bars, return policies next to buy buttons, or on homepages themselves. Not surprisingly, these same businesses eschew commoditization through branding, product differentiation, and price-points above the medians of their industries: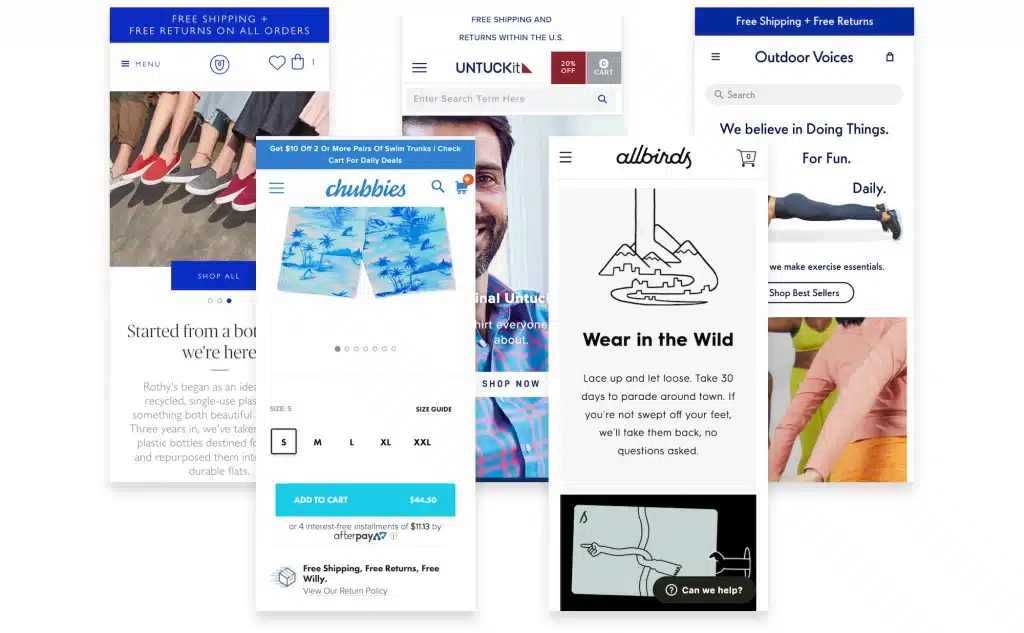 Return promotions from Rothy's, UNTUCKit, Outdoor Voices, Chubbies, and Allbirds
Most retailers benchmark themselves against industry numbers, primarily because they have no other baselines. While this article includes such benchmarks in the final section, the danger in that is ignoring how price, perceived value, customer churn, and returns relate to profitability.
"Returns are so misunderstood that retailers have accepted them as the cost of doing business," says Peter Sobotta, CEO of ReturnLogic. "Liquidators and 3PLs are more than happy to keep driving this because they benefit from the problem. But ask a retailer what they want and it is never a better liquidation process or easier returns. They want to acquire, keep, and grow their customers. In short, profitability."
In fact, low returns and maximum profitability don't always work together. Instead of fighting returns head on, a more bottom-line driven approach follows at least three steps.
First, fix the obvious operational problems, like logistics and enforcing return policies. Pay close attention to common gaps that result in "where's my refund" or "where's my exchange" questions from customers. (More on this in the next section.)
Second, leverage your data to coordinate return rates with net sales and thereby create a return profile for your most and least profitable customers. For example, in the below scatter plot, the most profitable customers have a ~32% return rate. They buy a lot, but they also return a lot. With efficient operations, this far more accurately represents an opportunity to maximize profit than industry averages.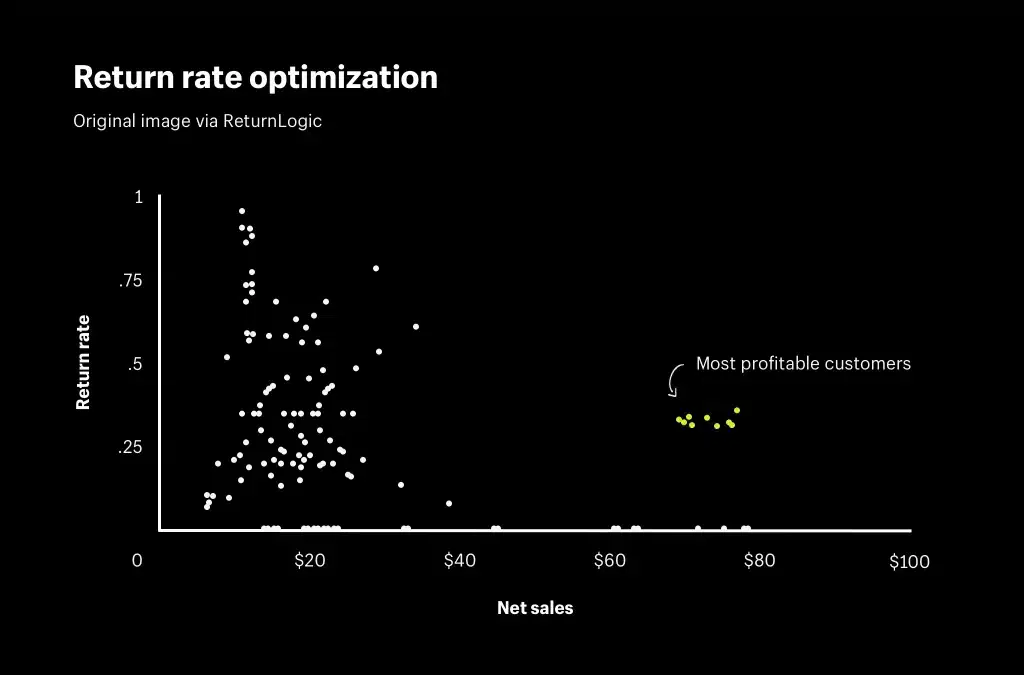 Third, closely examine the relationship between price, value, and returns — especially during the launch of new products. We all know the line, "Price is what you pay. Value is what you get." In the context of returns, that means it's possible to lower the price of a product and make more money.
"If you buy a shirt at Old Navy for $10 and it lasts a month," says Sobotta, "you may be fine with that. But if you purchased that same shirt at the Banana Republic for $50 and it lasts a month satisfaction drops and the likelihood of return skyrockets. But what if the Banana Republic played with the price and found that at $40, returns dropped substantially because the perceived value was not violated. In this case, the retailer lowered the price but made more money because returns dropped substantially."
However, a friction-free return policy — one that offers at least a 30-day window for free returns and entices shoppers to convert into customers — will lead to commercial demise unless the policy is supported by (1) a frontline approach to deal with serial returners and (2) a reverse logistics infrastructure.
Dealing with Serial Returners Who Hurt Margins
Habitual returners fall into two distinct types:
The Wardrober
People who buy items to wear once and have no intention of keeping them afterward. The Wardrober may not be able to afford the item or are taking advantage of overly lenient policies.
The Fitting Roomer
People who replicate the brick-and-mortar experience at home by purchasing different sizes and colors of the same item, pick their favorite, and return the rest.
In late 2018, The Wall Street Journal reported Amazon had begun banning shoppers — i.e., closing their accounts — who "made too many returns." While extreme, such actions are often necessitated by the first type of habitual returner. Last year, Amazon also unveiled Prime Wardrobe: free to members but limited to 3-8 items per order with a seven-day window to return before getting charged.
To accommodate The Fitting Roomer, numerous brands continue to promote try-on-at-home programs despite rising costs. As Glossy explains, companies like UNTUCKit, Outdoor Voices, and Greats use apps — in their case, Returnly— which allow "shoppers to buy again using a credit before shipping an item back." This reduces the risk of Wardrobers and ensures customers get their replacements as soon as possible. Loop and Return Magic function similarly, with each tool enabling a smooth return process for customers and better analytics for businesses.
What's crucial is separating the types of returners and tracking them automatically. To do that, a tool like Shopify Flow or a customer-relationship management platform can help. First, establish refund thresholds based on per-order dollar values or the number of returned items. Second, use that threshold to automatically:
Tag customers for identification and segmentation
Notify your customer service team via email or Slack to investigate
Add those customers as a segment within an onsite personalization tool to exclude them from free shipping and/or full-refund offers
Or, exclude them from free shipping at checkout by creating a Shipping Script based on one or more of your customer tags
Of course, all that can be for naught without the right backend …
Unraveling the Maze of Reverse Logistics
Research suggests the majority of retailers simply aren't equipped to handle the influx of returns online shopping generates. Intermec found 52% of distribution center managers don't have the ability or resources to determine whether returned items should be sent to the vendor, moved into inventory, or discarded. That same study also revealed that 44% of distribution center managers consider returned items as a "pain point" in their operations.
If your supply chain is unprepared to accept these goods, they'll be stored and unrecognized as current inventory in the warehouse, perhaps only considered as available inventory at a later date during physical counts. That's a pile of avoidable waste in the making.
The Reverse Logistics Association explains that managing the "return and repair" process accounts for 10% of total supply chain costs. But, if the supply chain gets stuck (due to inefficient processes), it can compound and reduce profit by 30%. Separately, UPS reports high-tech manufacturers without a well-developed reverse logistics process could be losing more than 50% of returned inventory value since most of the returned products can be sold in secondary markets.
Establishing a standard procedure for handling returns can make reverse logistics far less painful. First, make your pre-purchase return policy clear and prominent. Second, explore the various apps and tools that make returns easier. Pay special attention to each provider's current roster of clients looking for similarities with your vertical. Returnly, for instance, highlights Outdoor Voices, UNTUCKit, Rothy's, and 100% Pure; for Loop — Allbirds, Chubbies, Cotopaxi, and Qualo.
Casting the net wider, 2PM's Shipping and Returns Index offers insight on 38 providers "across inventory management, optimized shipping, returns, freight, and international parcel." That list narrows to five with the search term "returns":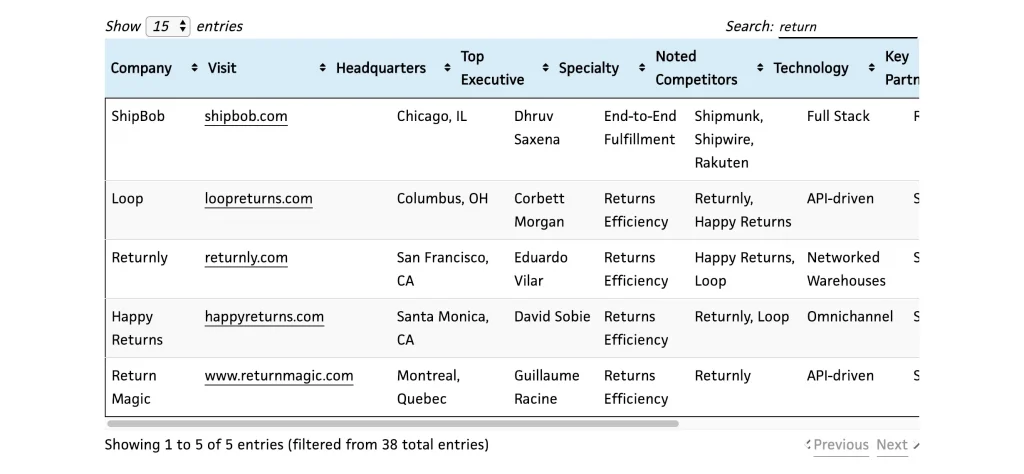 Lastly, consider outsourcing part or all of your returns process. This is where acronyms and interconnections can get confusing. By way of summary …
Inventory-management systems (IMS) and order-management systems(OMS) are virtually synonymous; they specialize in managing inventory levels and locations, order fulfillment (priority, pick and pack, postage, and tracking), as well as rectifying stock with sales across channels
Warehouse-management systems (WMS) are sometimes included in IMS and OMS, sometimes not; the latter are first-order priorities for online businesses while a WMS only becomes necessary when overseeing multiple fulfillment and distribution centers (particularly for international operations)
Third-party logistics (3PL), in their most all-encompassing form, enable online retailers to outsource fulfillment in total
Returns-management systems (RMS) can integrate with any of the above solutions in two ways: (1) as software to augment them — i.e., the apps and tools listed in the previous section — or (2) as a physical service. On the physical front, two providers are worth noting.
Happy Returns — in addition to its returns software — maintains a network of over 300 "Return Bar" locations where online shoppers can drop off their returns in person. In research commissioned by the company, Forrester found 56% of shoppers were "Much More Likely" to shop with online retailers that allowed for an in-person return (no printing, immediate refund, and free) and another 26% were "More Likely."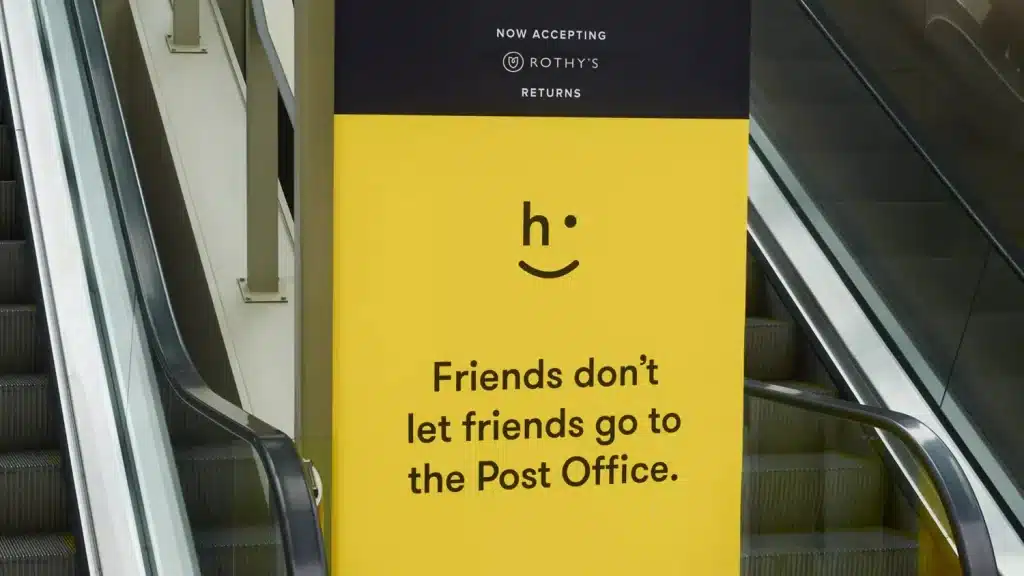 Shipbob, on the other hand, is a full-scale 3PL whose reverse-logistics process includes return label generation for online customers and physical receiving at five fulfillment-and-distribution centers located in the U.S. Once received, Shipbob sorts items into three categories: restock, hold, or disposal. If returns are restocked, they will again be shipped based on future orders directly from their designated center.
"The most important question to ask when assessing your reverse logistics process," says Andrew Bowden, Sr. Manager of Product Marketing at TradeGecko, "is whether or not you're designing and optimizing the experience for the customer or your business — ideally it's a mix of both. When in doubt, default to the customer. First, keep them up to speed on the returns process while in the flow either by email or, preferably, via Facebook Messenger or SMS. If your OMS facilitates this, incredible. Second, get feedback and ratings on the returns process itself — that's where you'll find gold nuggets to set yourself apart from the competition."
Benchmarks: Refunds, Reasons, Carriers & Costs
Lastly, in order to see how you stack up against your peers and competitors, Return Magic surveyed 1,000 businesses in multiple industries and compiled data from over 800,000 Shopify customers.
Consumer preference-based return reasons (e.g., size, fit, style, etc.) tend to drive around 72% of all returns in fashion product categories. Non-preference-based reasons (e.g., defective) and "not as described" account for 10% in total.
Top reasons for returns
Size too small: 30%
Size too large: 22%
Changed my mind: 12%
Style: 8%
Not as described: 5%
Defective: 5%
Other or not specified: 18%
Knowing the most common refund forms, carriers, and label costs will also help you benchmark your averages:
Refunds by form
Payment method: 64%
Exchanges: 18%
Gift card: 18%
Logistics carriers and label costs
Leading carriers: USPS (81%), UPS (11%), and FedEx (6%)
FCM is top mail class (47%) and PM (33%) is second
Effective average cost of a label is around $6.75
As a final consideration, across all Shopify businesses, 65% of refunds are performed manually, 35% via apps.
Beyond a Cure
You already know returns can be a disease. Poorly positioned pre-purchase, they gut conversion rates. Mismanaged post-purchase, they deplete margins and can even threaten your business.
Returns are the new normal. But with the right approach and tools, returns can become both a competitive advantage as well as a healthy source of loyalty and profits.