For online retailers looking to boost profits, encouraging visitors to spend more can be just as important and can even have more impact than simply looking to drive more traffic to your site.
There are plenty of proven and cost-effective techniques to increase average order values and it pays for retailers to do what they can to maximise revenues once shoppers arrive on site.
This can have the effect of improving the overall return on investment from your marketing spend.
In this post, I'll look at why average order value (AOV) is a metric you should be tracking, how to calculate AOV and some of the techniques you can use to encourage shoppers to spend more.
What is AOV and why does it matter?
Average order value (AOV) is one of the most important key position indicators (KPIs) for online retailers. Increasing AOV is about persuading customers to either add more items to their purchases or to buy more expensive items, pushing up the basket value.
AOV is not only a useful measure of how well your site is performing in terms of making it easy for customers to buy from you, but also of how persuasive your site is in terms of making each transaction as valuable as possible.
It's an insight which can be used to monitor buying trends, to guide website optimisation projects, as well as strategies around pricing and products. If you aren't already using some of the methods listed here, it can be a relatively simple way to improve your e-commerce site's performance.
Time and resources invested in increasing order values is money well spent, as it increases overall return on investment. It's a way to boost profits without necessarily increasing your current marketing budgets.
AOV is a simple metric to calculate – it's basically the total amount of revenue in a given period divided by the number of orders. For example, if your monthly sales amounted to £25,000, and you received 1,000 orders, your average order value would be £25.
It can be tracked via Google Analytics as long as you have e-commerce tracking enabled for your website. You'll find it in the 'e-commerce' section of the 'conversions' report on the left-hand side of your Google Analytics account.
Once here, it can be useful to track trends around AOV, to see whether the measures you take have an impact, and to dive into AOV trends in various ways.
Using Google Analytics, you can view AOV by different traffic sources, devices, customer locations and more. For example, you may find that order values from certain acquisition sources are higher than average. This could direct you to spend more in these areas or to learn from what works well for these segments.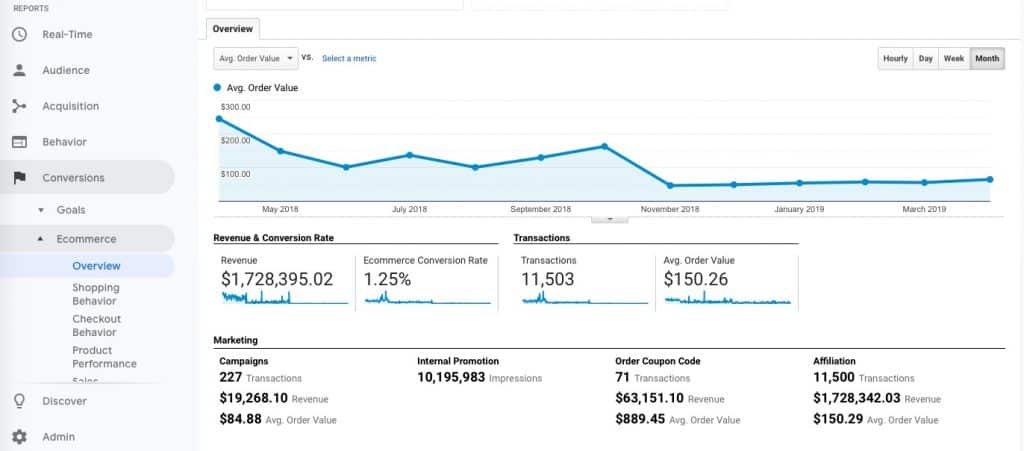 Methods for increasing average order values
There are plenty of things you can try when looking to increase AOV. One obvious one I haven't mentioned here is pricing. This would be the simplest way to increase order values, but of course, it comes with the risk of deterring customers.
Pricing strategy should be reviewed regularly of course and may need to change in line with your competitors', or the cost of your products and delivery, but here I'm assuming this is dealt with already.
1. Loyalty programmes
The stats show that loyal customers spend more with retailers, so it pays to create strategies for retaining and rewarding the most loyal customer segments.
These loyal customer segments may spend more simply because they are likely to make repeat purchases, not necessarily because they spend more per visit, but loyalty schemes can encourage them to add more to their baskets on each visit.
Loyalty schemes can encourage customers to spend more with features like tiered rewards such as those offered by Urban Outfitter. The biggest spenders can reach VIP status, which unlocks an extra level of rewards, including tickets for exclusive events, and birthday gifts. This can encourage people to add a little more to their shopping baskets.
Simply encouraging customers to collect a few more points to reach a certain threshold can persuade them to spend more.
For example, schemes like Tesco Clubcard offer vouchers in increments (which can be used against future purchases, or for discounts on days out, restaurant meals, etc.). If customers are close to earning another voucher, then they can be encouraged to spend a bit more.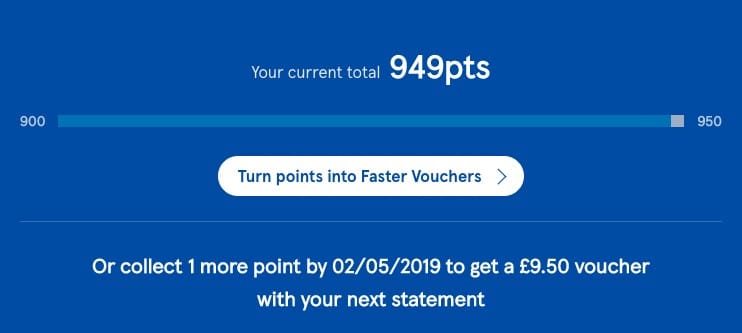 2. Delivery thresholds
One simple way to encourage people to spend more is to offer free delivery for orders above a certain amount. Free delivery is a well-established sales driver and can be just the carrot that people need to spend more.
Here, Simply Hike offers free delivery on orders over £50, so for customers it becomes worth spending a little extra once they're close to reaching that amount.
For retailers, it pays to promote these offers clearly, showing them around the site, and reminding customers on product pages, and as they enter the checkout to ensure they see them at the point where they can take action.
The message here is perfect from that perspective, telling customers how much more they need to spend to qualify.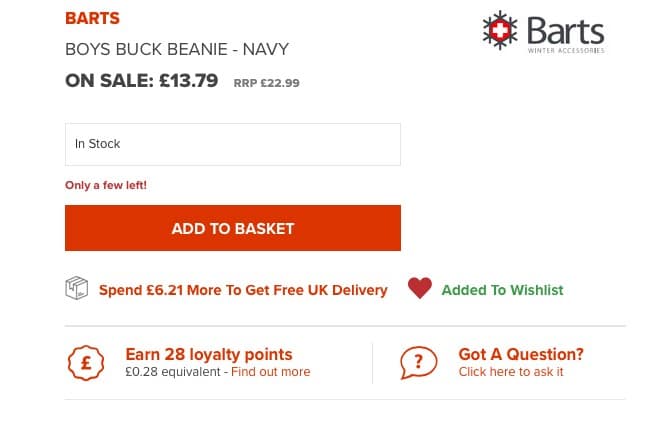 3. Bundling related products together
When customers are viewing a product, offering a bundle of related items can persuade them to spend more, while also helping them to find key accessories.
This may take the form of a bundle discount, or perhaps a three for two offer. It can speed up customer decision making, by helping them to find relevant products.
Amazon regularly does this on product pages, such as this bundle of camera, SD card, and case. Often these don't even involve discounts, it can be just about convenience.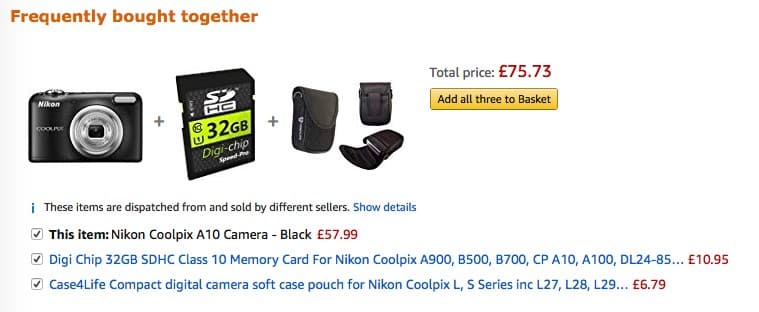 For smaller retailers there are plenty of apps (like this one from Shopify) which can automatically generate volume discounts for customers, or create product bundles, helping to drive up order values.
4. Cross-selling
Cross-selling is about recommending additional products and services to customers, related to those they're viewing or about to buy.
For example, Sous Chef shows related Mexican ingredients to those already added to the shopping basket. These are relevant recommendations and help to encourage the shopper to spend a little more.
Used in conjunction with a free delivery threshold, this can be a very persuasive tactic.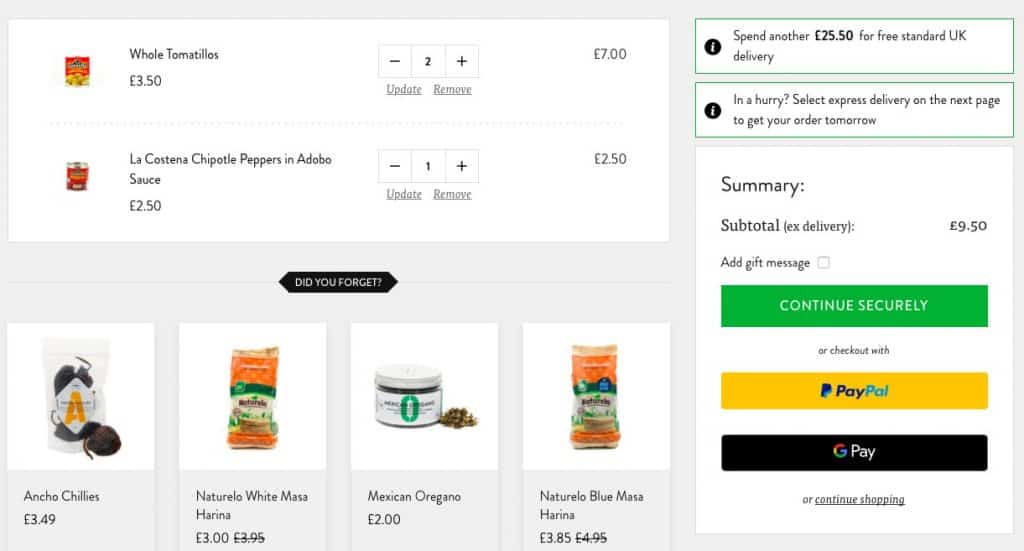 5. Up-selling
Up-selling is about persuading customers to buy more expensive products than the one they're considering.
Here, on a product page for a £230 TV, Currys shows related TVs, all of which are more expensive. The key to good up-selling is to show relevant products, and to highlight the key selling points to explain why it might be worth paying more.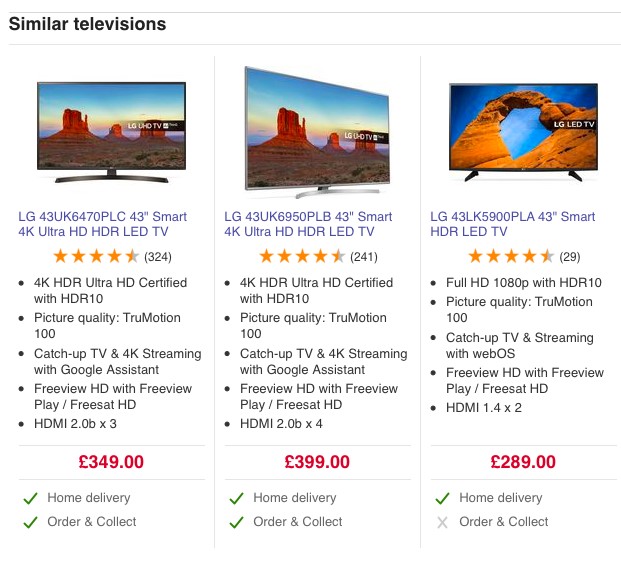 6. Promotions
Time-limited promotions can be used to persuade people to add more to their baskets while the offer is active and they can get a good deal.
7. Buy now, pay later
For higher ticket items, flexible credit options can help persuade customers to buy more, or to buy more valuable products knowing they can spread the cost out over several months.
Indeed, stats suggest that finance options have helped to increase average order value for some retailers.
8. Gift wrapping and other extras
Once customers have placed an order, there are plenty of complimentary services which could be offered to increase order values. This could include extended guarantees or technical support for electrical purchases, or extras like personalisation of products.
Gift wrapping is one obvious extra to offer, especially in the run up to Christmas. It helps the customer out and makes orders more profitable for the retailer.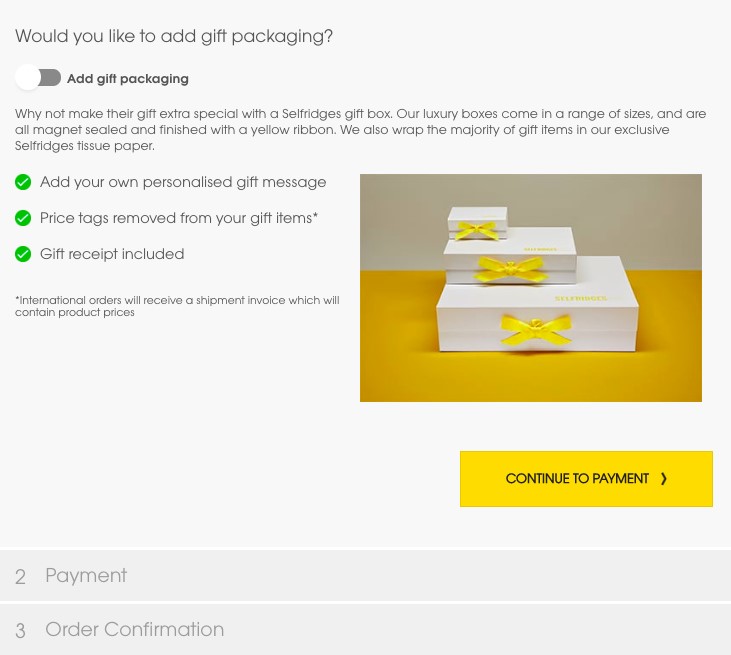 9. Show user reviews
User reviews are valuable for retailers in many ways. They help customers to make decisions on products and therefore increase sales, while they can also help retailers to improve search engine rankings.
They can also help to increase average order values, according to Bazaarvoice's Conversion Index. Its data found that product page viewers who interacted with reviews had order values 3% higher than those who didn't.
10. Using live chat
Live chat and other immediate customer contact options can help to take users through the buying process. One obvious benefit is that they can address problems customers may be having on the site or answer questions about products, delivery and so on.
This can help to drive sales, but another benefit of live chat is that it can also be used for up-selling and cross-selling, thereby helping to drive up average order values.
Indeed, this case study shows that the average order value for Intuit increased by 43% for sessions in which live chat was used.
11. Predictive personalisation software (PPS) for email marketing
Personalisation can help to produce more relevant content and product recommendations for email marketing, and the stats suggest the effort invested in personalisation is worth it.
As quoted by Econsultancy, One Sport found that general engagement metrics improved when using personalised emails, and average order values increased by 5% when personalisation is used.
PPS is a hugely distinct way of nurturing your customer satisfaction, and close personal relationship with each and every one, coming back to whether that be for 5,000 or all 5 million of them.
The statistics for this treatment of email marketing has been calculated by both McKinsey and Statista, and deemed to be as much as 20x the returns currently enjoyed by traditional email marketing ESP, omnichannel and triggered solutions combined.

This is where the enterprise people prick their ears up, as this is a whole tranche of marketing that many of them are not yet addressing currently, still believing it is covered by the efforts and solutions offered by their existing providers.
Consider how pertinent to your marketing efforts, the feeling your customers enjoy when they get an email from you, using this software. Because it is a martech solution, that email will always be personal to that individual. It doesn't matter whether the last time they visited your website was last night or last week, what they looked at was being captured, not just to flog that product, but to rank it in order of highest buying propensity.

There's no point sending details of the last item they looked at, if it doesn't fit into that individuals buying criteria, a unique pattern personal to each and every one of us, that needs to be learnt. A human can't do that, but your newly installed software algorithm can. For more details see how to take advantage of predictive personalisation.
In summary
Rather than throwing budget at acquisition, it can really pay to work on improving order values.
The methods outlined here are all easily accessible for retailers, and there are plenty of apps and plugins which can do much of the work.
The key is to take a structured approach, measuring AOV and seeing how and whether the changes you introduce help to increase order values. It's also important to keep an eye on AOV trends, downwards and upwards, to spot opportunities for improvement.