Essential grocery ecommerce checklist. This year has seen grocery eCommerce become an essential part of the food and beverage industry. For example, shoppers pushed the grocery chain, Kroger's, into the top 10 companies for digital sales in the United States. Consumers around the globe turned to eCommerce to get their groceries during COVID-19 and many will keep ordering online for years to come.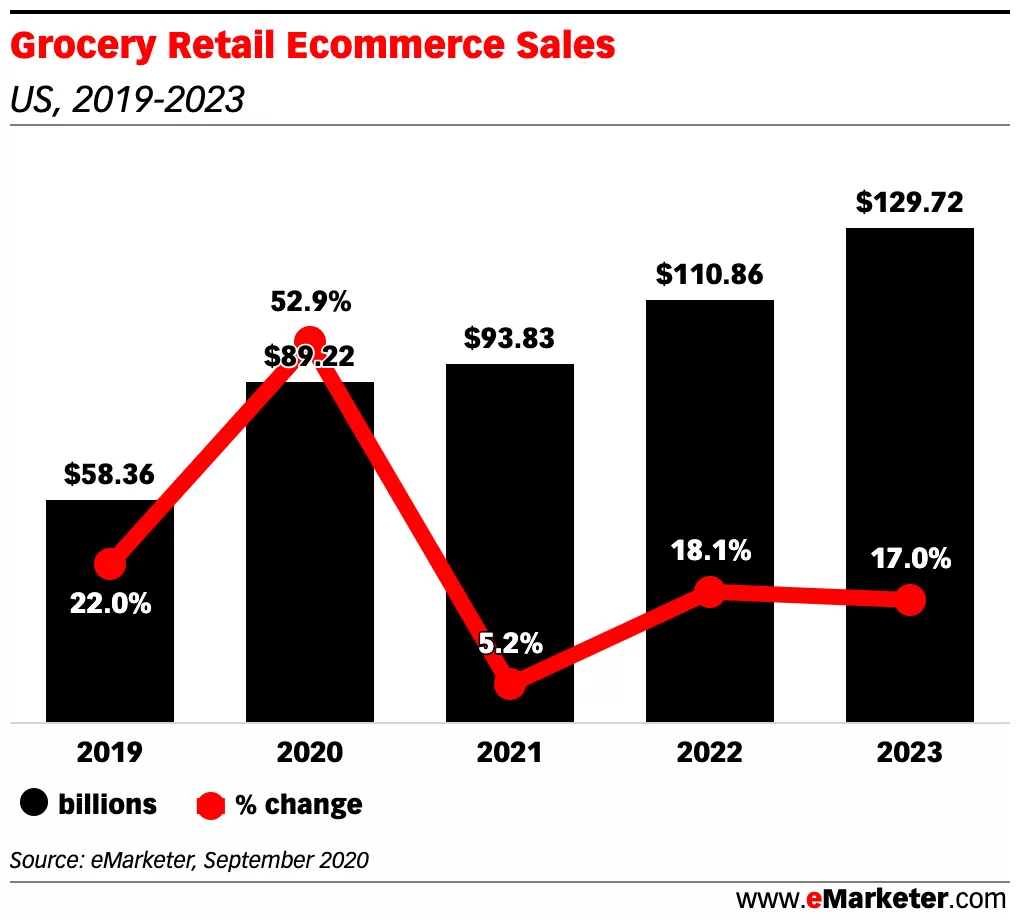 It wasn't only the United States which saw a dramatic increase in online grocery sales. The online grocery business also saw a significant boost in the United Kingdom. For example, a UK grocer, Ocado Group Plc, reported a 27% increase in their grocery eCommerce sales. In one month, France saw supermarket sales rise by 34%. Online shopping, especially in the food and beverage industry, is here to stay as grocery eCommerce adds more convenience to the customer journey.
In this article, we discuss key challenges, lessons and grocery eCommerce trends for merchants to keep in mind. We've compiled this knowledge while working with companies across the food and beverage industry. With this information, we hope you will increase your long-term success in grocery eCommerce.
Grocery Ecommerce
Although grocery stores typically stock a wide range of products, food dominates—and this brings specific requirements. Food products are sold via a range of different options. Some are sold by weight rather than by piece, and their perishable nature dictates unique storage conditions across the supply chain. But the challenges don't end there.
As we'll see, merchants need to navigate optimal pick & pack processes, refunds, replacement products and deliveries, to name but a few. Each step holds its own set of challenges that must be overcome if you can offer your customer the experience they demand. Let's take a closer look at each point to keep in mind.
Business Model
Grocery retail companies often have a business model with a mix of corporate, franchise, and independent stores under the same retail banner. This model adds complexity when launching a grocery eCommerce solution with in-store picking due to local variations in product assortments, sales prices and promotions.

Grocery retail has a long history of loyalty programmes with bonus points, earn and burn, personal offers, etc. Consumers expect the same loyalty features when shopping online. Consumers also expect to get suggestions on my usuals, relevant recommendations and recently purchased products based on historical online and in-store purchases.

Low profitability is historically common for pure players and traditional grocery retailers that start with in-store picking. Research shows that home delivery and in-store picking are the main cost drivers and offer the biggest potential for increased efficiency.
Products
Certain products need to be stored under appropriate conditions until delivered to your customer. For example, there may be regulations around storage temperatures, or the recipient must be 18 or 21 years old, which needs to be validated at delivery.

Food and beverage retailers that sell fresh, produced and food-to-go products manually packed in the store add further complexity with more product attributes, expiry dates, and minimum order quantities.

Perishable groceries are often ordered by weight, and a variety of methods exist to present, buy, and pick them. It's impossible to determine the exact weight of some fruit. A variation in weight requires the card amount pre-authorisation to reflect the allowed variation. The total price still needs to be recalculated based on the delivered weight, which can get complex with thousands of orders.

A grocery store may just have food and beverage products, but what if you add a range of non-food items? And what if we then include clothing, electronics and DIY? As in many industries, there are a handful of products that generate the bulk of sales, and then there are long-tail products which are rarely sold, but that make a significant contribution to profit.
Stock
Food products have a limited shelf life and a high turnover. Plus, warehouse and store area capacity is limited. Therefore, frequent replenishment is needed, but supplies are not necessarily 100% guaranteed. For grocery eCommerce with in-store picking, customers will be walking around in the store with some of the stock in their shopping baskets. That is why the IT system stock level is never completely accurate, which adds complexity.

In most eCommerce scenarios, you want to pick, pack, and ship items as soon as possible. But for grocery eCommerce, the order is picked as late as possible—just before store pick-up time or the time of departure for home delivery. The time between the order placed and then shipped could occur over several days. So when an order is received, it's almost impossible to know the product stock at the time of picking.
Storage Conditions
In line with regulations, food products need to be kept in specific conditions until handed over to a customer. Food products must also have no contact with household chemicals. As such, grocery stores must have complete control over the supply chain—from receiving a product at the warehouse or store to final delivery.

The key challenge with storage is that certain conditions must be met during each phase (picking, packing, delivery, transit) and across product types (frozen, cool, alcohol, chemicals).
In high volume in-store eGrocery, it's important to manage storage efficiency in buffer storage areas before route departure or pick up.

With self-service 24/7 grocery lockers with temperature zones, there are even stricter requirements to secure freshness until custom pick up.
Service Area
Ecommerce has no international boundaries. But for grocery eCommerce, the service area is limited to one country and often to an even smaller geographic area depending on the fulfilment centre's location and the product assortment sold.

You can set up multiple service centres to extend your reach, but there will always be blind spots. In our experience, optimising your service area is one of the keys to a successful online grocery business.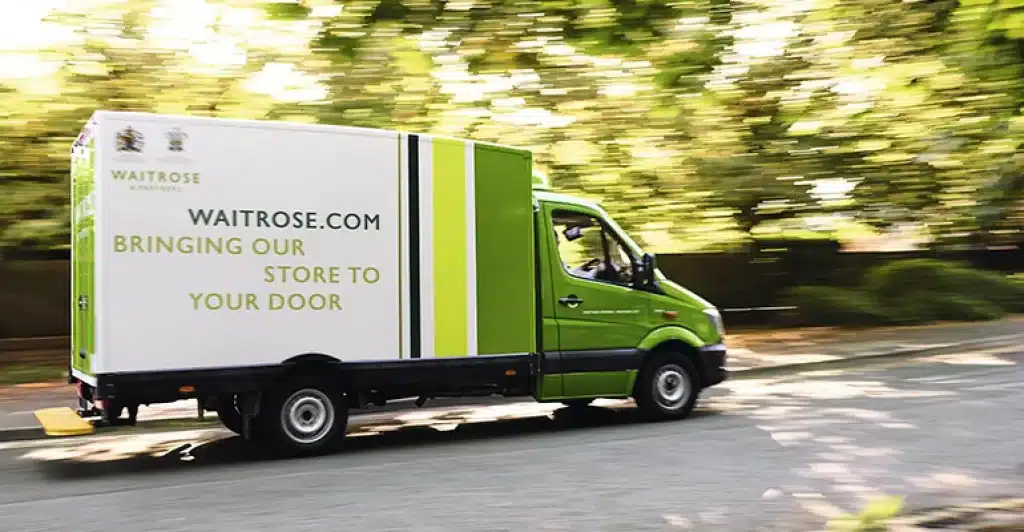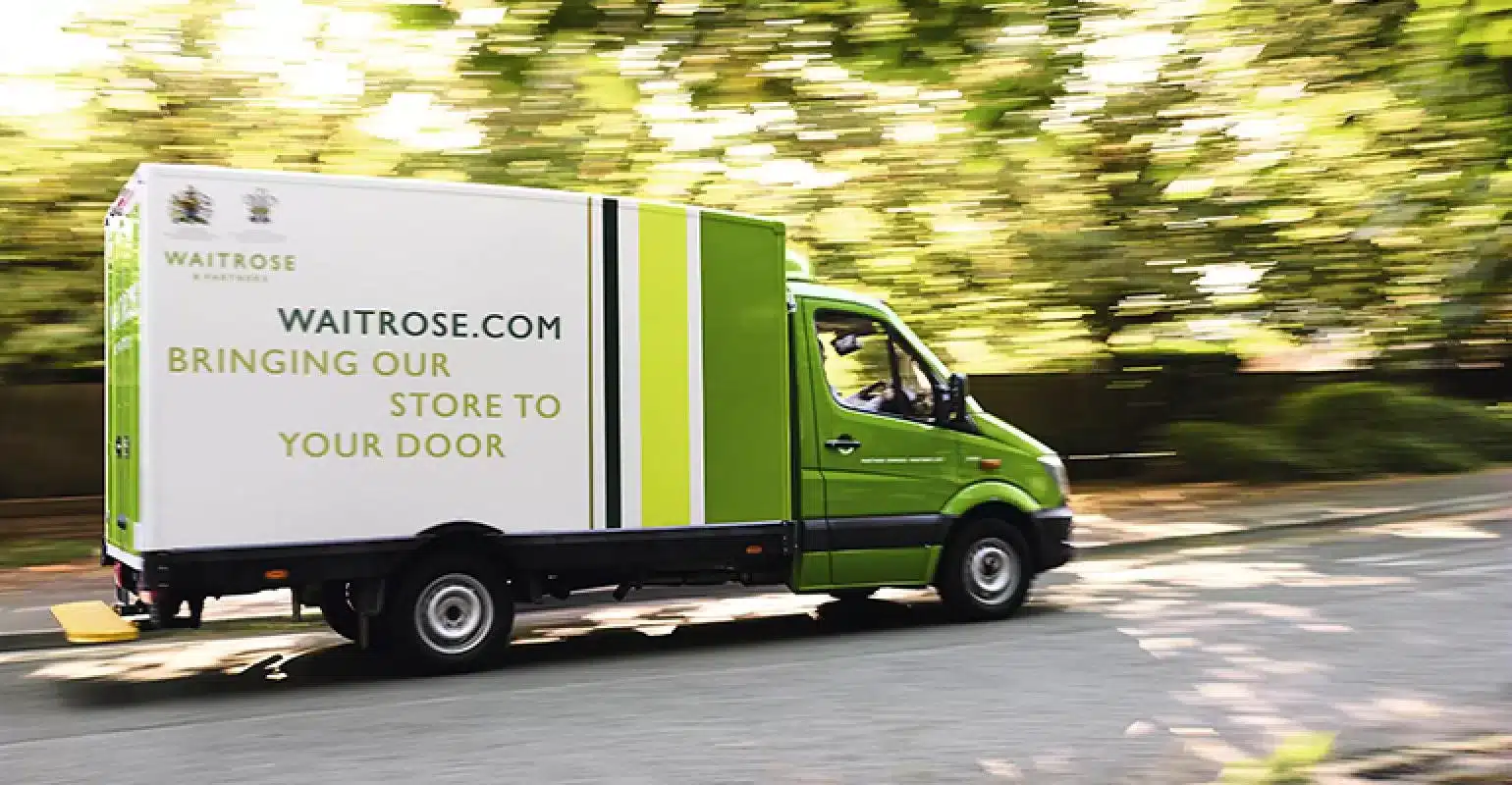 Time slots and Delivery
Unlike the delivery of say, a book, your shopping delivery can't a) fit through a letterbox or b) be left alone for hours on end after delivery. Managing available order delivery times helps you organise your processes, balance the workload (order load) and provide the best service to your customers.

Integration with best-of-breed software is crucial in optimising delivery and courier administration. This integration boosts efficiency and profitability for grocery eCommerce when order volumes increase.
Pick and Pack
Grocery orders typically consist of many products, requiring lots of time to pick and pack. The picking process is both time-consuming and time-critical. And during the picking process, teams must consider various factors: the weight of products, products requiring special treatment, replacement products, cancellation of products, and the need to communicate with the customer.
Which products?
Let's take the case of bananas. A merchant may have available to them bananas at different stages of ripeness. Let's assume they then receive a large order of bananas. Which ones should you pick? If for a family's long-term consumption, then expectations might differ. But what if the same order is made for a conference, where attendees consume them at the same time? As a merchant, you need a way to anticipate their preferences.
Price recalculations, replacements and refunds
After ordering groceries online, you most likely received a substitute product. You ordered milk Brand A, but it was unavailable, so you got milk Brand B instead. If this is the case, merchants must consider the associated price difference—if the replacement product costs less, you'll need to refund. Still, if it's more expensive, you'll need to discount the product to match the price paid in the initial order.