How to create a social media strategy. A social media strategy is a summary of everything you plan to do and hope to achieve on social media. It guides your actions and lets you know whether you're succeeding or failing. The more specific your plan is, the more effective it will be. Keep it concise. Don't make it so lofty and broad that it's unattainable or impossible to measure.
Track meaningful metrics
Vanity metrics like number of followers and likes are easy to track, but it's hard to prove their real value. Instead, focus on things like engagement, click-through, and conversion rates. You may want to track different goals for different networks, or even different uses for each network.
For example, if you use LinkedIn to drive traffic to your website, you would measure click-throughs. If Instagram is for brand awareness, you might track the number of Instagram Story views. And if you advertise on Facebook, cost-per-click (CPC) is a common success metric.
Social media goals should align with your overall marketing objectives. This makes it easier to show the value of your work.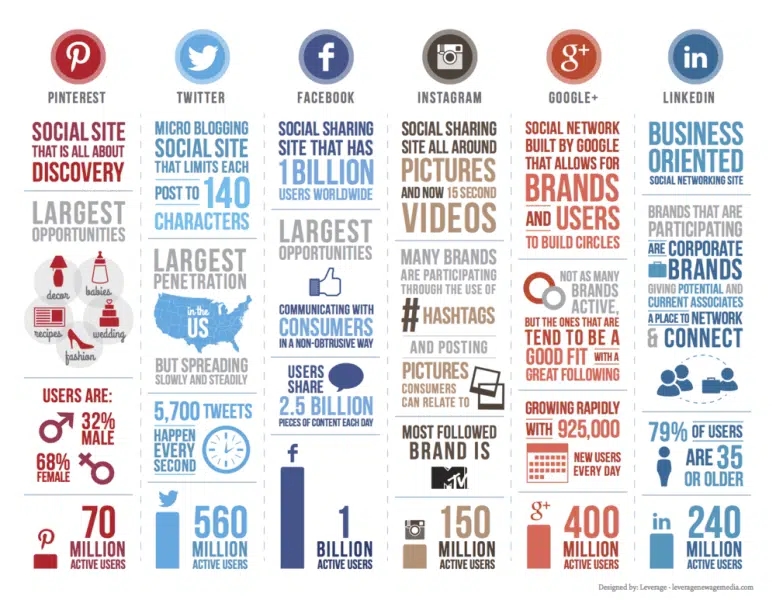 Learn everything you can about your audience
Create audience personas
Knowing who your audience is and what they want to see on social media is key. That way you can create content that they will like, comment on, and share. It's also critical if you want to turn social media followers into customers for your business.
Get to know your fans, followers, and customers as real people with real wants and needs, and you will know how to target and engage them on social media.
Gather data
Don't make assumptions. Think Facebook is a better network for reaching Baby Boomers than Millennials? Well, the numbers show that Millennials still outnumber Boomers on the platform. 
Social media analytics can also provide a ton of valuable information about who your followers are, where they live, and how they interact with your brand on social media. These insights allow you to refine your strategy and better target your audience.
Jugnoo, an Uber-like service for auto-rickshaws in India, used Facebook Analytics to learn that 90% of their users who referred other customers were between 18- and 34-years-old, and 65% of that group was using Android. They used that information to target their ads, resulting in a 40% lower cost per referral.
Know your competition
Odds are your competitors are already using social media, and that means you can learn from what they're doing.
Conduct a competitive analysis
A competitive analysis allows you to understand who the competition is and what they're doing well (and not so well). You'll get a good sense of what's expected in your industry, which will help you set social media targets of your own.
It will also help you spot opportunities.
Maybe one of your competitors is dominant on Facebook, for example, but has put little effort into Twitter or Instagram. You might want to focus on the networks where your audience is underserved, rather than trying to win fans away from a dominant player.
Use social media listening
Social listening is another way to keep an eye on your competitors.
Do searches of the competition's company name, account handles, and other relevant keywords on social media. Find out what they're sharing and what other people are saying about them.
Evaluate and adjust your strategy
Your social media strategy is a hugely important document for your business, and you can't assume you'll get it exactly right on the first try. As you start to implement your plan and track your results, you may find that some strategies don't work as well as you'd anticipated, while others are working even better than expected.
Look at performance metrics
In addition to the analytics within each social network (see Step 2), you can use UTM parameters to track social visitors as they move through your website, so you can see exactly which social posts drive the most traffic to your website.
Re-evaluate, test, and do it all again
Once this data starts coming in, use it to re-evaluate your strategy regularly. You can also use this information to test different posts, campaigns, and strategies against one another. Constant testing allows you to understand what works and what doesn't, so you can refine your strategy in real time.
Surveys can also be a great way to find out how well your strategy is working. Ask your followers, email list, and website visitors whether you're meeting their needs and expectations, and what they'd like to see more of. Then make sure to deliver on what they tell you. Social media moves fast. New networks emerge, others go through demographic shifts. Your business will go through periods of change as well.
All of this means that your social media marketing strategy should be a living document that you review and adjust as needed. Refer to it often to stay on track, but don't be afraid to make changes so that it better reflects new goals, tools, or plans.
When you update your social strategy, make sure to let everyone on your team know. That way they can all work together to help your business make the most of your accounts.