Ecommerce to become top channel for pet products. The pet food industry, which is projected to grow to a gargantuan $200b value globally by 2025, is undergoing massive change as the brands shift and adapt to many of the same ecommerce trends that are rocking the traditional CPG industry.
From emerging direct-to-consumer brands that challenge big pet retailers to a boom in delivery demand accelerated by COVID-19, the pet food industry is moving faster than ever to react to the changing market.
Surging Demand For Pet Food Ecommerce
Pet food was already experiencing an online boom prior to COVID-19, with pet food ecommerce growing by 53% year-over-year compared to brick-and-mortar growth of 0.7%.
Both established pet retailers and DTC newcomers have rushed to fulfill market demand for pet food and beyond, including pet products, pet wellness, and pet services.
Amazon, Walmart, and Chewy have become favorites for pet owners shifting dollars to online, according to data from Pet Food Forum.
In fact, pet products are now the fifth-largest purchase category for Amazon Prime Users, with the percentage of shoppers using Prime for pet products rising from 30% to 37% between February and June 2020 alone.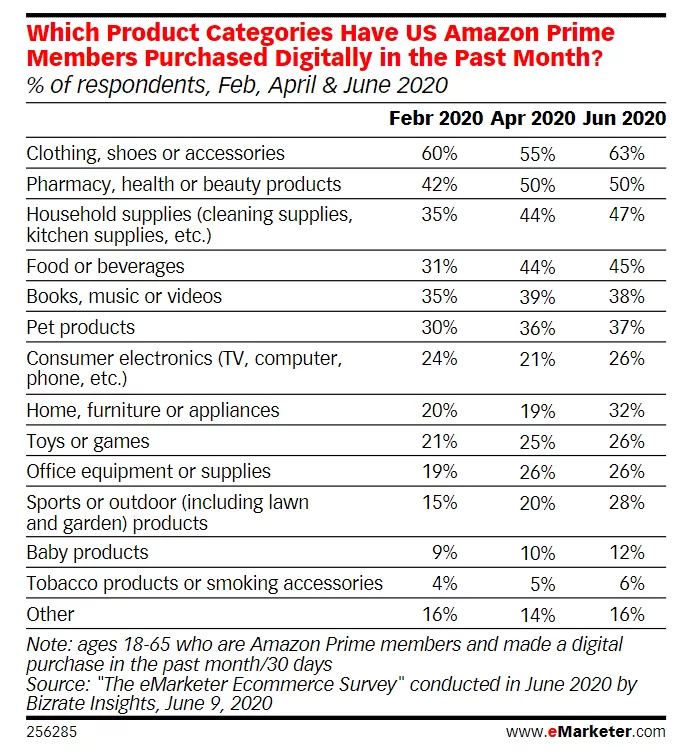 The growth in pet food and pet product ecommerce has continued and even accelerated in 2020, due to COVID-19's impact on driving consumers away from physical stores and toward online storefronts to meet their pet product needs.
COVID-19 Accelerates Demand for Online Pet Products, Services
With consumers facing lockdown restrictions in the US due to COVID-19, shoppers are now moving to online pet retailers to meet their needs than ever before. For example, pet food ecommerce sales surged 77% in March 2020 YoY, according to a report by Nielsen.
"In just one month, from February to March 2020, online pet food sales jumped US$281 million, more than 51%. Subscription purchases of pet food also increased 28% from February to March," says Debbie Phillips Donaldson of PetFoodIndustry.com.
The race to meet consumer demand has opened up big opportunities for both established retailers and DTC challengers alike.
Pet DTC Brands and Startups Capitalising Market Demand For Delivery, Wellness, and Pet Services
Ecommerce platforms, audience data insights, digital marketing, and logistics capabilities have disrupted every vertical in the last 20 years and the pet food industry is no different.
The surge in online demand, coupled with new ways to market products directly to pet owners, has created an opening for smaller, innovative brands to rise up and challenge established pet food giants.
For example, some of the same minds that turned the online mattress industry upside down with Casper recently founded Jinx, a direct-to-consumer pet wellness brand. In an interview with Digiday, Terri Rockovich of Jinx explains the appeal of DTC brands,
"For the millennial and Gen Z audience, direct-to-consumer marketing holds substantially more appeal over traditional marketing models as they speak to their priorities: ease, convenience, transparency, controlled costs, authenticity, and a seamless shopping experience."
Jinx isn't alone. There's also The Farmer's Dog, Dandy, Ollie — a new class of up-and-coming pet DTC brands that are capitalizing on changing consumer behaviors market demand for pet food delivery, premium pet food, pet wellness, and more.
The innovation doesn't stop there.
An entirely new market has opened up online for on-demand pet services, such as dog walking.
There's no better example of this than Wag and Rover, two startups that earned over $300m in venture capital funding to build marketplaces for pet services like dog walking, pet sitting, grooming and more.
The Rise of Premium and Healthy Pet Food
Pet owners, and millennials, in particular, are spending more than ever on their fur babies.
Where are these dollars going? According to a report from eMarketer, one of the most attractive buys for pet owners is premium pet food.
Krista Garcia of eMarketer explains that a newer generation of pet owners are paying more attention to the diets of their pets:
"US spending on pet care continues to rise. Why? Pet food trends follow human fancies, which means a growing focus on wellness that has extended to furry members of the family. Nielsen saw a 36% increase in household pet food spending from 2007-2017, driven by sales of premium brands. In 2017, consumers spent an average of $710 on pets, per the US Bureau of Labor Statistics, which, as Quartz reported, is higher than spending on cable TV."
According to another survey from Packaged Facts, "people who purchased higher-priced pet food, particularly dog food, tend to be more likely to purchase online."
Raw ingredients, probiotics, and non-GMO pet food product searches are all booming, according to a Nielsen report cited by eMarketer. Petfood retailers should be at the front of innovation adoption, and SwiftERM offers a free trial of a promised 1500% ROI solution which identified imminent consumer purchases and secures them, in addition to existing software installed.