Ecommerce is the future of the global economy. Online spending represented 21.3% of total retail sales for the year, according to Digital Commerce 360 estimates. Amazon accounted for nearly a third of all ecommerce in the United States.
Consumers spent $861.12 billion online with U.S. merchants in 2020, up an incredible 44.0% year over year, according to estimates. That's the highest annual U.S. ecommerce growth in at least two decades. It's also nearly triple the 15.1% jump in 2019.
Online's share of total retail sales has steadily been on the rise—with ecommerce penetration hitting 21.3% in 2020. That's up from 15.8% in 2019 and 14.3% in 2018. The more than five-percentage point gain in ecommerce penetration is by far the biggest year-over-year jump for U.S. retail sales ever recorded. No other year has even reached a two percentage-point gain in digital penetration.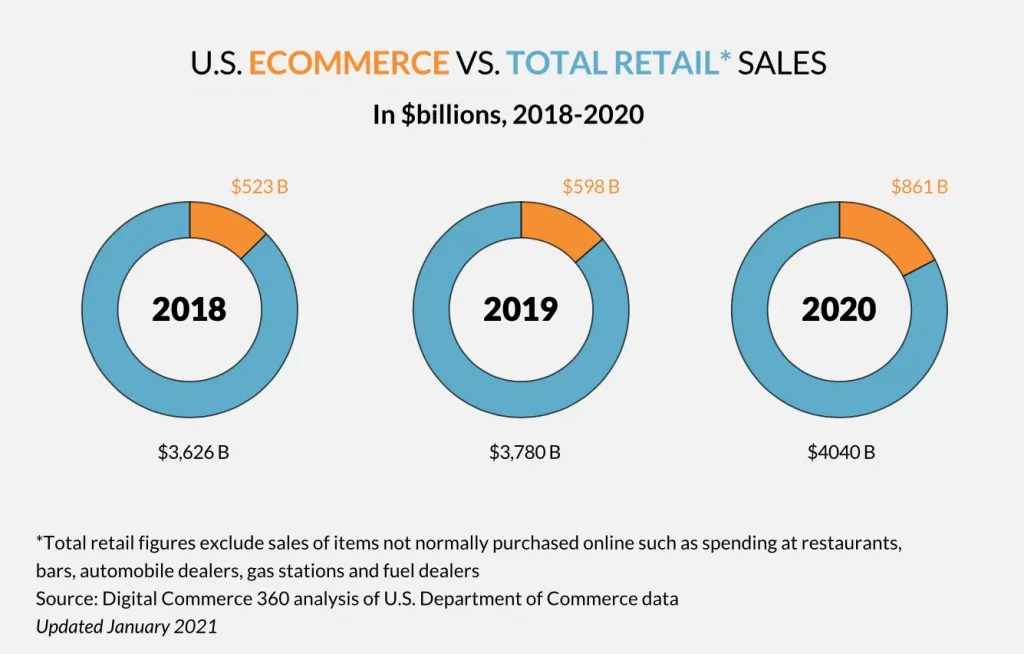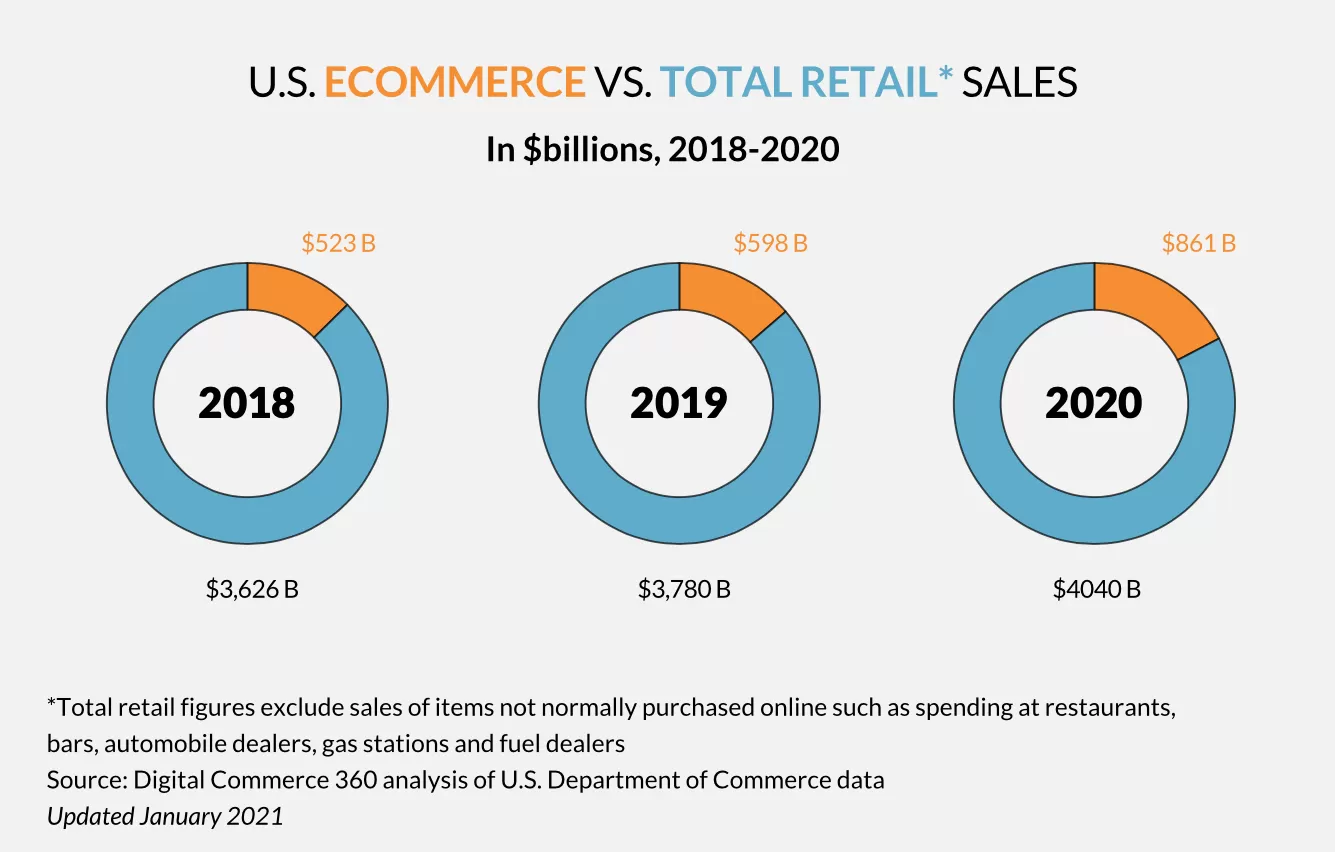 COVID-19-related boosts in online shopping resulted in an additional $174.87 billion in ecommerce revenue in 2020. If it weren't for the bump in online sales from the pandemic, the $861.12 billion in ecommerce sales wouldn't have been reached until 2022.
$4.04 trillion total in US retail sales
Total retail sales increased 6.9% to $4.04 trillion from $3.78 trillion the year before, analysis of the latest U.S. Department of Commerce figures. This is the highest growth since 1999. Studies non-seasonally adjusted Commerce Department data and excludes sales of items not normally purchased online, such as spending at restaurants, gas stations and auto dealers.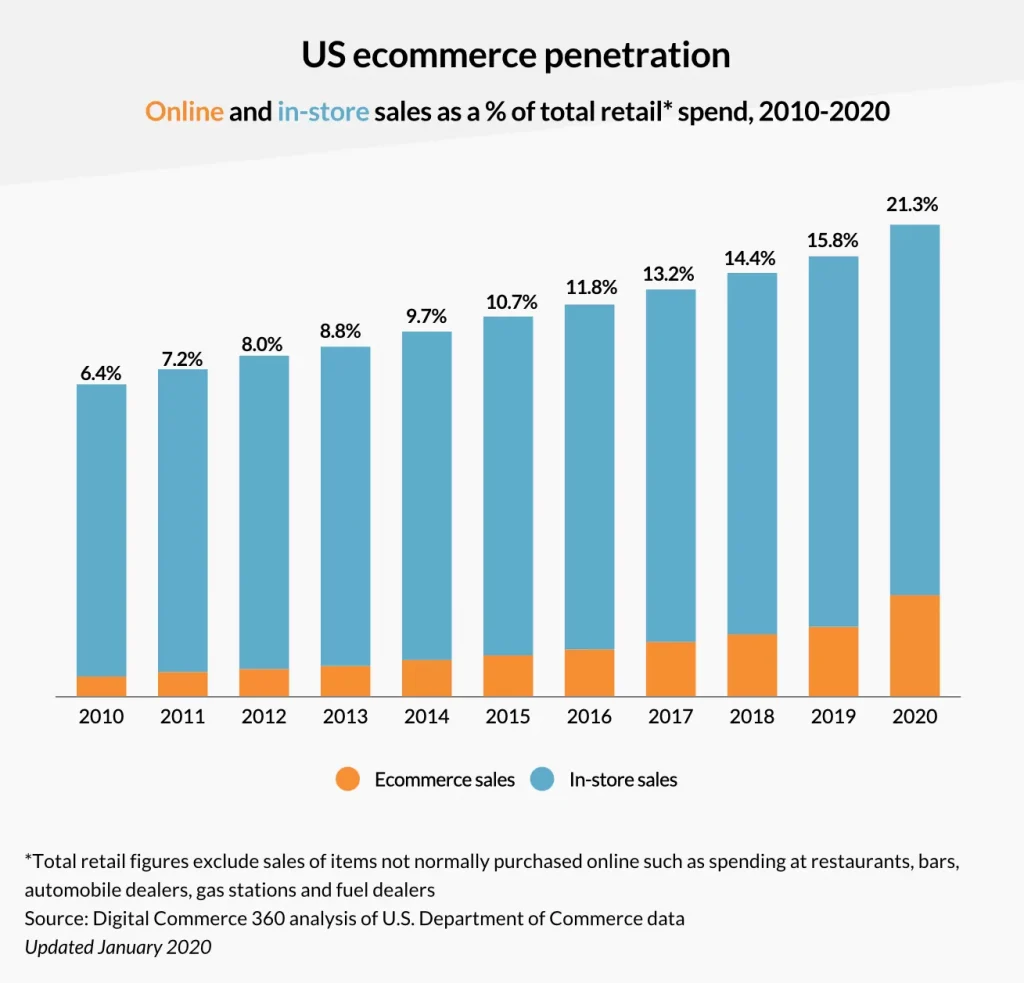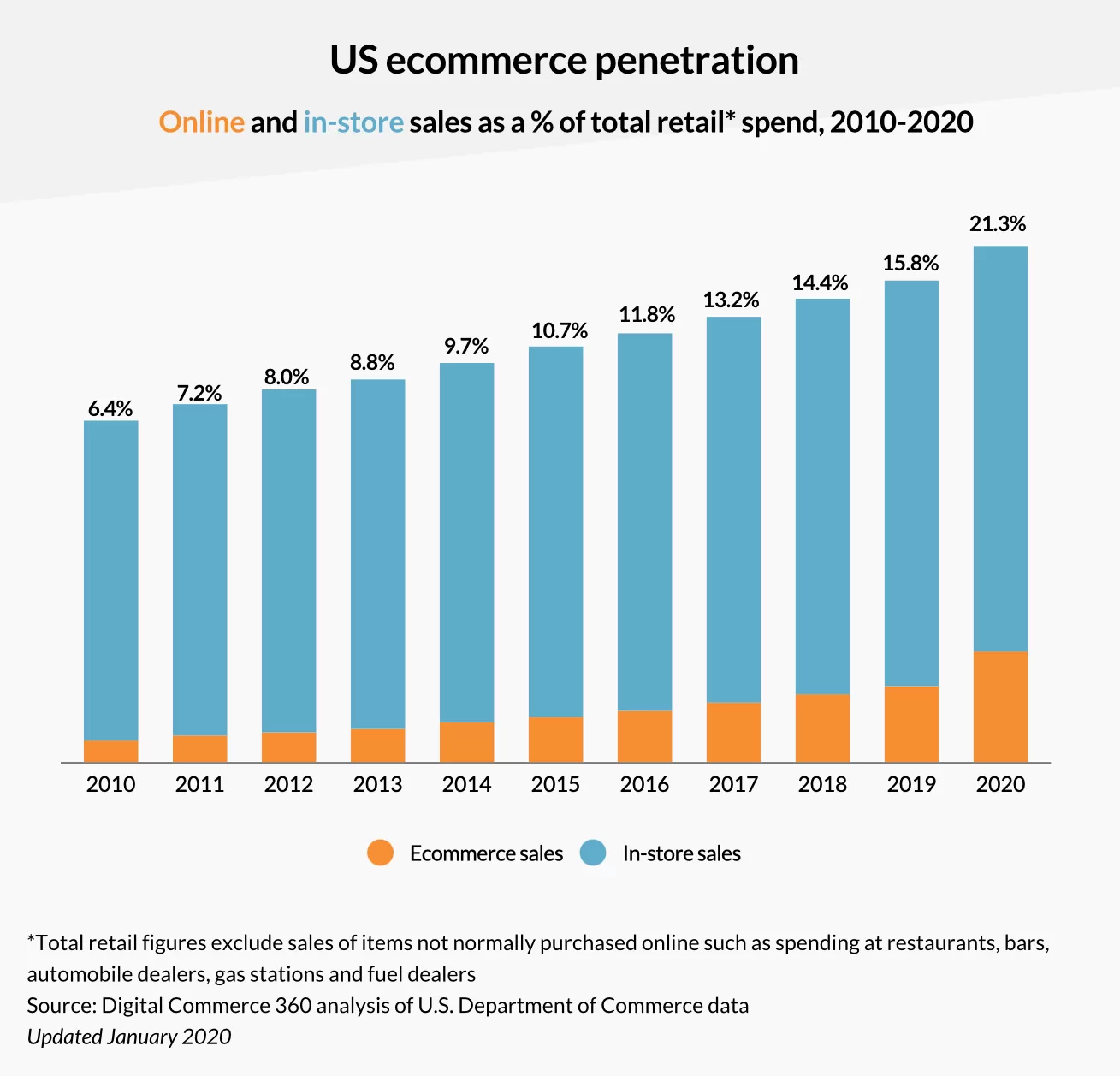 The record-breaking jump in total retail sales may come as a surprise considering the coronavirus pandemic's negative impact on in-store shopping. However, all of the growth in retail came from ecommerce. Online sales accounted for 101% of all gains in retail in 2020. This means sales through all other channels—stores, catalogs and call centers—declined. This is the first time in history that ecommerce sales accounted for all retail sales gains. The previous high was in 2008, when ecommerce accounted for 63.8% of all retail sales growth.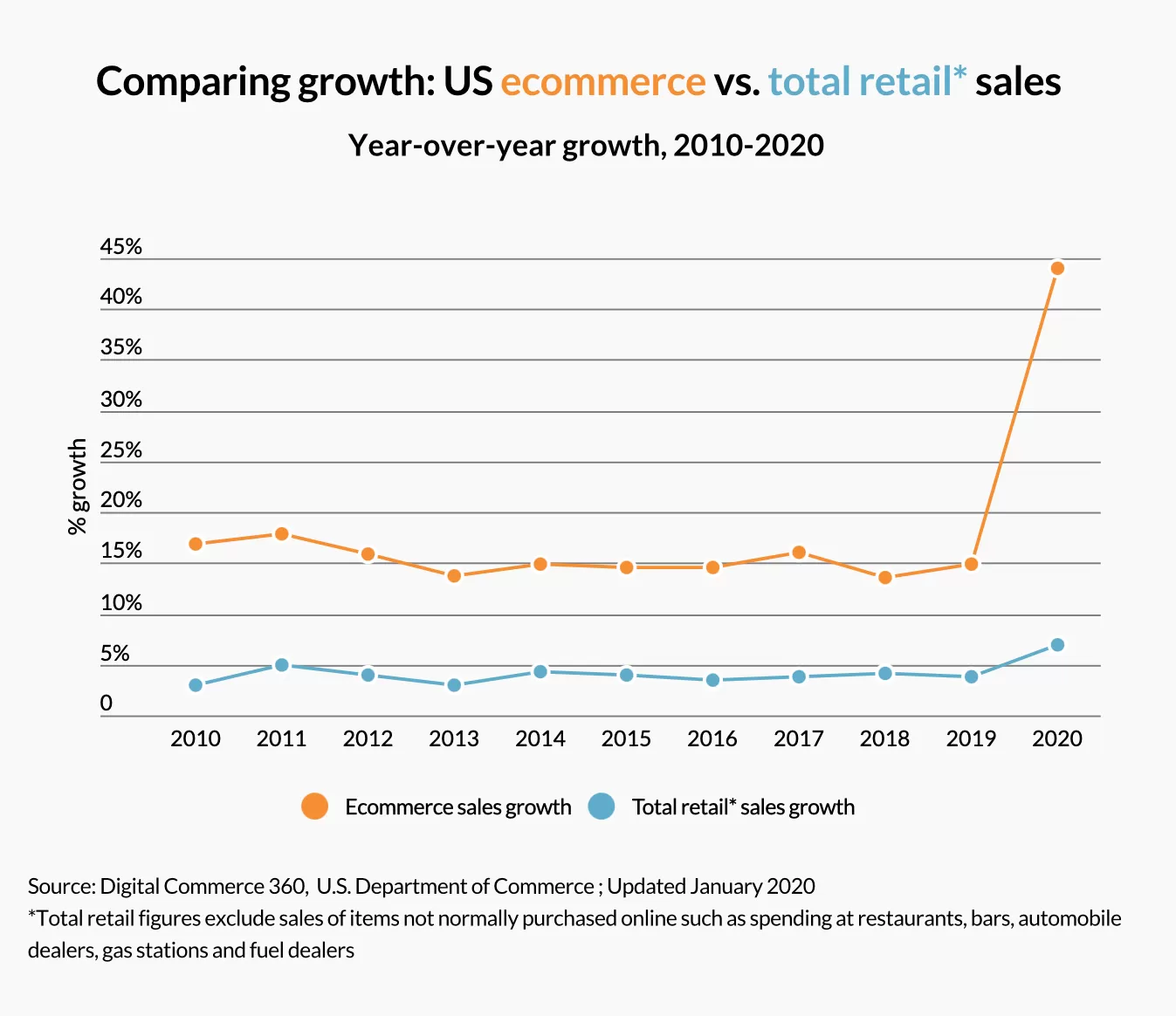 Amazon loses grip on its share of ecommerce sales as other online retailers grow
Amazon maintains its spot as the No. 1 online retailer in North America by a large margin. The online retailer's 2020 revenue will cross $296 billion, up 38.6% from 2019. The company reports its full-year earnings in February. These figures include Amazon's sales from its own products (first-party inventory), plus the commissions and fees it gets from its marketplace sellers and its Amazon Prime memberships and other subscription services.
This means sales on Amazon alone represented nearly a third—31.4%—of all U.S. ecommerce sales growth in 2020. That's certainly a significant share of online sales growth, and one we're familiar with when it comes to the ecommerce giant, but there's more to the story. The 31.4% is down from Amazon's 43.8% share in 2019. This is likely a sign of the gains made by other big competitors in 2020.
For instance, the top 100 retailers (minus Amazon) had a striking 74.1% share of ecommerce growth in 2020, up significantly from a 49.4% share in 2019. Analyzing the share of growth is important so we can better understand which retailers are accountable for the big shifts in ecommerce.
Amazon for years (even decades) has alone accounted for much of the gains in U.S. online retail. In 2020, however, it's clear that the pandemic pushed many more consumers online—and they didn't all shop on Amazon. At least some are shopping on other large online retail sites, such as Walmart, Best Buy, Target and Kroger—all top 20 retailers on track to grow online sales more than 85% in fiscal 2020.
Who were the top 0nline retailers in 2020?
Each spring, sees a ranking of the Top 1000 largest online retailers in North America based on the previous year's web sales. Here are the top 10 online retailers based on early estimates of 2020 ecommerce revenue for each retailer. Many of these companies don't report year-end numbers until February through May, so these are based on early projections.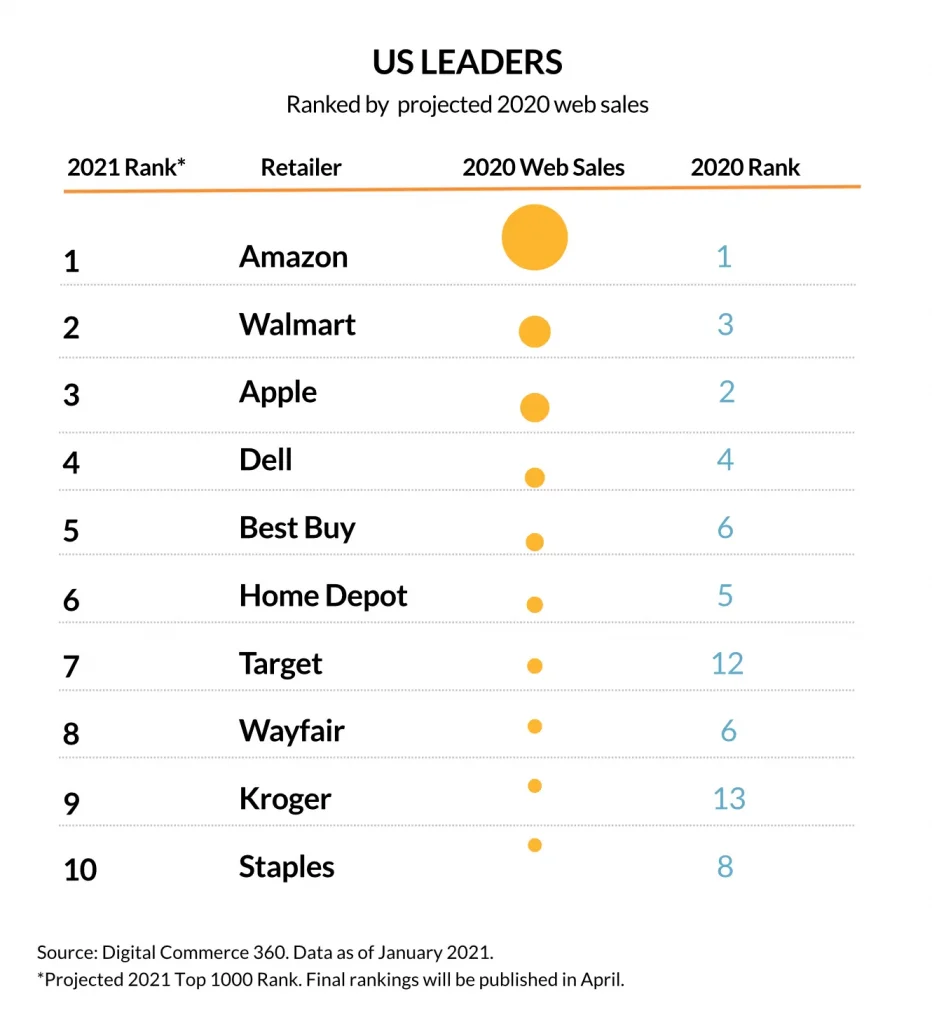 There are some significant shifts from last year. For the first time, Walmart will be the No. 2 online retailer in North America, surpassing Apple Inc. Also for the first time, Target Corp. will crack the top 10. Best Buy will jump five spots to No. 5 from No. 10. Since these are all such large retailers, each ranking move within the top 15 is significant.