We've collected the top 10 reasons for cart abandonment. We'll be breaking down each cause in detail, and provide a quick overview of how you can eliminate cart abandonment and recover sales.
Top 10 Reasons for Cart AbandonmentCart abandonment is a problem. The average eCommerce store loses over 75% of its sales to cart abandonment. Some industries experience average cart abandonment as high as 83.6%.
Given that cart abandonment is such a problem, it is no surprise that there have been countless studies as to why visitors add items to their cart just to leave your site without making a purchase.
Two of the most cited resources are below.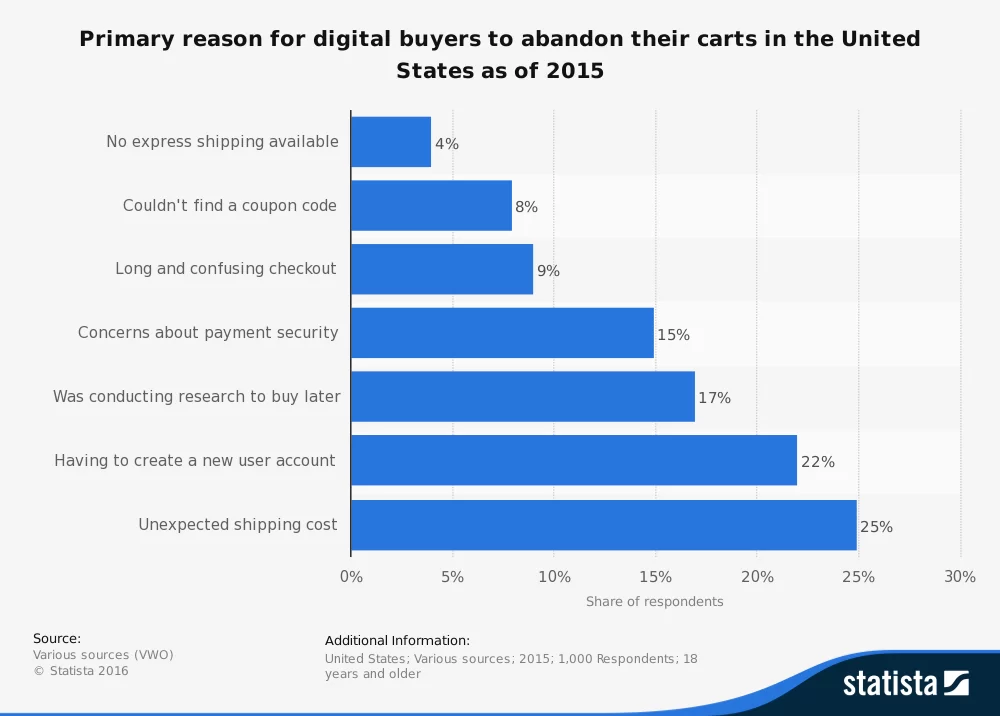 Source: Statista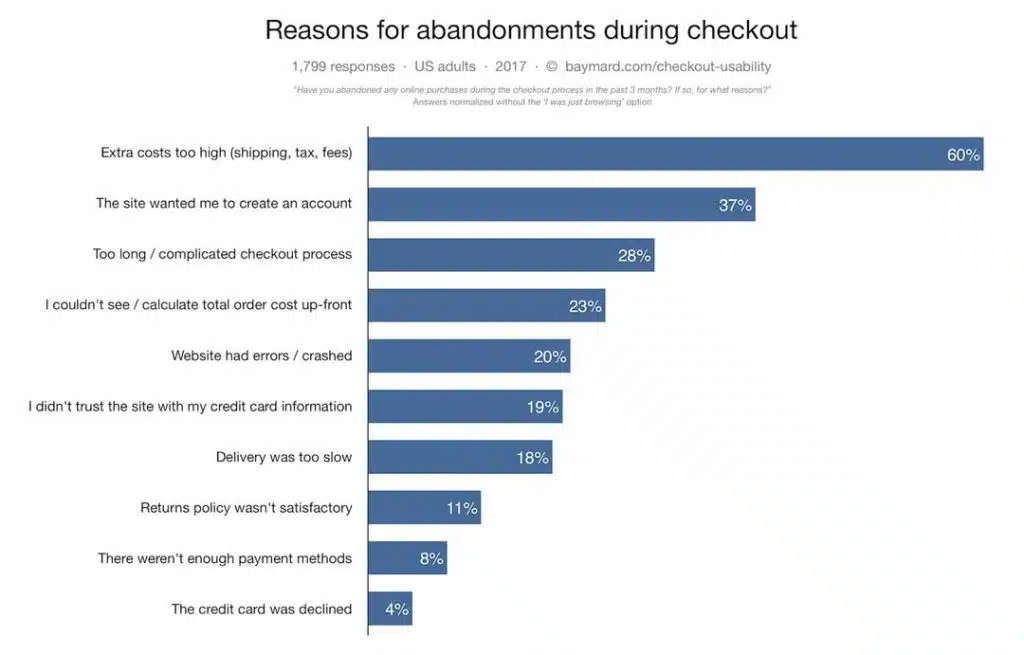 Source: Baymard Institute
Understanding why your visitors abandon carts.
Looking at both studies gives us incredible insight as to how you can eliminate cart abandonment.
The first study only asks what the primary cause for abandoning is.
Meanwhile, the second study asks what all the reasons are for cart abandonment.
We can now rank cart abandonment causes by both probability (how likely will your visitors be effected) and impact (how much does this cause matter).
| Cause | Probability Rank | Impact Rank |
| --- | --- | --- |
| Unexpected Shipping Costs | 1 | 1 |
| Having to create a new account | 3 | 2 |
| Was just conducting research | 2 | 3 |
| Concerns about payment security | 7 | 4 |
| Long and Confusing Checkout | 4 | 5 |
| Couldn't find a coupon code | N/A | 6 |
| No express shipping | 8 | 7 |
| I couldn't calculate payment upfront | 5 | N/A |
| The website had errors/crashes | 6 | N/A |
| The return policy wasn't satisfactory | 9 | N/A |
| Credit Card was declined | 10 | N/A |
1. Unexpected shipping cost
Hidden costs are the primary reason your visitors leave without purchasing, ranking first in both probability and impact.
25% of customers specifically cited shipping costs as the primary reason driving them away.
However, you should also pay heed to other hidden costs such as taxes or required complementary items which have a similar effect.
These costs cause immediate annoyance and irritation. In some cases, it can even propel consumers to feel remorse for purchasing.
The solution?
Fully disclose costs. Transparency is valued highly by digital shoppers and is crucial for store success.
The best course of action is to state all costs from the outset.
Another successful strategy is to bundle the extra cost of shipping into the product and offer "free" shipping to the customer. CPC strategy found that free shipping is deemed "critical" to 73% of customers to make a purchase and will encourage 93% of shoppers to buy more online.
2. Having to create a new user account
Your customers expect convenience. Customers want to do things quickly and have instant results.
Spending more time and effort than expected is a significant source of friction. 22% of cart abandoners do not complete their purchase when they are required to create a new user account, and 28% of all shoppers say that it is a reason why they've abandoned carts.
The solution?
To state the obvious, don't force first-time buyers to create an account before they can complete their order. Offer guest checkout.
Additionally, take some time and identify other points of friction in the checkout process that may be causing customers to spend more time and effort.
3. Conducting research to buy later.

Some cart abandonment is impossible to eliminate.
eCommerce web behaviour evolves. One online shopping habit is to use the internet to browse multiple products across shops. The research includes looking into the price, quality, shipping, and special offers.
Often, customers will add items to a cart in order to easily reference items. It is not uncommon for customers to exit a store with the full intent of coming back. In fact, many will return several times before making a purchase.
The solution?
While there isn't any solution per se to reducing this type of cart abandonment – you can do better.
The point of reducing cart abandonment is to recover lost sales. If you know shoppers are evaluating certain products on price, you can implement a price match guarantee pop-up to ensure customers ultimately purchase from you.
This line of reasoning extends to other types of guarantees, such as durability, quality, or money-back offers.
4. Concerns about payment security
Payment security is the first cart abandonment reason that has a major disparity between its probability and impact rating.
It makes sense.
When you are concerned about security, it has a dramatic effect.
Major causes of suspicion include design flaws, outdated layouts, missing images, and no SSL certificate.
The solution?
There are many ways you can increase trust on your site.
The easiest method is through various forms of social proof to assure customers that you are a trustworthy store.
Use customer testimonials. Use product reviews. Use endorsements. Provide full contact information, such as a phone number and even faces and bios of you and your workers.
All of these factors let your customer know they are working with a real person who cares about their experience and will take care of their personal information.
5. Long and confusing checkout.
This top 10 reason for cart abandonment is similar to number 2 (creating a new user account).
Long and confusing checkout processes are annoying to customers. Oftentimes, unnecessary forms contribute to unease and can even become confusing. All of this contributes to a poor experience, resulting in 28% of shoppers to abandoning their carts.
The solution?
Minimize form elements. Only ask for the necessary information.
Additionally, streamline your site's navigation. Reducing the "number of screens" from initiation to completion is a great way to reduce time.
6. Couldn't find a coupon code.
Some customers chase deals. If they can't find a coupon or promotional codes, they will go and look for one elsewhere.
According to Statista, a full 8% of customers cite not being able to find a coupon code as the primary reason for abandoning their cart – opting instead to wait until one shows up and try and find a better deal elsewhere.
Unfortunately, some checkout processes encourage the feeling of missing out. This happens most often when a coupon code search bar is near the checkout. The presence of this field promotes the idea that they are paying too much.
The solution?
It is best practice to auto-apply coupons when able.
Most carts have the ability to pass through parameters through the URL and can be applied via emails or pop-ups.
7. No Express Shipping Available.
If you haven't noticed yet, customers care a lot about shipping.
While the cost of shipping is a top reason for cart abandonment, the speed of shipping poses a significant threat to large purchases.
Important purchases are often time-constrained. Think of birthdays, anniversaries, holidays, or emergencies.
If your store is unable to deliver the goods in time, customers are forced to abandon their carts.
The solution?
The tragedy is that in all of these cases, customers are willing to spend more.
If you need to charge more for express shipping, do so. Customers are more willing to spend on expedited shipping, and you will benefit greatly from providing this option.
8. The website had errors/crashes
The rest of these cart abandonment causes do not rank in the impact study performed by Statista.
However, that doesn't mean that these issues should be ignored. Website errors/crashes and load times are major deterrents to completing a purchase and contribute to a sense of insecurity on the site.
The solution?
Focusing on the customer experience is paramount.
Make sure that you are regularly going through your site, from the homepage to checkout, ensuring that your site is still up to date and there are no issues.
9. Return Policy Wasn't Satisfactory
Up to 66% of shoppers say that they would spend more with a generous return policy.
Unfortunately, many stores put hard limits on their returns. This can take two forms. First, policies that restrict too much time. Second, policies that charge for the return, usually in the form of shipping.
The solution?
Make sure you are able to track the number of returns and costs associated.
Then, begin offering free, 30-day shipping. Run the test for a month or two and see what lift, if any, occurs for your industry and demographic. Compare this to the added costs of such a policy, and see if free 30-day return is a profitable strategy for you.
10. Credit Card Was Declined
Nothing really to say here…, so we're going to throw in an extra reason that pops up fairly often.
Bonus #11: Lack of Customer Support
Lastly, the lack of support is detrimental to shopping cart abandonment rates.
Customers expect service and convenience. A study conducted by Live Person found that 83% of online shoppers want help while they are on site. Over half (51%) said that they are more likely to make a purchase if they had customer support such as live chat during the session.
The solution?
How can you provide more support throughout your shopping experience? If you do not offer live chat, experiment. Like the 30-day free shipping, invest in the technology for a month or two. Measure lift in sales.