Technology development stimulates ecommerce growth. In the early parts of 2020, many of us started seeing a lot more ecommerce delivery drivers. As the COVID-19 pandemic swept across continents, online shopping saw an unprecedented burst of growth. For example, in America, where US Census Bureau data show e-commerce, as a percentage of all retail sales, rose from 11.8% in the first quarter of 2020 to 16.1% in the second quarter. Similar developments were seen across the world.
BDO's 2021 Retail Forecast Report summarises the developments:
"Physical stores and discretionary sectors that were significantly impacted by the direct and indirect effect of the (COVID-related) restrictions, such as clothing, beauty, and big-ticket home items, saw much bigger declines (in sales)[…].In contrast, online retailers and retailers of food and several other niche categories, were faced with unprecedented opportunities."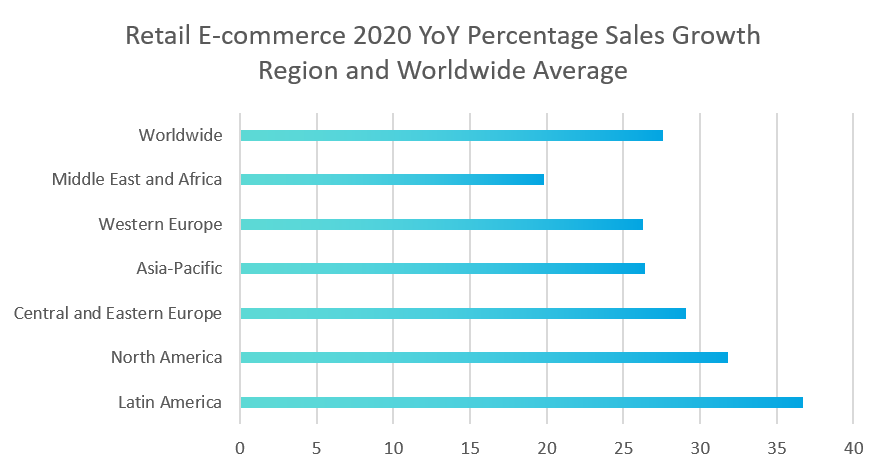 Across industries, companies are proactively adapting to the new reality. In the 2021 Retail CFO Outlook Survey, 71% of CFOs say that they will increase IT investments during 2021. 64% say that they plan to increase investments in e-commerce over the coming six months.
The lesson is that online sales channels are no longer an option but a necessity. Customer behaviours and preferences are changing, and keeping up requires flexible online solutions. For the e-commerce sub-industry, and related spaces like retail technology, the changes have increased the momentum of and investment in new technological approaches, such as headless e-commerce, and new acquisition strategies, like marketplace aggregation.
TMT remains in the M&A driver's seat for ecommerce growth
A busy Q4 2020 saw a flurry of 515 completed mid-market TMT deals. 2021 continued the trend with 438 mid-market Q1 deals (one of the strongest first-quarter performances in recent times). While slightly down from Q4 2020, the backdrop of a more marked M&A slow-down for other industries underscores TMT's resiliency, strong market prospects, and continued investor interest. If deal activity continues, 2021's TMT deal total will eclipse 2020.
Total deal value across all TMT mid-market deals topped US$51 billion, just beating 2020 Q4 and solidly outperforming previous quarters.
Shopping Moving Online
Analysis predicts that e-commerce will account for between 18% and 19% of total retail sales in 2021, reaching 22% by as early as 2023. While other analysts set the growth slightly lower, developments in the world's biggest e-commerce markets show a uniting trend of solid spending growth throughout 2019 and 2020, predicted to continue through 2021. Data from global retail teams indicate that the increase in online retail is here to stay.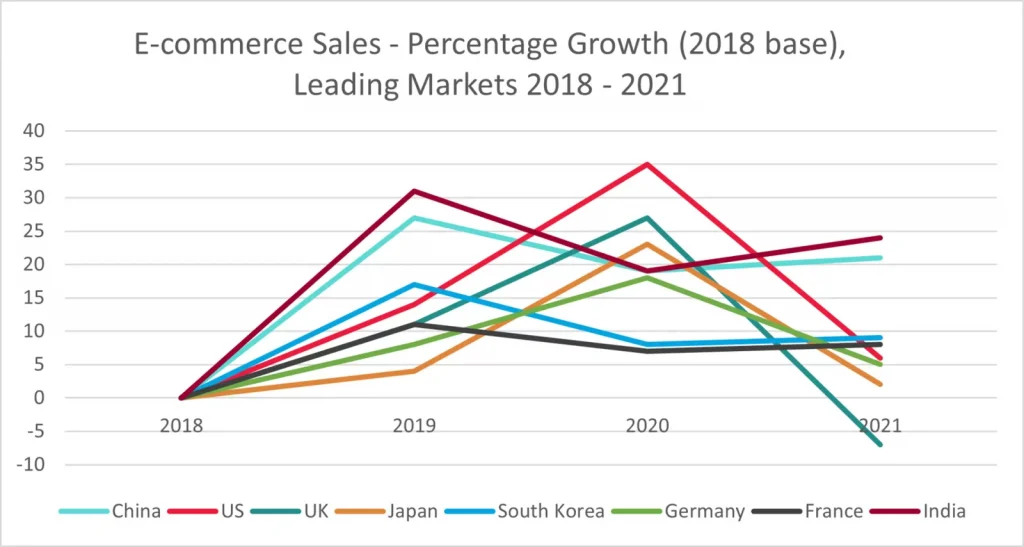 Perhaps the changes were best coined in the latest edition of UK's High Street Sales Tracker, which includes April when UK stores fully reopened:
"According to High Street Sales Tracker (HSST), non-store like for like sales grew by +28.2% in April from a base of +109.6% last year, a remarkable result given last year's record increase in online spending during the first nationwide lockdown. With online sales continuing to hold up even after shops have reopened, the result suggests both a rebound in consumer confidence and discretionary spending but also that shifts in consumer behaviour towards greater online shopping are 'sticking'. "
Globally, e-commerce revenue is led by China, which supposedly now sees more spending online than in-store – a trend that could soon extend to other large economies. Despite the US remaining just ahead of China in overall retail sales (US$5.506 trillion vs US$5.13 trillion in 2020), Chinese online e-commerce outpaced the US by nearly US$2 trillion. The growth is expected to continue, with combined global e-commerce spending set to reach US$6.54 trillion by 2022.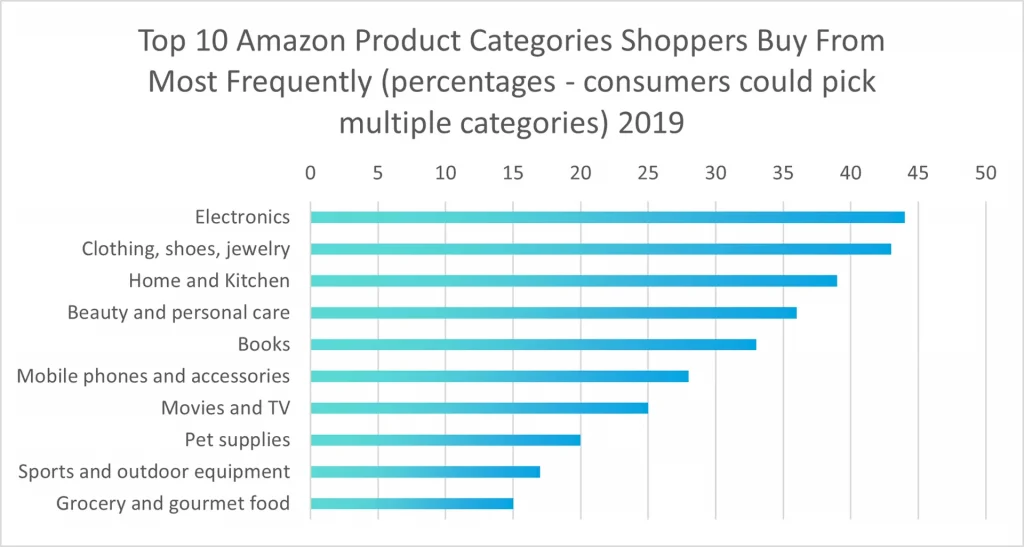 E-commerce extends to all types of retail sales, and a Feedvisor study of the most popular product categories (B2C sales) on Amazon shows how broad our tastes for online shopping have become.
Online shopping is more popular than ever across all customer segments, but doubly so with younger generations. One study found that millennials do more than 60% of their shopping online.
Technology's Role in Growth
Many stores and enterprises probably view Amazon as retail's answer to Pacman – an entity that gobbles up all customers and sales. However, that is far from the case. Otto Group, Zalando, eBay, Tesco, Veepee, Bol, Walmart, Flipkart, Alibaba, Shopee, JD, Etsy, and Rakuten are just a few other major online shopping entities. Furthermore, more than 50% of global e-commerce happens through other channels than online marketplaces.
In other words, stores and companies across sizes and industries have many different ways of using technology and new solutions to interact with its customers and stay relevant to customers' evolving preferences and needs.
VC activity in the space has seen a fall in recent years. However, while 2020's total VC deals and combined deal value were somewhat down, the average deal size rose to US$11 million, compared to US$9.5 million the previous year.
It should also be noted that, as detailed earlier, total deal value and deal numbers across the space rose in 2020 and into 2021. The developments could potentially be an indication of PE and retail companies themselves increasing deal and funding activity.
M&A and funding drivers include industry consolidation, the emergence of new sub-industries, new technology, and increased competition over the growing market for e-commerce solutions and related infrastructure. As a result, e-commerce providers are looking to match competitor offerings and differentiate themselves – in part through acquisitions.
The latter is also a trend in related spaces, such as delivery and last-mile technology, which saw scale-ups looking to build out their positions by raising growth capital throughout 2020. Examples include Turkish start-up Getir raising US$300 million, German start-up Gorillas raising US$290 million and Finland's Wolt raising US$530 million.
Ecommerce Going Headless
While Amazon still dominates, e-commerce is changing rapidly. In 2020, Amazon captured 31.4% of all US e-commerce retail sales, down from 43.8% in 2019, according to Digital Commerce 360.
One reason is that more companies are investing in unique, stand-alone online sales platforms. Some choose to invest in end-to-end platforms or in-house development. However, downsides of these approaches can include slow go-to-market timelines, low sales channel flexibility, and high development costs.
Another approach is headless ecommerce architecture, which has seen increased media and market interest.
In headless ecommerce, customer interfaces (frontend or presentation layers) like storefronts and device type-specific design are separated from core commerce functions (backend or application layers) like payment processing and inventory tracking. The two are connected through APIs.
The approach can offer brands and retailers easier, more flexible sales channel roll-out and optimisation of tailored shopping experiences through a multitude of mediums, including voice, text, social media, web, and mobile. Achieving these qualities can be complex – especially for small to mid-sized enterprises – through in-house development or end-to-end solutions.
SwiftERM is a Microsoft Partner company.
Further articles of interest are available here.