Secret ingredients of the Uniqlo strategy. Uniqlo is the world's second-largest apparel retailer, that continues to go from strength to strength. We recently poured over the tactics of Inditex's Zara and H&M, the world's first and third-largest apparel retailers. But what about the under-the-radar brand owned by Fast Retailing that swooped in and usurped H&M for second place last year?
Despite last year being one of the most challenging years for retailers in modern history, Uniqlo appears to be weathering the pandemic economy. Fast Retailing's most recent results reporting the three months ending in November showed a minimal sales dip of 7.2% YoY with bright spots found through the success of collaborations, loungewear and activewear.
This report uses Market Intelligence from our state-of-the-art platform to unpack exactly what keeps Uniqlo ticking.
Digital-first
Fast Retailing's CEO Tadashi Yanai once declared Uniqlo is a "digital consumer retail company." That sentence alone sums up the genius of the Uniqlo model, shedding light on how it set itself up for surviving the pandemic. Look how far down the description Yanai places "retail." Not only do consumers come ahead in the brand's estimation of what it does, but digital is given the prime position.
This has been the case since 2016, where tech-savvy Uniqlo has continuously prioritized investment in ecommerce over physical retail. Last year, it pumped an estimated 80% more funds into this channel over its home country's brick-and-mortar stores, while announcing plans to boost investment to expand online shopping in Japan, China, Southeast Asia and the US.

With these calculated moves, Fast Retailing emerged relatively unscathed with ecommerce sales in Japan surged 48% for the quarter ending November 30, while more traditional retailers faced with high operating costs were forced to permanently close locations. 
Technical apparel
Uniqlo's penchant for tech is also reflected in its product offering. Despite often being umbrellaed as a fast fashion brand, it foregoes selling the hottest, flash-in-the-pan styles. Instead, innovation transcends trends and popularizes the brand for providing functionality, ease and usefulness in its consumers' lives.

While technical fabrications have become commonplace in assortments such as activewear, Uniqlo redefined apparel by pioneering both AIRism, its comfort conditioning technology, and HEATTECH, a heat-retaining material. Early adoption of these innovations has positioned Uniqlo as the market leader in this space, a coveted spot consumers expect their garments now to work harder than ever. 
Made for everybody
With its customer base spanning all ages, demographics and economic backgrounds – Uniqlo nails mass appeal. It achieves this by not pushing any one "look", where all items are simple and cohesive with each other. Products rarely patterned beyond a simple stripe. Currently, 89% of items available online at Uniqlo Japan are plain.
More retailers have been hastening to champion diversity. However, this is something Uniqlo has been working towards for a while, actively recruiting people with disabilities in Japan since 2001. Fast Retailing also recently joined the Valuable 500, an initiative that targets disability inclusion. In doing so, the company has taken a five-point commitment to support diversity and inclusion. Its sizing is getting more inclusive too. Across the US, styles are equally distributed across sizes, which run to up a men's 3XL and women's XXL.
Uniqlo's wide embrace and no-fuss approach to apparel fused with technical innovation mean consumers are getting more from their basics than they would at the average retailer. Its LifeWear collection really harnesses that wardrobe-building, uniform curation appeal – useful clothing for everyone at good prices.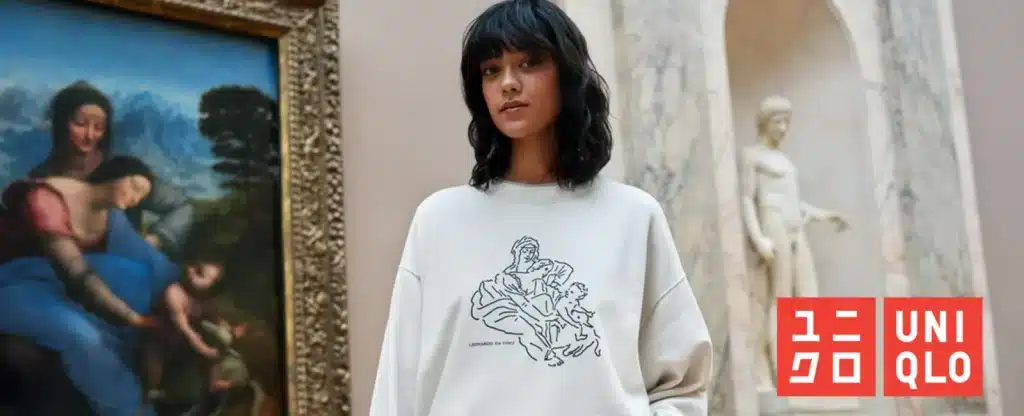 Targeted price point
Uniqlo's price positioning is unique, with a 28% assortment emphasis on the under $10 price bracket. That firmly puts its focus on value – strikingly different to Zara which dominates the £20-£40 space.
Just 10% of its men's and women's assortment is priced over $50 at Uniqlo, compared to 18% at fashion-driven Zara. H&M also focuses on value, but places less emphasis on the very lowest price point.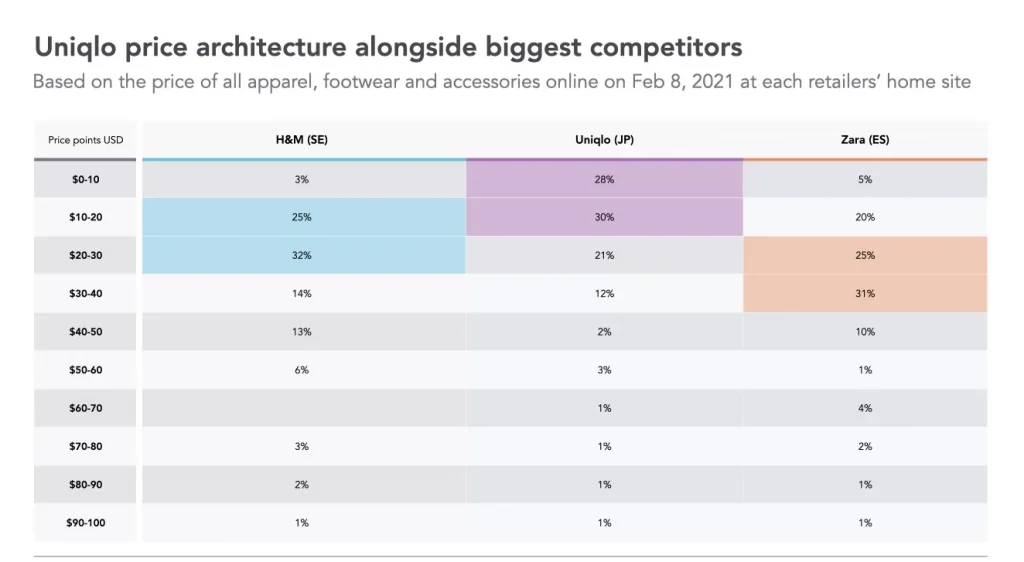 Moderation
For the world's second largest retailer, Uniqlo's product assortment isn't actually that big. Both Zara and H&M dwarf Uniqlo.
Not only that, Uniqlo has trimmed back its assortment over time. To prove it's not just an after effect of COVID, we compared the number of products in stock now vs last year and spotted a 2% decline.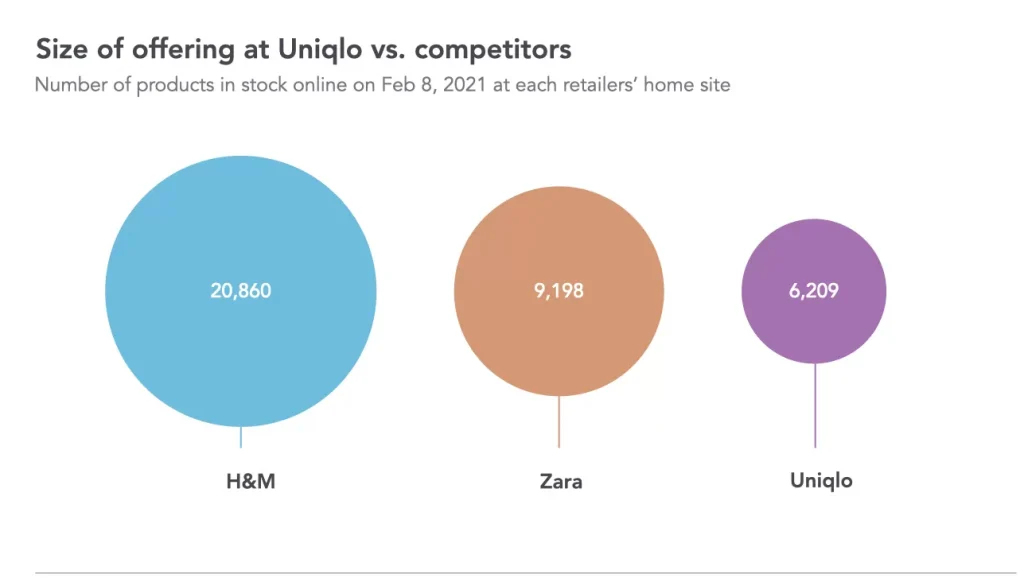 Analysing new arrivals also reveals a very defined seasonality that you don't see at fast fashion retailers. Uniqlo has not been lured into year-round drops. Instead, it achieves maximum value with the delivery of large orders in consistent manufacturing batches. You can see a very regulated pattern of arrivals, especially in comparison to Zara and H&M who opt for the traditional fast fashion model of dropping a high number of products at a more frequent cadence.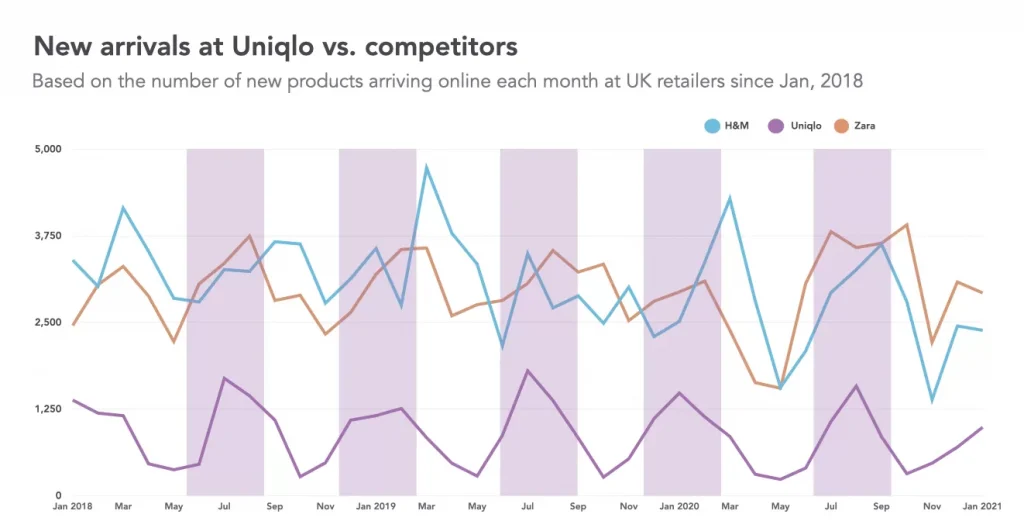 It's more evidence that Uniqlo approaches product design very thoughtfully, as the CEO's statement at the top of this article implied. Uniqlo's emphasis on year-round wardrobe staples means the brand isn't restricted to seasonal fashion trends with limited longevity. Instead, it's capitalizing on the "see-now, buy-now" approach consumers have towards fashion today.
Category emphasis
The categories Uniqlo invests in also sets it apart from other retailers its size. Unusually, it focuses very little on footwear, which is around 1% of products available online vs. 8% at Zara and 5% at H&M.
Underwear is 11% of the total assortment and is given more attention than outerwear. This category outstrips both H&M and Zara, making up 1% and 4%, respectively.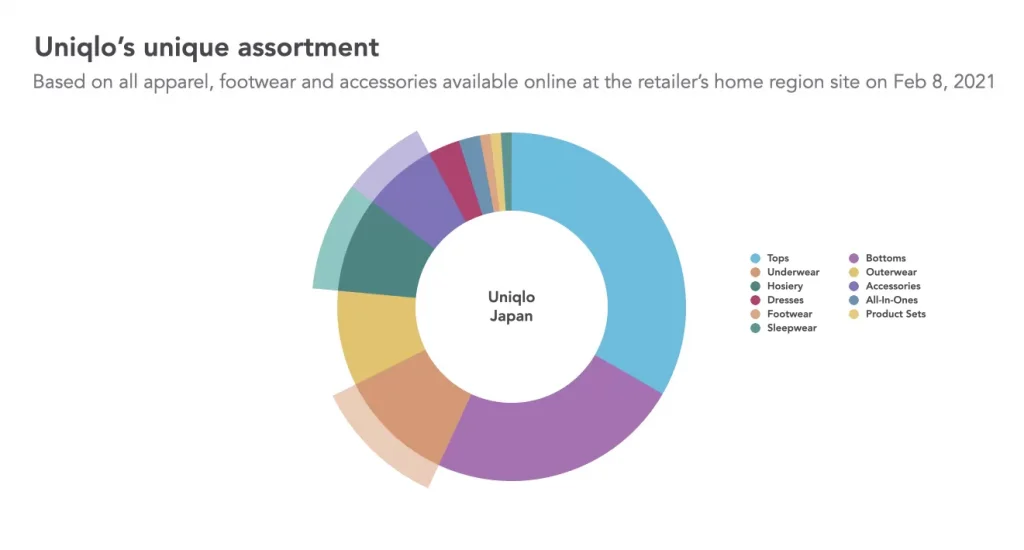 High investment here and in hosiery and accessories are how Uniqlo achieves that under $10 price point, cementing itself as the destination for core wardrobe items, which will need replacing more often than dresses or denim.

Being well-stocked in these purse-friendly items is a smart move during the pandemic economy, where consumers are more frugal than ever with their spending. It also acts as a hook to get consumers interested in higher-priced goods, who may go online to buy essentials like Uniqlo socks or an AIRISM mask and discover a $179.90 seamless down coat.
Given how tech-minded Uniqlo is, there is real potential to expand its under-stocked sleepwear category, focusing on technical properties to differentiate itself in the currently booming market.
Sustainability
Uniqlo's eco commitments and timeless design strikes a chord with millennials and Gen-Z consumers, who align themselves with brands that share their core values.
In its sustainability ranking, Good On You gave Uniqlo the "it's a start" rating. Meaning Uniqlo is "transparent about their policies and practices to manage some material issues and are making good progress on one or more of them."
Sustainable initiatives are present within Uniqlo's denim. Its BlueCycle method reduces water in production and finishes by up to 99%, and uses laser techniques as an alternative to hand processes such as sandpapering.
At the end of last year, its revolutionary DRY-EX fabric, used on its men's polo shirts and worn by professional athletes, had an eco update. The construction was renewed from at least 75% recycled PET from polyester bottles, furthering Uniqlo's commitment to sustainability.
Furthermore, Re.Uniqlo was launched last year, the brand's recycling program where new pieces are upcycled and resold from used, but unneeded Uniqlo clothes. The first item launched was a puffer jacket made from 100% recycled down.