Predictive personalisation the future of CX. Companies of all sizes have invested heavily in tools and technologies to help them understand their customers more deeply and to gain the advantages of superior customer experience (CX).

Yet as leaders strive to form a more complete picture of customer preferences and behaviours, they continue to rely on ageing survey-based measurement systems that for decades have formed the backbone of CX efforts.
Companies use these systems to track CX performance through brand or relationship surveys, "close the loop" on customer feedback via post-transaction surveys, and even plot strategic moves by attempting to mine the feedback from their regular surveys over time.

Entire teams dedicate themselves to managing questionnaires and boosting response rates—and the resulting metrics can shape everything from employee bonuses and executive compensation to strategic investment decisions.
Ninety-three percent of these respondents reported using a survey-based metric (such as Customer Satisfaction Score or Customer Effort Score) as their primary means of measuring CX performance, but only 15 percent of leaders said they were fully satisfied with how their company was measuring CX—and only 6 percent expressed confidence that their measurement system enables both strategic and tactical decision making.

Leaders pointed to low response rates, data lags, ambiguity about performance drivers, and the lack of a clear link to financial value as critical shortcomings.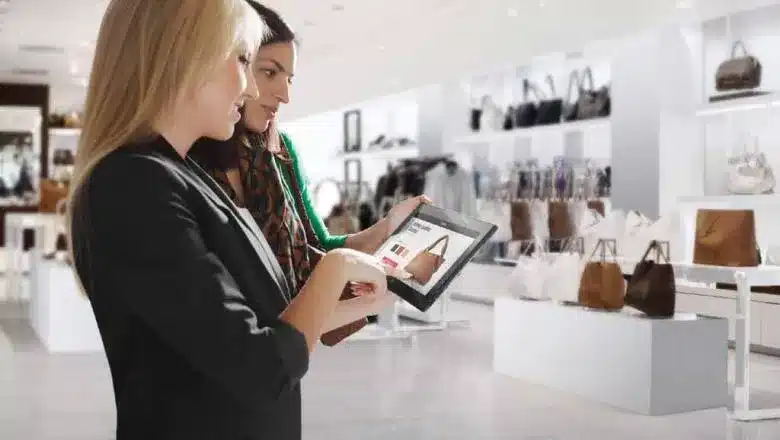 A few leading companies are pioneering a better approach that takes full advantage of the wealth of data now available. Today, companies can regularly, lawfully, and seamlessly collect smartphone and interaction data from across their customer, financial, and operations systems, yielding deep insights about their customers.
Those with an eye toward the future are boosting their data and analytics capabilities and harnessing predictive insights to connect more closely with their customers, anticipate behaviors, and identify CX issues and opportunities in real time. These companies can better understand their interactions with customers and even preempt problems in customer journeys.
Their customers are reaping benefits: think quick compensation for a flight delay, or outreach from an insurance company when a patient is having trouble resolving a problem. These benefits extend far beyond the people typically thought of as "customers"—to members, clients, patients, guests, and intermediaries. Early movers in the world of customer-experience analytics herald a fundamental shift in how companies evaluate and shape customer experiences.
The shortcomings of traditional CX measurement
While surveys themselves are a valid means of gathering customer insight, they fall short as a management tool for measuring CX performance and identifying and acting on CX opportunities. For organisations to lead from a customer-centric position, they increasingly need a comprehensive view of the full customer journey, as well as the ability to obtain deep, granular insight on what is driving customer experience.
They need immediate and individual signals in order to take action "in the moment" and to create relevant experiences for each customer, and they need to demonstrate that the experience enhancements they would like to invest in will result in positive ROI. Survey-based systems have four major flaws that make those critical tasks nearly impossible (exhibit).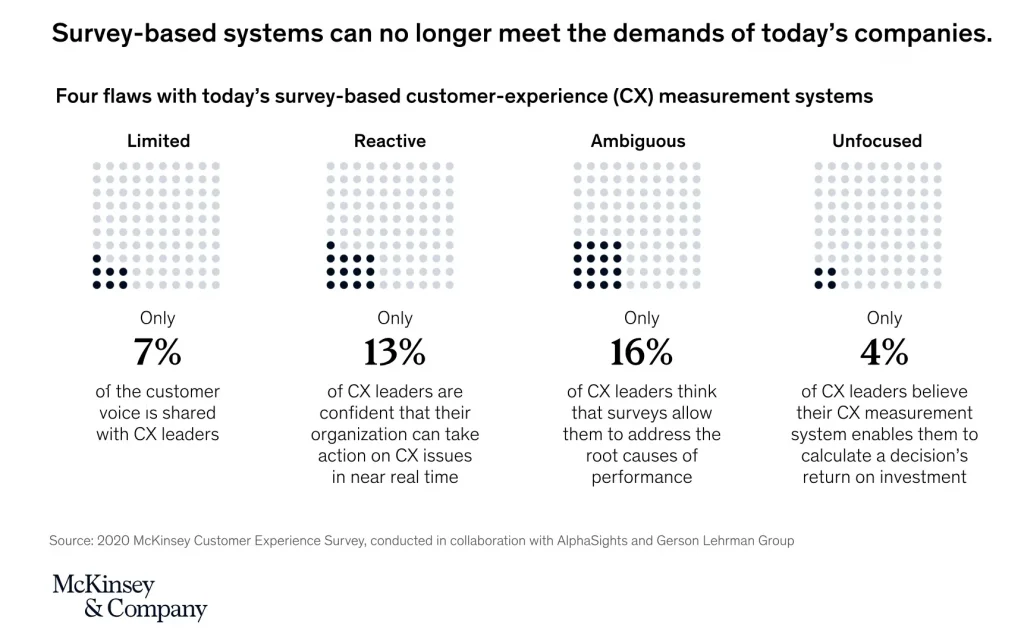 Limited: The typical CX survey samples only 7 percent of a company's customers, providing an extremely limited view of what customers experience and value. In fact, only 13 percent of the CX leaders we surveyed expressed full confidence that their CX measurement system provides a representative view of their customer base.
Reactive: Surveys are a backward-looking tool in a world where customers expect their concerns to be resolved increasingly quickly. Nearly two-thirds of respondents ranked the ability to act on CX issues in near real time as among their top three priorities, but only 13 percent of leaders expressed certainty that their organizations could achieve this level of rapid insight through existing systems.
Ambiguous: Surveys often fail to reveal the root causes of customer sentiment. In fact, scores can vary based on many outside factors, including geographical bias and industry shocks, making it difficult to perform reliable root-cause analysis using surveys alone. Only 16 percent of CX leaders said that surveys provide them with granular-enough data to address the root causes of CX performance.
Unfocused: As one executive at a large financial-services company put it, "The association between survey-based scores and business outcomes is not well understood, and, as a result, many parts of the organization simply claim a business impact from their CX initiatives with no real evidence." Several companies have recently come under fire for basing investment decisions on a survey-based score alone. Remarkably, of the CX leaders we surveyed, only 4 percent said that their system lets them calculate the ROI of CX decisions.
Prioritising CX efforts through intentional strategic planning is another promising use case for data-driven systems that allow CX leaders to understand which operational, customer, and financial factors are creating systemic issues or opportunities over time. One US healthcare player, for example, built a "journey lake" to determine how to improve its customer care.
The journey lake syncs four billion records across nine systems, spanning marketing, operations, sales, digital, and IoT. The resulting holistic customer view enabled the organisation to identify operational break points—thresholds where patients often ask to speak with a supervisor or move to another channel to resolve an issue—and proactively reach out to patients through the website, emails, and outbound calls to settle the problem.
It also used the data to develop a smarter digital migration strategy, targeting customers who had minimal engagement on digital channels and coaching them to use more self-service functions. The organisation substantially increased digital adoption by focusing on the most significant pain points, such as prescription renewals; it reduced its costs by decreasing (by more than a quarter) the frequency with which customers turned to other channels after starting with digital.
Finally, thanks to the near-real-time nature of analytical insights, these new systems create a platform for proactive daily customer engagement. One leading airline built a machine-learning system based on 1,500 customer, operations, and financial variables to measure both satisfaction and predicted revenue for its more than 100 million customers every day.
The system allowed the airline to identify and prioritize those customers whose relationships were most at risk because of a delay or cancellation and offer them personalized compensation to save the relationship and reduce customer defection on high-priority routes. A combined team of about 12 to 15 data scientists, CX experts, and external partners worked together for about three months to build the system and lead this first application, which resulted in an 800 percent uplift in satisfaction and a 60 percent reduction in churn for priority customers.