Ecommerce tracking in Google Analytics – an introduction. By far the most popular tool to help track website performance is Google Analytics (GA). With over 30 million websites* currently using Google's free program it is clearly the preferred choice for marketers worldwide.
Whether you want to track which campaigns drive the most visitors to your website, what pages they look at, or whether they convert to a lead/purchase, Google's tool can be configured to track the information you need.
Google Analytics E-commerce Tracking
For online shops, GA's e-commerce features can take your reporting to the next level, enabling a larger amount of data to be recorded and processed including:
Transactions
Revenue
Average Order Price
Products Purchased
Knowing which channels and campaigns drive high value orders can provide invaluable insight. It also helps provide more transparency on your return on investment when measuring activities like pay-per-click, as Google Adwords cost data can be automatically imported into GA, and similarly GA can feed transactions into your Google Adwords account.
Google Analytics Enhanced E-commerce Tracking
A few years ago Google brought out a new enhancement for their analytics product, aptly called Enhanced E-commerce. This is only available for websites running the newer version of the Google Analytics library (Universal Analytics) and offers a variety of powerful features over and above the standard e-commerce tracking.
Essentially 'enhanced' does what it says on the tin, so where a standard e-commerce implementation will track the purchase and value, enhanced can track additional information such as:
Marketing coupons and vouchers used

This includes the ability to separate coupons offered while a visitor browse's your website as well as voucher codes you may promote externally such as in a mailing list or a social media campaign

Additional product attributes

Brand
Refunds (if issued)
Product impressions (how many times it was seen on your site, and in which specific lists)

Checkout options

These are completely customisable to feed in anything you want, for example, did a customer pay by credit card or PayPal
Shopping and Checkout behaviour
Allows 'funnel analysis' so you can see exactly where people abandon their cart. For example, do 50% of your users stop at the payment stage, or are most dropping off after viewing a page with product details?
Funnel Analysis
The funnel analysis is what we consider the most powerful feature. Being able to easily identify segments of users based on where they exit, and those that progress through to purchase, this allows detailed analysis on what other attributes these segments of users share.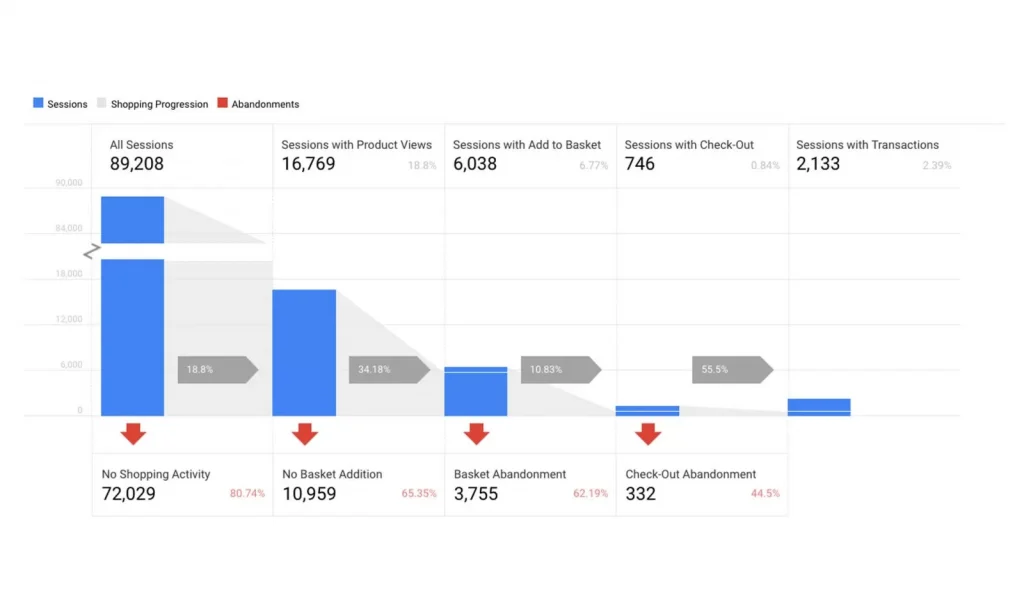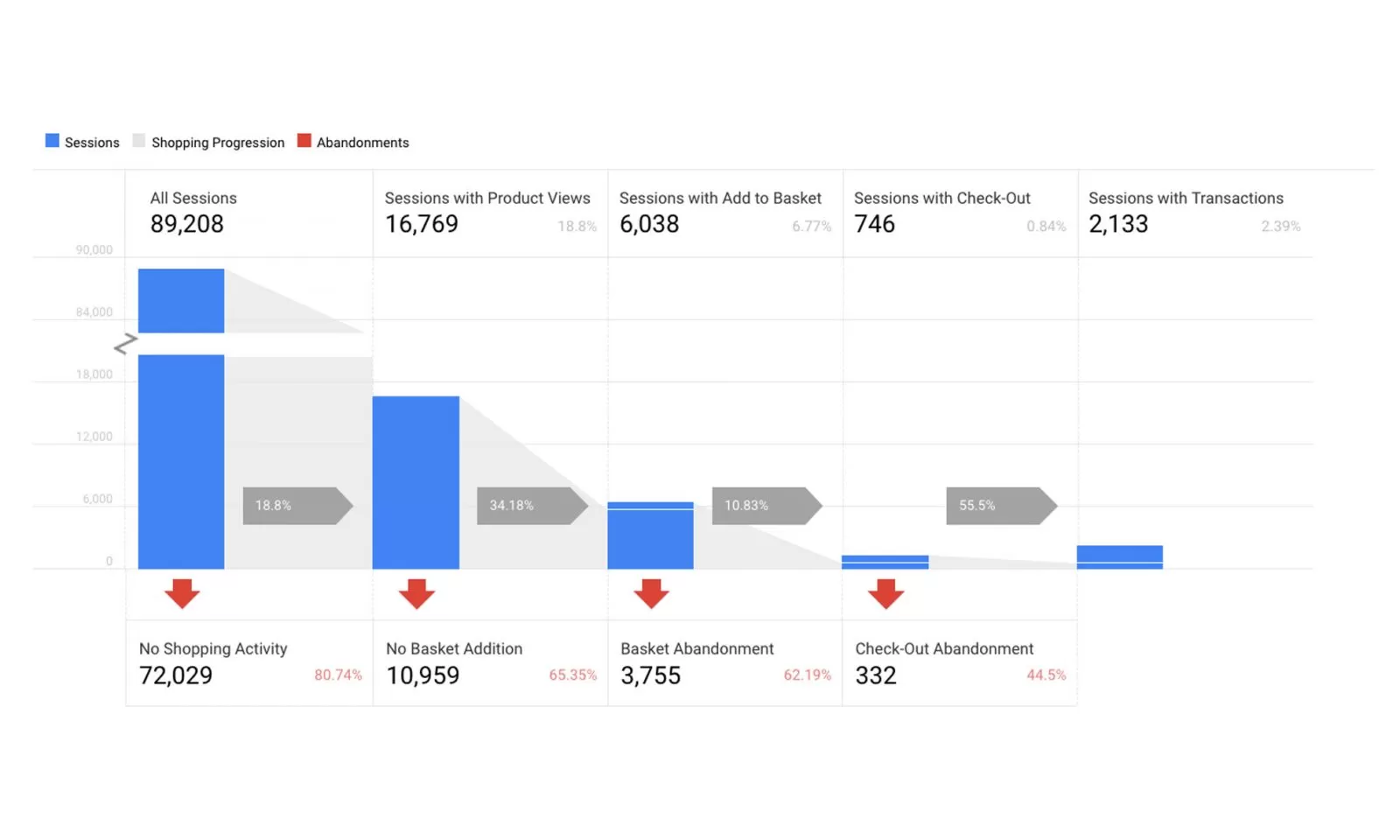 Often, people won't complete a purchase on their first visit, so you can drill down to see if returning visitors are more likely to convert. Unfortunately, not all visitors will return, so that is where the funnel analysis can be used to build audiences to use for remarketing.
What are some of the insights you can get from Enhanced Ecommerce?
The reports you can get from the Enhanced Ecommerce analytics can be categorized into three groups: User behaviour data, product data, and marketing data.
User behavior data
The reports from this category give you information on user behaviour during the purchasing process as well as throughout the checkout.
Shopping Behavior Report — gives you insight on the number of sessions at each stage of the funnel. Starting from the visitors that only view your products, moving to those who add products to their cart, how many initiated checkout, and lastly, how many sessions finish with a transaction. This report gives you a clear picture of how visitors move down the funnel and helps you identify what you can fix in the process to increase the number of transactions.
Checkout Behavior Report — this report is similar to the Shopping Behaviour report, but it's focused on the steps included in the checkout process. Using this report, you can easily track how customers behave during checkout and at what point most of them decide to give up.
Product data
Using the Enhanced Ecommerce tool, marketers can collect invaluable information related to the products and their performance.
Product Performance Report — there are two types of views included in this report:
Summary view — here you have a sales performance section and a shopping behaviour section. In the sales performance section, you can find insights like product revenue, unique purchases, quantity, average price, average quantity, and product refund amount. In the shopping behaviour section, you can find the basket-to-detail-rate (number of products added per number of product detail views) and buy-to-detail-rate (number of products purchased per number of product detail views).
Shopping behaviour view — if you navigate to the shopping behaviour view, you can find data related to the engagement with your products, including product list views, product detail views, product adds to basket, product removes from basket, product checkouts, and unique purchases.
Sales Performance Report — in this report, you can find information about revenue, tax for your online transactions, delivery charges, refund amount, and number of products sold. You can track sales by transaction ID or by date.
Product List Performance Report — this report gives great insights into related products, cross-selling, and up-selling. Based on the grouping of products on your site, you will be able to collect information about product list views, product list clicks, and product list CTR.
Marketing data
Besides the information you collect about shopping behaviour and product performance, the Enhanced Ecommerce tracking allows you to measure internal and external marketing efforts.
Internal Promotion Report — here you can find insights related to internal promotion tools like banners placed on one page of your website that lead to another section. In this report, you can see metrics like internal promotion views, internal promotion clicks, internal promotion CTR, transactions, revenue, and transaction per internal promotion click.
Order Coupon Report — this report shows metrics related to the performance of your order coupons in terms of revenue, transactions, and average value.
Product Coupon Report — similar to the previous report, this one gives you insights related to the performance of your product coupons in terms of revenue, unique purchases, and product revenue per purchase.
Affiliate Code Report — in this report, you can find information on how affiliate sites contribute to the success of your online store. Here you can track metrics that show revenue, transactions, and average order value.
Summary
Hopefully you found this breakdown on the differences between E-commerce and Enhanced E-commerce useful. If you need help getting your Google Analytics set-up or configured please get in touch.
In the meantime if you want to check out Google's official developer resources for E-commerce Tracking: