Ecommerce Cigars, the companies, brands and retailers. The global cigar and cigarillos market was worth over $18 billion last year and is expected to exceed $21.02 billion by 2025. Statista recently published these figures for the US:
Revenue in the Cigars segment amounts to US$9,622.1m in 2021. The market is expected to grow annually by 1.35% (CAGR 2021-2025).
In global comparison, most revenue is generated in the United States (US$9,622m in 2021).
In relation to total population figures, per person revenues of US$28.90 are generated in 2021.
Cigars are finally growing in popularity among young consumers in many countries, marking a reversal of a decades-long trend in the opposite direction.
Experts attribute this growth to a variety of factors, such as higher taxes associated with conventional cigarettes driving consumers towards alternatives such as cigars. Many cigar companies are also beginning to market towards women and other demographics that they have traditionally avoided, further driving demand.
Many e-commerce merchants who sell regulated products like premium cigars or loose tobacco products shy away because it is perceived difficulty of processing high-risk processing transactions, specifically hearing horror stories from other merchants of how their accounts were frozen or shut down by payments gateways. Many cigar retailers selling online are particularly keen on specific features like abandoned cart recovery, automated taxes based on customer location, and shipping options to squeeze the most profits out of your business as you can.
Another favourite function is product variation; many cigar buyers like to buy in small packs, like 3 or 5 packs with some variety in each package. This requires sophisticated purpose built software especially for personalised marketing. This is made amazingly simple by using software like SwiftERM, which personalises product selection for email marketing. Offering exactly the right products to each individual consumer automatically by using a predictive analytics algorithm on their buying habits and impressions accrued with each visit to you, for an individual consumer basis as long as they are registered to buy online from you.
The Corporates:
Imperial Brands plc. England, UK
Stock ticker: IMP
Market cap: $19.76 billion
Revenue: $34 billion
Net income: $1.62 billion Imperial Brands plc, formerly known as Imperial Tobacco Group plc, is by far the largest manufacturer of cigars in the world. main brands are Davidoff, Gauloises Blondes, JPS, West, Fine, News, Winston, Bastos, Lambert & Butler and Parker & Simpson. The company's key markets are the Unites States (US), Germany, Australia, Spain and the UK. https://www.davidofflondon.com
Altadis USA, simply a subsidiary of Imperial Brands, owns over half of the entire United States' Cuban cigar market. Imperial Brands also owns hundreds of other notable cigar brands through its many various subsidiaries. Perhaps the greatest reason for the difference between Imperial Brands' cigars sales and every other company on this list is their presence and exposure to the wider tobacco industry.
While many other large cigar companies focus just on cigars, Imperial Brands actually generates most of its revenue through cigarettes and then uses those sales to subsidize its cigar business. The company's presence in the cigarette industry also allows it to purchase tobacco in greater bulk, build more factories, and build relationships with more distributors around the world. Some of Imperial Brands' best-selling cigar brands include Montecristo, Trinidad, and Romeo y Julieta.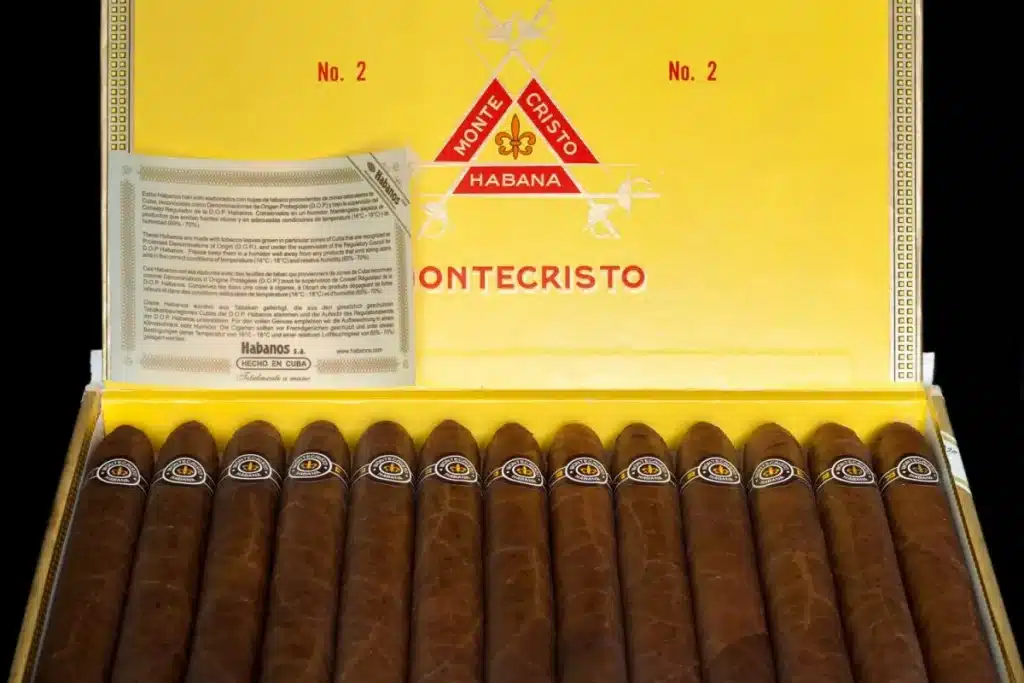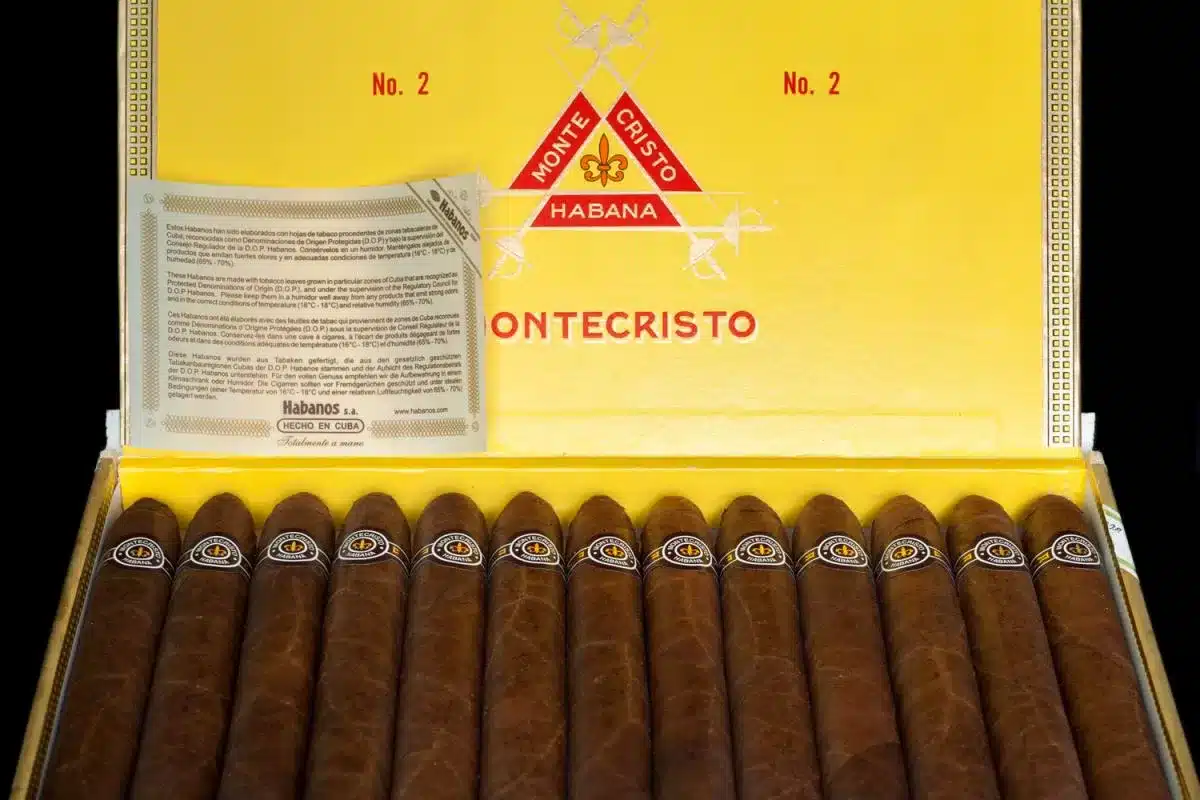 Scandinavian Tobacco Group. Copenhagen, Denmark
Stock ticker: DKK
Market cap: $11.68 billion
Revenue: $1.8 billion
Net Income: $342 million
Scandinavian Tobacco Group is a manufacturer of cigars and pipe tobacco that owns many of the top-selling cigar brands in the world.
The company sells over three billion cigars each year and possesses a massive cigar brand portfolio of over 200 different products, including well-known names such as Cohiba, CAO, and Macanudo.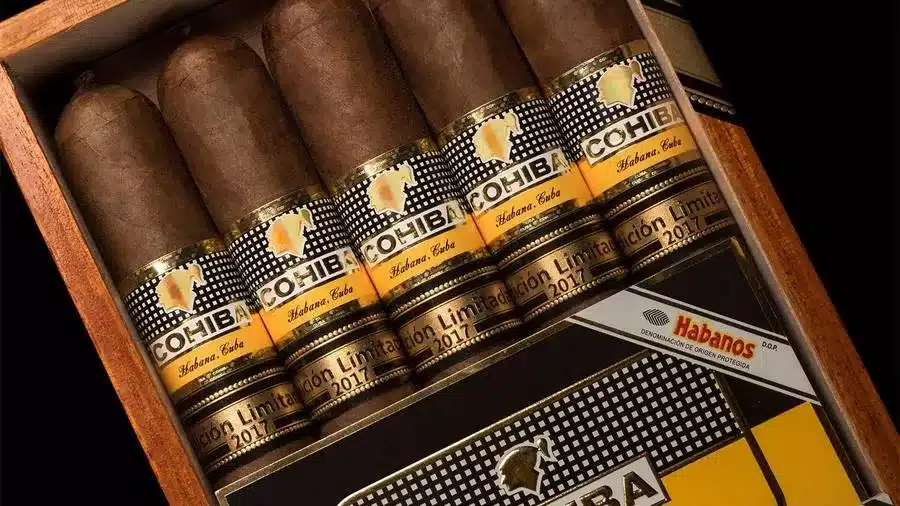 General Cigar Company. Richmond, Virginia
Stock ticker: PM
Market cap: $134.12 billion
Revenue: $79.82 billion
Net Income: $7.91 billion
General Cigar Company, a subsidiary of Scandivanian Tobacco Group, is the world's largest manufacturer of premium cigars.
Although founded in 1901, the company first saw widespread success in the United States when it acquired Gradiaz Annis and gained access to the Macanudo brand, which was and remains one of the top-selling cigar brands in the country.
The company also owns the Ramon Allones, CAO, and Cohiba brands, which all rank among the best-selling premium cigar brands.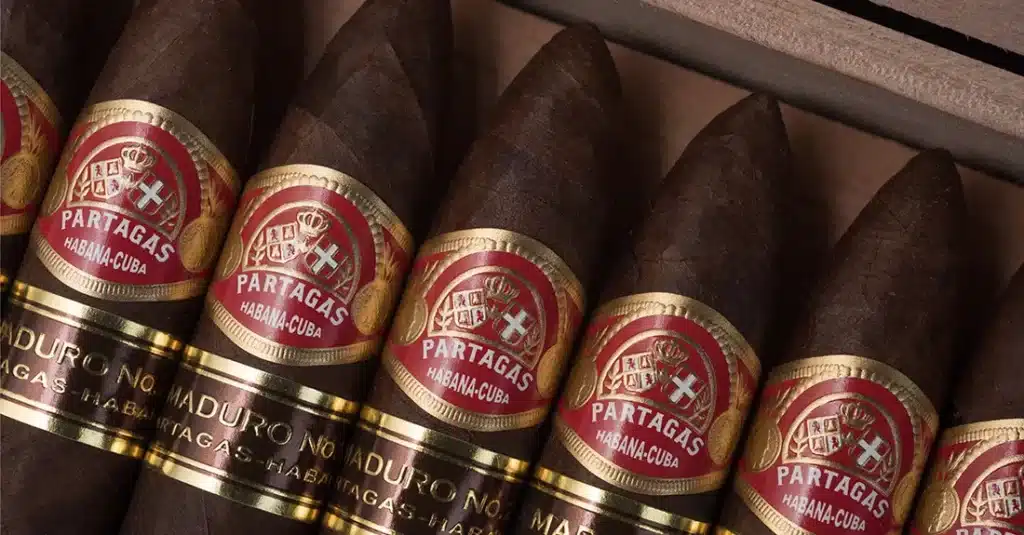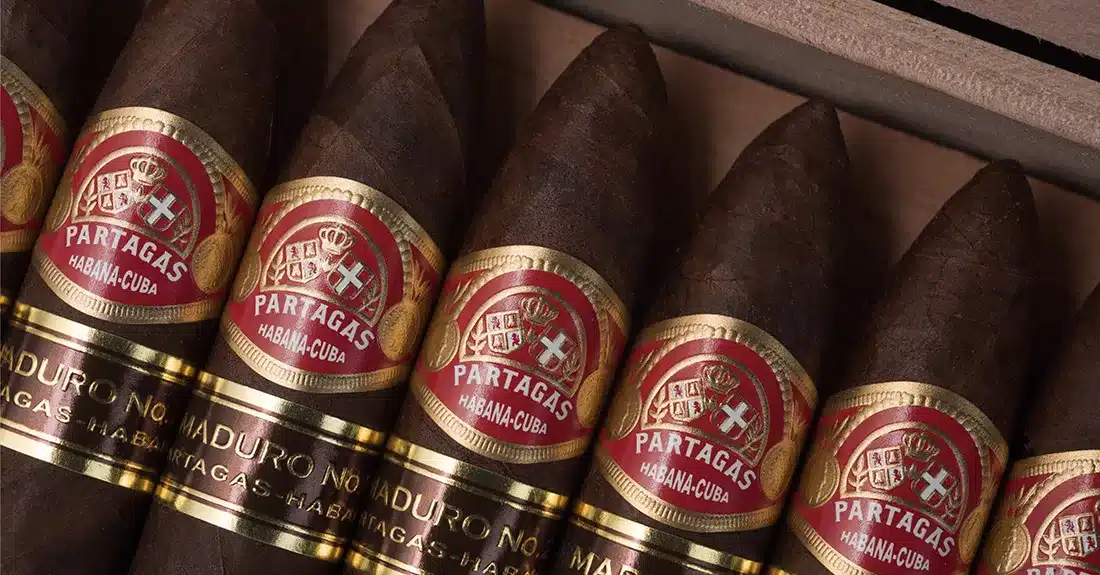 The Retailers:
The big three highly respected cigar retailers in the UK are James J. Fox, Davidoff and C-Gars.
James J. Fox have been trading in fine tobacco and smokers' accessories from 19 St James's Street since 1787 and their customers have included discriminating smokers from all walks of life – from commoners to kings. Among them have been Sir Winston Churchill, Oscar Wilde, British and Foreign Royalty, the officer's mess of famous British regiments, and the leading lights of the stage and film, https://www.jjfox.co.uk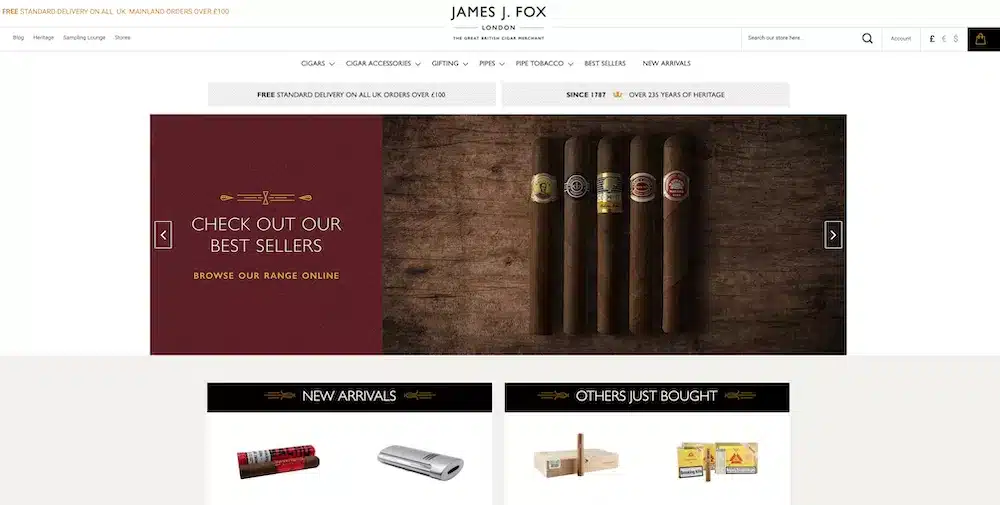 Naturally for one not quite so established, Davidoff, who are also in St, James, London, prefer to emphasise their product, rather than heritage.
"Traditional blending was not as complex as it is today. One or two tobaccos were rolled into a cylinder, without much complexity at all. During the last 20 years we began developing varieties and new tobaccos, which set us apart as craftsmen of exclusive cigars".
Davidoff is active in 15 different tobacco areas which can each produce 4 different grades of tobacco. This means that when they select these tobaccos for the filler, binder and wrapper, we theoretically have 216,000 possible combinations to choose from. If the filler contains more than one tobacco, this number is even significantly higher." https://www.davidofflondon.com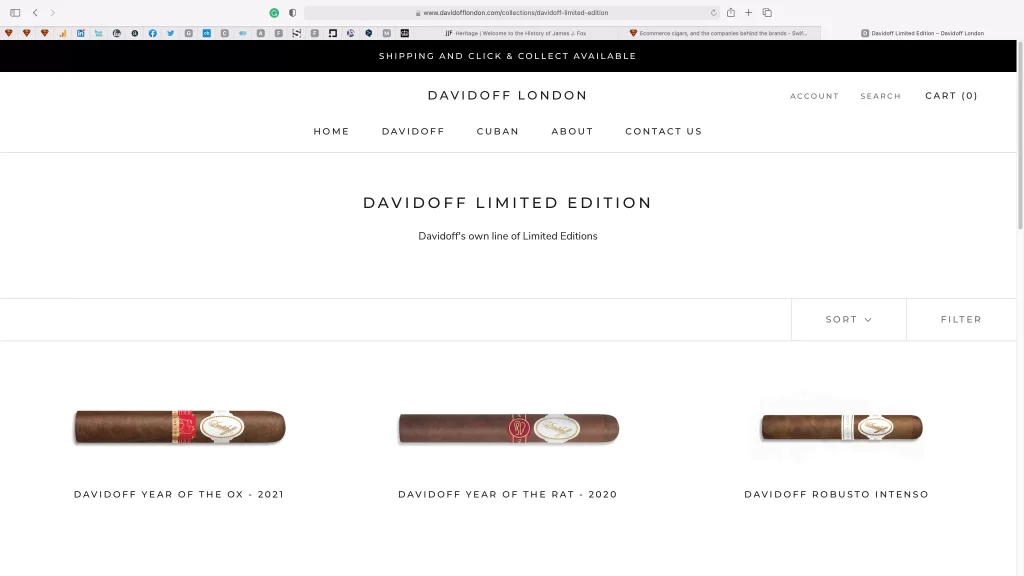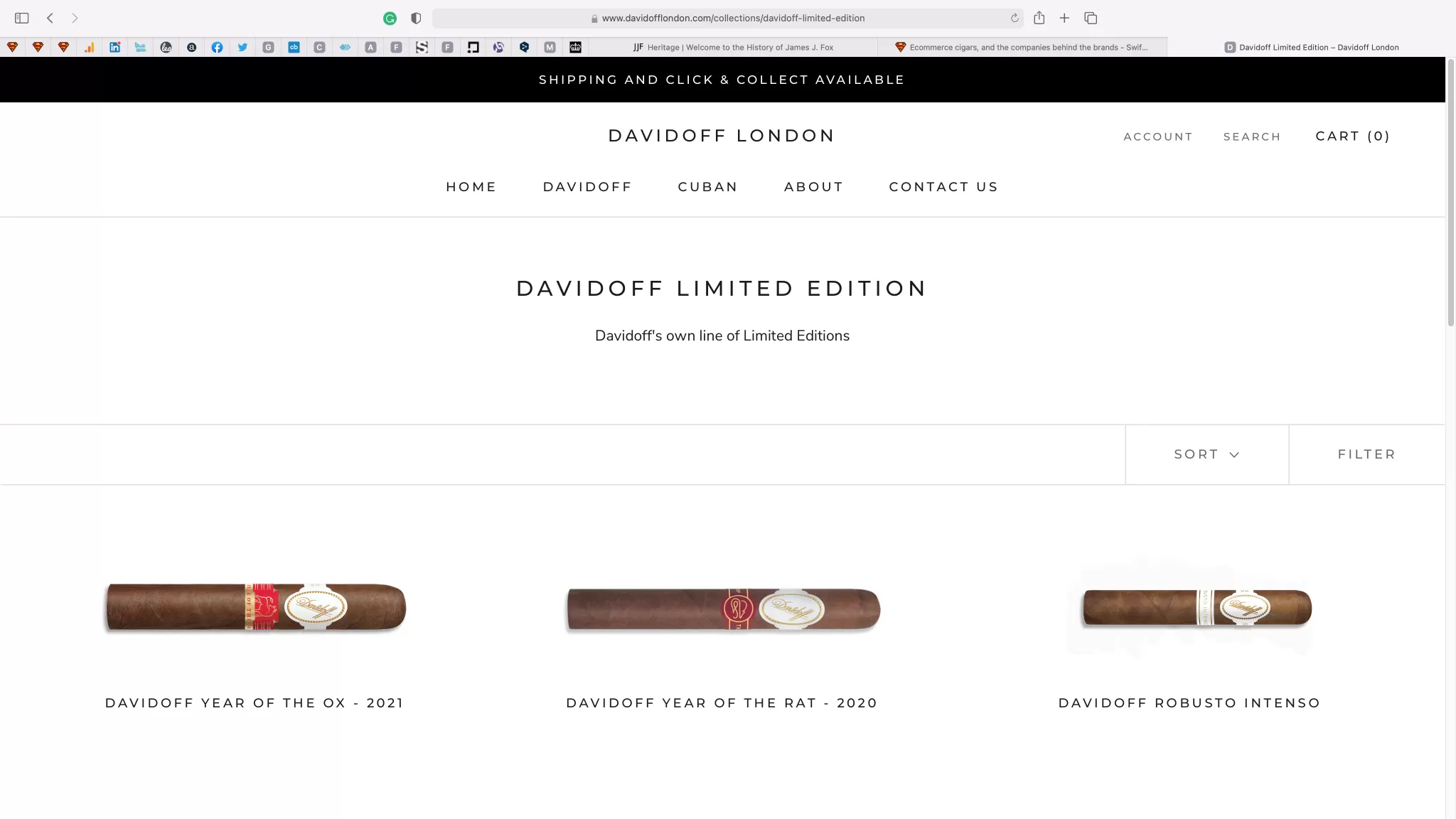 The third notable player is C-Gars who, to their credit, got on the ecommerce bandwagon exceptionally early. Instead of assuming the leisurely noblesse oblige demeanour usualy associated with the relaxed ambience of cigar smoking, they adopted a more pragmatic approach, more familiar to grocery retailing. The obvious distinction being an inference of competitiveness on pricing, reflected in the success their turnover suggests. They kindly publish a list of places you can relax and enjoy a cigar here: https://www.cgarsltd.co.uk/where-smoke-the-a-224.html
There are a few more that we personally admire, include: Cigars of Cuba in Aberystwyth https://www.cigarsofcuba.co.uk, My Smoking Shop of Preston https://www.mysmokingshop.co.uk and Simply Cigars https://www.simplycigars.co.uk website pictured below. Other names of note include Havana House https://www.havanahouse.co.uk, The Cigar Club https://www.cigar-club.com and Gauntleys https://cigars.gauntleys.com
According to Conviencestore.co.uk Cigars remain a vital money-spinner for the convenience sector. With more than 260 million cigars sold in the UK annually and can also generate about three times as much margin as traditional cigarettes.
A full lists of AITS member is available here: https://aits.co.uk/find-a-tobacconist/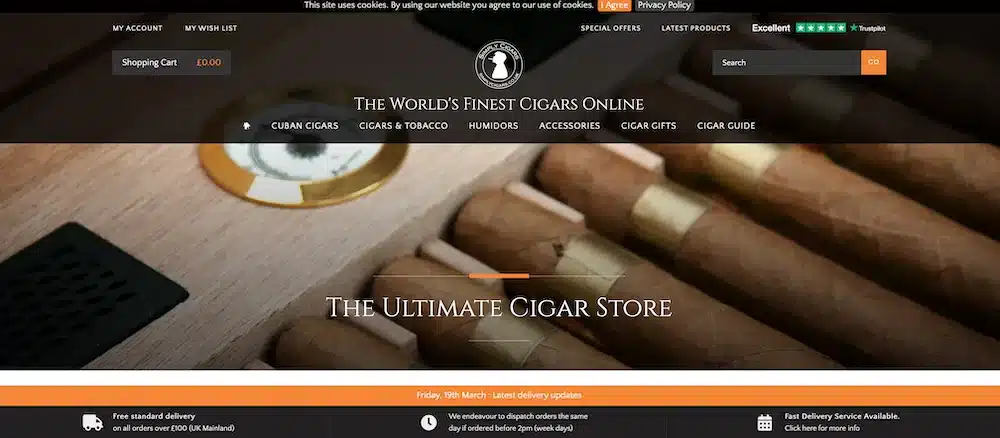 The Top Selling Brands:
Montecristo No 2. Cuba. …
Partagas Serie D No 4. Cuba. …
Montecristo No 5. Cuba. …
Romeo Y Julieta No 2. Cuba. …
Cohiba Siglo I. Cuba. …
Hoyo De Monterrey Epicure No 2. Cuba. …
Montecristo Petit Tubos. Cuba. …
Punch Petit Coronation. Cuba. Like Hoyo…
Premium cigars are rolled by hand using whole tobacco leaves, ensuring the smoker has a pure experience. The quality of tobacco also determines whether a cigar is considered premium. Cuban cigars are world-famous; Cuba's best tobacco comes from the Pinar del Rio region. A full list of regions and flavours is published here https://www.jrcigars.com/blending-room/university/cigars-101/cigar-regions/.