An appetite for opportunity – ethical consumerism. Influenced by lifestyle and behavioural shifts, consumers are increasingly making choices based on goals ranging from healthier living and ethical consumerism to greater convenience and stricter budgeting. 
Never has the maxim 'you are what you eat' been more relevant as consumers' unique relationship with food and drink has become an extension of their individuality, their goals, and a reflection of the choice they have today.
Over the past five years, 59% of UK consumers have made a change to their diet. As with many things, the COVID-19 pandemic has further accelerated change, with 29% of consumers saying they have made a change to their diet since March 2020.
To understand these trends better, Strategy & surveyed a representative sample of over 2,000 adults on their changing dietary habits and associated shopping behaviours, initially in December 2019 and again in October 2020 to understand the impact of the pandemic.
The survey was commissioned by Strategy &, developed in association with Google and Spoon Guru and conducted by Opinium Research. Google have also provided their Google Trends data.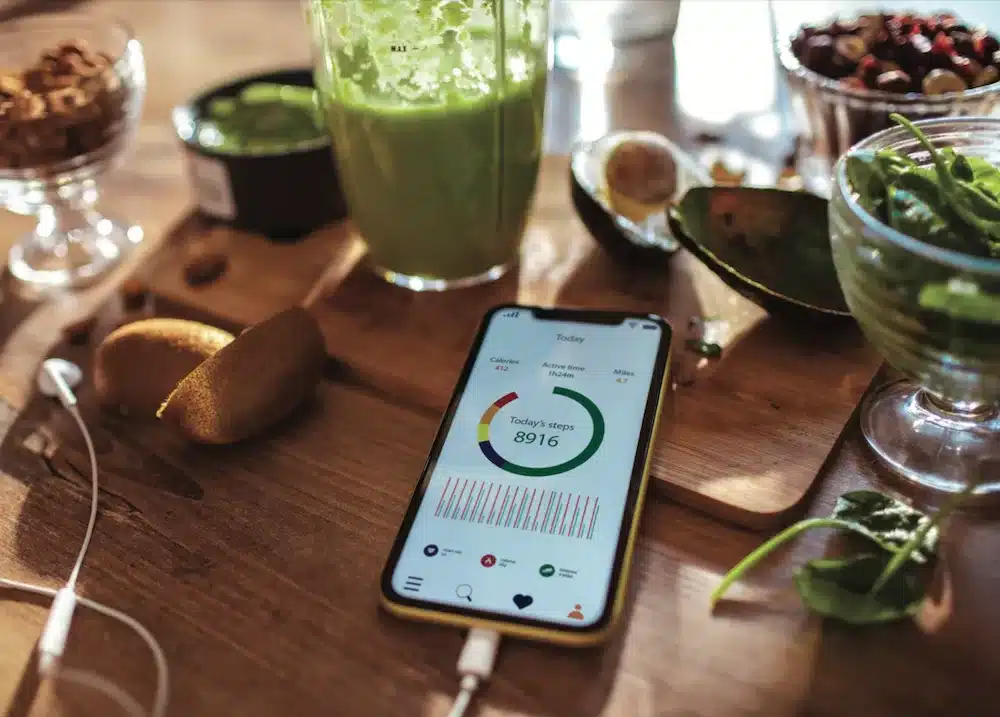 The changes consumers are making to their diets have real and urgent implications for retailers and consumer packaged goods (CPG) companies, who must adapt to provide consumers with what they want or miss out on a significant growth opportunity.
PwC's Consumer Sentiment research (Autumn 2020) showed grocery shopping is one of only two categories consumers say they will spend more on over the next 12 months.
To respond, retailers and CPG companies have the opportunity to see how they can do more to further ensure the shopper sits at the heart of everything they do. That assertion must be backed with real action, based on a detailed, data-driven understanding of the consumer that helps them understand consumers' goals and their evolving relationship with food.
Retailers have historically focused on transactional data to determine how to change ranges, pricing and promotion, yet it's what the retailers don't see in the basket of their consumers that really matters. Creating insight focused on changing preferences and behaviours outside of their current loyalty and basket data requires investment in technology and the cultivation of innovative partnerships.
The development of goal-based products that meet diverse health, lifestyle, ethical, financial and environmental needs should also be prioritised. For example, the significant rise in healthy-eating packaged meal plans, delivered to the door, is capturing the attention of consumers whose goals may include a healthier lifestyle or the greater convenience of more hassle-free preparation and cooking.
And all this must be delivered through faster routes to market to meet consumers expectations and head off the threat of increased competition for 'share of stomach'.
The proliferation of online services and marketplaces means consumers can easily and quickly better understand their choices against their goals, and then satisfy their dietary needs, whatever they are, at the touch of a button. And increased demand during the pandemic has focused almost every retailer on the importance of digital channels for ordering and fulfilment, yet few have embraced these channels as the place for consumers to make more informed choices.
Consumer goals: Creating a more health-conscious, eco-friendly life choice
When we talk of goal setting in the context of diet, health may be the first that comes to mind. And it is true that health has been behind the majority of changes consumers have made to their diets, from seeking to lose weight (41%, October 2020), or feel healthier (34%), to looking to maintain their immune system (14%).
But the pandemic has also put a greater emphasis on our health being not only about our physical wellbeing, but our mental wellbeing too. PwC research shows the pandemic, and resulting lockdowns, have seen some consumers altering their diets to better support their mental wellbeing, with the proportion doing so rising from 11% pre-pandemic to 16% by October 2020. This trend is most prevalent among the 18-34 age group which saw an increase from 13% to 22%.
We can see indicators of this shift to overall wellbeing when we look at Google Search data. It's clear that there has been sustained interest in 'vitamins' over the past five years, with a significant spike in January 2021.
While the goals they set may vary, from consumers making specific dietary changes for the sake of their mental wellbeing, to making more time to cook their own meals if they find doing so helps them relax and unwind. But whatever their goals and motivations, retailers and CPG companies should be looking at what more they can do to help consumers set and achieve those wellbeing goals, with more information available on ways to manage, enrich and enjoy their relationship with food.
As well as health, consumers are also increasingly setting ethical goals, around issues such as sustainability and animal welfare which are shaping dietary changes. Around one in six consumers surveyed said they had changed their diet for one of those two reasons (16% pre-COVID, falling slightly to 13% in October 2020). Again, this trend is most common among 18-34 year-olds, with 17% saying they have changed their diet for environmental and ethical reasons, compared with only 10% of 55+ year olds surveyed in October 2020.
Such sentiments are noticeable across retail generally, as our Retail Outlook 2020 shows, and appear set to persist.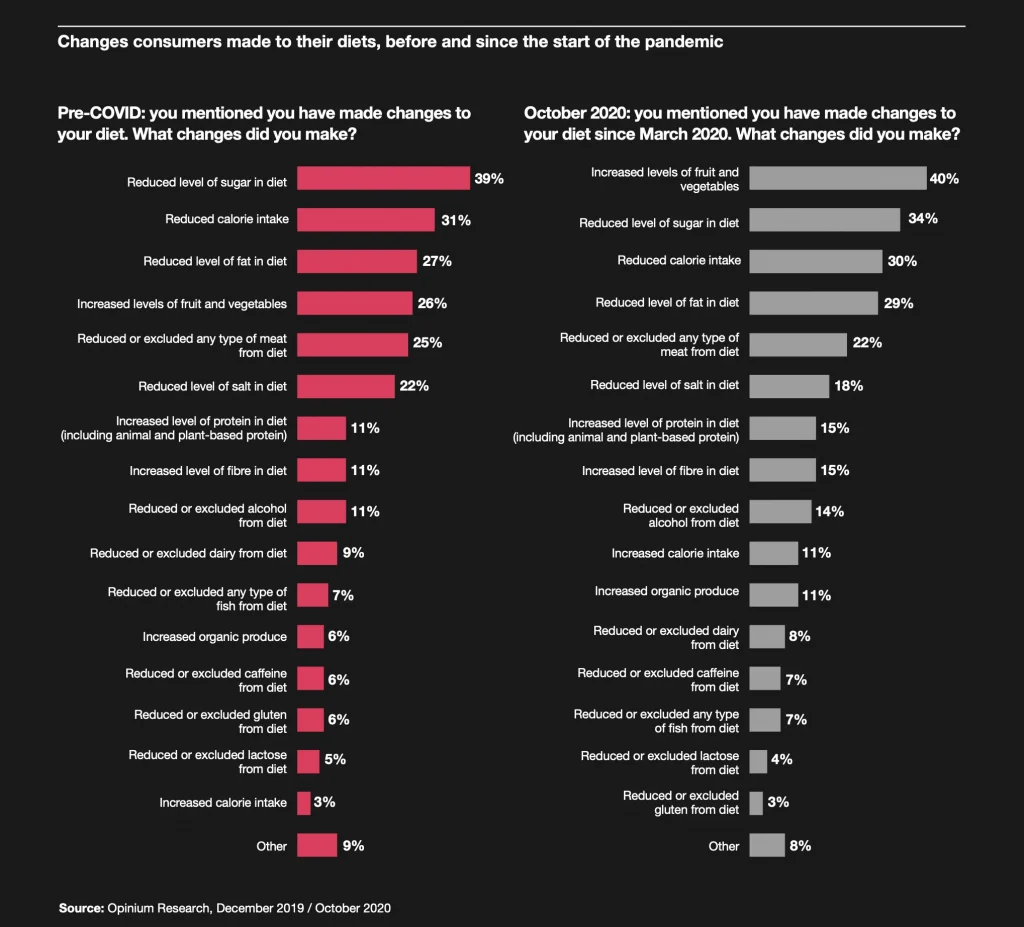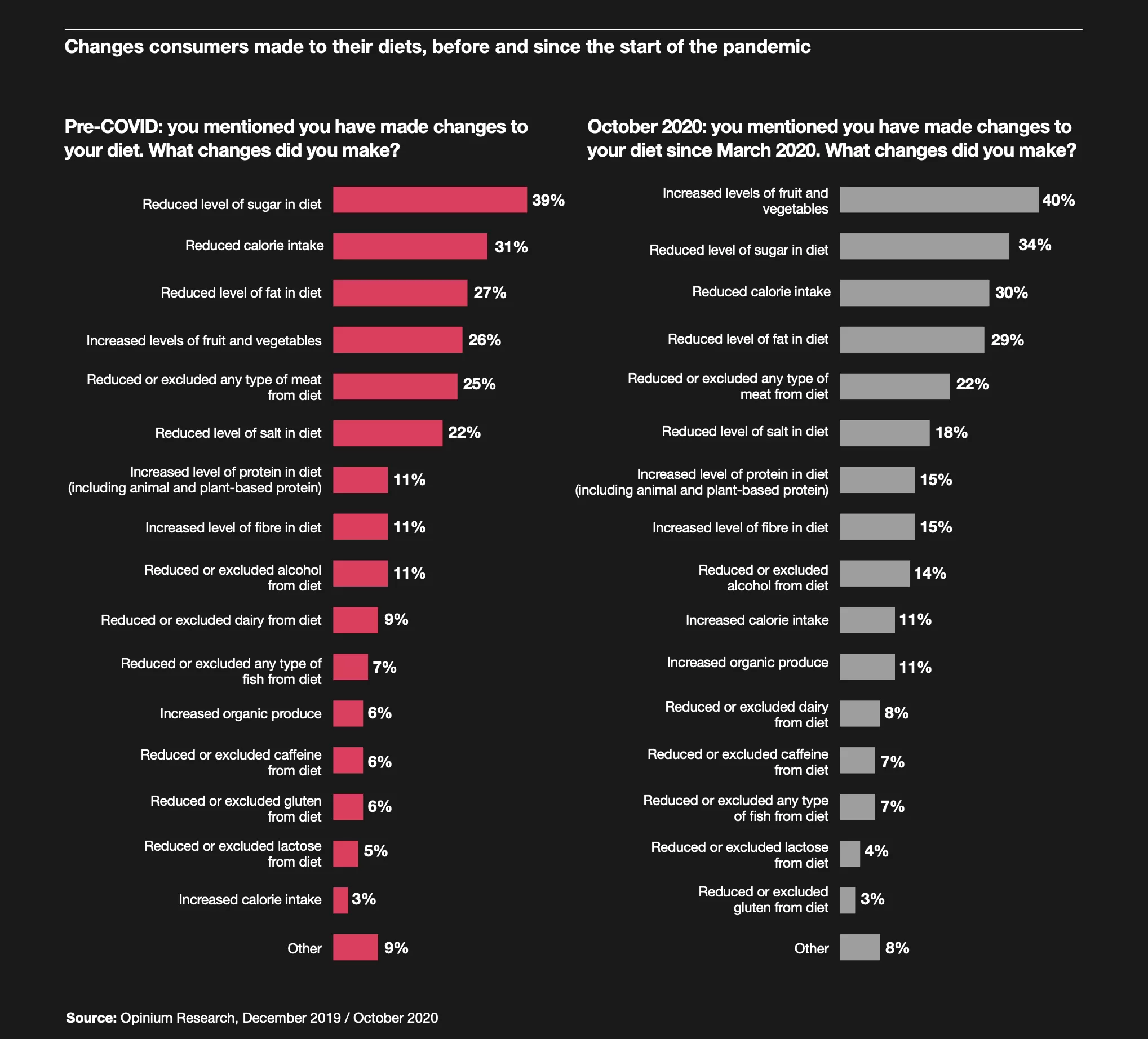 People's conflicted attitudes towards sugar have played out in the way they search for various related terms. The impact of the pandemic and associated lockdowns have driven a spike in comfort eating and snacking, but also heightened people's consciousness about dietary health.
The first lockdown in March 2020 led to a significant spike in Google Searches for 'sugar substitute'. In both instances, although this rise in interest tapered off in May, Google Searches in 2020 consistently over indexed those of 2019 for the rest of the year.
Despite this interest in sugar alternatives, lockdowns have also driven heightened interest in comfort foods like 'chocolate' and 'biscuits'.
Five steps to keep pace with consumer trends
Changing consumer diets and shopping habits have far-reaching implications for the entire grocery ecosystem, from farm to fork and crop to cup. PwC identified five steps retailers and CPG companies can take to unlock new opportunities and remain relevant to consumers.
1. Adopt a goals-based approach
Retailers can play a pivotal role in helping consumers achieve their goals, such as health and wellbeing targets. So rather than focusing on creating product categories that risk pigeon-holing consumers, such as gluten-free, vegan-only or fat-free, brands could be focusing on finding out what consumers want to achieve at different moments in time and help them to achieve their goals by blending ingredients, curating recipes, or delivering pre-packaged meals with appeal beyond a specific dietary allergen requirement.
That means making it easier for people to plan their shopping and shift the balance to focus on mental wellbeing or helping individuals to create healthier or more sustainable family meals (or other goals) rather than a focus on gluten-free, for example. Similarly, using – and communicating the use of – more plant-based ingredients in ready-meals or subscription boxes is another way to meet consumers' health and convenience goals. Developing in-store engagement and online approaches to goals-based education, rather than just product placement, is another.
2. Use insight to create personalised journeys and nudge behaviour
Grocery retailers and CPG companies need to create tailored consumer journeys which help consumers meet their goals for the year, month, week or day recognising those goals may change frequently.
Insights and behavioural nudging have a crucial role to play here. Data on macro and micro consumer segments can help inform business decisions ranging from communications to store layout. For example, retailers can collect and analyse data to establish whether a plant-based section in the store is the best way to nudge consumers away from meat, compared to locating plant-based alternatives alongside meat products.
To react to real behavioural change, grocers and CPG companies need a 360-degree view of their consumer, encompassing not just who they are,
but how they behave. Developing actionable psychographic insights requires technology, dataset investments, analytical capabilities, and ultimately the ability to translate those insights into marketing decisions across channels.
As they develop their digital initiatives, retailers should focus on data that shows intent, rather than transactional data. This will help them to create pre-populated baskets linked to consumer search and goals, whether for a consumer who has been searching for low sugar, plant-based and meat-free options, or one who needs to cook healthily for a family of five on a strict budget. Retailers should establish what can be put in their baskets – or suggested to them – that will make it as easy as possible for them to hit their goals.
Some retailers have started to make it easier for shoppers to identify healthier options. But other sectors show how big the gap remains between their efforts and what is possible. For example, compare grocers' curated offerings against the level of personalisation digital media services such as Netflix or YouTube offer. To remain relevant, the retailer needs to provide similarly curated experiences, taking into account all age groups. The over-55s demographic is more affluent than younger age-groups and increasingly digitally-literate.
3. Develop partnerships to promote the brand and gain greater insight

By partnering with individuals such as social media influencers, companies providing health apps and wearable technology or marketplaces retailers can gain access to a wider consumer base together with opportunities to run targeted promotions and access a wealth of valuable data.
Partnerships may help address the 18-34 age group in particular. This demographic is more likely to be accessing digital information and news related to diet, particularly online video (23%), social media (15%) and podcasts (8%). With consumers going to a wide range of sources to get information on diets, there is a clear opportunity for retailers to use digital technologies, not only to enable food search and discovery but also to provide accurate nutritional advice and personalised shopping experiences. AI-based food search services, such as Spoon Guru, partner with retailers to help consumers achieve dietary goals.
Partnering with 'destination search' companies such as YEXT or Spoon Guru, can also help retailers get to the top of online search results.
4. Customise local assortment and review ranges more frequently
Retailers and CPG companies need to constantly monitor, measure and adapt a data-driven approach to ensure their offerings evolve to meet changing demand.
Shorter review cycles are vital, making sure the rate of change in offerings keeps pace with consumers' shifting appetites. Staying as close as possible to the consumer, listening to them, creating engagement strategies which enable the identification of demand signals and adapting quickly are essential for building and maintaining brand loyalty. It will be crucial for grocers and CPG brands to collaborate and partner to create agile review cycles that meet this demand in a cost effective manner.
Our research has shown consumers are continuing to change their diets. But the reasons why vary greatly and are prone to change over time and regional variation. This reinforces the need to further localise product ranges and promotions to meet the needs of different consumer segments. This is especially true for lifestyle – driven choices and is readily adopted by restaurants and meal delivery services but remains a largely untapped opportunity for grocers.
Better still companies in the advanced CRO levels are already tinkering with AI, personalisation, and other sophisticated optimisation tools. If you're still in the unoptimised stage or are only now dipping your toes into CRO, it's time to step up your game. A reactive, tactical approach to optimisation is bound to get you only short-term wins. You have to start thinking about conversion rate optimisation strategically if you want to take your business to another level.
Personalised product selection software, using predictive analytics technologies like SwiftERM, identify consumer's future behaviour, then rank every SKU by greatest likelihood of "that individual consumer" will purchase from all the SKUs you have listed, in order of greatest likely buying propensity. In other words, the ones they love best. CLV soars and RoR is all but eliminated. It out performs segmenting manyfold
5. Reassess the supply chain
With consumers expecting greater transparency about where and how their food is sourced, retailers and CPG companies need to get ahead of the supply chain, so consumers have easy access to the information they want.
Supply chains must also be able to meet the rising demand for more sustainable plant-based food, as this is now a key driver of growth. This may require new ways to work with farmers that have previously been incentivised to produce meat.
Investments in innovation around product lifespan may also be necessary, as retailers seek to make it easier for consumers to do a regular shop while meeting their own goals around reducing food waste.
Take Away
Although COVID-19 has accelerated or changed many of the trends we've explored, it should not be assumed they will recede in any way when society starts to emerge from the pandemic. As our research shows, many of these trends were well established before the pandemic struck. Furthermore, after such a long period of disruption since the initial lockdown in March 2020, much of the forced experimentation and behavioural change adopted throughout the pandemic, will have become ingrained habits now, from a move towards the greater convenience of home delivery, to increased goal-setting around health and wellbeing.
As such, retailers and CPG companies must take the acceleration of these trends as a clear warning they must act now. They must make it their goal to better understand their consumers' needs and expectations, based on deeper insights, and they must adapt their business model, marketing, technology and supply chain to ensure they are helping consumers shape, set and achieve their goals.
This doesn't mean focusing on steps aimed at emerging industry trends, such as partnering with a marketplace for delivery, or rolling out a new range of healthier options. It means taking steps, and instituting an ongoing effort, to get closer to consumers as individuals to tailor such adaptations to them, so as their goals change, the service provided to them changes to accommodate and help guide their revised goals.
Consumer appetites will keep changing, with constantly evolving goals and behaviours. In order to grow and remain relevant, retailers and CPG companies must change too.