Will subscription become the preferred choice for ecommerce. The age of ecommerce subscription is here. As of last year more than a quarter of Brits were signed up for a subscription model.
From Netflix to Spotify to coffee delivery and food preparations kits, the subscription business model has become the norm. The subscription box market alone is set to be worth £1 Billion by next year. So is this the future?
Let's dive into subscription ecommerce and take a look at what the future of online retail may look like.
How does subscription-based ecommerce work?
Firstly, we'll turn to the mechanics of having a subscription-based model.
"The ecommerce subscription model is a business model where a company provides ongoing services on a regular basis in exchange for regular payments from the customer".
Think Netflix, Amazon Prime and Spotify, all of whom got in early and have now established themselves as subscription giants. These services are so ubiquitous now that most consumers take them for granted.
There are three types of commonly recognised subscription models:
Replenishment, Curation or Access.
Replenishment subscriptions enable consumers to automate the purchase of necessities, such as razors or nappies;
Curation subscriptions offer new products or highly personalised experiences in categories such as apparel, beauty, and food;
Access subscribers benefit from lower prices or members-only perks.
Many of the subscription-based companies you're familiar with probably fit within one of these categories above.
Now with nearly 50% of all online shoppers having some sort of subscription, and 15% of those being subscriptions for physical goods, now's the time to decide whether it's right for your business now.
The benefits of a subscription business model
There are a number of benefits of a membership subscription model worth highlighting.
Using a loyalty program, you can customise your subscription model to include perks and benefits such as:
Credit back for additional purchases
Store credit
Free or discounted shipping
Special occasion benefits (birthdays, subscriber anniversary, etc.)
Exclusive access or early access to member-only products or content
Discounts on select products or the entire catalog
Free trial or bonus/exclusive items with purchases
Ideally, you want to incorporate features that lean into what your subscriber base values.
All of these benefits will lead to an uptick in customer loyalty. The recurring nature of subscriptions means customers will want to return to you over the competition and, over time, give you a larger share of their wallet.
Why does loyalty matter in a subscription-based model?
Fundamentally, loyalty matters because,
"Aside from the fact that loyal customers are cheaper to manage, buy more and spend more often, a subscription service's profit and growth rely on consistent, recurring revenue from each customer."
Once a subscription ends it is as hard to lure that customer back as it would be in a conventional retail model. This can be especially painful if more was spent on acquiring them than the amount they spent as a member. If your customer gets rid of their membership after the free trial period then you probably haven't done enough to earn their loyalty.
As such, it's important to look at what the relationship is between a brand and the customer while they're a member – not simply on the acquisition stage.
You need to motivate a member to stay. This could be done by offering some of the benefits of the subscription model we mentioned above. It is a continual process of interacting with your members in meaningful ways.
The subscription business model and loyalty in practice
To ensure loyalty in practice implement several business measures. Start by integrating your subscription model with a loyalty program. This will enable you to give your customers extra perks and value that will encourage them to return.
For a good example of how a loyalty program and subscription model can work together consider Craft Gin Club's loyalty program.
Craft Gin Club's team created a tiered loyalty program structure that offers exclusive rewards and perks.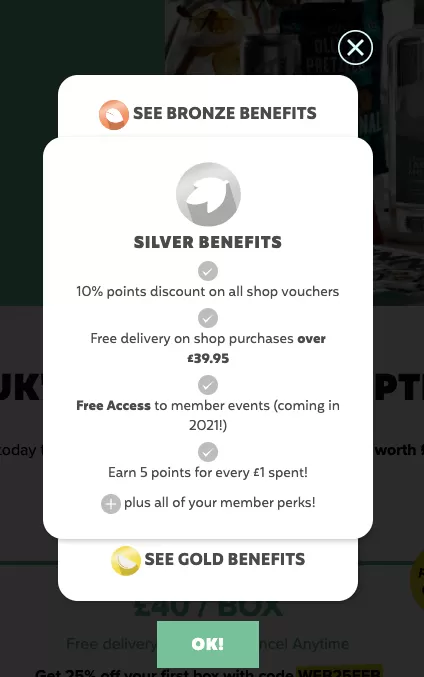 These points can then be used in a variety of ways. For example, the subscribers who collected 1500 points can either apply for a five pounds voucher on the members' store or have a £15 discount on their Gin of the Month box.
This tiered system incentivises and rewards loyal customers. If you want to increase loyalty to your brand you should explore the ways your company can provide VIP treatment through exclusive discounts and vouchers.
79% of customers said being able to unlock exclusive benefits made them loyal. This focus on loyalty has enabled Craft Gin Club to increase its repeat purchase rate by 53%. It's been a success and provides a great example of the way you can optimize your ecommerce subscription model.
What does this year hold for your business?
Subscriptions are a booming trend and they're not going to slow. To stay ahead of the game you should explore what a subscription model could do for your brand and how you can use them to generate long-term revenue.
Many of the successful ecommerce subscription models function when companies are committed to treating existing customers with care and encourage them to stay in long term spending cycles. This is a key takeaway to consider when thinking about the future of online retail.
Make sure you focus on these two themes – loyalty and convenience – when exploring a subscription business model for your company.